Santo António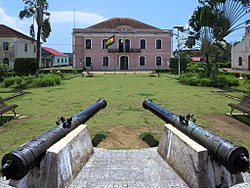 Santo António
is the main settlement of Príncipe Island in
São Tomé and Príncipe
. It has about 2,600 residents (2012), which is about one-third of the population of the island.
Understand
Príncipe is wilder, greener and less inhabited than São Tomé. Birds like mannikins and drongos, whales, and turtles thrive here.

History
Santo António was founded in 1502, and became a centre of sugarcane cultivation. In 1695, the Fort of Ponta da Mina was built at the entrance of the bay of Santo António. The town and fortress were destroyed by French privateers in 1706.

Climate
Santo António has a tropical savanna climate, with little temperature variation year round. The average temperature is 24.8 °C. The average annual precipitation is 1872 mm, with the least precipitation in July and the most in October.

Get in
Príncipe AirportThis airport only receives domestic flights from São Tomé International Airport operated by Africa's Connection STP, which is on the list of carriers banned from operating into the European Union (July 2019).
Buy
The supermercado sells fish hooks and beer, but not much else.

Eat
Bigodes. Near the airport, if you decide to wait for your flight here the airport will call to let you know when your flight is boarding. Good lunches and great view.
Café e Companhia. The expat hangout in São Tomé. This is the place to let people know you have arrived in country. Café and Companhia is popularly known as "MJs", after the owner and former manager Maria João. MJ leases the business to a new German manager but makes appearances when she is in country. C & C is known for Thursday night jazz and the "Atomic Penis".
O Pirata. Located next to the Pestana Hotel, it is one of the few places open on Sunday morning, but one suspects they just party through Saturday night. Good place to nurse a cup of coffee and an omelet and just watch the ocean. A sunken ship is right off the restaurant... hence the name "The Pirate".
Sleep
Go next
Ribeira Izé, the ruins of a slaving station built in the 15th century.