Santorini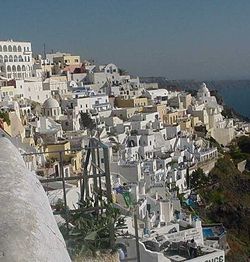 Santorini
(officially Thira) is a volcanic island in the
Cyclades
group of the
Greek
islands in the southern Aegean Sea, about 200 km southeast of mainland Greece. It is located between
Ios
and
Anafi
islands. Thira is essentially what remained after an enormous volcanic explosion that destroyed the earliest settlements on a formerly single island, and created the current geological caldera. It is famous for dramatic views, stunning sunsets from
Oia
town, the strange white aubergine (eggplant), the town of
Thira
, an active volcano, and its beautiful beaches (e.g., Perissa—possibly the best beach in Thira, the black pebble beach of
Kamari
, white beach, and red beach).
Villages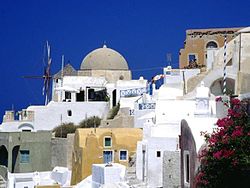 There are several villages on Santorini Island.
- the main stunning cliff-perched town, featuring all that Oia has, but much more overcrowded.
- black pebble beach.
or Oia - for unforgettable sunsets, probably the most charming place on the island.
- highest point on the island; picturesque monastery and streets, can compete with Oia.
- Nice, well-organized beaches and good Greek fish taverns.
-Traditional village with a lot of old white cycladic churches.
-Visit the archeological site of Akrotiri.
- Nice beach and a few good taverns. Very good for children, as the water is shallow.
- a small village and a beach.
- a small rock village, the church of St. Ann is here. Architecturally it is the strangest village on the island, as all the buildings were cut from the ravine that it is in.
Also there's , a village on the nearby island with the same name—visited by fewer tourists. There are daily excurisions to the Kameni (volcano) Island which also reach Thirasia island.
Understand
An alternative name for Santorini is Thira. Santorini is also a name for the family of islands surrounding Thira, once forming a single island prior to a major volcanic event in approximately 1500 B.C.E.
The small island cradles a rich variety of landscapes and villages. Visit traditional architecture in the small village of Mesa Gonia containing a mixture of ruins from the 1956 earthquake and restored villas as well as a winery at the foot of the settlement. Pyrgos is another notable village set inland with its grand old houses, remains of a Venetian castle and several Byzantine churches.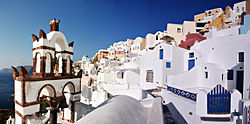 The island has no natural source of fresh water. Prior to the early 1990s, it was necessary for water to be delivered to the island via tanker from Crete. However, most hotels and homes now have access to water provided by a local desalination plant. While this water is potable, it is still rather salty, so most everyone drinks bottled water while visiting Santorini.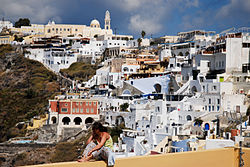 Fira is the fiery capital, a marriage of Venetian and Cycladic architecture, whose white cobblestone streets bustle with shops, tavernas, hotels and cafes, while clinging to the rim of the caldera nine hundred feet above its port. If arriving by sea you can take a cable car up from the port or alternatively take a trip on one of the hundreds of mules up the 588 zigzagging steps. You could also attempt to walk up the steps but be warned, they are winding, narrow in parts with only low walls, they are covered in donkey excrement and the donkeys themselves will make no attempt to avoid you.
Walking along a path for about twenty minutes will bring you to Imerovigli where you can take in the magnificent views of the island's unique scenery from the tiny town, as it is the highest point of the Caldera cliffs.
Just above Fira is the quintessentially Santorininian town of Ia, also sometimes spelled Oia, with its whitewashed walls sunk into the volcanic rock and its blue domes rising above the sterling beauty of the stunning, russet Ammoudi Bay. At dusk, the town attracts crowds of people venturing to see the sunset. Santorini's sunsets, as viewed from Oia, are reputed to be among the world's most beautiful.
Due to the spectacular and unique natural beauty of Santorini, many Greek singers have chosen the island as the setting of their videos. Greek and Brazilian TV series have been shot of Santorini, as well as some Hollywood movies (
e.g.
Tomb Raider II). Generally Santorini is a pole of attraction for Greek and international celebrities. World-famous Greek composer Yanni wrote a song inspired by the beauty of the island, the song, also named "Santorini" is definitely worth checking out, specially the version performed live at the Acropolis with the Royal Philharmonic Concert Orchestra.
Climate
The season starts April 1, or around Greek Easter. The period from December through March is very much the off-season and marked by colder temperatures, rain and winds. Although the temperature is rarely cold, the poor weather makes for a less than optimal experience on this beautiful island. Most of the businesses, including hotels and guest houses, may be closed. Ideal times to visit, for milder weather, prices and crowds, are April–June and September–October.
Get in
Getting in from Athens by air is faster and not prone to sea sickness, compared to ferries. However, in season air tickets sell out well before most of the ferries.
By plane
With regular flights from
Athens
by
Olympic Air
and
Aegean Airlines
. Flight duration from Athens to Santorini is about 30-45 minutes. During summer,
Sky Express
connects Santorini with other popular islands such as
Crete
(
Heraklion
),
Rhodes
and
Mykonos
. During the months of July and
August Astra Airlines
flies from
Thessaloniki
.
From May till October charter airlines fly directly to Santorini from many European airports.
Santorini (Thira) National AirportThe airport is very small, so passengers are allowed to drop off their luggage only two hours before their flight. There is a large number of seats outside of the terminal with a cafeteria, where passengers may wait. In the gate areas, seating is very limited. There is a cafeteria upstairs with outdoor tables for a view of planes.
Getting there:
From the airport there are buses to Fira, €1.8 (Apr 2019), where you can change to buses for other towns.
Taxis are also usually waiting at the airport, but competition for them can be keen, €30 to Fira (2019).
Many Santorini hotels offer airport transfers, usually for a fee that's more than a taxi would charge you, but some may find it worth it for the convenience.
As the island is very small it's possible to walk from the airport, if you are fit enough (cca 5.5km/90min to the centre of Fira).
By boat
Take the
ferry
from
Piraeus
port of Athens, past
Paros
and
Naxos
, to the new port on Santorini. More details in the
Cyclades
article. There is also daily connection from
Heraklion
(
Crete
) during high season.
If you prefer sea, your best bet is high-speed catamarans. The trip from
Pireaus
to Santorini takes 4.5hrs with a high speed ferry.
Ferries dock at the , where
buses
meet each arrival to transport passengers to Fira (trip takes 15 mins and costs €2.3), taxis are also available. All vehicles climb a very steep, winding road (it makes seven 180 degree turns) to get anywhere from Athinios.
If you arrive by
cruise ship
, the experience will surely leave you with lasting memories. Cruise ships that reach the island do not anchor near Athinios port, but one or two miles north, also within the caldron, but below Thira (aka Fira). Locals with fishing boats occasionally transfer cruisers to the old port (which seems not to have changed over the last 50 years), and larger, decorated shuttle boats take large-ship cruisers to/from the nearby docks below Thira. From the "Thira docks", you can use the cable car to reach the town, taking perhaps 5 minutes for the ride. Or if you like small adventures you can ride a donkey, which climbs up a small path on the cliff (weight limits imposed). With one or more large cruise ships off-shore, long lines may queue at the bottom of the cable car. Casual Thira walkers/shoppers may meet many others at the top returning after a few hours, and other queues form somewhat before passengers are expected back aboard their ship(s). Plan accordingly. The donkey ride will last longer, may have no queues, and is definitely a unique experience for those meeting the weight limits. If weight proves a problem and you're fit, ask if you might walk up along the donkey path (no charge, but no mean feat).
Transport by sea is always
dependent on weather
. For safety, especially in winter or raining monsoon, cruise ships may delay or cancel shuttles to/from shore, and ferries their departure times to or from the island.
Get around
The island has a
public bus
service, KTEL Santorini, with buses costing €1.80–2.50 (Apr 2019), depending on the route. During peak season, buses run up to every 15 minutes on the three highest-volume routes, which are the ones from Fira to Oia, Kamari, and Perissa. Other buses may run anywhere from twice an hour to only a few times per day. Timetables are available at
the KTEL website
. The buses occasionally miss trips, and some drivers are less than friendly.
Boats
also run between major coastal towns on the island.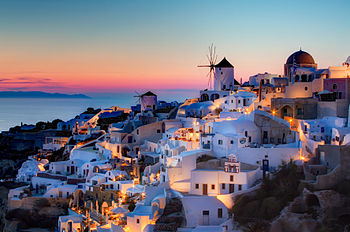 Cars can be rented
from about €30 a day during high season and from €10 during off season. An international driving permit is recommended. Without one, many car rental places will rent cars, but travel guides have mentioned tourists having insurance problems in case of accident. Scooters and 4-wheelers (quads or all-terrain-vehicles) are available to rent starting at about €15 or €30 per day, respectively. A drivers license is required to rent these 4-wheelers. Be aware that most of the people in Santorini are tourists. As a result, road conditions are extremely unsafe, with many people driving by the laws and conventions of nearly every country in the world. It takes about 50 minutes to drive the island from end to end (from
Vlichada
to
Ia
).
A popular method of getting around is to rent
ATVs
, though the "all-terrain" part is a misnomer, as most ATV riders are tourists riding on the paved road. ATVs share the road with other drivers and are usually all over the island. The island is small enough to travel around on an ATV, and is a cost-effective way to self-explore the further reaches of Santorini. ATV rental shops are all around the island, so it's best to ask your hotel owner/concierge on the closest/most trusted vendor. You will need your local driver's license to ride one of these, and a helmet is recommended.
Some hotels advise booking a
taxi
in advance, as there are not enough available taxis on the island during high season. As is the rule in the Cyclades, taxi fares are typically shared between multiple passengers, so don't be surprised if your cabbie picks up more passengers during your trip.
By bicycle
The island is small enough that it can be thoroughly explored by
bicycle
, or with a few bus trips, by foot. Bicycle rentals are fairly hard to find—most places advertising bike rentals refer to motorbikes, rather than bicycles. The maps are designed for hikers, however, so the recommended routes are impassable by bicycle.
Santorini is not very bicycle-friendly—there are no dedicated bicycle routes, so you must share roads with vehicular traffic. In addition, the island is very hilly. The traffic was more friendly to bicycles than to pedestrians or other vehicular traffic, however.
By foot
Recommended routes by foot include the amazing walk from Fira to Oia (note that this walk is less nice in reverse, it can take less than three hours but can be difficult, for up and downhill climbs, the rocky surface at times, and the proximity to unprotected cliffs that drop sharply into the caldera) along the caldera, as well as the paths over Perissa Rock connecting Perissa, Kamari, and Pyrgos. The walk between Perissa and Kamari is fairly short (via Ancient Thira), while the walk to Pyrgos is somewhat longer, passing through the highest point on the island.
See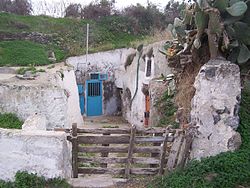 Santorini is one of the great natural wonders of the world, and its main attraction is the landscape and seascape of the island itself. The configuration of the present, roughly semicircular island is the result of an enormous volcanic explosion which occurred probably around 1630 bce, literally blowing the top off the island and changing what had been a typical half-submerged mountain of an Aegean island into a flooded crescent caldera, in the middle of which a few small smoking islands still bear witness to volcanic activity. Some have speculated that this event was the inspiration for the myth of Atlantis. The towns of
Fira
,
Ia
(also known as Oia) and
Thirasis
cling to the steep cliffs facing into the caldera bay. Tours to the central "smoking" islands are readily available and one can see and feel steam vents and recent (1950s) lava flows.
Another popular reason for coming to Santorini are the legendary sunsets, some of the most spectacular in the world.
Ia
is one of the few places on the island which is both close to a sea and offers a good view to a sunset over the sea: in other towns, the sun disappears behind the volcano.
Additionally the town of
Fira
is stunning.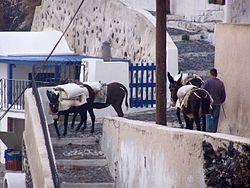 Be sure to explore the areas outside of the towns. There is beautiful countryside where tradition still survives. Cave houses (both abandoned and occupied), gardens, vineyards, small family business, and tiny churches are there to be discovered.
Santorini ranks among top destinations for wedding celebrations for at least 4 years—primarily for sunset and peace, like those in
Oia
. Couples often arrive with few friends, stay in Ia (places like Fanari Villas). Groups often arrive in the beginning of the week—judging by demand for cabrios and number of corteges seen on Mondays compared to weekends.
While the island is full of medium- and top-cost hotels and villas, there are still lots of abandoned caves and modest private houses where no one seems to live for a long time—even in western
Oia
where every inch seems to be occupied by some villa.
From Ia: departure from Ammoudi bay at 10:50AM (starting and end point); a bit later from Armeni bay. 1hr 30min at volcano island; 45min for hot springs; 2hrs for Thirassia (incl. time for lunch). Meals are not included, normally the guide advises you to visit Captain Jack's tavern, which is self service if you arrive with a big group or operates with waiters if you don't. This restaurant serves amazing fresh seafood at the cheapest prices. Testament to how good it is, is the fact you will notice that none of the adjacent restaurants are ever busy. Only this one.
Beaches
Public beaches do not seem to have showers or places for changing.
Wineries
Do
Walk along the caldera from Fira to Oia
Climb to see Ancient Thira, or more ambitiously, the monastery, for an amazing view of the ocean, beaches, and island from up high.
Horseback riding in Exo Gonia
Scuba diving and snorkeling. Even non-qualified divers can dive up to 14 metres down on a wreck next to the volcano.
Caldera Cruise and Oia Sunset
Plan your wedding in Santorini
Historical sights
Akrotiri, in the south, a roughly 3,500 year old Minoan town preserved in volcanic ash like Pompeii, is one of Santorini's "must-sees". The excavation site is covered by a roofing system, which makes it something that you can comfortably visit no matter what time of year. The ruins, are extremely well preserved. Streets, buildings, stairs and even second floors of buildings are still visible. Visitors can stand in the ruins and look at Minoan pottery and frescoes, and with a little imagination, feel what it would have been like to live in ancient Greece. Due to an accident in September 2005, the excavation site was temporarily closed to the public, but as of April 2012, the site is once again open.
The entrance fee is 12€ for adult. You can buy a 14€ pass (available 4 days) which includes 4 others places (Ancient Thera archaeological site, Prehistoric Museum of Thera, Archaeological Museum of Thera and Icons and Relics Collection of Pyrgos). In both cases, reduction for European and international students can be applied.
Ancient Thera, the Classical city of the island is on Mesa Vouno, 396 m. above sea level. It was founded in the 9th century B.C. by Dorian colonists whose leader was Theras, and continued to be inhabited until the early Byzantine period.
The preserved ruins belong to the Hellenistic and Roman phases of the city. The residential area and the larger part of the cemeteries were excavated by German archaeologists between 1895 and 1902. The cemeteries on the NE and NW slopes of Sellada were excavated by N. Zapheiropoulos in the years 1961-1982.
You can access Ancient Thera by the road for Kamari or by a 30-40 min hike from Perissa.
Fira
has the
Museum of Prehistoric Thira
that contains some of the artefacts, which were found in the ruins of Akrotiri. So first visit Akrotini, where the items came from and then Thira to understand what the items are. The museum has more pots, pottery and other household items than you can shake an antique stick at, but the highlight is the frescoes of the blue monkeys—a mystery since historians say there is no evidence that there were ever monkeys on Santorini.
Also in
Fira
, near the cable car station, is the
Archeological Museum
that contains artifacts from various eras. Most of the exhibits are dated from the Classic and Roman period from the ancient town of Thera and it's cemeteries.
Architecture

The Cycladic Islands are world-famous for their picturesque towns of cubic white-washed homes and blue-domed churches. Santoríni is especially famous for the towns of Firá and Oía, whose white and pastel-colored homes and churches—seemingly stacked on top of each other—are perched on the cliffs of the caldera. Many of these traditional homes are built on cliff-side caves, thus having a much larger interior than their exterior would suggest. The architecture of Santoríni's picturesque towns is typically Cycladic, but with strong neoclassical and baroque influences visible in many of the island's churches and public buildings.
The arts
While Santorini cannot claim a prominent art collection, why not see some local and international artists work by visiting the
Art Space Gallery and Winery
in the small village of Exo Gonia, on the way between Fira and Kamari. Art Space is a winery built in 1830, an old canava. Also an museum with old installations for raki and tomato-juice. Owned by the same family (Argyros) for three generations.
Scenery and nature

The landscape here—the blue sky, the little white houses perched on gigantic rocks on hills that plummet to the sea, the lemon and orange groves, the pink and white churches that look like pastrycakes, the faces and warmth and expressiveness of the Greek people—little wonder this may be the most photographed scenery in the world.
Scuba and Snorkelling
Santorini has 5 dive shops. Prices are typically around € 80 for two dives, including equipment rental, transport, and usually, a light lunch. The offerings are otherwise quite similar. Prices are sometimes lower when booked directly through dive shop, rather than through a travel agency. Try the Mediterranean Dive Club divecenter.gr], info@divecenter.gr). Their dive station is on Caldera Beach near Akrotiri, but they also have an office on Perissa Beach. There are also two dive shops in Kamari: Navy's Waterworld Dive Center (+30 22860 28 190, ), and Aegean Divers (+30 22860 33210, info@aegeandivers.com, ).
Diving, visibility is amazing, but there are not as many fish as more popular scuba and snorkelling locations. Dive sites include a wreck near the volcano, caverns, reefs, as well as wall diving. The wall dive is the most interesting. Octopus are not uncommon. To minimize environmental damage, all five dive shops go to the same locations (although not at the same time), with moorings shared by all the dive shops. If you want to go to a specific dive site, call ahead, and find out which dive shops are heading to which locations on which day (or ask to go to a specific location).
Recommended sites for snorkelling include Mesa Pigadia beach, somewhat out (some people recommended a diving buoy for boat safety), the beach South of Oia, as well as Perissa Rock (esp. somewhat further around the rock). There are supposed to be some nice spots between Perivolos and Vlichada Beach as well. The beach on Thirasia also has some reasonable snorkelling. Caldera Beach, near Akrotiri, has a few amazing snorkelling spots. When walking down to Caldera Beach (follow the signs to Santorini Dive Center), you will see some rock formations further out into the water. If you can find those once in the water, and swim to them, you will find wonderful snorkelling.
Virtually all beach-side shops will sell cheap, low-quality snorkelling gear (mask for around 10EU, fins for around 20EU).
Buy
Atlantis BooksThe largest selection of English language books on the island. Also stocks Greek, German, French, Italian, Spanish, and Dutch.

Santoríni is one of Greece's most prominent wine regions, whose wines enjoy special designation of origin status from the European Union. The method of growing grapes (with vines close to the earth and individual vines spaced far apart from each other) is unique to the island, with its dry soil and windy climate. Wineries open to the public are located throughout the island.
Buy Santorini wines on Iama Wine Store in Oia.Very nice shop with all Santorini wines and over 350 labels of other Greek and international wines.
Eat
Santorini specials include: the white aubergine (eggplant); fava caper ; a variety of tomato keftedes, with whole slices of tomatoes fried in batter; dolmades, stuffed vine leaves. Another must-try is fresh fish grilled in tavernas, esp. those close to a sea.
If you decide to eat or drink in a taverna overlooking the caldera or having a good view to a sunset, expect higher prices than a similar establishment in one of the many side-streets as you are charged extra for the view –- but what a view!
For those who enjoy the Mediterranean diet—fresh fish, vegetables, and meat dishes can be found at several moderately priced restaurants (average 40 Euros for two) in Imerovigli, Oia, and Fira. To save money, stay away from places that are overtly commercial and go to the family run fish taverns located nearby the smaller beaches and communities.
Gyros places are everywhere.
Don't miss the traditional fried tomato balls of tomato keftedes and be sure to ask for local tomatoes in your salad. They may be the best tasting you have ever had. Santorini is particularly well known for its cherry tomatoes which are very sweet.

Drink
Wineries
Tour local wineries and enjoy the local wines, well thought of, if not world famous. A combination of climatic factors and the tastes of those who have occupied and lived on the island have formed an eclectic cuisine.

Sleep
Santorini island could be divided into two parts, the western side and the eastern. Santorini mainly owes its popularity to the western side. This is where the caldera is, and the villages, like
Fira
and
Oia
, that are built on the cliff. On this side most hotels have terrific views of the caldera, volcano, the sea and sunsets. There is of course a drawback that you have to keep in mind before making your reservation: majority of the hotels built on the caldera have many stairs, which is usually annoying for tourists not willing to climb up and down all the time. Some of the hotels do not accept children under 13, because they do not offer any children's facilities, due to their dangerous location on the cliff. There are hotels that are specially oriented to couples and honeymooners. Most of Santorini luxury resorts can be found on the western side of the island. Note that not all hotels which are on the western side of the island offer views, as some of them are in town.
The eastern side of Santorini resembles the rest of the Greek islands in the
Cyclades
. There are many beach hotels, especially in
Kamari
, that also attract a lot of tourists, mainly youngsters and families. These hotels usually offer larger rooms and pools than those on the other side of the island.
Keep in mind that the room rates are often set according to the view of the room, which makes the hotels on eastern side much cheaper than those on the western side.
Moreover keep in mind that booking your accommodation in advance would be very helpful, as most hotels have few rooms (usually not more than 20) and quickly fill.
Most of the island's hotels are closed during winter. They open during or after Greek Orthodox Easter (April or May) and usually close by the end of October. As in other
Greek Islands
, July, August and September are considered high season.
Stay safe
Be aware of rental scams, especially with agencies working only with motorbikes and ATVs. Using these types of vehicles is very common on Santorini and there are a lot of rental agencies. Some of them are ready to cheat. They will offer faulty motorbikes or ATVs for a lower price, but in case of accident they will demand that the customer pay for the whole cost of damage. They are offering only basic insurance but will present it like full insurance. Also, there is a big possibility of serious injuries.
It is possible to recognize these rental agencies by observing them aggressively attracting tourists and offering lower prices than others. Employees in front of these type of agencies will be loud and ready to promise everything until the contract is signed. It is necessary to check the vehicle before making any decision. Their vehicles are in most of the cases dusty, dirty and look old.
Santoríni is relatively crime free: you are quite unlikely to be pickpocketed. On the other hand you may feel you have been ripped off by some restaurant or bar bills. In particular:
Bring sunscreen. A bottle of SPF30 sunscreen will run about 20 Euro, with higher SPF sunscreen costing appropriately more.
While this is obvious, remember not to shop at stores or order at restaurants without posted prices.
Physically the cliffs and low walls guarding large drops pose a danger to children while the elderly may encounter problems with the many steps.
Cave exploring can be fun too but it is not recommended to deviate from the paths because of the unstable rocks made of tufa.
Connect
There are some local radio stations in Santorini, mainly in Greek language. When in Santorini, turn your radio at: Volcano Radio at 106.4 MHz and Top Melody Fm Radio at 104.9 MHz.
Internet
You can find internet cafes in Kamari, Perissa,
Thira
(wireless access also available) and in
Oia
.
Go next