Santos
Santos
is a city in the south of the state of
São Paulo
,
Brazil
. Santos is the core city of
Baixada Santista
, a coastal metropolitan area with 1.6 million people, and contains the most important port in South America. Santos is a city known for its historical center, the Santos FC football team (team of the legendary Pelé), and its beaches (reputedly, not the cleanest).
Understand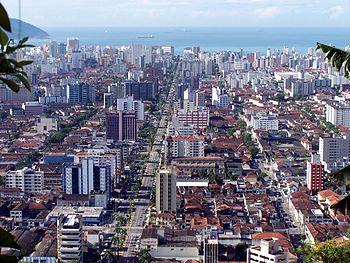 Santos is a municipality in the São Paulo state of Brazil, founded in 1546. It is partially located on the island of São Vicente which harbors both the city of Santos and the city of São Vicente, and partially on the mainland. It is the main city in Paulista Coast. As of 2015, its population was estimated at 433,966. Santos has the biggest seaport in Latin America; is a significant tourist center; has large industrial complexes and shipping centers, which handle a large portion of the world's coffee exports; as well as a number of other Brazilian exports including oranges, bananas and cotton. The city also displays the Coffee Museum, where, once, coffee prices were negotiated; and a football memorial, dedicated to the city's greatest players, amongst which is
Pelé
. Its beach's garden, 5335 Km length, figures in the Guinness Book of Records as the largest beach front garden.
There is a tourist information on the beach garden in the center of the beach. It is the building with Mondrian walls at the big "i"-sign, The staff speaks excellent English and are very helpful.
Get in
From São Paulo
By air - Arriving the airports in São Paulo (Congonhas / CGH) or (Guarulhos / GRU

), packtours can arrange convenient TAXI service to Santos, it may take slightly more than one hour to go. There are also about 8 bus service a day from Guarulhos.

By bus - Take a taxi or the subway to Jabaquara Bus Station. There you can take a bus directly to Santos. Estimated travel time: 1 hour 20 minutes. Buses leave every 15 minutes 24 hours a day. More information: 011 50113421. The bus stops at the Centro Rodoviário and them some go on to São Vicente (Santos' twin city), some to Gonzaga (beach) and some to Ponta da Praia (on the channel, handy for taking a boat on to Guarujá). You can get off at many other stops on the bus way on, but only if you do not have luggage in the luggage trunk of the bus.
There is also a direct service from terminal 1. The Bus is Cometta and costs around 12 usd, arriving into Santos in 2h20
By car - From São Paulo, take either rodovia Padre Anchieta ("Anchieta", SP-160) or rodovia dos Imigrantes ("Imigrantes", SP-160). Both roads have a "planalto" (plateau) section and a "serra" (mountain) section that goes down the Serra do Mar to the sea level. Anchieta being older, its mountain section is winding and narrow, while Imigrantes' is wider and mostly straight due to extensive use of tunnels and bridges. Both roads are linked through a high and a low interlink. Trucks and busses are prohibited in the mountain section of Imigrantes, and are forced to take the interlink and use Anchieta. Both roads feature a toll of about R$ 20,00 that you pay only in one direction (when leaving São Paulo). Also note that traffic is frequently deviated from one road to the other for traffic regulation purposes or road works, so you should follow the dynamic signs.
Get around
By taxi
A good way to move around to not-so-close places. They are not very expensive and drivers are mostly friendly, although small cheats are not uncommon. To avoid it, after getting into a taxi, check if the taximeter has been started . If not, ask the taxi driver to do so.

By bus
Buses are a cheap and nice way to get around by day, although by night they become more scarce. The fare is paid either with tickets, which can be bought at most bus stops, or in cash to the driver or conductor, passing through a turnstile. Keep an eye out for pickpockets when the bus is crowded. Many people board the bus while still wet from the sea, so have a good look if your seat is dry before you sit.

By bicycle
Bicycles are by far the best way to move around the town, there are many places where you can rent one. It's not allowed to ride on most of the beaches during the day. There are some "ciclovias" (bikelanes), specially a well-signed one in front of the beach. Better safe than sorry: buy a padlock as well.

By streetcar (tramway)
There are a couple of tourist routes with early XX century streetcars.

See
Docks
Dock Museum

phone: +55 13 3233-6565

address: Av. Rodrigues Alves with Rua João Alfredo

This museum tells the story of what was during the 19th century the greatest coffee dock in the world.

Statue of the dock worker

address: Praça Silvério de Souza

12-meter-high statue in homage to the labor force that endured carrying tons of coffee everyday back in times.
Center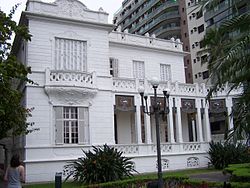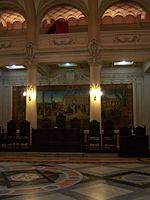 Coffee Stock Exchange

phone: +55 13 3219-5585

address: Rua XV de Novembro, 95

Once an active and important institution, nowadays it houses a Museum of Coffee where visitors can see the history of Coffee in Brazil. There are also some old machineries and different kinds of coffee. The building has renascentist inspiration and was reopened to the public in 1997.

Monte Serrat Hill

phone: +55 13 3221-5665

address: Praça Correia de Melo, 33

Right in the center of the city. On the top of the hill (157m) one can have a 360 degrees view of all Santos and adjacent cities (like Guaruja). Full of restaurants and coffee bars. If climbing is not your sport, you can take the tram (R$12,50). As of June 2017, it was R$40 and there was only one coffee bar.
Beach area

Beach front garden. The longest beach front garden in the world according to the Guinness with 5335 meters long. Just go to the beach and you will find it.

Aquarium.

phone: +55 13 3236-9996

Av. Bartolomeu de Gusmão, Ponta da Praia. The first public aquarium in Brazil featuring hundreds of sea creatures of the Brazilian seas. Tue to Sat, 9:00 to 18:00. R$ 5,00, students pay R$ 2,50 and free for children under 12.

Church of Embare.

phone: +55 13 3227-5977

address: Av. Bartolomeu de Gusmão, 32

Gothic church built in 1946. Everyday from 8:00 to 20:00. No admission fee.
Orchid Garden plus Zoobotanic garden at Praça Washington Luis at the end of Avenida General Francisco Glicério, 200 metres from beach and 300 metres from São Vicente border. Small entrance fee. Several green houses full of orchids. Small local animals loose in the garden: turtles, pacas. Walk in fenced garden with loose large birds: tucanos, macaws.
Benedicto Calixto Art Collecion at Bartolomeu de Gusmão Avenue, 15 (near a touristic guide place) is a beautiful mansion house with a permanent exhibition of paintings by Benedicto Calixto and an art library. Worth visiting the beautiful indoor garden.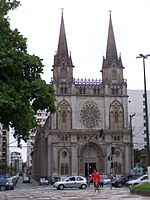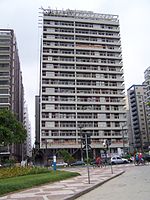 Center East area
Santos Futebol Club.

phone: +55 13 3239-4000

Rua Princesa Isabel. The famous club where Pele played most of his career exhibits some glories and trophies of the past and present. Interesting only for football fanatics. From 9:00 to 11:30 and 13:30 to 18:00. No admission fee.
Do
People from São Paulo often go to Santos to lie down under the sun and enjoy the beach. Santos beaches are not the most beautiful in the Paulista Coast, but they are still popular and a good place for a walk. Once there, you may try some coconuts (R$ 4.00) or buy handicrafts. If you can't find the vendors, don't worry, they will find you.
Walk on the XV de Novembro Street. Located in the center of Santos, the street used to be where the office s of Coffee Lords were located. The interesting colonial architecture and the many bars and Cafes around make it a pleasant walk in the ending afternoon.

Trams in Santos date back to 1861. You can still ride them and take a peek in all main attractions of the center. Tours costs R$5,00 and leaves from Maua Square (Praca Maua).
Double Deck tour travels along the beach front on Saturdays and Sundays in summer, and during the rest of the year, on long holiday weekends. Departure point is near the Aquarium. A guide points out the main attractions along the route. Departures: Municipal Aquarium (Neighborhood: Ponta da Praia)tickets costs: R$4
Buy
The handicraft market is the place to buy a nice souvenir from Santos. There you can find paintings, earrings, clothes, candies, esoteric stuff, flowers and the like. It's located at the end of Avenida Conselheiro Nébias, every Saturday from 14:00 to around 23:00, and Rua Conselheiro Ribas (in front of SESC) every sunday.
Some tourists like to check the Fish Market, close to the ferry boat, where one can buy fresh fish with a very cheap price.
Eat
Budget
Beduíno

phone: +55 13 3284-1702

address: Av. Ana Costa, 466

Or Av. Marechal Floriano Peixoto, 44, - Brazilian burgers and other finger foods.

Gotissô

phone: +55 13 3261-1880

address: Av. Saldanha da Gama, 159

Japanese cuisine with affordable prices, self-service system.
Mid-range
Cafe Paulista

phone: +55 13 3219-5550

address: Praça Rui Barbosa 8

Nice old cafe from 1931 where the coffee bosses used to hang out. It has kept some of the former style with white table cloths, attentive servers that fill up your glass, etc. Great salads, meat, and seafood. Very good selection of Brazilian and imported wines

Vista ao Mar

phone: +55 13 3273-4411

address: Av. Bartolomeu de Gusmão, 68

This seafood restaurant serves, among others, a tasty paella. The portion is huge, so it's better to come with a big group.

Mar Del Plata

phone: +55 13 3261-4253

address: Av. Saldanha da Gama, 137

Traditional seafood restaurant.

Piccola Forneria

phone: +55 13 3273-6699, +55 13 3271-1200

address: Av. Almirante Cochrane, 62

Charming Italian restaurant with a great variety of pizzas and pasta. Good selection of wines.

Último Gole

phone: +55 13 3284-0508

address: Rua Carlos Afonseca, 214

Traditional Portuguese cuisine. A nice dish of codfish, try the bacalhau Zé do Pipo.

phone: +55 13 3877-7561

address: Rua Jorge Tibiriça , 44 Gonzaga Santos/SP

One of the better place to eat around the beach
Splurge
La Recoleta

phone: +55 13 3232-2803

address: Av. Washington Luiz, 422

Argentinian restaurant inspired on area in Buenos Aires. Mainly meat. There's a Tango performance on Tuesday nights.

Tertulha

phone: +55 13 3261-1641

address: Av. Bartolomeu de Gusmão, 187

Steak house with many options of meat, salads and desserts. The waiters went at the tables with many options of meat, that you can choose what you prefer.
Drink
Bars in Santos are usually crowded and lively during the weekends. Many bars offer live MPB music (Popular Brazilian Music). Beer,
caipirinha
and
batidas
are found everywhere.
Armazém 29

phone: +55 13 3289-4629

address: Rua Pindorama, 29

A very informal bar where people go after a day at the beach. Santistas say they serve the best caipirinha in town.

Barão do Café

phone: +55 13 32861603

address: Av. Ana Costa, 547

Thematic bar that celebrates the glorious times of the coffee in Brazil. Old photos of the city on the walls. Live music from Wednesday to Sunday at nights.

Chop Santista

phone: +55 13 3284-5428

address: Av. Vicente de Carvalho, 54

Huge bar with two separated rooms, one with live music, that stays very crowded in the weekends. A lot of flirting.

Heinz

phone: +55 13 3286-1875

address: Rua Lincoln Feliciano, 54

A more traditional option with a not-so-young crowd. They serve good German food and appetizers to go with the beer.
Sleep
Budget
On the side streets just West of
Avenida Ana Costa
(forwards Avenida Bernardino de Campos), one or two blocks from the beach, there are a few simple mixed cheap hotels / pensões.
On the
Paqueta
side of the city center (between the center and the port) there are a few grotty very cheap hotels, if you cannot afford anything else. (women travelling alone might fell uncorfortable there).
Mid-range
Atlântico Hotel

phone: +55 13 3289-4500

address: av. Presidente Wilson 1

Very basic with bare walls and tile floor, but has airondition, TV, and affordable minibar. The hotel is an beautiful older building in an excellent location right at the beach. Free wireless internet.

Plaza Hotel

phone: +55 13 3208-6400

address: av. Floriano Peixoto, 42

Atlântico Inn

phone: +55 13 3289-4700

address: rua Jorge Tibiriçá, 4

Panorama

phone: +55 13 3208-6400

address: rua Euclides da Cunha, 15

Avenida Palace

phone: +55 13 3289-3555

address: av. Presidente Wilson, 10

Indaiá

phone: +55 13 3289-5559

address: av. Ana Costa, 431

Ritz

phone: +55 13 3284-1171

address: av. Marechal Deodoro, 24

Paulista

phone: +55 13 3237-0198

address: av. Presidente Wilson, 134

Fenícia

phone: +55 13 3237-1955

address: av. Presidente Wilson, 184
Splurge
Parque Balneário

phone: +55 13 3289-5700

address: av. Ana Costa, 555

Awesome hotel for those willing to spend a little (lot) more.

Mendes Plaza

phone: +55 13 3289-4243

address: av. Floriano Peixoto, 42

The top of the local hotels.
Stay healthy

Santos is infamous for beach pollution, and during part of the year, swimming on its beaches is not advised.