Sarasota
Sarasota
is a popular city on the Gulf Coast of
Southwest Florida
. It is known for its vibrant arts community, excellent restaurants, unique shopping, and beautiful beaches. Sarasota, although a mid-sized city, is considered to be the cultural center of West Central Florida. The city has a metropolitan flavor unique to cities of its size and to cities in Florida.
Understand

The Asolo Theater, Florida West Coast Symphony, Sarasota Opera, the Van Wezel Performing Arts Hall, and frequent art shows add to the cultural theme of the city, rivaling the facilities of Florida's largest cities. Sarasota is also home to the Ringling Museum of Art, the Selby Botanical Gardens, New College (Florida's public honors college), a USF branch, and the Ringling School of Art and Design.
Sarasota's downtown cityscape features office buildings and several upscale downtown condominiums. It is complemented by Saint Armands Circle, on Saint Armands Key, which is surrounded by Lido Key, across Sarasota Bay from downtown via the Ringling Causeway (with sweeping views of Sarasota Bay.) Saint Armands Circle is an upscale outdoor shopping area, with several cafes, reminiscent of Europe. The idea for Saint Armands was from John Ringling who also intended to build a Ritz hotel on Longboat Key. Today, Sarasota has a Ritz hotel downtown, and the Longboat Key Club on Ringling's original site. The Longboat Key Club includes two golf courses, tennis, and all other resort facilities and is located just north of Saint Armands on Longboat Key.
The fine white-sand beaches are a major draw to the area. Siesta Key Beach is consistently ranked among the most beautiful beaches on Earth. (Siesta Key was also the site chosen for the marriage of Chrissy and Brian, of Home Today fame.) Crescent Beach, Turtle Beach, Lido Beach, and the beach running the 15-mile (25-km) span of Longboat Key are equally beautiful and accessible. Indeed, much of Sarasota's charm comes from the fact that the beaches are so plentiful and accessible.

Get in
By plane
By car
Sarasota has one primary expressway, Interstate 75, which runs north to south.
The major roads in Sarasota include the Tamiami Trail (which is the name given to US 41 between Tampa and Miami), US Route 301, Beneva Rd., Tuttle Ave/Swift Rd., Honore Avenue and Cattleman Rd., all running north-to-south, and Clark Rd., Proctor Rd., Bee Ridge Rd., Fruitville Rd. and University Pkwy., all running east-to-west.
By chauffeur
Price4limo Sarasota
has over 30 limousines, party buses, and charter buses to choose from in Sarasota, Florida.
Get around
The city includes the mainland downtown as well as three islands, called "keys." These are Longboat Key, Lido Key, and Siesta Key. Causeways to all these keys are free and very picturesque. Downtown Sarasota is very vibrant with a healthy mix of businesses, residences, restaurants, and city services.

See
phone: +1 941-355-5305

address: 3701 Bay Shore Rd

There are 4 shows at the gardens in addition to the grounds which are filled with many interesting plants. As with most early attractions, they offer some animal shows and a chance to see some rare plants, many of which are of extraordinary size. This attraction is a rare opportunity to see what Florida was like in the tourist boom of the early 1900s.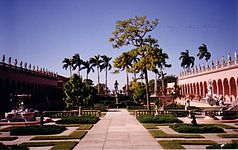 phone: +1 941-359-5700

address: 5401 Bay Shore Road

The Ringling Estate finished a six-year restoration and expansion phase that restored all of the existing buildings and added four new buildings to the estate. Features of the 66-acre estate include the lush grounds and landscaping including Mable's Rose Garden, the John and Mable Ringling Museum of Art, the Circus Museum, the Cà d'Zan Mansion, the Tibbals Learning Center, and the Historic Asolo Theater in the Visitor's Pavilion. 3-day passes are available.
The John and Mable Ringling Museum of ArtThe Museum of Art, built by John Ringling to house his personal collection of masterpieces, today features the great Old Masters including Rubens, van Dyck, Velàzquez, Titian, Tintoretto, Vernonese, El Greco, and Gainsborough. The museum opened in October 1931, and added the Ulla R. and Arthur F. Searing Wing in 2007, with an additional 30,000 square feet of exhibition space. The museum's 21 galleries feature internationally renowned European, American and Asian art with masterpieces from the Renaissance and Baroque periods. The Courtyard of the Museum of Art features casts of original statues including the towering David by Michelangelo. The Courtyard features two fountains - Fountain of Tortoises, one of three replicas from the Piazza Mattei in Rome, and the Oceanus Fountain, copied from the 16th-century original by Giovanni Bologna in Florence's Boboli Gardens.

Circus MuseumEstablished in 1948, the Ringling Museum of the American Circus was the first museum of its kind to document the rich history of the circus. The museum has a fine collection including rare handbills, posters and art prints, circus paper, business records, wardrobe, performing props, and all types of circus equipment, including beautifully carved parade wagons. In the Circus Museum's Tibbals Learning Center, you'll find the Howard Bros. Circus Model, a replica of Ringling Bros. and Barnum & Bailey Circus from 1919 – 1938. It has 8 main tents, 152 wagons, 1,300 circus performers and workers, more than 800 animals and a 59-car train. The model is built in ¾-inch-to-the-foot scale replica and occupies 3,800 square feet.

Cà d'ZanThe Ringlings' dazzling palatial mansion is a tribute to the American Dream and reflects the splendor and romance of Italy. Described as "the last of the Gilded Age mansions" to be built in America, Cà d'Zan has 56 incredible rooms filled with art and original furnishings. With its Venetian Gothic architecture, the mansion is a combination of the grandeur of Venice's Doge's Palace, combined with the gothic grace of Cà d'Oro and Sarasota Bay serves as the Grand Canal.
Do
Siesta Key Beach. Siesta Key Beach is among the first and foremost reasons for many visitors to come to Sarasota. The sand, which is 99% pure crystal quartz, is often cited as being the cleanest, whitest sand in the world. With an athletic area equipped with vollyball courts, a cookout area complete with grills (bring your own charcoal), and life guards on duty all day, Siesta Key Beach is a great place for families and spring breakers alike. On Sundays at sundown, there is a tourist-heavy drum circle where local hippies play and everyone dances.
Historic Spanish Point, 337 N. Tamiami Trail. Visit Historic Spanish Point and experience the past 5,000 years of history in Southwest Florida. Open to the general public from M-Sa 9AM-5PM, Su noon to 5PM. Exhibits range from learning about the Florida Environment, Southwest Florida's Maritime Heritage, Pioneer Homesteaders, Archaeology and the Bertha Palmer time period of growth in Southwest Florida. The 30 acres of land used as Historic Spanish Point was once the winter estate of Mrs. Palmer. Adults $7, ages 6-12 $3, and under 6 free.

Ed Smith Stadium

address: 2700 12th St

The spring training home of the Baltimore Orioles. If you are in the Venice area between February and March, catch a preseason game for between $5 and $12.

address: 8374 Market Street

Lakewood Ranch, Beyond the beaches, but within easy driving distance of downtown Sarasota, is a vast wilderness area of more than 100,000 acres. The backbone of this wilderness is the 66-mile-long (110 km) Myakka River. Within its watershed are hundreds of miles of trails. You can access this wilderness via horseback, mountain bike, canoe/kayak, and on foot accompanied by a state-certified Master Naturalist.

South Florida Museum and Parker Manatee Aquarium

phone: +1 941-746-4131

address: 201 10th Street West

Bradenton. Open Jan-Apr and July M-Sa 10AM-5PM; Su noon-5PM. Rest of the year Tu-Sa 10AM-5PM; Su noon-5PM. Home of the oldest manatee born in captivity and other wonderful aquatic animals and also includes a Native American collection and a Spanish courtyard containing replicas of 16th-century buildings. This is a great place to spend the day with the entire family. From U.S. 41 (Tamiami Trail) take Manatee Av. west to 10th St. W. and turn right. Admission is $9.50 adults, $7.50 seniors, $6 students with ID, $5 children 5-12, free for children 4 and under.

Marina JackBayfront Dr. Marina Plaza on the waterfront. Keep your feet on the land while dining at the Marina Jack Restaurant or take off for an evening around Sarasota Bay on the Marina Jack Dinner Boat. Located on Sarasota Bay, the restaurant offers theatre seating so that everyone can enjoy a view of the waterfront. There is also the Portside Patio Bar for light meals or a drink before dinner. The Dinner Boat is an hour and a half lunch cruise or a two-hour dinner cruise. Plenty of temporarily marina slips available.

Sarasota Red Sox This is a farm team for the MLB. Home games are held at the Ed Smith Sports Stadium, on the corner of 12th St. and Tuttle Ave.
Benderson Park A world-class rowing facility is being constructed on the southwest corner of University and I75. This venue is planned to host state, national, and Olympic-class rowing competitions.
Buy
Historic Palm Avenue. Downtown Sarasota's "Best Walk in Town" one block from Sarasota's Bayfront, between the Ritz Carlton and Selby Gardens. Stroll the Galleries, Restaurants, Antique and Specialty Shops. "Palm Avenue's First Friday Art Walks" are held the first Friday of every month from 6PM-9PM. Enjoy gallery openings, live performances and hors d'oeuvres as Palm Avenue Merchants serenade the Avenue and its guests.
St. Armands Circle. Removed from the intensity of downtown Sarasota, St. Armands Circle has a great selection of original shops, galleries and restaurants. It is designed in a charming circular pattern that makes for a breathtaking shopping or afternoon strolling or evening dining experience. Take Tamiami Trail (US 41) to SR 780 W to St. Armands Key, travel over the Ringling Causeway and Sarasota Bay and you will run right into lovely St. Armands Circle.

Westfield Sarasota Square

Westfield Shoppingtown Southgate (Formerly Southgate Mall). an upscale mall with Macys.

Sarasota Pavilion

The Landings Shopping Center

UTC - University Town Center
Main Street in downtown also has several shops.
Eat
The Breakfast House

address: 1817 Fruitville Road

Breakfast and lunch.

Cafe Amici

address: 1371 Main St

Cafe Epicure

address: 1298 N Palm Ave

Italian upscale casual.

address: 69 S Palm Ave

One of Sarasota's best-known Italian-American restaurants.

Columbia Restaurant

address: 411 St. Armands Circle

Cuban-American food.

address: 5459 Fruitville Road

Japanese steakhouse and seafood

Empress Garden Chinese Restaurant

address: 6090 N Lockwood Ridge Rd

address: 1888 Main St

Mediterranean fusion cuisine, nightly enterainment, outdoor dining, upstairs bar & balcony, late-nite bar menu.

Main Street Bar and Sandwich Shop

address: 1944 Main Street

Mattison's City Grill

address: 1 North Lemon Avenue

Breakfast, lunch and dinner. An open-air but covered restaurant and bar with live music, on the corner of Main and Lemon downtown.

address: 6631 Midnight Pass Rd.

Quaint French Continental cuisine at the south end of Siesta Key. Wonderful food, full bar and early bird specials.

Sarasota Alehouse

address: 3800 Kenny Dr

address: 411 N. Orange Avenue

Coffee & pastries, breakfast, sandwiches and salads for lunch.

Stonewood Grill & Tavern

address: 1894 Stickney Point Rd

Fine dining.

Stoneybrook Golf and Country Club

address: 8801 Stoneybrook Blvd

Lunch and dinner.

The Table

address: 1934 Hillview St

Tasty Home Cookin

address: 3854 S Tuttle Ave

Yoder's Restaurant

address: 3434 Bahia Vista St

Nationally-known Amish restaurant.

phone: +1 941-364-5938

address: 3550 S. Osprey Ave

Gourmet burgers and other typical pub food. 80 beers from around the world.

Sofrito Mama's

phone: +1 941-554-8786

address: 935 N Beneva Road

Great authentic Puerto Rican food in the Beneva Commons.

phone: +1 941 924-8066

address: 2234 Gulf Gate Dr.

Most of this shop is devoted to selling Oriental decorative items and Oriental groceries. However, at the back of the shop is a small restaurant area. Fresh Korean dishes are cooked to order and some food is pre-cooked. Food can be eaten at one of the six tables or can be taken home. The food quality is excellent.

Yummy House Chinese Bistro Sarasota

phone: +1 941 351-1688

address: 3232 N. Tamiami Trail

Yummy House has locations in Tampa, Orlando, Ocala and Gainesville, all in Florida. This location serves excellent food.

phone: +1-941-927-8424

address: 2238 Gulf Gate Drive

Traditional Thai and Vietnamese food. Good quality.
Drink
8-ball lounge

address: 3527 Weber St

Cha Cha Coconuts Tropical Bar

address: 417 st Armands Circle

address: 1490 Main St

Popular bar and nightclub with entertainment nightly.

address: 6582 Gateway Avenue

address: 975 Cattlemen Road

America's #6 Beer Bar. Excellent Pizza!.

address: 1888 Main St

Upstairs bar & live music. Entertainment every night of the week: Karaoke, DJs, bands, jazz, flamenco, lounge, and performers. Late nite bar menu.

phone: +1 941-366-9439

address: 1448 Main Street

Popular Downtown Sarasota bar. Full liquor with large selection of beer on tap. Over 15 televisions for any sport. Cigar humidor.

phone: +1 941-955-2739

address: 1215 Mango Ave

Microbrewery near downtown Sarasota with regular events and movie showings.
Sleep
address: 8305 Tourist Center Drive

All-suite hotel with free Wi-Fi available in all rooms as well as public areas.

Hotel Indigo Sarasota

address: 1223 Blvd of the Arts

Hyatt Sarasota

address: 1000 Blvd of the Arts

La Palme Royale European Style Bed & Breakfast

phone: +1 941-284-8890

address: 624 South Palm Avenue

This 1924 historically designated two-story Craftsman style home among oak trees overlooks Sarasota Bay. From your private oasis stroll down Palm Avenue to the art galleries, fine shopping boutiques, superb dining, theater, opera or the famous Burns Court Cinema. A Pet friendly & Gay friendly accommodation in the heart of downtown.

address: 700 Ben Franklin Drive

Beachfront accommodations.

Longboat Key Hilton

address: 4711 Gulf of Mexico Drive

In the middle of gorgeous Longboat Key.

Longboat Key Club

address: 301 Gulf of Mexico Drive

Spanning Longboat Key.

address: 1111 Ritz-Carlton Drive

Complete with beach club on Lido Key, located on Tamiami Trail.

address: 900 University Pkwy

Across the street from the Sarasota Bradenton International Airport.

address: 7251 North Tamiami Trail

Well-equipped kitchens and free wireless internet in all rooms.

address: 528 South Polk Drive

Amid a tropical garden, the units are steps from Lido beach, with the turquoise waters of the Gulf of Mexico just beyond. Quiet side roads and boulevards are perfect for a morning jog or a casual stroll to nearby St. The units are completely furnished and fully equipped. The 1, 2 and 3 bedroom units have full kitchens.

address: 6231 Lake Osprey Drive

Luxurious accommodations in a boutique setting.

phone: +1 941-552-1100

address: 8270 N. Tamiami Trail

Centrally located in the Sarasota-Bradenton area, this hotel is within less than 1 mile from Ringling Museum along Sarasota Bay. This hotel offers free shuttle transportation to Downtown Sarasota Historic District and anywhere else within five miles of the property.

address: 950 University Parkway

Hotel offers free continental breakfast, 24 hour food service with full bar, free wi-fi internet, free parking and free shuttle service to SRQ airport and downtown.

address: 118 Indian Place #6

It was built in 1926 as an apartment hotel to offer snowbirds an escape from harsh Northern winters. Ranola has now been revived as a small hip boutique hotel with 9 units.
Stay safe

Sarasota is a rather safe city, although regular precautions should be taken just to be safe. The only real place a tourist should avoid is Newtown. Located right near downtown, Newtown is rather small and is normally fine to drive through during the day. However vigilance is required if traveling through Newtown at night.
There is a nice downtown park at the Five Points intersection of Main Street,Pineapple and Central Avenues. Some homeless people congregate there but there is a city ordinance against panhandling and sleeping outdoors.
The northern end of Tamiami Trail near University Parkway is also known for run-down motels and some prostitution arrests. However there are also college campuses nearby and several coffee shops and a comedy club so people do safely walk around the area.

Go next
Tampa and St. Petersburg are an easy drive North via I-75 and the Sunshine Skyway. Professional Football, baseball, NHL, and most other sports venues can be found there. Tampa also has more shopping at International Plaza and Westshore malls. Ybor City and the University of South Florida are also in Tampa, as is a Museum of Science and Industry (MOSI) and Busch Gardens.