Sardinia
Sardinia
(
Italian
:
Sardegna
, Sardinian:
Sardìgna/Sardìnnia
) is the second largest island in the Mediterranean Sea after
Sicily
, between the Balearic islands and the Italian peninsula and south of
Corsica
. It is an autonomous region of
Italy
.
Provinces
Cities
– a metropolitan city and the capital of the autonomous region of Sardinia
– the Catalonian city
– a capital of a new province Sud Sardegna (South Sardinia)
– a heart of the central Sardinia
- capital of Gallura and northernmost city on the island
– a capital of a province in the west of the island
– the second largest city at the northern part of the island
Other destinations
The Punic and Roman archaeological sites of and
Understand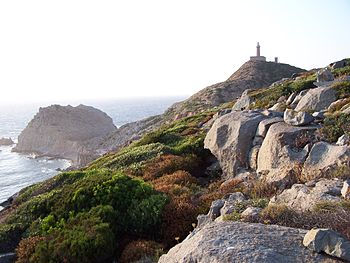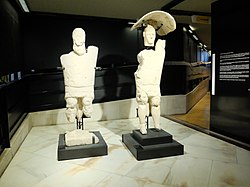 Sardinia, with its quintessential Mediterranean beauty, is mainly loved for swimming, boating, windsurfing, hiking, climbing, and camping, with coastal areas tending to become over touristed especially in the warmest month, August. The inner life of the island away from the tourist spots takes longer to appreciate and requires you to peel away the layers of apparent Italianization. After all, the ancient Nuragic civilization of Sardinia of ca. 1500 BC, whose stone monuments still dot the land, predates even the Etruscan civilization in mainland Italy by several hundred years. In the 2010s, hiking and archaelogical tourism with a low environmental impact has developed considerably, thanks to very important archaeological discoveries such as the Giants of Mont'e Pramma, and the great investment by local institutions and by citizens in the protection and enhancement of the internal territory.
Geology and geography
Sardinia is the only region in Italy of Hercynian origin, and the southwest of the island is even older (Cambrian). The mineral riches of Sardinia are the consequence of heavy hydrothermalism during the Permo-Triassic. As in the rest of Hercynian
Europe
, erosion has taken its toll since the orogeny and has reduced elevations considerably. 30 million years ago, the Sardinia-Corsica block started to detach from mainland Spain and tilted toward its present position. The island is aseismic and non-volcanic.
Sardinia is the second largest island in the Mediterranean Sea (24,090 km² ); only
Sicily
is larger. In addition to spectacular beaches, the island has many beautiful mountain vistas.
The island's interior is dominated by the Gennargentu Range, culminating at the highest elevation in Sardinia at the summit of Punta La Marmora, 1834 m . This range also includes Monte Limbara, Monte di Ala', and Monte Rasu (all below 1500 m ). An independently-formed range of hills, the Sulcis-Iglesiente, stretch across southwestern Sardinia. The highest hill peaks at 1236 m , and this range once gave life to large mining operations.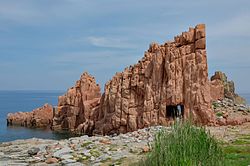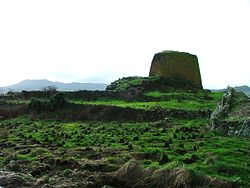 Plains are quite rare and generally small with two exceptions. The Campidano Plain is the largest flat area and reaches from Oristano to Cagliari, separating the Gennargentu from the Sulcis-Iglesiente. The second largest is Nurra Plain in the northwest between Sassari, Alghero, and Porto Torres, and the Nurra's erstwhile forests and mines have mostly made way for today's pastures.
Other notable features are the former marshes of Sulcis and Cagliari. Sulcis was a marshy area where malaria was still present in the 1940s but has been eradicated. Cagliari's outer neighborhoods sit upon flat and boggy land, and harvesting salt is a major industry there.
Coasts are generally rocky with many cliffs, especially along the eastern half. Despite the precipitous coastline, there are many large beaches all around the island. These exist between Logudoro and Gallura in the north; Teulada and Pula in the south; and at the tip of Sulcis-Iglesiente in the southwest. Apart from the Strait of Bonifacio (famed for its often rough sea) which divides Corsica from Sardinia, the surrounding sea is quite deep at short distances from the shore.
The population is small (a little more than 1,650,000 inhabitants in 2010) and heavily concentrated in Cagliari (one third of the total population) and Sassari (one fifth). Olbia is the only other town with a population exceeding 50,000 inhabitants. Other centres include Alghero, Nuoro, Santa Teresa Gallura, Oristano, Carbonia and Iglesias. Sardinia, along with the Valle d'Aosta region at the French border, has the lowest population density in Italy.
Climate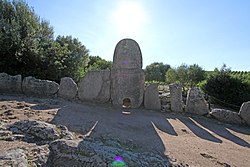 Sardinia enjoys for the most part a Mediterranean climate. It is however heavily influenced by the vicinity of the Gulf of Genoa (barometric low) and the relative proximity of the Atlantic Ocean. Sardinia being relatively large and hilly, weather is not uniform; in particular the east is drier, but paradoxically it suffers the worst rainstorms: in Autumn 2009, it rained more than 200 mm (8 inches) in a single day in Siniscola. The western coast is rainy even for modest elevations (for instance Iglesias, elevation 200 m, average annual precipitation 815 mm against 750 mm for London).
Summer is dry with very warm weather; however, contrary to the islands of
Greece
for instance, shade and wind are plenty. Autumn is typically very mild (with averages of 20 °C and up for highs till mid-November), but is subject to heavy rainstorms as noted above. Winter is generally mild on plains (cold spells being however not unheard of) but cool to cold at higher elevations; snow is generally limited to the Gennargentu range. Spring is mild and rainy, but not as autumn. The island is very windy, especially from September to April (northwest winds called locally
Maestrale
); southeast winds (
Scirocco
) are frequent during summer and bring invariably hot weather.
History
There are several must-see sites for the archeology-minded tourist. Sardinia is home to the old but somewhat mysterious Nuragic civilization (ca 1500 BC) whose cylindrical towers (called
Nuraghes
, sing.
Nuraghe
) dot the Sardinian landscape. One of the largest of these Nuraghe is near Olbia and the Costa Smeralda. Other fortified villages can still be found, a great example of which is Barumini (Medio Campidano province). The Phoenicians arrived around 1000 BC and founded Cagliari (Karalis, ca 800 BC), Tharros (near Oristano), and Nora (near Pula, Cagliari province), and others. Sardinia was contended during the First Punic War between Carthage and Rome, but went eventually to the latter. Rome had often trouble dealing with the rebellious locals, but managed quite a large income out of grain and metal mining.
With the fall of the Roman Empire, heavy raiding of the coastal areas by Barbary pirates forced the population to the hinterland; Sassari for instance was founded by refugees from Porto Torres. The four Kingdoms ("Judgedoms" of Calaris , Arbaree , Torres and Gallura ) sprang forth during the Middle Ages, but were colonized (except for the Kingdom of Arborea) by Pisa and Genoa. The Pisans in particular, through the famous family of the Conte Ugolino della Gherardesca of Dante's
Inferno
, controlled the southernmost part of the island between 1200 and 1350. The Gherardesca family got a large income from the silver mines near Iglesias, which they themselves founded. The Aragonese crown (now part of the modern Spanish crown) began staking claims in the 1320s and proceeded to seize all of Sardinia, save Castelsardo, by the early 1400s. Until the early 1700s, the island was an integral part of the Spanish crown.
When Sardinia was ceded to the House of Savoy in 1720, the constitution of the Sardinia-Piedmont realm became the starting point for the unification of the Italian peninsula; however, Sardinia had separate (and generally worse) rights than those given to mainlanders until 1847, when it gained the same status as the mainland but paid the price of losing what little autonomy the island enjoyed. Following the French Revoluation, the newly-minted French Republic attempted to invade the island in 1793 but was repelled. Napoleon was there as an officer in one of the major invasion attempts. Despite French attempts to dominate the island, the Piedmontese Savoys manage to retain control and even used the island as a refuge when Napolean swept through their homeland. After the Savoys got back to the mainland, Sardinia was once again left to its own devices, except for the exploitation of its ancient woodland and its large mineral resources. In the early 1900s, the fascist government carried out several works, particularly the reduction of marshy areas and the foundation of mainland colonies, like Fertilia and Arborea. In 1948 the unique socio-political context of the island was recognized by Rome, and Sardinia was granted a limited degree of administrative autonomy that retains to the present day. With the end of the exploitation of the mines, but with the fast growth of the tourist industry (especially in the Costa Smeralda area), Sardinia is slowly converting itself into a popular tourist destination even though traditional stock-herding, especially of sheep, is still a frequent sight.
Talk
Along with
Italian
(
Italiano
), Sardinians speak other languages. Sardinian (
Sardu
) is the indigenous language of the island and the most widely spoken as well after Italian. It is considered by many scholars to be one of the most Latin-like Romance languages. Sardinian is not a dialect and saying so is often perceived as an insult by its native speakers, whose numbers are becoming smaller and smaller by the day. Other languages include Gallurese, Catalan, and Ligurian. In Gallura and
Sassari
, Gallurese (
Gadduresu
) and (
Sassaresu
) are spoken. Gallurese is very similar to Corsican whereas Sassarese is a transitional dialect between medieval Tuscan and Sardu. In Alghero, there are a few speakers of an old Catalan dialect (
Alguerés
), and a Ligurian community on the southwest San Pietro Island speaks a dialect called
Tabarchìn
. Nowadays, many of the non-Italian languages are confined to the older generations as a direct consequence of the island-wide assimilation policies carried out by the once Savoyard and then Italian government. Nowadays, the Sardinians are generally monolingual Italians with a peculiar accent and the young people don't even understand some basic Sardinian anymore; when addressing people they do not know, they usually use Italian, even if they recognize the other person as a fellow Sardinian. Because Italian is the only language they grow up in, English is not widely spoken, as well as Spanish and Catalan; the latter is not generally understood even in Alghero, which has been assimilated to Italian like the rest of the island.
As a rule of thumb
, tourists should generally expect communication only in Italian.
Get in
The following budget airlines can get you there cheaply:
Jet2.com
,
Ryanair
,
Easyjet
and
Eurowings
.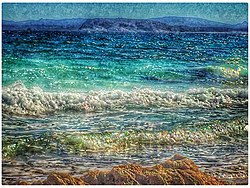 By plane
Three Sardinian commercial airports are close to the cities of Cagliari, Olbia, and Alghero.
Aeroporto di Cagliari-Elmas (Cagliari Airport) (CAG) is the busiest in Sardinia. Cagliari is served directly by domestic and international flights, while well-connected Milan-Linate and Rome-Fiumicino airports can also serve as intermediate stops to Cagliari.
Aeroporto di Olbia-Costa Smeralda (Olbia Airport) (OLB

) is the second busiest airport in Sardinia and the 17th in Italy; it is the gateway to the Costa Smeralda.

Aeroporto di Alghero (Alghero Airport) (AHO

) is the third busiest in Sardinia. It is 10.5 km northwest of Alghero.

By boat
There are ferry services to Cagliari (south coast), Porto Torres (north coast), and Olbia, Golfo Aranci and Arbatax (east coast).
Have a look at
Ferriesonline
or
iTraghetti
, or the state-owned ferry service
Tirrenia
(year-round service) and the private companies
Moby Lines
,
Sardinia Ferries
,
Grimaldi
,
Snav
.
Daily ferries link northern Sardinia with
Corsica
(it is possible to take a day trip to
Bonifacio
, Corsica) from
Santa Teresa Gallura
.
Get around
The government of Sardinia runs
SardegnaMobilità
, a public transportation portal, which, among the other things, provides a
travel planner
for the whole island and for journeys to the island.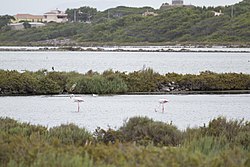 By bus
Regular, cheap buses between the main centres:
Cagliari
,
Sassari
,
Olbia
,
Santa Teresa Gallura
,
Alghero
,
Nuoro
, etc. You may end up changing buses (or trains) in, for example,
Macomér
. Less frequent buses, but worth persevering for the smaller villages.
ARST
is the main regional bus service provider on the island (check with their
schedules
, also
mobile site
). They also run urban buses in some location.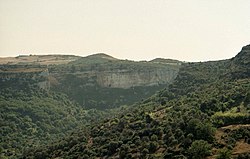 Tickets can be bought at the ARST stations, from the various
sales outlets
,
ticket vending machines
, or, if you have an Italian number, by a mobile phone. Tickets are also sold on board but with a surcharge (usually €1).
By train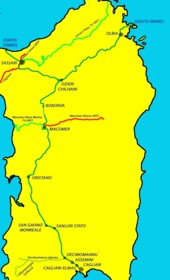 Trenitalia
runs regular trains on the standard gauge tracks between
Sassari
,
Olbia
and
Cagliari
.
ARST
also operates a few railway services on the narrow gauge lines:
Alghero
-
Sassari
-Sorso, Macomer-
Nuoro
, Monserrato(Cagliari)-Mandas-
Isili
. These trains can be not that fast, frequent and convenient. For example, the terminus in Alghero is at the quite of the edge of the centre. So, regional buses could be an alternative.
Trenino verde
In season, there are irregular tourist train services --
trenino verde
-- scheduled on otherwise unused lines. For example, there's a small train that travels twice a week on the route Sassari-Tempio-Palau and back.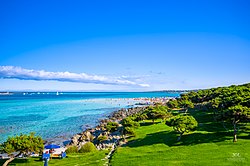 By car
It is possible to get around Sardinia by bus and train, but if you can, hire a car. It is well worth the outlay, and it will allow you to visit some of the more remote and enchanting places and areas. You may find many companies offering car hire like Hertz and Avis or Only Sardinia Autonoleggio.
Consult the article on
Italy
for general information about speed limits, urban areas, police forces, etc. What follows is specific to Sardinia.
There are no toll highways in the island; the main axes are Porto Torres-Sassari-Oristano-Cagliari (Strada Statale 131, European denomination E25) and its bifurcation to Nuoro (SS131 d.c.n.), Iglesias-Cagliari (SS130) , the SS125 (Cagliari-Villasimius), SS126 (Sant'Antioco-Carbonia-Iglesias-Guspini-Terralba), SS127 (Olbia-Tempio Pausania-Sassari), SS128 (East-Central Sardinia), SS129 (Orosei-Nuoro-Macomer), SS195 (Cagliari-SS126 through Pula), and the SS291 (Sassari-Alghero). Many other roads are also of great interest for the tourist, such as the SS133 (Tempio Pausania-Palau) or the Chia-Teulada 'panoramica'.
Many roads are narrow and wind through hilly terrain; be careful and do not hesitate to use your car horn to signal your presence: because of the light traffic, oncoming drivers may not expect to encounter other vehicles. Remember that locals know their roads: they can drive faster than you because of that, do not try to race with them! Beware also of domesticated animals (sheep, goat, cows, pigs) crossing roads in large or small units, especially in rural areas.
Engine overheating may happen in summer because of the heat and topography combination; take the usual precautions.
Paving is generally good on the main axes; it may vary for secondary axes and urban areas, but is often in correct conditions. There are local unpaved roads of touristic interest; these can be in any state, especially after heavy rains, so it is better to go there with a sturdy 4-wheel drive car.
Traffic can become heavy during summer in and around touristic areas, in particular on the SS 125, 126, 127, 195, 291.
A roadmap and a GPS tracking unit (handheld ones are also useful for trekking) are recommended: road signs, in particular directions, are somewhat lacking, especially on secondary roads, whereas crossroads are generally well signalled.
Many villages have installed speed traps and automated cameras at the entrances: these are almost always signalled and fines for speeding are generally heavy. Quite often, you will cross villages with no pavements, and find elder people there: drive with caution.
Beware
of the way locals drive: racing along the narrow and bendy roads in the hills. Also beware of high winds; gusts in excess of 100 km/h (60 mph) are common from September to April.
By boat
Sailing is one of the best ways to see Sardinia. Most charters offer many options from bareboat to crewed and cabin charter, with various types of boats being available.
By bicycle
At many places it is possible to rent a bike quite cheaply, for as little as €9 per 24 hours. Compared to the scarce local bus connections a bicycle provides great flexibility for local exploration. With high quality roads and great scenery the bike is very pleasant to ride.
Do
There is much to do in Sardinia, but the island will probably appeal more to nature lovers than to clubbers (with the exception of the Costa Smeralda area, one of the 'hot spots' of the Italian show-business jet set).
Sea: sailing has become increasingly popular, in particular in the Costa Smeralda area; the first Italian challenge in the America's Cup hailed from there. There are many ports everywhere, and some places are reachable only by boat. Do not miss this opportunity if you like to sail.
Islands: while not many, the islands are generally of interest; check in particular the Asinara National Park (famous for its Albino Donkeys) and the Maddalena archipelago in the north, the islands of Sant'Antioco (actually connected to the main land since Roman times) and San Pietro (a community of Genoese fishermen) in the south.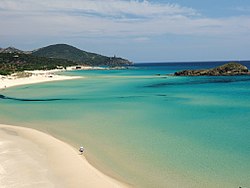 Beaches and coasts: the north and northeast (from Stintino to Budoni) have many beautiful beaches. The Eastern coast is also very interesting: Cala Gonone, Arbatax, Muravera and Villasimius. The deep south (Chia, Pula) is quickly growing as a major tourist attraction. The western coast is of a very different character; large beaches some kilometres long can be found (Porto Pino, Marina di Gonnesa, Marina di Arbus). Of note is Piscinas (Marina di Arbus) with its 60-m-tall sand dunes. Finally, the Alghero area is renowned for its underwater caves and grottoes and attracts many scuba divers.
Hills and 'mountains': while Sardinia's highest elevation does not reach 2000 m (6500 ft), do not be fooled: terrain is steep, snow falls in winter, and there are 4 ski resorts in the Gennargentu area. Hills are everywhere in Sardinia, from the northeastern Monte Limbara Range to the Iglesiente area in the southwest, even at the outskirts of Cagliari. The rainiest areas are quite lush with Mediterranean vegetation. Another advantage is that people (including Sardinians) generally fill the beaches and leave the rest nearly deserted. A popular destination for mountain climbers is the Domusnovas area (close to Iglesias), with its nice vertical walls of limestone. Large caves are accessible (Dorgali, Oliena, Santadi, Domusnovas, Fluminimaggiore, Alghero). There are many hiking trails (though not always well signalled) for beginners and veterans alike.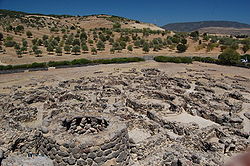 Monuments and sites: Sardinia has few monuments but many are well worth visiting. Check in particular Cagliari (Sard. Casteddu, Castle), Oristano, Sassari, Alghero, Olbia, and Nuoro. Nuraghi and Domus de janas (Sard. for witch houses) are found in many places, in particular in Barumini (Su Nuraxi, in the UNESCO World Heritage list since 1997) and around Alghero. Tharros, Nora, and Monte Sirai (just off Carbonia) are fine examples of the Phoenician/Carthaginian presence. Roman remains are also found in Sardinia, among which Nora, the Sant'Antioco bridge or the amphitheatre in Cagliari; the Antas site in Fluminimaggiore is also of interest, even if the present temple is a reconstruction of the original. Pisans have left important traces in the South (Cagliari, Iglesias) and the well-preserved Castello di Acquafredda (It. for cold water castle) near Siliqua is worth a visit, as is the back country. Bosa is of interest for its medieval urbanism; Burgos (Castle of Goceano) is also worth a visit. Some fine churches are found in the island, from the early Christian times to the Baroque period, in the aforementioned cities but also in Porto Torres and Iglesias (Spanish for church). Examples of industrial architecture can also be found in and around Cagliari, in Porto Torres, and in the Sulcis-Iglesiente area, where organized tours can be booked to visit mines, for instance the Buggerru mines with galleries just above the sea. Finally, several museums dedicated to Sardinia are of interest; the Museo sardo di antropologia ed etnografia and the Museo Archeologico Nazionale in Cagliari, and the Museo etnografico sardo in Nuoro are important starting places.
Folklore: Sardinia has strong traditions which are expressed also through costumes and celebrations. Quite often, even small centres have local celebrations where people dress in rich traditional costumes. However, it is simpler to go to the major venues as there is a considerable afflux from all over Sardinia. These include: Sant'Efisio (Cagliari, 1 May, actually lasts several days), Sagra del Redentore (Nuoro, last Sunday of August), Cavalcata sarda (Sassari, penultimate Sunday of May, horse parade and races), Faradda di li candareri (Sassari, 14 August), Sa Sartiglia (Oristano, Carnival period, horse races), S'ardia (Sedilo, 6 July, horse races) and everywhere the celebrations during Carnival and the Holy Week.
Eat
The traditions and habits are very strong. You will not get any pizzas in restaurants before 19:00, and you will get nothing to eat in restaurants between 16:00 and 19:00, besides 'panini' that is usually a cold sandwich with ham and cheese. The exception may be some tourist-oriented restaurants in tourist-oriented places.
CulurgionesThey are similar to Ravioli (made with typical pasta of Ogliastra) with a filling of potatoes, 'Pecorino' cheese (sheep's milk cheese, see below), egg, onion, mint and garlic - available in many Sardinian restaurants.

MalloreddusA type of gnocchi that are served al dente with a tomato, meat or cheese sauce.

Pizza and PastaThere are pizzerias serving fresh, stone oven-baked authentic style pizzas and pasta dishes.

PorchedduA local specialty of inner Sardinia, it's a young pig roasted in a special manner over a wood fire with an aromatic local shrub called mirto. The pig is frequently basted.

Salsiccia di cinghialeThe wild boar sausage. There are many other types of sausage too.

Stufato di CaprettoA rich casserole made from kid goat, artichokes, wine and also egg.

Su ZimminuA spicy seafood soup typical for Maddalena archipelago.

Mediterranean fishLook for a fish market in any small coast town and buy early in the morning, cook and eat: it's simply fantastic barbecued. The Bottarga (the dried roe of tuna in Carloforte or of flathead mullet elsewhere) is rather expensive but quite good.

Fruit and VegetablesMany locally-produced fruit and vegetables are very tasty, as they are grown in small farms and are mostly organic; vendors along the roads are a frequent sight. Apart from the usual assortment of typical Mediterranean products (such as eggplants, bell peppers, orange, and grapes), you will also find among others wild asparagus, figs, water-melons, and nuts (hazelnuts, chestnuts, walnuts, almonds). Spices (such as thyme, rosemary, fennel) are found in abundance in the country.

PecorinoSheep cheese (It. Pecora, sheep) is found everywhere with all degrees of ripeness from fresh to seasoned (the latter being stronger in taste). Sale of Casu marzu (Sard. for rotten cheese) is forbidden; but its production is perfectly legal and it may be found with the help of locals. As usual with this kind of product, precautions must be taken; it is highly recommended to eat it with trusted locals. Goat cheese can also be found.

FainéPancakes made of chickpea flour.

SeadaTypical of Barbagia, is a dessert similar to Ravioli. It has a characteristic filling of fresh cheese and lemon rind, and melts when Seada is cooked. It must be fried and served with honey.

Sardinian bread and pastriesThere are numerous types of these, with specialties such as Carasau (a type of thin crispy bread), sponge biscuits and almond pastries. What distinguishes Sardinian pastry is the use of pig lard for fat and honey for sugar.

TorroneSardinian version of nougat with honey instead of sugar, and almonds, hazelnuts, and walnuts (all locally produced); the torrone capital of Sardinia is Tonara (Nuoro province): just going there is worth your time.
Drink


Beers
Beer is the most common alcoholic drink among Sardinians; in fact, Sardinia gets the highest consumption of beer in all of Italy.
address: Assèmini, Cagliari

The main local beer brand, however many artisan beers are produced, some of them even awarded at international level.
Wines
CannonauA strong red wine from the Sardinian variety of Garnacha (Grenache) grapes.

Monica di SardegnaA lighter, more accessible red wine.

Vernaccia di OristanoThis include both dry and sweet wines as well as fortified "sherry-like" wines aged in a solera.

Vermentino di SardegnaA light wine with a strong minerally taste.
Spirits
MirtoAn alcoholic drink that's a local speciality. It is made of wine spirit flavoured with the berries of mirto, a local shrub.

Fil'e ferruAnother alcoholic local speciality. Its name means "iron wire" because in the 19 th century it was clandestinely distilled and hidden in small holes covered with soil. Only a small iron wire came out from the soil, to remember where the bottles were hidden. The original name in Sardinian language is Abbardente (Fil'e ferru is in Sardinian too, but it's used more by non Sardinian-speakers).

LimoncelloA sweet drink made with lemon rind, usually best served chilled. It is widely produced in locally.
Sleep

While you can find most major hotel chains in Sardinia, the better way to really enjoy a stay in the island is to find a local hotel or a bed and breakfast or a holiday apartment. Another often cheaper option that adds many 'out of town' locations is to rent a small cabin in a camping village or a room in an 'agriturismo' farm or rural cottage. Most accommodations are located near the coast, but also internal regions offer great opportunities.

Stay healthy
Sardinia is part of the Mediterranean area and shares its specific hazards. A few basic precautions are generally enough to stay out of trouble, especially during summer and autumn.
Sardinia is sparsely populated, in particular the interior; help is not always easily found, and there remain large patches of land where mobile-phone coverage is non-existent (e.g. at the bottom of sheltered valleys). Terrain, despite the lack of high elevations, is generally rugged and steep; this, in combination with heat and lack of water, can quickly lead to disaster. Beware!
Summer is hot and the sun quite strong; the usual precautions to avoid heatstroke and sunburns apply. From May to September, water scarcity in the country is a serious problem. Always take a lot of water with you (especially so when hiking), even if you plan a short trip; bringing along fresh watery fruit (such as peaches) is also helpful. While tap water is generally (but not always) safe, it is recommended to buy bottled mineral water; remember that sweating implies loss of water
and
of mineral salts.
Autumn is generally fine, but heavy rainstorms combined with hilly topography can potentially create land- and mud-slides. Always check the weather before embarking on a trip, even with your car. Winter and spring are generally safer, with pleasantly mild weather (especially during the day) and an abundance of water; but remember that higher elevations correspond to colder temperatures and heavier precipitation. Much of Sardinia (especially the Western part) is very windy from September to April; all drivers, and in particular those with campers, must exercise caution.
Some open-sea beaches are notorious for strong underwater currents (in particular on the west coast); warning signs are not always posted. Ask at your hotel or locals. The Mediterranean Sea is no lily pond; every year, there are several people killed by drowning in Sardinia, and regularly victims are imprudent persons dragged from the shore by large waves.
Be careful when hiking in old mining districts (Sulcis-Iglesiente, Sarrabus, Nurra). While local authorities have sealed off many dangerous areas, some remain unmarked. Always avoid dark galleries, because they might hide vertical ventilation shafts. Do not venture into closed areas (look for the word
Pericolo
or the usual warning signs). If you want to explore mines, go to the local tourist information agencies; they will direct you to organized tours. There have been tales of individuals (mostly ex-mineworkers) running their own private tours; avoid these, as they are illegal and extremely unsafe, because of risks of cave-ins, water infiltration, etc.
Local fauna and flora can be dangerous or source of discomfort:
Ticks (Rhipicephalus sanguineus) carry infectious diseases and are endemic to certain areas: avoid tall grass fields or close prolonged contact with domesticated animals (in particular sheep).
Lethal mushrooms (among which Amanita phalloides) are found in the island.
Consult specialized texts for expert advice
.
Stay safe

Sardinia has a very low crime rate.
Be wary of game hunters during the September-February period; check with locals, hotel employees, and the website of the Sardinian Region for legal hunting dates. Do not hike in the wilderness during these days. There are protected areas (It. Oasi di protezione della fauna) but even these are regularly raided by poachers, especially during the night.
From April/May to September, fires plague Sardinia as the rest of the Mediterranean area; some are spontaneous wildfires, but most are criminal. Observe the usual precautions. It is generally forbidden to start domestic fires in forests. Check with local authorities; Sardinia is an autonomous region and Italian laws might be superseded by local provisions.

Respect
Sardinians are generally a quiet and reserved people, especially those from the interior where they are, more than the other islanders, deeply attached to their land and culture; surely they may prove to be different from the archetype of the outgoing and talkative Mediterranean.