Sari
Sari
is in the beautiful
Caspian region
of
Iran
with about half million people residing in the town and same amount in the suburbs, that is mainly on the left side of Tajan River and about 20 km south of the Caspian (Mazandaran) Sea. Sari is in the north of
Iran
on northern slops of Elburz mountains.
Sari boasts as ancient city, as all of the historical maps referring to this city, being the capital of the ancient Hyrcania civilization 6 centuries before Christ and Kingdom of Tabaria till the 17th century. It was twice the capital of Iran within the last four centuries,
Sari and some towns in Mazandaran is one of rare cities of Iran that night life is available during summers. Many people enjoy gathering each other in some places such as Barbod, Paradise, Tooska and Nemashown to play games, enjoy music and pleasant weather, or eating meals. Or to read some poetry book such as Diwan-i Hafiz. You also find many of restaurants in city center (specially Farhang Street) and a restaurant in the Tavakol alley which provides Italian dishes.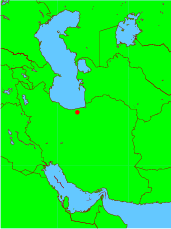 ==Understand==
Population: 568,214 (2006 estimate)
Elevation: 50 m
Area: 5089 km²
Religion: Islam, Zoroastrianism, Christian
Language: Mazandarani (Tabarian), Persian, and some Turkmen.
Get in
By plane
Dasht-e Naz International Airport. Four daily flights in the summer season and six weekly flights in other seasons scheduled to and from Tehran. The fare is about USD$20. Also weekly flight destinations o Mashhad and Saudi Arabia. The airport is in the northeast and less than 10 km from city center. Shared and airport taxis are available in the airport parking. There is highway under construction to connect the airport and city directly.
By train
The city is connected to
Gorgan
and
Tehran
by train as well,
since it is on a major branch of the Iran's railway.
Every day there are four passenger trains getting to sari, one Local train runs from Gorgan about 06:00 and reaches Sari before 09:00, and returns from Sewatcow at 13:00 to getting sari in 14:30, one from Tehran runs in 09:10 everyday to getting to Sari about 16:30, and leaving Sari at 20:30 (summer) and 21:10 (winter) to getting Tehran about 04:00, There are Twin Mazandaran trains which have Gorgan destination running from Tehran, one runs from Tehran in about 19:30 (winter) and 22:10 (summer) getting Sari about 03:30 (winter) and about 05:50 (summer) and another at the same time gets to Sari about 10:45 (summer) and 09:10 (winter) to reach Tehran about 07:00 (summer) and 05:30 (winter).
The scheduled program of Twin Gorgan destination trains are changing periodically. However Sari destination train gets to the city about 16:00.
By car
There are many automobile and car routes from the main cities next or near by Sari.
Sari is connected to Neka and Shahi by the A62 Autobahn, all of the coastal cities in Mazandaran have at least 8 bands (4 forward and 4 backward).
Many of people are visiting Sari via
Turkmenistan
-
Mazandaran
(
Iran
) borders, it is possible to getting Visa of Iran from border, and to continue trip around Mazanderan Sea.
By bus
There are five bus terminals in Sari. So its easy to get around in the county by buses.
City buses has destinations to approximately all of the towns in Iran, but be aware that the buses are not running everyday, but it has hourly buses for Tehran, Also it is possible to getting the bus from the Imam Khomeini Sq. in the southeast of city when no bus may be founded in the busy days.
By boat
The port of Amir Abad is on the beautiful southern coast of the Mazandaran Sea, but the cruise is not high quality.
Get around
The spreading of the city makes taxis available almost everywhere.
There is a wide choice of taxi systems including ceremony taxis, wireless telecommunication taxis, airport or rail station taxis, telephony taxis and shared taxis.
You may call 133 from everywhere of the city and county to ask for a ride anywhere in Sari in less than five minutes or taking you from approximately 20 km far distances (requires first registration) and even to serving you getting any destination around Iran. So if you would like to stay more than a week in Sari, registration with this office is recommended.
By car
Parking may not found in the avenues of Sari, and parking is usually in the small streets and alleys, or have a small entrance from avenues. It is recommended to park your car in your hotel's parking.
Driving may be an option for going to some sights in the suburbs such as Soleyman Tanga (meaning Strait of Solomon), or Masandaran Sea.
Destinations which are of primary concern to a visitor are the
Caves from 70th millennium BC
and
towers of dynasties of Tabarian Kingdom
.
Huto Cave
Kamarband Cave
Xorshid Dabo's Private Cave
The Resket Tower from the Karen Pawand era
The Ladjim Tower from the Dabuyans era
The Farrah-Abad Complex Place
See
Notable are famous houses such as
Kolbadi House
and
Amir Divan House (Ramedani House)
, Archaeological sites including
Hutto Cave
(70th millennium BC),
Kamarband Cave
(70th-millennium BC); also the
Resket Tower
from the Qaran era and the
Farahabad Complex Place
from the Safavid era.
The restored 125-year-old Khaneh Kolbadi is reminiscent of an 18th-century khan's palace. Thick walls kept the lower floor warm in winter while the light, bright upper floor could be opened to through drafts for hot summers. Its orosi windows (wood-framed puzzles of multicoloured glass) supposedly disorientated mosquitoes. The building is slated to become a museum incorporating the historic Vasir-e Hamam (bathhouse) behind.
Haaj Mostafa Khan Mosque
The unusual Jameh Mosque has traditional Mazandarani tiled roofs, but from outside looks more like a medieval Italian prison.
Tomb of Yaha
Tomb of Zeinol Aabedain
Tomb of Abbas
The Clock Tower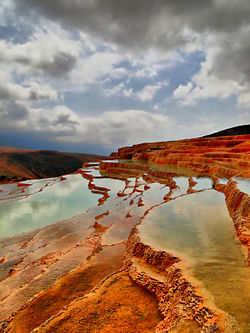 Badab-e Surt The travertine terraces which are similar to the ones in Pamukkale, Turkey, are 100 km south of Sari. The location is marked in OpenStreetMaps (Location: 36.3537126, 53.8566692). There is a 2-km trail to reach to the terraces from a parking lot which is reachable by a bumpy road. Also expensive pickup rides (from US$20) can be hired for the steep 2-km hike. Easiest way to reach is a private car via Kiasar, however also a few public buses run to the nearby Orost Village, 5 km, from Kiasar (around 12:00) or the junction at the bus station. Scenic hiking is possible from the Sari - Damghan junction towards Orost and Badab-e Surt. It's more than 20 km, there are no hotels around as it's a very rural area, but in Orost village you might get hosted by a friendly Iranian family. There is also a local hammam spa available with alternating opening days for men and women. From the junction, there is a dry river bed that leads through the valley which spectacular view on the mountain range which leads to the rewarding travertine terrace views from its top. Its possible to dip into the water of the uphill spring which is apparently helpful for rheumatic and back pain problems. However bathing in the travertine pools shouldn't be done to protect the geological formations.
Do
There are many places to go in Sari. Here are just a few:
Farah Abad Coast
Gohar Baran Coast
Derya Kenar Coast
Khezer Shahr Coast
Dehkadeh Aramesh Tourist Village
Tajan River Park
Zare' Forest Park
Salardareh Forest Park
Dasht-E-Naaz National Park
Pol-e-Gardan hiking trail
Nemashoun Lake
Lak-Dasht Lake
Soleyman-Tangeh Lake
Bam-e-Shahr Hill (offers a great panoramic view of the city)
Qor-Maraz (natural spa, Neka)
Sports
There are many sports complexes in Sari. Most popular are Jahan-Pahlavan Takhti Sports Complex, Hashemi-Nassab Sports Complex, and Montazeri Sports complex.
Wrestling. Sari is the birthplace of lots of popular wrestlers and athletes, and it was the main host of the 2006 World Wrestling Competitions. It has the major fieldhouse, Seyyed Hosseyni Coliseum, which is known throughout Iran as an outstanding place for wrestling.
Learn
Sari is one of the most cultural cities in Iran. It hosts several universities:
University of Agriculture
Mazandaran University of Medical Science (MazUMS)
University of Natural Science
Sarian University of Art & Architecture
Payam-e-Noor University
University of Tech & Engineering
University of Tarbiyat-e Modaress
Sama Technology Faculty of Azad University
Buy
If you want to buy food, Sari is based on food such as cakes, rice, yogurt and fruits. Some companies in Sari (the wood and paper company) are famous in the Middle East.

Eat
If you are in Sari, fish is the best way to go. If you're not really interested in fish, Kebab shops are scattered all over the city. Don't forget a meal in this city would not be complete without salads and Naan bread (Iranian bread).

Drink
The favourite drink of Sari in winter is Caspian Tea (Chay), it is available almost everywhere around the city, especially in winter. In summer when it is hot and humid, Doogh a traditional yoghurt drink is also available. The local cola (ZamZam) is also available.

Sleep
Salardarreh Hotel, at Km.17 of Kiyasar Rd. (South), in the heart of forests with exclusive views of forests and surrounding hills and valleys. Many Norwegians, Germans, and Swedish people are residents of this hotel most of the times, English is guaranteed to be spoken, has a local church for religious practices. The fare is reasonable since it is semi private hotel.
Narenj Hotel, at Km. 5 of Darya Rd. (North). Good for Spring especially April and May months, since you can open the windows of its rooms and sleep by the balmy and Yasmin distributed air.
Badeleh, at Km. 10 of Neka Rd. (East) Most of the suites are reserved and tourists rarely find the chance to using this hotel.
Mazandaran Hotel Associate, in 21st Alley, Ferdowsi St. It is not preferred however has cheap fares for one night accommodation.
Mazraeh, at Km. 7th of Qaemshahr Rd. (West) offers villa structured rooms.
Sarooyah Apartments, in Taleghani Blvd. has cheap and comfortable Guestrooms, Getting twin sleeping service room with Air conditioner, refrigerator and private bath room must not reach more than USD10. Forigen residents who speak English usually rent this hotel but there is no guarantee that secretary speaks English.
Sari Residential Complex, in Peivandi Alley, Farhang St. A reasonable hospitality center, with clean and hospitable employees.
Asram Hotel, next to Tajan Bridge. Very expensive hotel with lack of some services and hospitaly. German is also spoken along with English. Especially it is guaranteed during summers.
Along with hotels there are many guest rooms (Mehman Pazir) are available specially in the Nader Street (Jomhuri-ye Eslami Street) in the city center and next to the Tajan bridge.
Mazandaran Sea resorts
Although many residents prefer to use governmental villas in the Farrah Abad. But these resorts may not provide sleeping to foreigners, but it is recommended to using Babolsar hotels, which are about 35 km from Sari via Bahnamier Road and about 60 km in nights via A62 autobahn. They have the view of Sea. They may not be available or by cheap fare during busy days.
Connect
There are many Internet cafés and chat rooms scattered all over the city, the Internet speeds ranges from acceptable to fast.
To find high speed internet providers, look that if it has server or not. Foreigners usually use the cafes around the Time Square.

Stay safe
Sari is relatively a very safe city, even in the middle of the night, so don't let this worry or bother you at all during your stay in Sari. If you are in trouble you can ask for help by calling police at 110 or Emergency medical services at 115 or Fire department at 125.
You might want to have plastic money to prevent having your money stolen. Bank-e Melli-ye Iran (National Bank of Iran) which is a government-owned bank in Iran, provides an ATM debit card service (plastic magnetic card) for tourists who visit Iran. Tourists just need to head the nearest branch of this bank. Information on this service can be found
here
. Another way to prevent having your money stolen, is going to the nearest bank and getting a gift card. They are exactly like ordinary ATM debit cards, but once they get empty, they cannot be recharged.
Sepah Bank
or
Bank -e- Sepah
is a governmental bank that has a
current account service
for foreigners which provides ATM debit card and cheque writing option. A list of permitted Iranian banks can be found
here
Cope
If you don't know Mazandarani or Persian, don't let this bother you or make you worried, there are many foreigners and Iranians there who speak English in the city.
Also it is recommended to appreciate the native people who are not able to talk to you in English with these Mazandarani sentences: Tie Fieda or Tie ri Bielaarremi, but please extend your voice like singing since people can better understood while they extend their voice.