Sarnia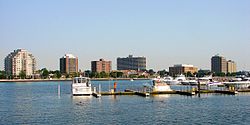 Sarnia
is a city in
Southwestern Ontario
with a population of around 72,000 (2016). It is at the south end of Lake Huron. It includes Point Edward, a village in the northwest corner of the city.
Understand

In a natural harbour, the Sarnia port remains an important centre for lake freighters and oceangoing ships carrying cargoes of grain and petroleum products. The natural port and the salt caverns that exist in the surrounding areas, together with the oil discovered in nearby Oil Springs in 1858 led to the massive growth of the petroleum industry in this area. Because Oil Springs was the first place in Canada and North America to drill commercially for oil, the knowledge that was acquired there led to oil drillers from Sarnia travelling the world teaching other nations how to drill for oil.
The complex of refining and chemical companies south of downtown Sarnia is called Chemical Valley and located. While in 2011 the city had the highest level of particulates air pollution of any Canadian city, it has since dropped down to 30th. About 60 percent of the particulate matter, however, comes from the neighbouring United States.
Culturally, Sarnia is a large part of the artistic presence in Southern Ontario. The city's International Symphony Orchestra is renowned in the area and won the Outstanding Community Orchestra Award given by the Detroit Music Awards in 2011.
The name "Sarnia" is Latin for Guernsey, which is a British Channel Island. In 1829 Sir John Colborne, a former governor of Guernsey, was appointed Lieutenant Governor of Upper Canada. In 1835, to resolve a dispute between the English settlers and the Scottish settlers, Colborne suggested "Port Sarnia".

History

First Nations (Aboriginal) peoples have lived, hunted, and travelled across the area for at least 10,000 years, as shown by archaeological evidence on Walpole Island. About AD 796, these peoples emerged from an amalgamation of Ojibwa, Odawa, and Potowatami clans, and formed the Three Fires Confederacy, also called the Council of Three Fires. They were all speakers of Algonquian languages and also had connections through common elements of cultures. They developed a self-sufficient society where tasks and responsibilities were equally shared among all members.
The city's natural harbour first attracted the French explorer La Salle, who named the site "The Rapids" when he had horses and men pull his 45-ton barque Le Griffon up the almost four-knot current of the St. Clair River in 1679. This was the first time anything other than a canoe or other oar-powered vessel had sailed into Lake Huron, and La Salle's voyage was thus germinal in the development of commercial shipping on the Great Lakes.
In the 18th century, Britain tried to strengthen relations with the tribes in the area as a set of allies against the French and the Iroquois, based mostly east and south of lakes Ontario and Erie. The people of the Three Fires Confederacy, however, sided with the French during the Seven Years' War and made peace with Great Britain only after the Treaty of Fort Niagara in 1764 The Confederacy fought on the side of the British during the War of 1812, hoping the expel the Americans from the Great Lakes hub.
Before the War of 1812, the first Europeans in the area were French-Canadian settlers loyal to the British Crown. Some had been in the area east and west of the Detroit and St. Clair rivers since before the British took over this territory. In this period, Detroit was still within the British colony of the Province of Quebec.
In the early 1830s, there were numerous Scottish immigrants to this area. The wealth of adjoining stands of timber supported the lumber industry at a time of development throughout this Great Lakes area, with lumber also in demand in the growing cities of Chicago and Detroit.
The discovery of oil in nearby Oil Springs in 1858 by James Miller Williams, and the arrival of the Great Western Railway in 1858 and the Grand Trunk Railway in 1859 stimulated Sarnia's growth. The rail lines were later linked directly to the United States by the opening of the St. Clair Tunnel under the St. Clair River at Sarnia in 1890, by the Grand Trunk Railway. This was the first railway tunnel ever constructed under a river.

Climate
Lake Huron is cooler than the air in summer and warmer than the air in winter; therefore, it moderates Sarnia's humid continental climate, which makes temperature extremes of hot and cold less evident. Winters are cold with a few short-lasting Arctic air masses that dip far enough south and bring with them daily high temperatures lower than −10 °C (14 °F). Sarnia, while not quite in the southwestern Ontario snowbelt, sometimes receives large quantities of lake-effect snow.
The lake creates a seasonal lag, and Sarnia has a noticeably longer warm period following summer than neighbouring areas. However, cooler temperatures tend to prevail for longer after winter. Summers are warm to hot and usually humid. Humidex readings can be very high at times from late May to late September.

Get in
===By car===
Sarnia is across the Blue Water Bridge from
Port Huron
,
Michigan
. It is the western terminus of Highway 402 (Sarnia-London).
By train
Viarail
runs two trains a day from Toronto to Sarnia. All trains arrive at
Sarnia station
, which is at 125 Green St.
By plane
Get around
By car
It would be best to have a car. Traffic is usually very light, and the roads are in good condition.
===By foot or bike===
Sarnia has a walkable downtown (Front St. area).
By bus
Sarnia Transit11 routes throughout town, Monday to Friday from 6:30AM to 10:15PM, Saturday from 8AM to 10:15PM, Sunday from 8:30AM to 6:15PM. Fare is $3.00 (in 2019) for a single ride.
See
Canatara ParkHas a great beach, hiking trails, and a big park for barbecues or family picnics, sports fields, and a lot of bird wildlife.
Children's Animal FarmIf you have children this is a hit. This attraction is free of charge and the animals come right out to greet you. It's very safe and the whole family will have a ball.

Canatara Choo ChooAn inexpensive ten-minute ride through the park.
phone: +1 519-336-2100

address: 223 Christina St N

Over 6,000 objects, including: dinosaurs, fluorescent minerals, fossils, artifacts, gemstones, minerals, crustaceans and shells, butterflies, insects, mounted Canadian and jungle wildlife, fish, birds, sea creatures, sharks, RCMP memorabilia, Native Canadian tools and artifacts. Gift shop.
Bluewater BridgeIn the warmer months go under the bridge for fresh cut fries and to watch the boats in the St. Clair River.
phone: +1 519-344-7469

address: 168 Christina St N

The International Symphony Orchestra plays an annual season lasting from September to April. The theatre also offers year-round dramatic productions.
Judith and Norman Alex Art Gallery

phone: +1 519-336-8127

address: 147 Lochiel Street

Featuring exhibitions of Canadian art history, including paintings from the Group of Seven.
Do
Lake HuronThere are many public-access beaches along the shore. Canatara Park has a large public beach with plenty of parking, although it is known to be somewhat rocky and the water is colder, due to the current of the St. Clair River.

Bright's GroveBeaches in the most North-East end of Sarnia are generally sandier and warmer, and there are large areas of public access, notably at Mike Weir Park (the largest public park on Lake Huron, it has a large sandy beach, with parking, playground, baseball diamonds, and sheltered picnic areas) and Kenwick Park (which has tennis courts, a basketball court, playground and sheltered picnic area).

Howard Watson TrailA former railway line that passes through a combination of urban and rural areas. This linear park spans 16 km through wooded areas and alongside ponds. Benches are available along the path as are washroom facilities. The path is open year round: bicycling, running, and dog walking are popular activities in the summer. Snow shoeing and cross-country skiing can be enjoyed on snowy days. An access to Lake Huron is available at Blackwell Side Road.

Great Lakes Waterfront TrailIt stretches over 2100 km along the Canadian shores of Lake Ontario, Lake Erie, Lake St. Clair, Lake Huron and the Niagara, Detroit, and St. Lawrence Rivers. The Great Lakes Waterfront Trail connects 114 communities and hundreds of parks and natural areas including wetlands, forests, and beaches.
Buy
Lambton MallThe largest mall in the area with 72 stores including many clothing boutiques. Larger stores include Canadian Tire, SportChek, and Tepperman's.

Bayside Centrewith nine stores, and several government and medical services.
These large malls combine with several smaller shopping centres, discount stores, dollar stores, convenience stores, and a collection of antique and specialty stores to form the crux of Sarnia's retail business.
Eat
Albert's Rolling Lunch

phone: +1 519 337-3535

address: 99 Michigan Ave, Point Edward

The original chip truck under the bridge (started in 1957), now just up the road in a permanent location. Busy in the summer with take-out style burgers and fries, and a great selection of Ice Cream.

Lola's Martini Lounge

phone: +1 519 336-8088

address: 110 Christina St S

On Christina is a very popular spot on the weekends for more upscale cuisine.

Salvatore's Trattoria E Ristoranté

address: 105 Michigan Ave, Point Edward

A cute little Italian restaurant in Point Edward that is a hit with the locals. Savlatore's is within a 4-minute walk of the Bluewater Bridge.

phone: +1 519-337-8466

address: 485 Harbour Rd

Close to the Bluewater Bridge; great for pub food, good beer and a great atmosphere.

phone: +1 519-542-3488

address: 1202 Lambton Mall Road

phone: +1 519 344-4422

address: 420 Christina St N

One of Sarnia's best restaurants for quality food in a elegant environment next to the Super 8. The house specialty is prime rib.

Skeeter Barlow's Grill and Bar

phone: +1 519 869 2794

address: 2715 Old Lakeshore Road, Bright's Grove

Great wings and a waterfront patio.
Drink
phone: +1 519 344-6097

address: 196 Christina St N

A casual dining lounge in downtown Sarnia featuring a large menu of fun, delicious martinis. The service isn't the greatest but the drinks are.
Sleep
address: 420 N Christina St Front St, N7T 5W1 CA

Holiday Inn

phone: +1 519 336-4130

address: 1498 Venetian Rd, Point Edward, N7T 7W6

The Holiday Inn in Point Edward is one of the major hotels in town and caters to corporate and leisure travellers. The hotel is on the waterfront and has convenient access to a marina.

phone: +1 519-892-3389

address: 2955 St. Clair Gardens, Sombra

Cozy B&B with bathtubs, fireplaces, garden, and pier into the St. Clair river. Good breakfast.
Connect
Phone
Sarnia is covered by the major Canadian celluar companies (Bell, Telus and Rogers).
Newspapers and periodicals
The
Sarnia Observer
is the local daily newspaper serving Sarnia and Lambton county. Other national newspapers are available (
Globe and Mail
,
National Post
)
Go next