Saronic Gulf Islands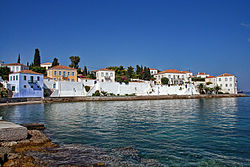 The
Saronic Gulf Islands
lie in the
Saronic Gulf
in the Aegean Sea southwest of Athens. Their easy accessibility from
Piraeus
by ferry and especially by the newer fast boats have put them within day-trip distance of Athens, making them popular with both Athenians and travelers. Some of them, especially
Hydra
, are also popular cruise ship stops.
Despite their popularity, these islands have largely retained their Greek atmosphere, and their attractiveness and proximity to Athens make them good choices for the visitor with limited time who wants a taste of island life. Except for
Aegina
they have no major antiquities from classical times, but all the major islands have significant buildings and museums relating to more recent Greek history.
Islands
Essentially each island has one main town, usually named the same as the island.
(Αίγινα, Aígina)
(Πόρος)
(Ύδρα)
(Σπέτσες)
Other destinations
Smaller or less visited islands connected with this group include:
The location of the Saronic Gulf islands also makes them easy to combine with a visit to the
Peloponnese
, provided you're not traveling by car, since private cars are restricted or prohibited on some of these islands, and even the ones which allow them are served by few car ferries.
Go next