Sausalito
Sausalito
is in
California
, across the Golden Gate bridge from
San Francisco
. Sausalito is a unique and picturesque community, perched on a hillside between the San Francisco Bay and the
Marin Headlands
.
Get in
By plane
Sausalito has no airport of its own. Use one of the three bay area airports: San Francisco (
SFO
), Oakland (OAK), or San Jose (SJC). From there you can get to Sausalito.

By car
Sausalito is just over the Golden Gate Bridge (US 101) from San Francisco. Just take the first exit (Alexander Avenue) after crossing the bridge and follow it into town. If coming from the north, exit at the sign marked from Sausalito, turn left, and make your way down Bridgeway into town.

By ferry

Two ferry companies serve Sausalito:

phone: +1-415-705-8200

Offers ferry service to/from Pier 41 in San Francisco's Fisherman's Wharf. It is a 30-35 minute trip.

phone: +1-415-923-2000

Offers ferry service to/from the historic Ferry Building in San Francisco's Financial District. It is a 25 minute trip.

Both companies dock at , located near the city center.

By bike
A very popular activity for tourists in San Francisco is to hire a bike, cycle across the Golden Gate Bridge, and then down into Sausalito. Planning this the previous day will make sure you arrive in Sausalito in time for brunch. If worn out from the ride, you can catch the ferry back to San Francisco; the ferries have lots of capacity to carry bikes. A map of the route is available from most bike hire places in San Francisco.

By bus
Sausalito is served by several Golden Gate Transit and Marin Transit routes, including the 17 from San Rafael and Mill Valley, the 61 from Bolinas and Stinson Beach, the 2 and 92 from San Francisco, and the 30 from San Rafael and San Francisco.

Get around
Most of the frequently visited waterfront area can be seen on foot and are within easy walking distance from the ferry landing. Make sure to head north on your walk along Bridgeway to Caledonia Street - it's full of great stores, restaurants, cafes and art studios.
Sausalito is also an easy town to bike in. A favorite local ride is to Sam's Restaurant in
Tiburon
for lunch or drinks on the huge (and very entertaining!) outdoor deck. It always seems to be sunny there, so bring your hat and sunscreen. Another not to be missed ride is from Sausalito to Mill Valley (hit the Depot for a great lunch) and on up any bike trail on Mt. Tamalpais.
Sausalito Mountain Bike Rental

phone: +1-415-331-4448

address: 803 Bridgeway
See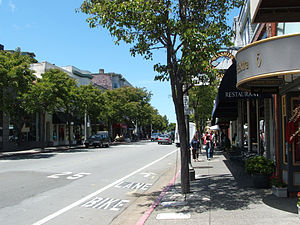 phone: +1-415-332-3871

address: 2100 Bridgeway

The US Army Corps of Engineers used to use this hydraulic scale model of the San Francisco Bay and California Delta to study the hydrology of the area. Now it is open to the public.

phone: +1-415-339-3900

address: 557 McReynolds Rd

Hands-on children's museum.
Do
Buy
For a directory of local art galleries, see .
phone: +1-415-332-6608

address: 2350 Marinship Way

Art studio of Victoria Colella. Visit the last artist's studio of its kind on the Sausalito waterfront and see Victoria's illustrious Folk Art Collection. By appointment only.

Five Star Station

phone: +1-415-331-5055

address: 33 Caledonia St

A very eclectic shop filled with a range of historical hard to find and interesting pieces. A great place to buy great gifts or get your mind going for finding great gifts. Really fun shopping.

John Wilmer Studio

phone: +1-415-331-3037

address: 333 Caledonia St

Suite B. John has an ever-changing selection of fine furniture and collectibles on display in his workshop, as well as incredible paintings and photography in his gallery area.

phone: +1-415-706-5051

address: 480 Gate Five Rd

Visit and purchase art from one of the largest groups of talented, local artists in Northern California. Art studio tours April – December plus an annual fun, free, family friendly event on Labor Day Weekend.

Sausalito Artists Open StudiosThe largest location of local artists & galleries under one roof in Sausalito.

Studio 333

phone: +1-415-331-8272

address: 333 Caledonia St

Suite A. A hip gallery that offers a collection of work from over 25 local artists, including great furniture.

Valhalla Signworks-Boat Lettering, Etc.

phone: +1-415-332-6608

address: 2350 Marinship Way

Nautical sign specialist, with traditional signage on the waterfront. Carving, gilding, hand painted, custom vinyl designs available.
Eat
Sausalito is blessed with more fine restaurants than a town of 7,000 people should have. Whatever you're looking to eat, Sausalito probably has a restaurant serving it up. Beware the 'touristy' district, however. While there are a few genuinely good restaurants, there are also a fair number of establishments catering basic grub to tourists.
AngelinosItalian, home-made pasta.

Arawan

phone: +1-415-332-0882

address: 47 Caledonia St

Serving Thai cuisine.

Avatar'sTop-rated Indian-Mexican fusion cuisine. Sounds weird, but has a fanatical following.

phone: +1-415-331-3474

address: 350 Harbor Dr

Excellent, very fresh, and well-prepared seafood. Fish is best enjoyed on a sunny day, al fresco on the large deck overlooking a fishing harbor on the north side of town. Despite being off the beaten path, Fish is always crowded on nice days. Cash only.

Fred's Coffee Shop

phone: +1-41- 332-4575

address: 1917 Bridgeway

Fred's is a Sausalito institution. Fred's has only 6 tables, each seating 4-6 people. You're most likely to be seated with others at 'your' table, which often leads to interesting conversations. One table at Fred's has a brass plaque reading "Stamtisch" which means regular's table. Anyone can sit there if a chair is free. For breakfast, the Fred's French toast is pretty amazing. For those who prefer something a little more spicy, ask for the "Coyote Special", which is a cheese omelette covered with chili.

Lighthouse CafeLike Fred's, but less crazed and hectic.

phone: +1 415-332-7771

address: 777 Bridgeway

Founded by one of the creators of Il Fornaio (back when Il Fornaio was small and intimate), it is an upscale version and really special. All dishes are prepared with care and sauces have the deep, rich flavorful tastes. Menu changes a lot daily.

SpinnakerFabulous bay views, seafood.

phone: +1-415-332-3620

address: 107 Caledonia St

One of the best sushi restaurants in the San Francisco Bay area, Sushi Ran serves up incredibly good and fresh sushi and modern Japanese cuisine. Received a Michelin star in October 2006.
Drink
Coffee
Caffe DiVino

phone: +1-415-331-9355

address: 37 Caledonia St

Sidewalk cafe, art shows, live jazz music, locals.

Poggio

address: Bridgeway

Sidewalk fine dining, fresh pasta on a menu that changes every day; does great coffee.

Starbucks

address: Princess Street

Coffee as you know it from any other city anywhere.

Taste of Rome

address: 1000 Bridgeway

Always comes to mind for great San Francisco Bay Area Coffee, this is the Sausalito branch. Classic bicycle rider destination. Internet Wi-Fi, live jazz music, art shows, sidewalk tables.
Sleep
Go next
Hike to the ridge. Ask for directions to the Spencer Avenue parking lot (on 101) and start your hike at the trailhead across from the lot. It zig-zags up to a major trail where you take a right and then wind your way toward the ocean and beautiful ridge top views. From here, you can hike the Marin Headlands pretty much to anywhere along the coast, depending on your time and ability.