Savaii
Savaii
(Savai'i) is the larger, but less developed, of the two main islands of
Samoa
.
Understand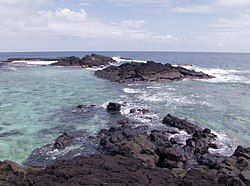 Many people say that Savaii is the 'real' Samoa. It is certainly less developed, with no real towns as such, just a series of small villages with people living in traditional huts. You don't have to worry about getting lost on Savaii if you're driving - only one (well-paved) road runs around the island. Every few miles you will likely pass a colonial-style church, while the coastline will regularly change between volcanic black ash, pristine white sand beaches, and dramatic cliffs.
Overall, visit Savai'i if you want a more authentic and unspoiled Samoan experience away from the Internet cafes and McDonald's of Apia.
Talk
English is widely understood, but it doesn't hurt to know a few
Samoan
phrases.
Get in
Most people reach Savaii by small car ferry. The only alternatives are sailing there yourself or chartering a flight from
Apia
to one of Savaii's two airfields (there are usually no scheduled flights although at the end of 2010 Polynesian Airlines was operating two flights a week from Fagalii Airport close to Apia).
By boat
The ferry journey takes 1 hour 15 minutes from Mulifanua Port (towards the most western edge of Upolu) to Salelologa on the southeast of Savaii. There are a maximum of five sailings a day, usually every 2 hours with the first at 06:00 and the last at 16:00. The ferry timetable and fares can be found http://www.samoashipping.com/timetable-and-fares here]. Price for foot passengers is W$12.
While no recent accidents have been reported, several government travel warnings have been issued about the safety of this ferry - relating specifically to overloading, and the threat of heavy vehicles moving during the voyage. But it is the only feasible way to reach Savaii, and so the final decision is up to you.
If you do decide to use it, it's very likely that you'll be one of the few foreigners on board. Locals are therefore likely to strike up a conversation. Don't be concerned - this is almost always innocent and driven purely by curiosity.
If you are planning a short excursion to Savai'i then it's better to pack a small overnight bag and leave your main suitcase back at the Travellers Lounge in Apia. Dragging your suitcase onto the ferry and around Savai'i could be rather awkward.
By plane
Maota AirportSamoa Airways from Apia.
Get around
By bus
The main means of getting around in Savaii are the brightly colored, pop-music blaring local buses. A one-way fare costs a maximum of WS$7 if you head to the northwest, with closer destinations being much less. The fare is paid to the driver at the end of the journey. Most buses depart from the markets in Salelologa. There are also some buses which meet the ferry at the Salelologa wharf. Buses in Savai'i tend to fill up quickly and you might find yourself sitting on the lap of a local! This is quite an experience for westerners.
By taxi
Generally your best bet. They are cheap and plentiful. Do agree on a price ahead of time, none of the taxis have meters!
By rented car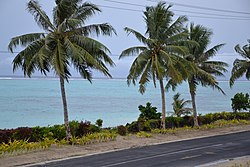 You need to obtain a local licence, which is very easy to get from the Transport Control Board at the police station in Apia (international licences are not accepted) or from just next to the exit from Customs at the airport. Some car rental companies also provide this service. Licence endorsement costs W$12. Renting a car is possible but not economical unless you will be driving it a lot every day. They are particularly handy if you plan to visit the Falealupo Peninsula, which does not have good public transport. Car hire companies include: PK Rentals (pkrentals@samoa.ws); Salafi (apia_lua@ipasifiki.net) and Savaii Car Rentals (cars@lesamoa.net).
By bicycle
Possible and quite enjoyable. Most of the island is flat and there is only one main road that circumnavigates the island. So there is no chance of getting lost. There are a few small steep sections near A'apo and Asau.
By hitchhiking
Hitchhiking is not very common, but can be a fun and entertaining way to travel like the locals at the back of a ute (pick-up truck). Almost all people will stop if you request a ride and many of them will go out of the way to drop you at your destination.
See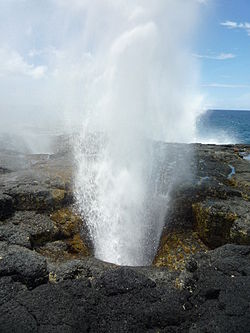 Alofaaga BlowholesLava flows created a series of tubes connecting the cliff top with the ocean. Waves send water at high pressure through the tubes, creating fountains. The rocks can be quite slippery, so make sure to take appropriate shoes with you. Also beware of tourist traps in this area - the guides here might ask you to take photos as they throw coconuts into the blowholes and then demand money from you afterwards. They can be very persistent, but just maintain your distance and say no.

Paia Dwarfs CaveThis cave is over a kilometre long. he legend is that this cave is home to a race of small people. The legend has never been disproved as the end of the cave has apparently never been reached. Exploring the cave can take almost an entire day. A guide from Paia village is essential.

Falealupo Rainforest PreserveIncludes a 25m canopy walkway and a platform in the trees that sleeps six (beware, there is no toilet!).

Mt. Matavanu Lava FieldsYou will have to walk three hours from Paia village to visit these lava fields that look like a barren moonscape. They were caused by the eruptions of the mountain between 1905 and 1911.

Olemoe Falls.The most spectacular of the many jungle waterfalls in Savaii. A half-hour walk from a 4WD track.

Pulemelei (or Tia Seu) Ancient Mound.

address: Palauli district

This is the largest ancient structure in Polynesia, with a base of 60 m by 50 m and 12 m tall.

Peapea Cave

address: N Coast Rd

This lava cave is in the north close to Letui village and a ten-minute walk from the road. A guide can also be easily found, which is essential as the entrance to the cave is locked.This cave is home to hundreds of white rumped swiftlets. The 'clicking' noise of the birds is clearly audible as they fly in the dark.

Sale'aula Lavafields

address: Saleaula

These were also caused by volcanic eruptions of Mt Matavanu in central Savai'i. The lava flowed over 40 square miles to the sea and destroyed Sale'aula and Salago villages. The depth of the lava is up to 400 feet. Sale'aula fields are much more accessible than the Mt. Matavanu fields. You will need a guide if you want to visit the two churches that avoided complete destruction as well as the grave of a Catholic nun, known as the Virgin's Grave, that escaped destruction. A fee is charged.

Tafua Peninsula Rainforest PreserveGood stands of rainforest and excellent birdwatching. Take a walk up to the volcanic crater that dominates Tafua.
Do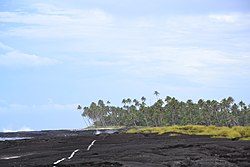 Circumnavigate the entire island over a few days or a week (although it is possible to do in day) and admire the wonderful lush scenery and contrasting coastline.
Satoalepai turtle reserve

address: Satoalepai

Rare experience of swimming with turtles rescued from fishermen's nets.

SurfingBest suited for experienced surfers. November to April has northern swells while May to October has big swells from the south. Savaii Surfaris are at Aganoa Beach in the south, and there are also good spots on the north coast (Dec. to April) at Manase, Fagamalo and Lesolo.

DivingThere is an abundance of marine life around Savaii and diving to suit all levels. The Wreck of the Juno dates back to 1881 and provides a popular dive site. There is only one company, Dive Savaii, providing dive services, however. This is in the Fagamola/Manase area on the northeast of the island.
Eat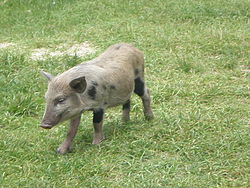 Most places to eat are attached to hotels or guest houses. There are few independent restaurants or bars and the ones that do exist are almost all close to Salelologa.
Le Sogaimiti Bar and Restaurant

phone: +685 51296

address: Lalomalava

LeSogaimiti, meaning the Samoan tattoo, is a new restaurant which is part of the Savaiian hotel. There is a beautiful oceanfront views from where you can see the neighbouring islands of Manono, Apolima and Upolu. The name is a tribute to the local tradition of tattooing, which is carried on by the owner's family.
Drink
address: Manase

Cocktails on the beach, Italian coffee, surfing, snorkelling, kayaking, etc.
Sleep
Budget
Beach fales
are an enjoyable and inexpensive way to stay in Samoa. A list can be obtained from the Samoa Tourism Authority (info@samoa.travel), but the best way to know where to stay is to ask other travellers. Samoa is not very big, so you will bump into other travellers making it easy to exchange information.
Tailua Beach Fales

phone: +685 2054102

Eight beach fales right on the waterfront. Tasty and abundant meals. The water is great for swimming, while not much coral, you may see turtles. Nearby is the Mataolealelo fresh water spring and the lava fields.

Janes Beach Fales

phone: +685 54066

Satuiatua Beach Resort

phone: +685 208464119

Large fales on the beach, a nice dining area with tasty but moderate sized meals. The protected reef is great for snorkelling, full of fish and a few turtles.

Falealupo Beach Fales

phone: +685 77 47420

Basic fales near one of the best beaches on the island. The swimming is ok, with some patchy reef and a smattering of fish. The facilities are more like those of a camp. The food is local and hearty.

Joelan Beach Fales

phone: +685 7590976, +685 7580979

address: Lano village

Run by Sioni and Falesao and their family. They make you feel like part of the family instead of a customer. Fishing rods and outrigger canoe are available if you want to contribute to dinner.

phone: +685 53897

address: Lano village

The name is a bit of a tongue twister but these are attractive beachfront fales.

Utusou Beach Fales

address: Falealupo-tai, Savai'i

2 fales on beautiful secluded beach. Run by Tafa & Salia Seumanutata and their family who really look after you (and if you're lucky tell some excellent stories.)
Mid-range
Splurge
Aganoa Beach RetreatBeachfront fales at Savaii's major surfing location.

Auga Seaside Resort

address: Asau

15 rooms on the beach.

phone: +685 54168

address: Fagamalo village

Well-regarded ten-bungalow resort run by a New Zealand couple.

phone: +685 5351

address: Tuasivi village, North Coast Road Faga
Stay safe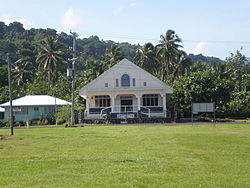 Savai'i is a safe destination. Crime rates are low and people very helpful and friendly. With some common sense precautions, one should encounter few problems.
There is a hospital just north of Salelologa.
Connect
There is a lava hotspot at the CTC in Salelologa. Look for the yellow building opposite the jet over hotel. Several, but not all, beach hotels offer internet. Raci's Beach Club (see Drink, above) claims to be the most westerly (i.e. closest to the International Dateline) internet cafe in the world.

Go next