Savannakhet
Savannakhet
(ສະຫວັນນະເຂດ, commonly abbreviated to "Savan") and more officially mentioned as "Kaysone Phomvihane" (ໄກສອນ ພົມວິຫານ, name of the district), is the capital of Savannakhet Province in
Southern Laos
. It is on the Mekong River. With an estimated population of 120,000 it is the second largest city of
Laos
. The city is the hub between west (
Mukdahan
,
Thailand
) and east (
Vietnam
), and between north (
Vientiane
) and south (
Pakse
).
Understand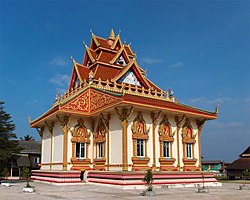 Visitors to Savannakhet are often surprised by its old French colonial architecture and the friendly, sleepy atmosphere of the town which conserves many aspects of Lao traditional culture. The small but blossoming tourist sector offers various eco-trekking programs to the outskirts of town and to preserved forests and other places of interest in neighbouring districts such as
Champhone
). The welcoming and generous character of the local people might give you the sincere feeling of being happy to be a family member, very unlike the commercial character of tourist destinations such as
Vang Vieng
and
Si Phan Don
. Although recently a casino was established, Savannakhet has no night-life scene, which probably is the main reason why Savannakhet is not popular as a tourist destination among Western travellers.
The last two decades, dinosaurs have become a main theme of Savannakhet. The Dinosaur Museum and decorations in the streets reflect the history. Long after dinosaurs had left their last footprints, Savannakhet probably was founded in the 17th century by forty families who immigrated from Phonsim village (around 20 km to the east of town). It is said that the settlement at the Mekong riverside was called Tahae village and researchers assume that Buddhist temple Vat Xaiyaphoum is an important remainder of that era.
France expanded Indochina by obtaining the east bank of the Mekong after a border dispute in 1893. Initially The French used the Mekong River as the main artery of transport. Not many years later, a network of water transportation, post, and telecommunication facilities and a railway were completed. Also a road, connecting Savannakhet with Quang Tri (Vietnam), was built. In the 1920s and 1930s Vietnamese and Chinese started to settle in Savannakhet. Nowadays, the Chinese and Vietnamese still live in the same parts of the city, while other parts are still redolent of the French administration that was centred in the south part of town.
The 1,600 m Lao-Thai Friendship Bridge II was opened in January 2007, connecting Savannakhet (and Vietnam) to
Mukdahan
(Thailand). This bridge strengthens the reputation of Savannakhet as open for business. Foreign investors and NGO's are considered to be crucial for the development of the town and province.
The phone number you see in the city, 041, is unrelated to 042 on the Thai side (in
Mukdahan
). If you want to dial Mukdahan, Thailand, it is +66-42-xxxxxx, but if you want to dial Savannakhet, it is +856-41-xxxxxx.
Tourist information
PTD SavannakhetThe Tourist Information office is between the Mekong riverside and the "plaza", the central square of the French historical town. A must-visit for those wishing to see the city/area. The office offers many different local walking tours as well as a wide variety of eco tours. They also have a comprehensive free map of the city (extremely important). The staff is attentive and speaks English well. Lin's Café (100 m north of the plaza) is connected to Tourist Information and offers the same service.
Get in
By plane
Savannakhet has an not far from downtown.
Lao Airlines
which is the only domestic Laos carrier, runs some direct flights from and to
Vientiane
. Alternatively, Vientiane can be reached by flying via Pakse, a trip that totally takes 2.5 hours. One way to Vientiane costs around US$110. Round trips with Lao Airlines are not much less than double the one-way fare.
The only domestic direct flight is to Pakse. It leaves Savannakhet at 15:00 and arrives at 15:35 three days a week, Sunday, Wednesday, and Friday. On the same days there are flights from Pakse to Savannakhet, leaving at 09:25 and arriving at 10:00. Schedules might change suddenly, so it is recommended you contact Lao Airlines in advance. There are also flights to Vientiane.
On Wednesday, Friday, and Sunday, Lao Airlines offers direct flights from/to Bangkok Suvarnabhumi Airport (BKK), taking 2 hours and 20 minutes, leaving Savannakhet at 10:40. Flights from Bangkok leave at 13:00. One way trip costs around US$115, a round trip twice that amount.
By bus
There is bus service from
Vientiane
to Savannakhet. For the time being it is the only way to practically get to Savannakhet from the capital. It is a 9 hour bus journey on a newly paved road. While the journey is long, it is an excellent way to see the local villages and lush countryside of Laos. Buses from Vientiane to Pakse, often stop in Savannakhet. There are two different types of buses that service the route from/to Vientiane:
Local Bus - These public bus leave Vientiane and Savannakhet throughout the morning, and make lots of stops to get passengers and goods. Takes approximately 9 hours, costs 75,000 kip one way. A genuine Lao experience.
VIP Bus - much like the local bus, but there are fewer stops, assigned seats, there is a toilet and all-important air conditioning. Less frequent and costs more, but well worth it. This is a night bus. Travel time is approximately 8 hours as the bus doesn't exceed 65 km/h. There are two types of night buses: one with bunk beds (120,000 kip) and one with seats (110,000 kip). Each bunk bed accommodates two people. Highly recommended you buy out the space next to you if you are travelling alone or are travelling in odd numbered groups as you will be sleeping next to a stranger in a twin-sized bed.
There are also local buses from and to:
Tha Khaek (30,000 kip, 2-3 hours)
Pakse (35,000 kip, 5 hours)
Si Phan Don (75,000 kip, 7 hours)
There are direct local buses from and to less travelled domestic destinations, such as Sekong (60,000 kip, 5 hours), Salavan (60,000 kip, 8 hours), Attapeu (70,000 kip, 10 hours) and Sepon (40,000 kip, 4-5 hours).
International
The is about 2 km north of the town centre. ~50 baht for a tuk-tuk into the city.
Get around
The easiest way to get around Savannakhet is by foot or bicycle. Tuk-tuks are also available around the city and are an easy way to get to a specific location quickly. Be cautious about the fee for the tuk-tuk and always set the price before the ride. Because the minor roads of the districts around Savannakhet are often badly paved, a reliable cheap motorbike for rent in Savannakhet town might be hard to find.

See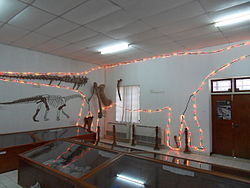 Dinosaur MuseumExhibits dinosaur fossils or "big lizard bones" as called in Lao. They were excavated from Xonbouly District. Three kinds of dinosaur bones have been discovered; Pode, Iguanodon and Sauropode. Two rooms. Information is all in Lao and French, no English.

phone: +856 20 9988 1630

address: Latsaphanit Rd

A private exhibition of the town's history, mainly focused on French colonial architecture of the downtown area.

Old French colonial buildingsOld French-style buildings can be seen in the central city area, especially around the Catholic church and the central plaza. These building are heritages from the French colonisation of Laos in the mid 20th century.

That Ing Hang StupaThis 16th century stupa is one of the most revered in the country of Laos. Each year in December, Buddhists travel to this holy site for the annual "Boun Pha" ceremony. There are two roads that lead to the stupa: the first one is the busy main road to Seno. Tuk-tuk rides should cost 70,000 kip for a round-trip. Far more recommended is the alternative road through the green rural outskirts, passing the Beung Va lake, which is best experienced by bicycle or motorbike.

Wat SayaphoumA 16th century temple in the centre of the city along the bank of the Mekong River. Now serving as both temple and high school for novice monks of Savannakhet. Pee Mai Lao (The Lao New Year celebration) and Boun Suang Huea (boat racing festival) following Buddhist Lent are held here.
Do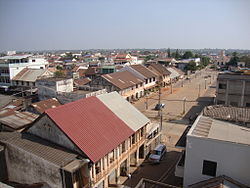 Dong Natad ForestA "Provincial Protected Area" which extends to 8,300 hectares and hosts two tribal villages. There is a beautiful lake called Nong Lom in the centre of the forest where you can observe wild birds like teal, butterflies, and rare plants.

Savannakhet Tennis ClubWhile the tennis clubhouse may look it needs upgrading, the three courts are in good condition. Bring your own racquet.

phone: +856 41 252 200

address: Nongdeune Village, Kaishonephomvihan District

More than 500 slots, 100 table games, and a sports book. On the 4,950 square metre (53,262 sq ft) main casino floor, the selection of table games includes midi-baccarat, mini-baccarat (Super Six), blackjack, Caribbean stud poker, fan-tan, roulette, sic-bo, money wheels, and tiger and dragon.

Teach EnglishUrban teenagers depend on foreigners to practice and improve their English. In Savannakhet, thresholds don't exist, so don't hesitate to visit a classroom and have a chat at either the Sangha High School at Wat Xayaphoum (downtown, riverside) or the TTC (Teacher Training College), which is a few kilometres out of town on the road to Seno.

Vassana spa & beauty

phone: +856307774243

address: Senna road

Nice and decent massage,a warm welcome,good atmosphere and clean and nice environment...
Events
That Phon FestivalA festival lasting three days and three nights, held on the full moon in February at That Phon, a sacred stupa in Phon Village. There are different exhibitions of traditional goods, sports, dance, songs. Local people offer rice balls to the stupa and local monks.

Heuan Hin FestivalA festival held at Heuan Hin ("Stone House") in the middle of March, another important sacred place, dating back to the Khmer Empire. This annual festival is organised to respect ancestors. As part of the ceremony, Buddhist monks make offerings to the persons that built the Stone House. Visitors enjoy shopping of local products. At night there is a traditional dance called lamvong, where men and women dance together in a big circle.

Lao New Year FestivalThis festival is held all over Laos, from 14-16 April. It aims at seeing out the old year and welcoming the new year. The biggest festivals are held in the city. There is a Miss Lao New Year contest; the winner parades through the town on the back of an artificial animal. Some families organise baci ceremonies, big arches made of rice plants in order to show their respect to the earth and sky spirits as well as to the land spirits who facilitate rice production. People splash or pour fragrant water with flowers on passersby, to wash bad things out of their bodies.

Rocket FestivalBounpavet (Elephant Parade) and Boun Bangfai (Rocket Festival) are held in Champhone District at the end of April to early May. There are many activities including traditional dancing, artificial elephant and horse riding and men wearing traditional Lao women clothes and cosmetics. Each village prepares a rocket and a rocket competition is held. The village with the highest rocket launch, wins. This competition is held for showing appreciation to the Payathan, deities who give rain for successful agriculture.

Boat Racing FestivalAnnually organised to express people's appreciation to the Mekong River as the source of life. It is held in mid-October, on the last full moon of Buddhist Lent (rains retreat). The ceremonies take place at the Mekong River bank and each temple. Vat Xayaphoum is the main temple. People make Kathin offerings to the temples and temple parades and traditional dances are being organized. Long boats, made out of bamboo and banana trees, are filled with offerings like cakes, foods, flowers and candles. On the first day around 11:00, a boat racing ceremony starts at the river bank. Prior to this race, Lao and Thai river banks welcome each others boats.

Ing Hang Stupa FestivalIn December, is visited by people from all over Laos and Thailand. This festival is organized to show respect to Buddha and the people who built the stupa. People make offerings, Khanmarkbeng, bringing flowers and small towers made of banana leaves. Nuns who are around the stupa are available to give blessings by tying cotton strings around visitor's wrists.
Buy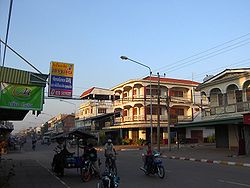 Lao Development Bank

Phongsavanh Bank ATMAn ATM with the same limit and fee (the highest building at the same main road just northern of the old market). Phongsavanh's ATM accepts Mastercard, Maestro and Cirrus.

Savanxay MarketThe main market of Savannakhet City, also known as Singapore Market as it was started by an investor from Singapore. There is a wide variety of goods on sale, including local products as well as imported Thai and Vietnamese foods, along with a wide selection of souvenirs and a huge gold jewellery section upstairs.
Eat
Budget
There is a wide selection of small
bars and cafes
on the river front at the north end of town. For
baguette
(with jam, scrambled eggs or pâté) and
roti
(around 5,000 kip each) street vendors, head to Ratsavongseuk St.
Dolly's Café

address: Ratsavongseuk Rd

Japanese, Lao, and Western food, with a unique selection of smoothies, tea and fresh juices. Good choice for vegetarians. Offers book exchange, guidebooks, Wi-Fi and handicrafts. English speaking staff.

phone: +856 20 99881630

address: Latsaphanit rd

Local, Japanese, and Western food. Original organic Lao coffee (served hot or iced), fruit shakes, pastas, vegetarian and non-vegetarian meals. Free Wi-Fi, free tourist information. Book exchange, bicycles for rent, handicraft souvenirs, Lao cooking classes (upon request). Quiet place, great service, friendly English speaking staff.

Sabaidee Restaurant

address: Ratsavongseuk Rd

One of the bigger restaurants in town that serves a good mix of Lao and Western food. Very attentive staff. Popular place for local people to have dinner and a few Beerlaos. Can be quite busy and noisy.
Mid-range
Head to just north of the concentration of guesthouses and find some great restaurants with fondue or hot pot, chili-basil frog, etc. (30,000-40,000 kip)
Splurge
Dao SavanhFrench cuisine. Serves both lunch and dinner meals for a reasonable price. The 3 course "Menu Dejeuner" for lunch (around 65,000 kip) is absolutely scrumptious, and a larger dinner menu includes entrees from 100,000-300,000 kip. The ultimate decadent dish (with a hefty price) is the 1 kg imported fresh lobster flambéed in whisky for 1,000,000 kip. The staff are very attentive and all the dishes are presented in an excellent manner. Possibly the epitome of fine French dining in Laos.
Drink
Many local cafés serve traditional Laos coffee with condensed milk at the bottom and the coffee on top.
For traditional cappuccino, latte or ice coffee, there are two Dao Heuang coffee shops, one in the courtyard in front of the Catholic church, the other on Sisavangong Rd (just down the road from the bus station).
Sleep
Budget
Many suburban guest houses (that are not in the list below) rent rooms mainly to (young) Lao people for short adventures which they won't risk to experience at home. They also often involve in drugs abuse. These guesthouses are not recommended.
Leena's Guesthouse

phone: +856 41 212404

Receives many foreigners. Service is so-so. Little bit far (but still within walking distance) from historical downtown and Mekong riverside. 38 clean rooms with one double

Joli Guesthouse

phone: +856 20 9984 2899, +856 30 9651 253

In the same block as Leena's Guesthouse, but access is from the opposite road. Very clean and the multi-floor house looks very modern. Breakfast included. Lovely owners who will provide you with umbrellas when the weather looks bad. The rooms are doubles for 100'000 kip, but you might get one for 80'000 kip when you are travelling alone in the low season and 60'000 kip for single room

Nongsoda Guesthouse

phone: +856 41 212522

Eleven clean, though dingy air-con rooms with great Mekong views, but no TV and no restaurant.

Phoulavane Guesthouse

phone: +856 30 9671606

New, nice, and affordable. Family-run. Extremely friendly and helpful staff. Frequented by many Lao nationals studying and/or visiting Savannakhet for a few nights.
Mid-range
Hoongthip Hotel

phone: +856 41 251279, +856 41 213229

Within walking distance of the Thai consulate. The fee includes a modest breakfast; there's no buffet, but you can choose, e.g., a sandwich or a bowl of noodles from a menu. There's a wireless Internet connection and three computers in the lobby. The Wi-Fi is free for guests, but a usage fee is charged for the hotel's computers. It also has a disco.
Splurge
Dao Savanh Resort & SpaOn the Mekong, in the south of town. All rooms offer privacy with spacious size and wooden Lao handicraft décor. There are 83 rooms, a swimming pool and a pool bar.

Savan Vegas & CasinoThe hotel has 482 rooms, accessed by four glass elevators and features a spa offering massages and treatments. Rooms range from the affordable to the luxurious, complete with Jacuzzis and plasma televisions. There is a gift shop, bank, hair salon and coffee shop on-site. Open 24 hours a day and has more than 500 slot machines and 100 table games. There are several restaurants and bars available, including a buffet. Staff speak English, Thai, Lao and Vietnamese.
Cope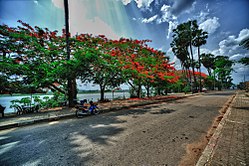 Post OfficeA PO box can be rented for 100,000 kip a year.

Savannakhet Provincial HospitalA public hospital which offers the highest level of care in Savannakhet Province.

Royal Thai Consulate SavannakhetThe Royal Thai Consulate in Savannakhet. It's much quieter than the embassy in Vientiane. Consider this consulate for visas.
Stay safe
As a pedestrian, watch where you walk during your visit in Savannakhet. There are many holes in the sidewalk which could lead to a decent fall into the sewer system. Also be careful at night by staying on main roads that are well lit. Don't wander down dark alleys and beware of dogs.
Watch on the traffic as well. The traffic situation has rapidly changed during the past two decades, from slow dusty streets filled with bicycles to concrete roads with speeding teenagers on motorbikes, overtaking both left and right, not wearing helmets and not respecting any traffic rules. Speeding is easy as the roads are straight, there is not much policing, and there is a total lack of speed bumps and roundabouts. Riding a motorbike can be dangerous. Keep right as much as possible, as you won't be overtaken from the right side, which often causes accidents. Beware of those driving at the wrong side of the road, waiting for an opportunity to cross to the right lane. Finally beware of traffic participants not showing any light or direction.
Don't take pictures of the military base at Xeno town (35 km north of Savannakhet). There are no warning signs telling that taking a picture is prohibited. To be sure whether an area is safe, ask the local people. Not rarely, travellers find themselves in an awkward situation, losing their passport, getting it back after a long and non-transparent process in which police, army, embassy, and other parties might be involved.
Go next
Pakse – Buses run from the bus station every day at 7:00, 9:00, 10:30, 12:30 and 17:30, price 40,000 kip. Get there 45 minutes early to avoid sitting on a plastic chair in the aisle. Journey takes 4-6 hours.
Other buses are available to Attapue, Sekong and Salavan in Laos, as well as to Hue and Danang in Vietnam.