Savonlinna
Savonlinna
is a small city in
South Savonia
province,
Eastern Finland
, close to the
Russia
border. It has about 35,000 inhabitants.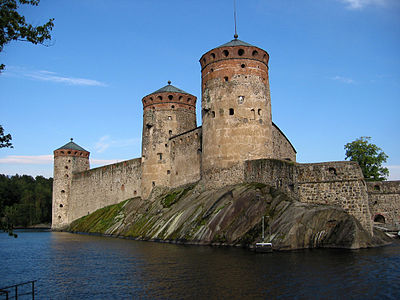 Get in
By plane
Savonlinna AirportTiny,is among the least busiest passenger airports in the country, the exception being during the Opera Festival. As of 2016, there are two daily flights from Helsinki on weekdays flown by the Hungarian airline Base, tickets are sold by Airlink.
By train
As of 2016, there are 3-4 trains daily to/from Parikkala (70 minutes) where they meet intercity trains to/from
Helsinki
(altogether 4¼ hours) and to/from
Joensuu
(altogether 2¼ hours). The price is reasonable especially for students, seniors and juniors.
The main station in Savonlinna is called
Savonlinna-Kauppatori
halt next to the market square. The "station" is unmanned, but you can buy tickets in the train with no surcharge if you board here.
By bus
Long-distance buses are also an option. There are 6-9 direct buses to/from Helsinki (4½ to 5½ hours) and roughly hourly buses to/from
Mikkeli
(1½ hours) with connections to other destinations. For detailed schedules and fares check the site of
Matkahuolto
(central organization for intercity bus companies).
By car
Savonlinna is about equidistant (about 100 km) from each of
Mikkeli
,
Varkaus
and
Imatra
, and a little longer from
Joensuu
. No matter from which direction you're coming from, it's a beautiful drive through the lake landscape, especially in the summer. From Helsinki it's 335 km; about a 4 hours' drive depending on traffic and road conditions.
By boat
Lake
Saimaa
can be reached from sea through the
Saimaa Canal
.
Get around
Savonlinna is stretched out on a series of islands in the middle of Lake Saimaa. While you can cover the central parts on foot, you'll need to resort to buses (or rent a car) to access the suburbs. If you want to rent a car, there is a Hertz rental office at the waterfront, near Hotel Tott. Savonlinna is surrounded by lakes and you can also rent a canoe to go around town centre.
Information about local buses can be found
here
. You can use
route planner
to seek local bus routes between given locations and addresses.
See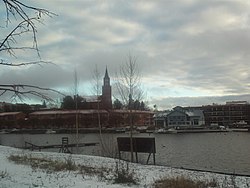 phone: +358 15 531 164

Medieval Olavinlinna is the city's symbol and main attraction. Built in 1475 by Danish knight Erik Axelsson to protect the eastern border of the Swedish-Danish Kalmar Union, it was named after the patron saint of knights, St. Olaf. The Russians were soon on the offensive, but the castle withstood several sieges before capitulating in 1714. The Swedes recaptured it in 1721, but lost it again in 1743, and it stayed in Russian hands ever since. This also explains why it has stayed in such good shape: for the Russians, it was far inland and militarily useless, and hence not a target for the enemy either.Today, Olavinlinna is the world's northernmost medieval stone castle and easily Finland's best-preserved and most attractive castle, and it's quite a sight perched on the shores of the lake. The interior, though, is surprisingly small and sparse (virtually all furniture and decorations were lost in fires in around 1870), and free guided tours take one hour. There are two small museums inside the castle: the Castle Museum which covers the castle's history and the Orthodox Museum with Russian Orthodox Christian icons and paraphernalia. Guided tours in English run every hour in summer (enquire in advance at olavinlinna@nba.fi in other seasons), but you can still visit the museums and courtyards without it.

Tuomiokirkko

phone: +358 15 576800

address: Kirkkokatu

The cathedral is Savonlinna's main church, opened in 1879. The church had a bishop in the years 1896-1924 and hence gained the right to bear the name cathedral.

Pikkukirkko

address: Olavinkatu 29

Built as an Orthodox church in 1846, transformed into a Lutheran church in 1938, today a popular place for weddings.

phone: +358 44 417 4466

address: Riihisaari

On Riihisaari island you can learn more about the cultural history and the nature of the region around Lake Saimaa and also visit the natural exhibition of the governmental forest service.

phone: +358 40 7605434

address: Linnankatu 11

A museum of dolls and toys, especially teddybears.

KasinonsaaretIslands close to the city center, a popular place among the locals for getting out in the nature. Hiking paths and places for swimming and barbecuing.
Do
address: Olavinkatu 27

The city is renowned for its yearly Opera Festival organized within St. Olaf's Castle. There is also a Ballet Festival at the same place earlier in the year.

SulosaariA small island on the other side of the Kylpylä Hotelli Casino, as seen from the city centre. A very picturesque, and quiet place for a stroll. In wintertime, you can include it in a lake-traversing trek, provided the ice is thick enough to walk on (which it usually is).

Lake SaimaaA nice way to see the city and its surroundings is from a cruising steamer. There are both one-hour cruises around the city and longer cruises to destinations further away. If you're extremely lucky, you just might spot the very rare Saimaa Ringed Seal (saimaannorppa). You can also rent a boat, go fishing or hiking. In the winter when the Saimaa is frozen over there are designated routes for long distance skating on the ice.
Buy
address: Puistokatu 7

Southern Savonian handicrafts such as hand forged metal items and local herb products are sold in an old wooden building at the lake.

address: Olavinkatu 33

Locally produced meat, fish and cheese delicacies.

The shops Linnankatu

address: Linnankatu

On Castle street leading to the Olavinlinna castle you can find many small shops selling souvenirs and such.
Eat
During the morning and afternoon, the best place to eat is the market square by the lake, where you can get
Eastern Finnish delicacies
like
lörtsy
meat pies and freshly fried
muikku
(vendace, a type of freshwater herring).
Budget
Keisarin Puisto

address: Olavinkatu 33

Chinese food.

Pizzeria Capero

address: Olavinkatu 51

Uskudar Kebap

address: Pilkkakoskenkatu 3

Hesburger

address: Olavinkatu 39

The ubiquitous Finnish fast food chain.
Mid-range
phone: +358 50 3105 850

address: Kauppatori

The flagship floating restaurant of a franchised chain, the menu here is simple: pick either one of their trademark flame-broiled salmon, fried muikku, the un-Finnishly immodestly named "world's best fish soup" (not quite, alas) for around €15, or go whole hog and get them all plus the amazing cold fish buffet with 17 types to sample for €35. Prices may be negotiable if it's quiet and you're in a group.

Majakka

address: Satamakatu 11

address: Puistokatu 4

A gastro-pub in the city center, brewing its own beer.
Splurge
Drink
Cafés
address: Puistokatu 3

address: Olavinkatu 53

address: Linnankatu 11

Cafe-Conditoria Sinikka

address: Olavinkatu 35

address: Kirkkokatu 8
Bars and pubs
address: Olavinkatu 35

Olutravintola Sillansuu

address: Verkkosaarenkatu 1

address: Pappilankatu 3

Juanita

address: Olavinkatu 44
Nightclubs
Sleep
Go next
Mikkeli — 100km away by car
Kerimäki — featuring the world's largest wooden church
Retretti, an art center with exhibitions inside caves in Punkaharju, is accessible by local train from Savonlinna. There are five trains a day, and a train ticket costs 3,90€ for adult.