Schladming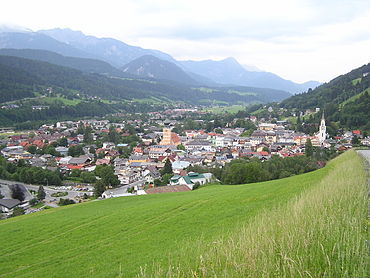 Schladming
is a small former mining town in the Enns valley of
Styria
(
Austria
), that is now a very popular large winter sports resort. It has a great view on the Dachstein mountains.
Understand
The population of Schladming is only 4,367 (2012) inhabitants, but because it is a well-known European winter sports resort during the season, it is swarming with tourists from home and abroad. It held the 2013 FIS Alpine World Ski Championships.
Planai is the most important mountain with many ski routes and the other popular place for skiers is Hochwurzen.
Several shops and boutiques are located within the city limits and many restaurants, so called 'hüttes', are all around the city, mostly on the slopes.
phone: +43 3687 2277722-22

address: Rohrmoosstraße 234, 8970 Schladming

The tourist office is helpful to find an appropriate accommodation plus it also lists all upcoming events.
Get in
By plane
The closest international airport is the
Munich Airport
(
MUC
) (260km distance). The Vienna International Airport is approximately away. Alternatively there is the smaller Salzburg Airport (SZG), which is served by Austrian Airlines, Lufthansa and Ryanair, as well as other major carriers.

By train
ÖBB serves high capacity trains to the train station that belongs to the "Ennstalbahn" (Salzburg - Bischofshofen - Schladming - Selzthal - Bruck - Graz route). The train station was modernised in 2011/2012. Schladming can be reached by night trains with a single stop in Munich. The trains take 4 hr 10 hours from Vienna, 2 hr 40 min from Graz, 3 min from Linz, 1 hr 30 hours from Salzburg (add 1 hr 40 min for the link to Munich), and 3 hr from Innsbruck.

By car
Schladming can be reached by car within an hour from Salzburg Airport, 2 hours from Munich, Ljubljana and from the Italian border, 3 hours from Switzerland, 12 hours from Denmark. Beware of possible winterly road conditions when planning the road trip.

Get around
The inner old town of Schladming is small and easily traversed by foot. For skiing their are lots of lifts connecting the different mountains.

See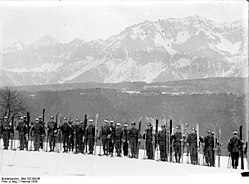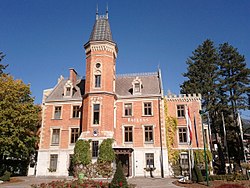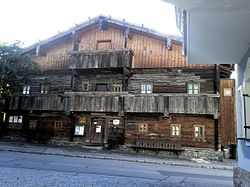 Dachstein MountainsThe Dachstein Mountains are a mountain range in the Alps with its highest peak, the Hoher Dachstein (2,995 m). The area Dachstein Krippenstein is a hot spot for the ski/snowboard free rider scene. During summer lots of paths or climbing opportunities are to be found in this mountains.

Rathaus

address: Coburgstraße 45

The palais was built in 1884 by prince August zu Sachsen-Coburg-Gotha. The villa was used as hunting castle. During the German National-socialistic regime in 1940 it was bought by the town.

Heimatmuseum

phone: +43 664 5398185

address: Talbachgasse 110

It was built in 1661 as social service place for the miners. In 1989 it opened as museum documenting the mining past of Schladming. The Ehrlich collection shows minerals and fossils. Next to it is a garden with traditional farmer tools.

Salzburger Tor

address: Salzburgerstraße

The gate dating back to 1629 is part of the former old town fortifications.
Do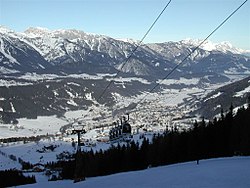 Ski resort Planai & Hochwurzen

phone: +43 3687 22042

address: Coburgstraße 52

The Schladming 4 Mountain Ski Link has 123 km of slopes, It is also united with the even bigger nearby ski resorts the Salzburg's Sports World, Gastein, Hochkönig and the Großarltal. There are several ski lodges for lunch or afternoon breaks (see the Eat section). The ski resort Planai features a modern infractructure including comfortable high speed lifts. There are plenty of long and wide runs.

phone: +43 3687 23 271

address: Europaplatz 585, 8970 Schladming

The place offers 3 pools including a sports pool and a waterfall. There is a 66-m toboggan and several different sauna to relax body and spirit. The gym has a wide range of courses such as strength-endurance circles, body styling, cardiovascular or step workout, power yoga, indoor cycling, Pilates and Zumba.
Learn
Buy
Schladming cannot compete with worldwide fashion scenes, but they offer interesting articles for skiers, as well as some sports articles. Several big supermarkets are also located within the city.
Hofer
- just outside the city, in Pichl - offer groceries at a discount and are often the cheapest option in the area. In the very heart of the city you will find Billa and Spar. You can find
Billa
at the Planet Planai or at the train station.
SPAR
is at the highway, just a minute walk from Planet Planai and some hundred metres from the parking space. Billa and Spar offer the same groceries at almost the same prices. Both a butcher and a bakery is to find inside the two stores.
phone: +43 3687 22664

address: Ritter v. Gersdorffstrasse 562

The worldwide famous ski and snowboard retailer - resides in Schladming. Here you can visit their largest flagship store, just a throw away from the main street.

phone: +43 3687 24883

address: Coburgstrasse 51

The former ski champion and ski trainer of the Austrian ski team has a ski shop where he lends skis or sells ski sport clothes.

Salewa Mountain Shop Schladming

phone: +43 3687 2410020

address: Langegasse 384

The owner has first hand experience and hence the shop is specialised on down hill and mountain biking.
Eat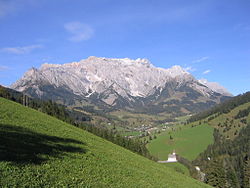 A large number of restaurants and cafés are located in the small old town, some are listed below. From the lodges
Quellbodenhütte
at Planai offers an relaxed atmosphere and some nice food.
Hochwurzenhütte
at Hochwurzen offers a very high quality food, refusing to sell french fries and other very high calories food. A local speciality is the "Graukäse" cheese, which is a special "Steirerkas" and is eaten on bread or with "Nockerl".
Budget
phone: +43 3687 22513 0

address: Hauptplatz 14

The restaurant serves typical traditional regional Styrian food for very reasonable price. There is limited choice and a daily lunch menu. The traditional restaurant got refurbished with modern decor. It used to be a butcher shop.

Giovanni's Pizza u Pasta

phone: +43 3687 24638

address: Parkgasse 69

A cheap restaurant serving an Austrian interpretation of Italian food. Don't expect also too much service.

phone: +43 3686 2278

address: 8967 Haus im Ennstal 220

The hut from the "Naturfreunde" welcomes guests with Styrian specialities like "Käsenocken" with "Graukäse". They have different good "Schnaps" choices. The view from the hut is breath taking. It is nicely oriented for the sun and protected by the sourounding mountains.
Mid-range
phone: +43 3687 22435

Traditional good Austrian food is served with regional products. The walls are decorated with crafted wood panels. The restaurant has a big event hall.

phone: +43 3687 615 73

address: Bachweg 120, 8971 Rohrmoos-Untertal

Next to the start of many hiking path this old farmer house serves traditional food. The portions are big.

phone: +43 3687 24462

address: Katzenburgweg 177

The Austrian restaurant serves regional specialities from Styria. The current tenant/cook owns the place for more than 20 years. The place fills up quickly, hence it is advisable either to reserve in advance or be really early. On demand the Ennstaler Kasnock'n are made. For dessert the homemade Kaiserschmarrn is delicious.
Splurge
phone: +43 3687 22192

address: Roseggerstraße 676

The fancy restaurant serves international Mediterranean type of food. As the name indicates the décor uses wood for modern design.

phone: +43 3687 22571

address: Hauptplatz 10

The restaurant inside of the hotel serves Styrian specialities and can accommodate quite some peoples. They also offer good wines.
Drink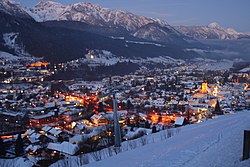 The local brewery was founded in 1909 and is partly owned by the bigger Austrian brewing company Brau-Union. It produces yearly 35000hl. Most of it is the blond beer, famous is also the "Dachstein Naturbier", where all ingredients are organically grown. The "Knappengold-Pils" is a dark beer. Plus there exists also a light "Radler" (half beer mixed with lemonade). Most restaurants or bar will serve the "Schladminger" beer. During winter the town sees many tourists and there are several lively bars inside the town.
Sleep
If one stays inside the old town there is no need for a car to reach the cable trains. Although cheaper recommendation are also found higher up on the way to the Planai middle station or on the other side of the valley.
Budget
phone: +43 57083330

address: Coburgstraße 253

The family friendly hotel was renovated in 2013. It features comfortable rooms with parquet floors, recreation rooms, an internet terminal, a ping pong table, a ski room, a sauna, and a café serving small snacks.

phone: +43 3687 22128

address: Salzburgerstraße 26

This modest bed and breakfast is inside town.
Mid-range
phone: +43 3687 23321

address: Griesgasse 455

The familial bed and breakfast has a bit outdated decor, but is located directly inside the town next to the river. Breakfast is included.

phone: +43 3687 22442

address: Leitenstraße 185

Small 3-star hotel, with only 16 rooms on the Sunny side of town with a beautiful view on the slopes of the Planai.

phone: +43 64 5474 40

address: Pichl 142 - 8973

Clean spacious apartments, very nice and helpful hosts, easy parking and free WiFi.
Splurge
phone: +43 6454 7305

address: 8973 Pichl bei Schladming

The hotel is a traditional 4-star hotel outside of but close to town. The spacious wellness alpine spa offers sauna areas and various pools.

phone: +43 3687 23429

address: Coburgstraße 53, 8970 Schladming

The hotel opened in December 2012 next to the Planai-Hochwurzen cable car. It offers a spa area, free Wi-Fi, a restaurant, free garage parking and a supermarket on the ground floor.

phone: +43 6454 7356

address: Preunegg 4, 8973 Pichl bei Schladming

The four-star hotel is next to the Reiteralm-planai ski slope with a direct view over the Enns Valley and the Dachstein mountains.
Connect
The ski resort offers at several stations free Wi-Fi access.

Go next