Schleswig-Holstein
Schleswig-Holstein
is the northernmost state of
Germany
. It borders
Denmark
and has coasts on both the North and Baltic Seas.
Cities
- the capital, an important seaport and the beginning of the Kiel canal, the busiest one in the world
- famous among Germans for its Karl May festival
- the German city closest to Denmark (7 km south of the border) infamous among Germans for the traffic violations registry being kept there
- small town at the Baltic Sea coast, popular holiday destination
- the city with the lowest elevation in Germany - it is 3 m below the sea level
- the large port city with abundant heritage of its Hanseatic past, also known for delicious marzipan, city state prior to 1935
- the fourth-largest city in this Bundesland, with a large textile industry museum
- the small town on the namesake lake, the largest in Schleswig-Holstein
-
- an inland city that became a port, thanks to the Kiel canal
- One of Germany's prime beach and windsurfing destinations
- A city with roots in the Viking Age.

- Germany's largest seaport on the Baltic Sea, administratively part of Lübeck since the middle ages


Other destinations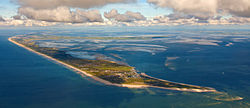 Ditmarschen a flat area of mostly reclaimed land, with spectacular skies and lots of holiday apartments known (in singular) as Ferienwohnung or Fewo. It is a place where many Germans vacation and is a great place for a slice of Germany as the Germans live it. What's interesting in terms of history is that Ditmarschen does not have a historical aristocracy, being a land of, usually well-to-do farmers. Today Ditmarschen is Germany's leading provider of cabbage.
Schleswig-Holstein Wadden Sea National Park — a UNESCO World Heritage site along the region's coast and including the North Frisian Islands
, an island in the Baltic Sea.
Understand
This is one of the flattest parts of Germany and it is culturally very close to
Denmark
, as well as other
Nordic countries
. Schleswig used to belong to Denmark until the war of 1864 when it came under
Prussia
and later German control. After
World War I
Schleswig was divided into a northern (Danish) and a southern (German) part; however a Danish minority still exists on the German side and vice versa. Some of Germany's most popular vacation destinations are in Schleswig Holstein, and every year millions of Southern Germans come here to enjoy the landscape, the beaches and the unique climate that is supposedly a cure against many ailments. While big cities are notably absent, Kiel and Lübeck both have their charms, especially the
Hanseatic heritage
of Lübeck. the
Nationalpark Schleswig Holsteinisches Wattenmeer
has been designated a UNESCO world heritage site and draws a lot of visitors for its unique nature.
The "Schleswig Holstein question" as it was known at the time was one of the most intractable diplomatic quandaries of the mid 19th century. While Schleswig and Holstein were both under the administration of the Danish king and had been for centuries, there were several complicating factors: Holstein had different inheritance laws from Denmark proper and Schleswig, which meant that upon the childless death of the Danish King (which just so happened to appear imminent in the mid third of the 1800s) the two would fall to different branches of the convoluted European nobility. There was, however, an old law saying the two territories were to be "forever unseparated" ("op ewig ungedeeld") and many of the locals - be they Danish-, German- or Frisian-speaking or any multilingual combination thereof wanted the two territories to remain together. However, nationalistic ambitions of both Danes and Germans included all of the territory in their plans and Germans tended to dominate in Holstein while Danes dominated in Schleswig. The issue was so complicated that a British prime minister said "There are three people who understand the Schleswig Holstein question. Prince Albert, who is dead, a german professor who has gone insane and I who have forgotten all about it". During the 1848 revolutions, hotheads on both sides caused a war over Schleswig Holstein that was however abandoned with no clear winner when the political situation in Prussia changed. Sixteen years later, Prussia used rather similar reasons to start another war, defeating Denmark with their Austrian allies even though the Danes made use of the old "Danewirke" a defensive fortification that had been built to fight Charlemagne one last time. Austria and Prussia partitioned Schleswig and Holstein between them. In 1866, two years after the war, Bismarck deliberately escalated a conflict with Austria regarding the administration of Schleswig and Holstein into another short but decisive war which left Prussia the dominating German speaking power (and Austria reforming into
Austria Hungary
) which would go on to launch a war on France in 1870/71 that resulted in the founding of the German Empire.
Talk
German
. Most people understand English. The northern part of the region contains
Danish
and North Frisian minorities, thus making it possible to use those languages in addition to German in many situations. Some - especially older people in rural areas - also speak Plattdeutsch, a northern German dialect that is so similar to Dutch that it is considered mutually understandable by some. Standard German with a moderate Plattdeutsch tinge to it is called
Missingsch
(from
Meißen
, as in
"Meißner Kanzleisprache"
i.e. standard German) and often mistaken for real Plattdeutsch. You will commonly hear Missingsch as a sort of folkloristic tourist attraction but many people actually speak it in their daily lives, as Plattdeutsch is losing more and more ground.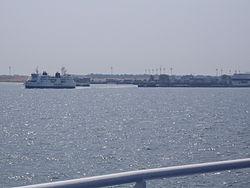 Get in
By plane
Hamburg
Airport (
HAM
) has excellent connections by train to many destinations in Schleswig-Holstein and the Schleswig-Holstein Ticket (see below) is valid on regional trains to and from Hamburg as well, thus making it one of the best entry points to the region for travellers arriving by plane.
The island of Sylt also has an airport (GWT), which in the summer sees many flights from domestic German airports and Zurich Airport. The airport is of limited use, however, for tourists wishing to go beyond the North Frisian Islands, as travelling to anywhere in the continental part of Schleswig-Holstein requires changing trains and often travelling as far as Hamburg. There is also an airport at Sonderborg, Denmark which is useful for travel to Flensburg and surroundings.

By boat
There are many boat services from Scandinavia. From the Danish Jutland you can get to Schleswig-Holstein by car. Kiel and Travemünde (close to Lübeck) are the main baltic ports, whereas the cities on the North Sea Coast of Schleswig Holstein have mostly ferries to various German islands, including Heligoland. If you want to arrive from the West by boat, your most practical options are probably Hamburg or even some ports in the Netherlands (for connections to the British mainland). Taking a boat to Denmark and then a bus or train from there might also be an option, but the Danish railway network is rather sparse by European standards even though major investment in it is a political priority for all major Danish parties and already being undertaken.

By train
There are also direct trains from Copenhagen to Lübeck (the journey is about 4 hours, including a short ferry ride), which you can use to get there from Copenhagen Airport.
Both Westerland (on Sylt) and Lübeck have Intercity and occasional ICE stops. For most destinations it is best to change in Hamburg (when coming from the west or south) or Lübeck (when coming from the east). Regional travel is best done with the Schleswig Holstein ticket starting at €27 for one person and €3 for every additional member of the group up to five in total. The Schleswig Holstein ticket is valid for one day (09:00 to 03:00 the next day) on almost all regional trains as well as most local buses.

By bus
Long distance buses are still a new phenomenon (the market opened around 2012/13) in Germany, so prices and routes are still changing. As with most modes of transportation, prices are cheapest when booked online and several days in advance. If you want to take a bike, you have to give advance notice, as capacity is limited. For more on details and companies see: Intercity buses in Germany. Some operators serve a handful of popular beach resorts, but this region is largely rural, and connecting services to Denmark are usually loaded onto a ferry instead of taking the roundabout way through Schleswig and the sparsely populated Jutland.

Get around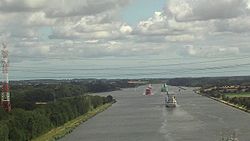 The state has an extensive public transportation service, provided by different train and bus companies.
The Deutsche Bahn
website
can be used to search for connections.
By bike
As the landscape is mostly flat, riding a bicycle is an excellent way of getting around Schleswig-Holstein, especially for short to medium distances. A popular tour is boat-spotting along the Kiel Canal (the busiest in the world) by bike, which has the added charm that even moderately ambitious cyclists are able to keep up with the moderate speed of most boats along this route.
See
The old town of Lübeck
The North Sea coast
The Kiel canal, the busiest in the world
Do
Visit Ditmarschen and eat the fabulous seafood. Try Friedrichskoog for great fish restaurants.

Buy
Schleswig-Holstein has several so called border shops that are dedicated to selling consumer goods to tourists and truck drivers from Denmark and Sweden. They are located along the German-Danish border and on the island of
Fehmarn
. The border shops are probably the best place in Germany to find candy, soda, cider, beer, liquor and other things produced in Denmark and Sweden at lower prices than in their home market. This is due to the lower excise taxes in Germany, even though the gap is closing in. The deposit-refund systems in the three EU-countries are not compatible, so a proforma export declaration must be submitted and photo-ID must be presented when buying beverages that normally have a deposit paid in Germany. These deposit-refund exempt beverages are only permitted for export to Denmark and Sweden and will not be sold to Germans.
Calle
,
Citti
and
Fleggaard
(websites are in Scandinavian languages only).
Eat

Shrimp: in Büsum, you can buy small boiled shrimp by the kilo. Spend a happy communal time peeling them and eat them on black bread, with a fried egg over the top. An excellent Abendbrot (dinner) or snack!

Drink
While beer is consumed here as well, it is more of a Southern German thing with Northern Germany preferring liquor such as
Korn
(made from grain). Nonalcoholic beverages include
tea
(especially in Frisian areas) water and
soft drinks
. With very few exceptions (mostly on the islands and clearly noted if it is the case) tap water is safe for human consumption.
Stay safe
As in most parts of Germany crime is one of your lesser safety concerns, unless you are unlucky or careless. However, a big safety issue claiming the lives of many people every year is the sea: Bathing in the North Sea is only allowed during certain hours of the day. There is a reason for this: The drag of the tides can drown the most prolific swimmer. If you want to go swimming make sure beforehand that it is safe. Another popular activity that has some safety issues is Wattwandern (hiking in the mudflats left during low tide); with a guide this is a low risk, fun activity, but without a guide, it is illegal and potentially deadly. Fog can appear suddenly over the sea and the natural channels that bring the floodwater back in can rise to three metres and more, cutting your way back off. In short: Don't go out into the Watt without a qualified guide in your group.

Go next