Schleswig
Schleswig
is in
Schleswig-Holstein
.
Understand
One of the northernmost cities in Germany, Schleswig was part of the Duchy of Schleswig that was ruled by the Danish king until the 1864 German-Danish war in which
Prussia
and
Austria
defeated Denmark, annexing Schleswig and Holstein. A dispute over the administration of those two territories would trigger the 1866 Prussian-Austrian war and in 1870/71 Prussia would lead the German states (sans Austria) into a war against France leading to the first unified German state under Prussian leadership. The region around the city of Schleswig was a major centre during the
Viking Age
. The original viking settlement Hedeby and the Dannevirke defensive wall are on the
UNESCO World Heritage List
.
Get in
By train
By car
Autobahn A7 between
Hamburg
and
Flensburg
passes next to the city.
See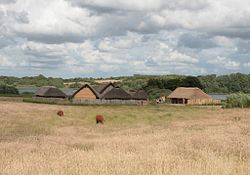 HedebyThe remains of an ancient Viking settlement, which is now considered the most important archaeological site of Schleswig-Holstein. There is a museum and reconstructed houses where you can learn about the history of Hedeby and the everyday life of the Vikings.

DanevirkeLiterally meaning the Earthworks of the Danes, the first of these walls were constructed already around 500 AD as a protective wall against the south. A few centuries later, it was expanded by the Vikings into a system of trenches and walls. Interestingly, the Danevirke was used in the war against Prussia in 1864 when the Danes lost the area.

Gottorf CastleHouses two museums these days
Eat
phone: +49 4621-24419

address: Lange Straße 5

A steak house
Sleep
phone: +49 46 21 30 20-0

address: Königstraße 9