Schwerin
Schwerin
is the star capital of
Mecklenburg-Western Pomerania
. It is famous for its romantic palace, the 7 lakes around the city and its well-preserved old town.
Understand
Despite Rostock being larger, Schwerin remains the state capital, and with around 92,000 inhabitants it is also the smallest German state capital. It is thus the only state capital not to be a "Großstadt", a city above 100 000, as defined by German statistics.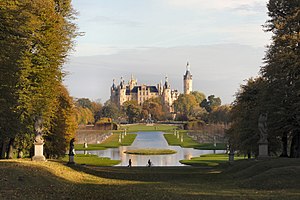 Get in
By plane
Rostock
airport (
RLG
) has connections to other parts of Germany such as Munich airport and Stuttgart. Other major airports within reasonable driving and train distance are those of Hamburg and Berlin (BER).

By rail
By car
Schwerin is just of the A 14 about 200 km north west of Berlin and 100 km east of Hamburg using the A 24.
Lübeck is about 65 km and 90 km from Rostock via the A20.

Get around
By tram
Schwerin has a tram network some long, serving most of the city.

See
TV towerIt has an observation deck and a restaurant 100 meters above ground. The -high TV tower is from unique design. As a curiosity close to it, there is a guyed radio mast, which is 273 m high.

Schweriner SchlossThe castle nowadays houses the state parliament. It sits next to the Schweriner See (lake) and adjacent to a park.

Internationales Feuerwehrmuseum Schwerin

phone: +49 385 20271539

address: Hamburger Allee 68, 19063 Schwerin

Very extensive collection of everything related to fire brigades. Fire engines, model fire engines, uniforms, helmets, masks, equipment, pumps, training equipment. A lot of stuff relating to the former DDR (East Germany) but also West German and international.
Do

Climb the tower of the Schwerin Cathedral. Go via the main entrance, then go to the back of the pews, pay the attendant €2 and climb the spiral staircase. At the top, there are 360 degree views of the city.

Eat
phone: +49 385 565909

address: Schloßstraße 17

Nice food at reasonable prices.

phone: +49 385 5408994

address: Schloßstraße 35

Cheap bakery snacks and sandwiches.
Drink
address: Ziegenmarkt 11

a pub that serves great food and drinks. Try the Fladenbrot. One is enough to share between two people. Probably the best pub in town, that's why you can expect it to be very crowded.

address: Mecklenburgstraße 2

relaxed cocktailbar with quite nice Mexican food, next to Pfaffenteich in the city centre.

address: Am Markt 4

Roasts their own coffee and serves great hot chocolate. They are located on Am Markt.
Sleep
phone: +49 385 57550

address: Bleicherufer 23

phone: +49 385 57569803

address: Werderstraße 49

A great hostel.

address: Zum Schulacker 1. D-19061 Schwerin

Stunning 4
* hotel.
Go next