Schwetzingen
Schwetzingen
is in
Baden-Württemberg
.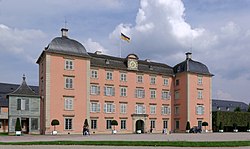 Get in
Get around
As a tourist, walking is your best bet. The town is small and the 10-minute walk from the train station to the gardens is along one of the main roads, and on some days includes a market.

By bus
Thompkins Barracks is sort of within walking distance of downtown Schwetzingen. The walk is easy, but can take quite a bit of time. For those who would rather not walk, you can take bus 710 from one of the bridges adjacent to Thompkins Barracks. The ride will cost roughly 50 cents.

See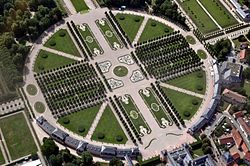 phone: +49 6221 658880

address: Schloß Mittelbau

gardens are phenomenal, with everything from fake Roman ruins to a French garden to hedge rows.

Schlossplatzthe main place in front of the Schloss with a lot of pubs and restaurants.

hunting lodgeoffers tours, but is not worth the time if the weather's nice.
Do
Visit the pubs around Schlossplatz (the place in front of the castle).
If you like dancing, see the Cubar where you can dance salsa.

Eat
In May and June, you will get Spargel (Asparagus). Schwetzingen is famous for its awesome Spargel.
Drink
If you like beer, try a Welde Pils with its award winning bottle design.

Sleep
Go next
Bertha Benz Memorial Route - Follow the tracks of the world's first automobile journey (Mannheim - Pforzheim/Black Forest - Schwetzingen - Mannheim) back in 1888