Scranton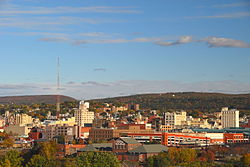 Scranton
is a city in northeastern
Pennsylvania
. It is near
Wilkes-Barre
, and is the seventh most populous city in the state.
Understand
The city grew vigorously in the late 19th and early 20th centuries, as a capital of coal mining and railroads, which were vital to the expanding industry in this part of the country. Prosperity subsided and economic distress followed for decades. Property values have since increased as Scranton is gaining employers and investment. From 2005 to 2013, Scranton entered American popular culture as the setting for the U.S. version of the TV series The Office (though only the opening credits were shot in the city).

Get in
By plane
Scranton is within three hours driving distance from
Newark Liberty International Airport
(
EWR
) in New Jersey, John F. Kennedy International Airport JFK and LaGuardia Airport (LGA) in New York City, and Philadelphia International Airport (PHL) in Philadelphia.

By car
Scranton is accessible primarily by car (or by coach bus):
I-84 west from New England.
I-80 east to I-380 north from New York City; west from Erie, State College, and Pittsburgh.
I-476 (PA Turnpike Northeast Extension) north from Allentown and Philadelphia
I-81 south from Ontario/Quebec and Syracuse; north from Washington DC via Harrisburg
By bus
Scranton is also served by multiple bus lines. All buses stop at , located a few blocks from downtown on Lackawanna Ave.

Martz Trailways, operates routes to New York City and Philadelphia daily, and to other Pennsylvania, New Jersey, and New York destinations. Check website for schedules and fares.
Greyhound Bus Line, has a stop in Scranton and travels to Harrisburg, Binghamton, Allentown, Philadelphia, New York City, and beyond. Check website for schedule and tickets.
By train
The Pennsylvania Northeast Regional Rail Authority is working with New Jersey Transit to bring a passenger railroad back to Scranton from New York City and its western suburbs.

Get around
By bicycle
The Electric City is a growing biker/commuter city. Gas prices going up help many to decide alternative means of getting to work, restaurants, and shopping. While Scranton does not provide cyclists with bike lanes popular to Philadelphia, New York City, and other big cities, some groups try to bring biker awareness and safety to light. The last Friday of every month, 6PM North Washington side of the courthouse, is where you can find bikers of all sorts gathering to participate in Critical Mass. It is a gathering of cyclists of sorts to participate in a huge group ride. The purpose of Critical Mass is to bring awareness of bicyclists to the public. Some forms Critical Mass have been used to protest certain events, be it political, social, and so on. Careful, you may see the car, but they don't always see you.
By car
Virtually all transportation throughout the city is by car. North Main Avenue and the North Scranton Expressway travel north to the Providence section and to the shopping centers of Dickson City. Green Ridge Street and the Central Scranton expressway travel east to the large suburb of Dunmore and I-81. Pittston and Cedar Avenues are the main routes through "South Side" to the Minooka section and beyond to the attractions of Montage Mountain. South Main Avenue and Keyser Avenue are likewise the main routes through "West Side".
The
Scranton Parking Authority
operates four daily parking garages in the city. The garages are Casey Garage (corner of Lackawanna Ave. & Adams Ave.), Linden Street Garage (corner of Linden St. & N. Washington St.), Medallion Garage (100 Block of Adams Ave.), and the Electric City Garage (with entrances on Spruce St. & Penn Ave.). Rates are $1.75/1st hour and about $0.75/hr afterwards. They're open daily from 7AM-11PM, with Linden St. open 7AM-2AM on Saturdays.
Private taxicabs such as Posten and McCarthy service the area as well. They are hired by telephone through central dispatch and cannot be hailed on the street as in larger cities.
On foot
Walking is also safe and practical in "Central City" (or "Central Scranton"/"Downtown Scranton"). This area of two dozen square blocks (approximately bound by Lackawanna Ave. and Jefferson, Vine, and Mifflin Sts.) contains a great deal of what Scranton has to offer tourists, so it may be best to just park at one of many garages for a reasonable day-long fee.
By bus
County of Lackawanna Transit System (COLTS) also operates public buses throughout all parts of the city and a few Lackawanna County extremities. Rates are $1.25/ride, $11/10 rides (adult), $10/10 rides (student), or $40/31 day unlimited pass. Travel times are a little more than twice what it would take driving the same route. The system typically operates from 7AM-7PM, check the website for exact schedule. COLTS does not operate on Sundays or Holidays.
See
Scranton is host to many architecturally interesting buildings from the early 1900s, most notably the
county courthouse
in the middle of Central City. Also downtown:
The former Lackawanna Train Station & Headquarters, 700 Lackawanna Ave., which has been converted to a Radisson Lackawanna Station Hotel (See "Sleep" section for more information about the Radisson Hotel).
The University of Scranton, the university was founded in 1888, it is a nationally recognized Catholic and Jesuit university. It consists of approximately 5,600 students. The campus extends southeast from Central City throughout the Hill section. The University of Scranton has a beautiful campus; there is plenty of green space, a combination of old and new buildings that have been merged to make up the campus. The University of Scranton offers as many as 56 undergraduate degree programs and 25 graduate programs.

The Scranton Cultural Center at the Masonic Temple

address: 420 N Washington Ave

It was built as the Masonic Temple and Scottish Rite Cathedral. Over the years it has become a central hub for live performances in the area. The Scranton Cultural Center is a great place to see a concert (either in the building ballroom or in the theatre). The venue can also be rented out for weddings, conferences, and other special events. The Scranton Cultural Center is approximately 180,000 square feet, the building houses 2 theatres, meeting rooms, a chapel, a grand ballroom as well as numerous other rooms and areas.

Steamtown National Historic Site

phone: +1 570 340-5200

address: Cliff Street west of Lackawanna Avenue

The park is open daily 9AM-5PM, and is closed on Thanksgiving, Christmas and New Years days. The Steamtown National Historic Site offers tours of a train yard, locomotives, etc. A model train layout and other railroad memorabilia are located at Steamtown. GPS will take you to 150 S Washington Avenue, but there is no public access at that address.

phone: +1 570 963-6590

address: 300 Cliff St

Cliff Street. On the site of the Steamtown National Historic Site. Offers trolley rides 9AM-5PM W-Su through October and on selected weekends afterwards. Check site for specifics. The Electric City Trolley Museum Association is a volunteer non-profit group that supports the activities of the Electric City Trolley Museum in downtown Scranton. The Electric City Trolley museum is closely affiliated with the Steamtown National Historic Site. During baseball season, trolley service is provided to PNC Field, home of the Scranton/Wilkes-Barre Rail Riders.

phone: +1 570 342-5555

address: 1433 N Main St

Open all weekends throughout the year, including Thanksgiving, Presidents Weekend, Fathers Day Weekend, Mothers Day Weekend, Easter Weekend, Memorial Day Weekend 1-4PM. Reservations required. Open weekends in June and every day in July and August through Labor Day Weekend. A major 2½-3 hour event that includes a rare film, a guided tour, and an hour magic show with many live animals. Featuring nationally known television celebrity magicians Dorothy Dietrich and Dick Brookz.

phone: +1 570 348-4189

address: 500 Arthur Ave

The city's largest park; offering two Olympic-sized pools, multiple playgrounds, a waterslide park, walking trails, picnic areas, kid-friendly rides. Nay Aug Park grants residents and visitors a touch of nature amongst the city's landscape, which may be hard to find in downtown Scranton. The Everhart Museum is also in Nay Aug Park. A rock-strewn gorge and waterfalls add to the allure and have been named a National Natural Landmark. In 2007, a pedestrian footbridge was constructed allowing access to the parkland across the Roaring Brook.

phone: +1 570 346-7186

address: 1901 Mulberry St

Natural History, Science, and Art Museum on site of Nay Aug Park. Check site for special events. $5/adults, $3 seniors, $2/children, free/ages 5 & under. M Th F noon-4PM, Sa 10AM-5PM, Su noon-5PM. The Everhart Museum is the largest public museum in Northeastern Pennsylvania. It is a non-profit organization whose sole purpose is collecting, preserving, and caring for a wide variety of artifacts. The Everhart Museum was founded in 1908 by Dr. Isaiah Fawkes Everhart.

phone: +1 570 963-3208

address: 159 Cedar Ave

Open year-round, 9AM-5PM. Visitors' center open seasonally. Blast furnaces built between 1848 and 1857. The Scranton Iron Furnaces is near the Steamtown National Historic Site. The Iron Furnaces represent the early iron industry in the United States. There are four massive stone blast furnaces that still remain at the historic site and are the sole remnants of a once extensive plant operated by the Lackawanna Iron & Steel Company.

Lake ScrantonLake Scranton is owned and operated by Pennsylvania American Water Company for the water supply of Scranton. The trail is accessible to everyone and is popular with joggers and families with strollers.

William J. Nealon Federal Building and U.S. Courthouse

phone: +1 570 346-7277

address: 235 N Washington Ave

The William J. Nealon Court houses the U.S. District Court for the Middle District of Pennsylvania and a U.S. post office. The building was constructed in 1930-1931 to accommodate the needs to the growing city of Scranton. At the time, the court house was much smaller than it is today. In 1981 the GSA (U.S General Services Administration) purchased the building from the post office. In 1999, additions to the Federal building were begun, including construction of the atrium. In the same year, the building was renamed in honor of the city's historic judge, William J. Nealon.
*
Do
phone: +1 570 963-MINE

address: McDade Park, Keyser Ave

A 1/4-mile walking tour of a defunct coal mine. Large museum of artifacts relating to anthracite mining and people of the region. Gift shop. Open April 1st through November 30th, except Easter and Thanksgiving. Enter the 400-foot deep mine in a winched railcar.

phone: +1 570 969-7669

address: 1000 Montage Mountain Rd

Skiing in winter, world-famous musical acts in concert at the Toyota Pavilion in summer, as well as a water park and zip line ride.

phone: +1 570 383-1821

address: Court House Square

90-minute scenic walk of Scranton's historic district, the most scenic and most haunted part of the city. They even go into a landmark historic building for a short time that is certified haunted by several paranormal groups.

The Icebox Skating Complex

address: 3 W Olive St

Ice and roller skating year round. The Icebox Skating complex has multiple roller blade or ice skating rinks. It also offers an extensive game room, concession stands and a gift store. The Icebox Skating Complex is a great place to have a birthday party for children, school field trips, or just to spend quality time with family and friends.

Scranton/Wilkes-Barre RailRidersAAA baseball, PNC Field, Moosic. The highest level minor league affiliate of the New York Yankees. Home games from April through August. Check website for tickets and dates.

phone: +1 570-344-1111

address: 200 N Washington Ave, Courthouse Sq

Completed in 1930, this dramatic structure was built as a Masonic Temple and Scottish Rite Cathedral. Today, it hosts social functions, corporate meetings, cultural events, and theater performances. Tours are available.

Endless Mountains Hot Air Balloons, Inc.

address: R.R.#1 Box 95, Dalton

Enjoy a spectacular champagne hot air balloon flight over scenic Northeastern Pennsylvania. Endless Mountains Hot Air Balloons invites you to experience the exciting sport of hot air ballooning. Also offering tethers and commercial promotions.

Psychic Theater's Hauntedǃ Mysteries of THE Beyond.

phone: +1 570 383-9297

address: 1433 N Main Ave

Picked by The Pennsylvania Department of Tourism as One of the Most Haunted Places in the State. A psychic paranormal evening ending with a seance in the dark.

Toyota Amphitheater

phone: +1 570 961-9000

address: 1000 Montage Mountain Rd

This location used to be the Montage Mountain Amphitheater, a temporary structure designed to hold small concerts. In 1999, Lackawanna County built a permanent amphitheater next to the Montage Mountain Ski Resort (now Sno Mountain). This concert venue has seating for 7,000 people covered under the pavilion roof, in addition to room for another 10,500 on the lawn (a large grassy hill behind the pavilion). In 2002, The Montage Mountain Amphitheater was purchased from the county by Clear Channel Communications and the name of the venue changed to the Ford Pavilion. In 2006 the amphitheater changed ownership again, leaving Clear Channel behind and merging with Live Nation. The name of the venue changed yet again, becoming known as the Toyota Pavilion. On February 15, 2007, the tent roof of the pavilion collapsed. This occurred because of the weight of snow and ice from the previous day's blizzard. A new roof was completed in time for the summer 2007 concert season. The concert venue has hosted many large acts such as Dave Matthews Band, The Dead, REO Speedwagon, Kanye West, Rush, Meatloaf, the Vans Warp tour, The Allman Brothers Band, Sammy Hagar, Def Leopard, and many more.

Cinemark Theatres

address: 40 Glenmaura Blvd

A large movie theater right outside of Scranton. It has 20 different movie theaters in which they run new released movies day and night. Theaters vary in size from large to small scale. It's said to be the best seat in town!

phone: +1 570 788-8451

address: 300 Meadow Ave

It's in the Clarion Hotel's Hub lounge, with shows every Friday 9PM, Saturday 8 & 10:30PM as needed. Doors open one hour before showtime. 21 and up. Excellent food, good drinks, lots of fun.
Buy
address: 300 Lackawanna Ave

Anchored by Boscov's and The Bon-Ton department stores. Retail stores in the mall consist of: Hollester, Abercrombie and Fitch, Azaria, Victoria Secerts, Hot Topics, Sojourner, American Eagle, Payless, Antie Annes, Rave, Eddie Bauer, Olympic Shoes, Express, LaTida, Verizons, Wet Seal, GNC, Nail Trix, Starbucks, Wendy's and many more store fronts.

The Viewmont MallBusiness Rt. 6 in Dickson City. Anchored by Macy's, JCPenney, and Sears department stores. Retail stores in the mall consist of: FYE, Hallmark, Eckerd, Sephora, American Eagle, Victoria Secert, Pac Sun, Footlocker, Roma Pizza, The Limited, The Express and Express Mens, Bath and Body Works, Deb, Johhny Rockets, Zales, Gap, Piercing Pagoda, B. Moss, Spencers, GNC, Vitamin World, Arie, Aeropostale, Claires and many more store fronts.

Dozens of small specialty shops throughout Central City: musical instruments, records, army/navy apparel, model trains (i.e Scranton Hobby Center), comics, day spa services...

Keyser Oak Center

address: 1762 N Keyser Ave

Anchored by Gerrity's supermarket and Ollie's Bargain Outlet. Other stores are, Hallmark, Thompson Title and Tags, A liquor store, Dollar General, Hollywood Video and several other store fronts.

Green Ridge Plaza

address: 1600 Nay Aug Ave

Anchored by Giant supermarket and A.J. Wright discount clothing, Buona Pizza, Fashinon Bug, a liquor store, a Chinese Buffet.

phone: +1 570 341-3271

address: 1035 Shoppes Blvd, Moosic

The Shoppes at Montage was built during 2006-2007, and the grand opening was in March 2007. It was developed by Duke Realty and Jeffrey R. Anderson Real Estate. There are 64 retail store fronts in the outside complex. A few of the major retails stores are: Ann Taylor Loft, J. Jill, Talbots, Chicos, Coldwater Ceek, Eddie Bauer, GAP, Victoria's Secret, American Eagle, New York & Co., Limited Too, Lane Bryant, Aeropostale, Guitar Center, DSW Shoes.
Eat
phone: +1 570 346-6883

address: 701 N Washington Ave

Seafood fare. Extremely large selection of specialty beers (~15 on tap, over 200 bottles). Cooper Seafood House has been owned and operated by the Cooper family since 1948. Cooper's has become a landmark in Scranton. The building used to be the passenger station of the Erie - Lackawanna Train Station. Over the years the exterior of the building has been remodeled to resemble a full sized pirate ship. Cooper's houses the ship's pub, the lighthouse bar (most recent addition consisting of a giant lighthouse that extends upwards off the side of the building), the tiki bar deck, the whale room, the train room and the private coral room.
Old Forge style pizza (besides in the borough of Old Forge 10 to 15 min. south) can be had at a number of city eateries. Also try pierogies, a pasta filled with a potato and cheese filling.

phone: +1 570 346-2290

address: 303 N Washington Ave

10" specialty pizza, hoagies, pierogies, etc. $5-10.

phone: +1 570-342-7442

address: 402 Pittston Ave

Authentic Mexican cuisine. Small and cozy. $5-$10. Open everyday 11AM-9PM, except Wednesday!

phone: +1 570 347-0675

address: 600 Pittston Ave

Closed Monday and Tuesday. One of Scranton's best and most unique pizzas, since 1955.

phone: +1 570 341-9600

address: 244 Adams St

Japanese cuisine! Watch them prepare your food from the bar or have it served right to your table. Best sushi in town and half off on Sundays between 1-9! Get your chopsticks ready!

phone: +1 570 343-8036

address: 890 Providence Rd

Burgers, fries, shakes- all great at any hour here! Plus much more for less! The Glider Diner is not only a restaurant but offers catering services as well. Their food is delicious and highly recommended when visiting Scranton.
Chicks Diner is on 1032 Moosic St. Open 24 hours, it is a great place to get food any time of the day. The 1950s style diner has been a staple of Scranton for the past several decades. It is best known for its late night menu (popular late night dish - french fries with gravy). It is a great place to eat and a great atmosphere.

phone: +1 570 961-8288

address: 100 Cedar Ave

The restaurant has been operating since 1923, when it was owned by Steve Karampilas. Over the years it has changed owners, but still makes the best Texas wieners in Northeastern Pennsylvania. The special sauce is key to their deliciousness. Always made fresh, consisting of a soft national roll, hotdog, spicy mustard, raw onions, and the infamous Coney Island sauce. Coney Island offers a casual atmosphere with great service and a great product at an affordable price in a place that everyone can enjoy.

Nickie's Fabulous Hoagies

phone: +1 570 961-9061

address: 1309 Swetland St

Great place to get a delicious hoagie or slices of pizza. This little "mom and pop" store has little aesthetic appeal from the inside or outside but what it lacks in looks it makes up for in taste. There is not a real place to sit inside the little store, but all you really need to do is walk in, order, pay, walk out and enjoy! Nickie's Fabulous Hoagies is a little hole in the wall in West Scranton, which some may find unappealing at first, but once you've eaten there you will have to go back for more!

phone: +1 570 346-9758

address: 1802 Cedar Ave

Kelly's is best known for their wings. Their wings are crispy, all white meat wings and thighs, in an incomparable sauce that makes them irresistible after one bite. They have a $0.25 wing night on Wednesdays. Make sure you make reservations or go early because it is a very popular place for good food and cold beers! (especially on Wednesday nights).

Buona Pizza

phone: +1 570 342-4032

address: 504 Lackawanna Ave

Offers a variety of Pizzeria style food but your best bet is sticking with the pizza. Their large trays are enormous, the pizza is delicious, but if you do not like greasy food then shy away from Buona Pizza.

City Cafe Mediterranean Restaurant

phone: +1 570 343-3550

address: 116 N Washington Ave

Authentic Mediterranean cuisine in a casual, relaxed atmosphere. Not your typical restaurant especially for Scranton. Open for lunch Monday - Thursday and lunch and dinner on Friday and Saturday. Dinner features change weekly. BYOB!
Drink
Being a college town it is not hard to find places to drink. Just walking around the hills section of town on a Thursday, Friday, or Saturday night you can find countless parties. Drink until the Keg is Kicked for $5.
Cooper's Crab Shack

address: 701 N Washington Ave

Local Tiki style bar with tropical music and cold drinks. The crab shack consists of four levels of outdoor decks for your enjoyment. Live entertainment and no cover.

The Bog

address: 341 Adams Ave

Small pub reminiscent of New York's East Village dive-bars. Local music on many nights. $1.75 - $4 beers. Some specialty bottled beers available. Excellent Jukebox.

The Banshee

address: 322 Penn Ave

Spacious faux Irish bar. Pleasant staff. Lounge areas with sofas. Acoustic ensembles on weekends. Wide selection of draught and bottled beer, many Irish whiskeys, creative monthly/seasonal mixed drinks.

Whistle's

address: 126 Franklin Ave

Large sports bar. Entertainment, pool tables. Whistle's offers a relaxing atmosphere for a restaurant/sports bar; offering everything from live music to a game room and dozens of TVs playing the various games that are on television at the time.

address: 536 Spruce St

For those interested in coffee. Plenty of couches/chairs & free high-speed internet.
Refer to the Electric City, the Scranton area's free entertainment weekly, for plenty of advertisements, listings, and reviews of nightlife:

phone: +1 570 341-1443

address: Historic Casey Laundry 515 Center St

A delightful place to buy unique gifts, new/used books, jewelry, and coffee. This is a cute coffeehouse. Seating is available outside and couches are on the second floor.

phone: +1 570 344-2715

address: 920 Marion St

Serves Electric City Roasting Company coffee. Owned and operated by Mary Tellie, a certified Q Grader and nationally recognized roaster.

Heil's Place

phone: +1 570 343-7930

address: 1002 Wheeler Ave

Heil's Place is local pub in which serves good food and drinks. Relatively cheap, friendly bartenders, and a good weekend crowd. Provides an inviting atmosphere to patrons. Offers live music regularly.

The Green Frog

phone: +1 570 969-9989

address: 815 Mulberry St

A dingy college tavern that is very small but attacks a large crowd on weekends. A notorious underage pub for college students.

Tink's Entertainment Complex

phone: +1 570 346-8465

address: 519 Linden St

Is a multi-level entertainment club. Tink's includes four different nightclubs and bars under one roof. The entertainment complex has a full stage and balcony in which they have concerts regularly. It is a hotspot in downtown Scranton offering a little bit of something for each individual.

phone: +1 570 955-0192

address: 523 Linden St

The Backyard Ale House is one of Scranton's newest bars, having opened in 2008. It has a spacious interior with a large bar. However, the Ale House gets better because during warm weather they have a quaint patio behind that bar with tables, chairs, decorations, and two outside bars.

phone: +1 570 342-9824

address: 308 N Washington Ave

The last cozy, little bar in Downtown Scranton. Cheapest everyday prices. Knowledgeable, courteous bartenders. Popular stop to pre-game or quaint, no-drama place to enjoy the night. 60+ beers. Largest liquor selection in town.
Sleep
Go next
Lackawanna State Park is approximately 15 minutes away from Scranton in Lackwanna County. The park has facilities for camping, boating, canoe/kayak rental, a swimming pool, and walking/hiking trails. Most facilities are open April through October, check website for specifics.
The Dietrich Theater, Bus. Rt. 6 Tunkhannock, +1 570 836-1022. Offers first run, foreign, independent, & classic films in a restored theater. Fall/Spring Film Festivals and cultural classes on site. Check website for movie times. Approximately 30 minutes from Scranton on Rt. 6. "More Than the Movies!"
Sno Mountain, 1000 Montage Mountain Rd, +1 570 969-7854. Once known as Montage Mountain, Sno Mountain offers a wide range of winter and off season attractions and activities. Ski, snowboard, zip ride, tubing, golf, batting cages, water slides, and a Lazy River (being constructed) in addition to other fun and family friendly attractions. Average ticket prices, check out the web page for group rates and special deals.
McDade Park is off Snake Road in West Scranton. The land was reclaimed by the city in the 1970s from the Lackawanna coal mining terrain. It has become one of the city's top leisure destinations offering many different types of activities for visitors to enjoy. McDade Park has a fishing pond (stocked regularly), an Olympic size swimming pool with bath houses, basketball and tennis courts, two baseball fields, a pavilion, playgrounds, outdoor picnic areas with charcoal grills, open fields and rolling hills and a 1.8-mile cross-county ski or walking trail, The Lackawanna Coal Mining Tour and the Pennsylvania Anthracite Heritage Museum. McDade Park is spread out over 200 acres of land, with free admission to outdoor enthusiasts and visitors. For more information about McDade Park please call +1 570 963-6764.