Scugog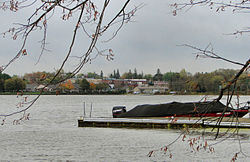 Scugog
is a township of about 22,000 people (2016) in the
Durham
region of the
Greater Toronto Area
, in
Ontario
.
Understand
Many residents commute to Toronto for work on a daily basis. The anchor and largest population base of the township is
Port Perry
.
When Lake Scugog was created by a dam in Lindsay in 1834, flooding created an island known as Scugog Island. The island was separated from Reach and Cartwright townships to form Scugog Township in 1856. In 1872 George Currie built a grain elevator which is now Canada's oldest grain elevator. The new township was part of Ontario County.
The name Scugog is derived from the Mississauga word
sigaog
, which means "waves leap over a canoe". This refers to the creation of Lake Scugog. Other sources indicate that it is a native word meaning swampy or marshy land.
Mississaugas of Scugog First Nations
Scugog First Nations
Reserves consists of two tracts, east of Mississauga's Trail between Hood Drive and Pogue Road, and west of Mississauga's Trail from Pogue Road to Seven Mile Island Road/Chandler Drive.
Great Blue Heron Casino is located on the reserve. It is the largest private-sector employer in the area
Get in
There are two airports in Scugog, both are public airfields used by small propeller aircraft:
Greenbank Airport
Port Perry/Hoskin Aerodrome
Get around
Main roads in Scugog are:
Simcoe Street (Durham Regional Road 2) – connect communities north and south from Port Perry
Highway 7/Highway 12 – connects communities south and north of Greenbank, as well as to Oshawa
Highway 7A – connects communities east and west of Port Perry
Island Road (Durham Regional Road 7) – north and south areas on the west side of Scugog Island
See
phone: +1 905-985-9924

address: 971 High Point Rd

The winery is housed within a turn of the century board and beam dairy barn. Ocala's orchards and vineyards overlook a sprawling valley which leads to the town of Port Perry on the shores of Lake Scugog.

address: 16210 Island Rd, Port Perry

Shows what daily life was like in Scugog from the mid to late 1800s. Artifacts related to the cultural and natural history of the Township of Scugog area. The Village includes: 12 restored buildings; heritage flower, herb and vegetable gardens, Ojibway Heritage Interpretive Lands.
Do
Nonquon Provincial Wildlife Area – 1,120-hectare (2,800 acre) protected area northwest of Port Perry and managed by Ontario Ministry of Natural Resources
Oakridges Moraine Trail – at south end of Scugog

phone: +1 905-985-4888

address: 21777 Island Rd

535 slot machines, 60 table games, $2,500 maximum betting limits, and a full service buffet.

Mississaugas of Scugog Island First Nation Annual Pow Wow

phone: +1 905-985-3337 (ext. 221)

address: Pow Wow Grounds, 22521 Island Rd, Port Perry

No alcohol, no drugs, no dogs or other pets.
Eat
phone: +1 905-982-0707

address: 217 Queen St, Port Perry

This historical space is true to form of what the building looked like in the late 1800s. The Piano Cafe offers coffees, and lunches, and features a rotating art gallery displaying the works of local and regional artists. Gluten-free choices.

phone: +1 905-982-1600

address: 110 Water Street, Port Perry

Italian.

phone: +1-905-985-7224

A world traveller presents dishes from around the world and his travel photography. Steaks, curries, pastas, quinoa bowls, and vegan and vegetarian options.
Drink
phone: +1 905-985-2775

address: 279 Queen Street, Port Perry

Burgers, sandwiches, steaks and other pub food.
Sleep
phone: +1 905-985-2837

address: 88 Heath Cres, Port Perry

A sunroom overlooking the gardens, waterfall and pool, central air conditioning for your enjoyment and comfort, a smoke-free environment, high speed wireless internet, laundry facilities.

phone: +1 905-985-2463

A relaxing and authentic stay at a rustic, fully functioning horse ranch in the quiet, rolling pasture hills 0.8 km from the town of Port Perry. Unobstructed 30-km view and a "chuckwagon breakfast buffet".

phone: +1 905-985-8082

address: 425 Lakeshore Drive Port Perry

On Lake Scugog, in a custom-built home owned by an artist with central air conditioning. Original water color paintings decorate each room and common areas. Cable TV in the common room, gym equipment, fireplace & library, access to lake and a lakeside terrace, a 15-minute walk to Port Perry, and a golf course at the end of the street.