Sea to Sky
The
Sea to Sky
region stretches from the
North Shore
up the east side of Howe Sound to
Squamish
, the gateway to
British Columbia
's magnificent alpine country of forests, lakes, and year round world class outdoor activities. The Sea-to-Sky Highway (Highway 99), which gives the region its name, clings to the mountainsides, letting you drive from
Vancouver
to
Whistler
, one of North America's top ski resorts, in two hours. Further in is
Pemberton
. The area is rich with archaeological sites and historical lore of the Salish Indians.
Cities
Here are the communities in the region, listed as you encounter them heading north from Vancouver.
— a string of communities along the eastern shore of Howe Sound
— the outdoor recreation capital of Canada, with rock climbing, hiking, white water, kiteboarding, and some eagles too. The gondola offers some great views of Howe Sound, the Chief and Squamish.
— the biggest ski resort in North America, but plenty to see and do year-round. Summer: mountain biking; extensive valley trail system, hike, swim. Peak to peak cable car gondola open year round.
— gateway to some beautiful backcountry areas. Winter: ski & snowmobile. Summer: mountain bike on 200 km of free trails. Paragliding, hiking, swimming at One Mile Lake's sandy beach, and hot springs.
Other destinations
Get in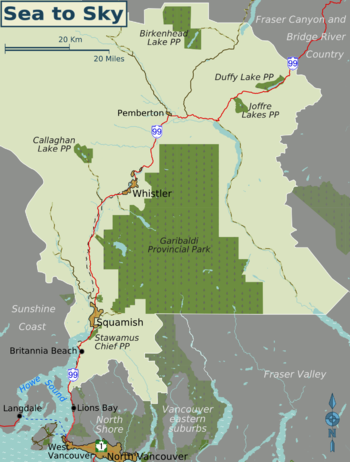 By car
The only paved road in and out of the Sea to Sky region is
Highway 99
, commonly referred to as the Sea-to-Sky Highway. It links the region with
Vancouver
in the south and
Lillooet
and Highways 97 and 1 in the north
Sea To Sky Highway
(Highway 99) is a beautiful but windy and, at times narrow, road. The highway was significantly upgraded and widened prior to the 2010 Winter Olympics and is now much safer compared to the past, when it had a slightly dangerous reputation, but care should still be taken when driving, especially in winter conditions. The section along Howe Sound between Vancouver and Whistler via Squamish is probably one of the most scenic routes to be found anywhere. Typical driving time from Vancouver to Whistler is 2-2½ hours. Winter tires are required on the Sea to Sky Highway from October 1 to March 31.
There are a number of rideshare sites available where you can find people to share the drive or find a ride for $0-20. If you have time go back the long way to Vancouver by the Dufffey Lake Road through Lillooet & Fraser Canyon: Fantastic Alpine Lakes the small "Marble Canyon", Semi-Arid Lillooet - long needle pines & sage brush: an extension of the Sonorian Desert, and the down the Fraser River back to the Lower Mainland and Vancouver's west coast marine Rain Forest.
By bus
Pacific Coach Lines, +1-888-403-4727, . Runs direct from airport to Whistler with their YVR-Whistler SkyLynx service. 12 daily departures in winter and 7 other times. $70/$31 one-way (adult/child).
Snowbus, +1 604-331-7850, . Stops in Richmond, Vancouver and Park Royal Mall in West Vancouver. Provides movies as in-bus entertainment. $30.95/$20.00 one-way from Vancouver (adult/student). $56.19/$34.29 round trip (adult/student).
Perimeter Bus, +1 604-717-6600, . Runs direct from YVR airport to Whistler with their YVR-Whistler Express service. 6 daily departures in winter. 5 daily departures at other times. $84 single trip.

address: Squamish BC

phone: +1 604 255-7272

address: 680 Industrial Ave. Vancouver, BC, V6A 2P3
By taxi
Whistler Resort Cabs
, +1 604-938-1515, provides taxi service from Vancouver and Vancouver International Airport to Whistler for $255.
RideBooker.com operates shuttles between between Vancouver International Airport and Whistler.
If a number of people are travelling together it is possible to go by Limo for $350-400 with room for between 6 and 10 people.
By plane
The nearest large airport is
Vancouver International Airport (YVR

)
. There are bus and limousine companies that provide direct shuttle service from the airport to Whistler. Tickets for Snowbus (Tourism BC Visitor Centre) and Pacific Coach Lines (SkyLynx counter) can be purchased in the arrivals hall. Car rental is also available at the airport (in winter, always request snow tires and inspect to confirm they were installed).
Visitors arriving from the United States may find flying domestically to
Seattle-Tacoma International Airport (SEA

)
or
Bellingham International Airport (BLI

)
and taking bus services across the border to be a cheaper option. The bus journey will be upwards of 5 hours.
Quick Shuttle
offers bus services.
Whistler and Pemberton both have small air facilities that handle a few regional chartered flights.
By train
Rail: Lillooet - Shalalth - Seton Portage The 2 car passenger train provides, besides daily round trip service, limited service farther south to Ponderosa Ranch near D'Arcy & can be chartered to extend the Ponderosa Run to D'Arcy - 45 min North of Pemberton - at the head of Anderson Lake. Expect occasional minor delays by Mountain Goats &/or Big Horn Sheep. They scatter at sight of the CN freight trains on the BCR Line but show no fear of the 2 car self-propelled passenger cars.
The Rocky Mountaineer stops at Whistler on the Rainforest to Gold Rush route from Vancouver to Jasper via Whistler and Quesnel.
Get around
The easiest and most common way to travel around the region is by car. If you don't have your own transport, Greyhound provides bus service along Hwy 99, which provides access to the towns but not the provincial parks like Garibaldi or Joffre Lakes.
Access to some provincial parks and recreation areas is by Forest Service Roads (FSRs). Care should be taken when driving on these roads as some of them are in rough condition (possibly 4x4 or All Wheel Drive only) and they may still be actively used by logging trucks. Many such roads are "radio-controlled" so having a CB Radio will help avoid serious accidents.
Construction is under way to build the Sea to Sky Trail, a multi-use trail that will connect Pemberton to Squamish and make it easier to bike through the region. The trail will be gravel in parts however, so it is suitable for mountain bikes rather than road bikes.

See
The region's biggest attraction is
the scenery
— exquisite alpine lakes, craggy peaks, waterfalls, glaciers — and a surprising amount of it is easily accessible from the Sea to Sky Highway. Highlights include:
Shannon Falls drop 335 meters, making them the third tallest waterfall in the province. They are just south of Squamish and it is about a 10-minute walk from the parking lot to a viewpoint at the bottom of the falls.
Brandywine Falls are located south of Whistler. It is about a 10-minute walk from the parking lot to a lookout above the spectacular falls.
Nairn Falls are in Pemberton. The falls are 60 m high and accessed by a 10-20 minute walk from the parking lot.
Lower Joffre Lake is a beautiful turquoise alpine lake set against the backdrop of the Matier Glacier. It's northeast of Pemberton and is accessed by a five-minute walk from the parking lot. If you're looking for a more serious hike, continue on the trail to the Middle and Upper Joffre Lakes (it's 5.5 km) for more stunning views.
Garibaldi Lake, in Garibaldi Provincial Park requires a 20 km round trip hike to see, but it's spectacular.
If you're keen to learn about the region's history, a couple of museums are worth checking. The BC Museum of Mining in
Britannia Beach
is the site of an old copper mine and now has a number of exhibits and activities. The Squamish Lil'wat Cultural Centre in
Whistler
showcases the art, history and culture of the Squamish and Lil'wat First Nations.
Do
If you want to do something outdoors, the Sea to Sky region is your place to be.
Whistler
is home to the biggest
ski resort
in North America — Whistler-Blackcomb — with a season that lasts from Nov to May and glacier skiing in the summer. Starting in May (most years), Whistler mountain is converted into a mountain bike park where the lifts are used to transport riders and bikes up so they can get the full experience of biking down a mountain with a few jumps and obstacles along the way. Mountain bike trails (without the lifts) also exist throughout much of the region.
Hiking
is very popular and there are a range of trails from short fairly flat routes (Shannon Falls in
Squamish
, Brandywine Falls near Whistler, Lower Joffre Lake outside of
Pemberton
) to rigorous climbs up mountains (The Lions in
Lions Bay
and Wedge Mountain in
Garibaldi Provincial Park
) to the multiday options of Garibaldi Provincial Park. Some of the most rewarding hikes are The Stawamus Chief (Squamish), Garibaldi Lake (Garibaldi Provincial Park) and Upper Joffre Lake (Pemberton). The best book for information about hiking in this area (and all of the Lower Mainland) is
103 Hikes of Southwestern British Columbia
.
Squamish is renown for
rock climbing
and has a number of routes and bouldering options in the town and nearby. Other adrenaline inducing activities include white water kayaking and rafting on the rivers between Squamish and Whistler, bungee jumping in Whistler and kiteboarding in Squamish. There's also an artificial reef for scuba diving in
Porteau Cove
.
On the less strenuous side,
golf
is popular with a number of courses throughout the region. Whistler has the largest number and most celebrated, with courses designed by Jack Nicklaus, Arnold Palmer and Robert Trent Jones Jr. There is also a course just north of Porteau Cove and two clubs in each of Squamish and Pemberton.
Eat
You won't go hungry when visiting the Sea to Sky region, but the number of restaurants and the range of choice depends on where you are.
Whistler
has the widest array of restaurants and food options consistent with its status as a major resort.
Squamish's
dining scene is lower profile but it does have a number of good café-style restaurants. It also has the largest number of fast food restaurants if you want or need something in a hurry.
Drink
Suiting its young population and streams of visitors, Whistler has a large mix of bars, clubs and DJs to dance, drink or socialize the night away. During busy periods, expect line-ups at the popular spots but you may get a chance to party with a celebrity. At least one or two bars in town will usually have live music. A good source of information for current events and entertainment info' are the local papers: The Pique and The Question give Whistler and Pemberton Listings, and the Chief for Squamish.
Squamish and Pemberton both have local bars and pubs. The scene is lower key than Whistler, with more character and less flash.

Sleep
The Sea to Sky region has a full range of accommodation options. The higher end hotels and apartment/condo rentals are mostly in Whistler, with some cheaper options in Squamish and Pemberton. There are B&Bs in all three towns, but hostels are surprisingly under represented, with just a handful in Whistler.
Camping is available in the provincial parks and recreation sites scattered throughout the region. For summer weekend, it's recommended to book in advance, early in the new year, as they sell out. Many of the sites are drive-in (Nairn Falls and Birkenhead Lake) although there are some spectacular campsites if you're willing to hike for a bit at parks like Garibaldi and Joffre Lakes.
There are also many free, unmaintained forestry campsites, such as along Lillooet Lake and River. Be warned you could have your tranquility broken by loud yahoos. No matter how wild the party the cops won't come unless they are burning down the forest. Recommend these sites only in off season, while school is still in session.

Stay safe
Weather can change quickly due to the rapid changes to elevation.
Despite the upgrades to Highway 99, some sections remain steep and windy. They are often marked by lower maximum speed limits.

Go next