Seattle-Tacoma International Airport
Seattle-Tacoma International Airport
(
SEA
), commonly referred to as Sea-Tac, is situated between Seattle and Tacoma in the Puget Sound region of Washington state. It is the primary airport for the state and the United States' Pacific Northwest region, and is a hub for flights to Alaska, Asia, and the interior Northwest.

Understand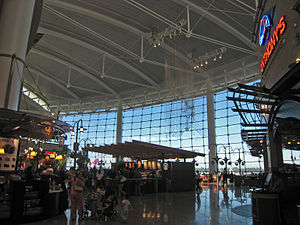 Sea-Tac is roughly midway between Seattle and Tacoma, about 15 miles (25 km) south of Seattle and 25 miles (40 km) north of Tacoma. It's the busiest airport in the Pacific Northwest region and one of the busiest in the nation, serving almost 47 million passengers in 2017. The airport consists of a huge central terminal, two satellite terminals, cargo facilities, and three parallel runways running north-south.
Alaska Airlines, despite its name, actually has its largest hub at Sea-Tac, with frequent daily services to
Anchorage
,
Alaska
. Delta Air Lines also maintains a hub, with numerous destinations in Asia, Europe, and the United States (including Hawaii and Alaska).
Flights
All passengers check in and enter security in the
Central Terminal
, which contains four concourses. There are also two satellite terminals, accessible by train after entering security. The
North Satellite
(or
N Gates
, used by Alaska Airlines including their departures to Mexico) is connected by train to C and D Gates. The
South Satellite
(or
S Gates
, used by Delta Airlines, Hawaiian Airlines and all foreign flag carriers) is connected by train to A and B Gates. All international arrivals (except those from cities with U.S. customs pre-clearance such as major Canadian airports) use the South Satellite.
Arrivals
For
domestic flights
that arrive at the North Satellite or South Satellite, ride the train to the Central Terminal to claim your baggage and exit the airport.
For
international flights
, all immigration, baggage claim, and customs declaration processes are conducted at the lower level of the South Satellite. Sea-Tac Airport is equipped with Global Entry and Mobile Passport Control express lanes. After clearing customs and immigration,
if you're continuing on another flight
, you must re-check your checked luggage and clear security in the South Satellite to return to the gates; allow about 15-30 minutes for this process alone, plus the time at the immigration, baggage claim and customs.
If you're exiting the airport
, an isolated side of the train will take you to Central Terminal's baggage claim; you can either bring your luggage with you, or deposit it to be taken to the Central Terminal at carousel #1.
Departures
Check-in and security screening for all flights are conducted at the Central Terminal. While you may check the waiting times of all 5 security checkpoints at the TV screen, checkpoint 3 in the middle, the largest of the bunch, is
usually
the fastest despite long lines, particularly when detection dogs are being used. But, if you see a very short line at one of the other checkpoints, it may indeed be quicker.
Popular flights
Seattle is the main gateway to Asia,
Alaska
, Europe, and Hawaii from the Northwestern United States. Alaska Airlines and, increasingly, Delta Air Lines operate numerous daily flights to destinations all across the United States and the world. Seattle is the main jumping-off point to Alaska, with numerous daily flights to
Anchorage
,
Fairbanks
,
Ketchikan
, and
Juneau
. Alaska Airlines, Delta, and Hawaiian all fly several daily flights between Seattle/Tacoma and the islands of Hawaii, especially
Honolulu
. Near-hourly flights serve
Portland,
Boise
,
Spokane
, and daily regional flights fly to smaller cities in
Washington
,
Montana
,
Idaho
, and
Oregon
. There are also frequent flights from Seattle/Tacoma to major cities on the western half of continental US
Denver
,
Phoenix
,
Houston
,
Chicago
,
San Francisco
, and the
Los Angeles
area. Transcontinental flights to the East Coast are also increasingly common.
International flights connect Seattle to major west Coast cities and Toronto in Canada, Mexico City and Guadalajara in Mexico, many major European and East Asian cities, and Dubai in the Middle East.
Ground transportation
Nearly all ground transportation means are located within the Airport Parking Garage across from the Central Terminal.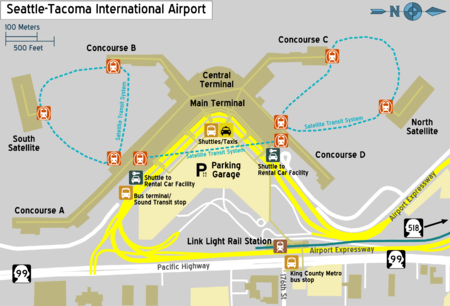 By train
The
Central Link light rail
is the easiest and cheapest way to get to major areas of
Seattle
.
The rail station is connected by a bridge to the parking garage, which is in turn connected to the Central Terminal by several bridges. Be warned: it's about a 5-10 minute walk from the Central Terminal to the rail platform. From Baggage Claim, follow signs for "Link Light Rail."
The light rail operates M-Sa 5AM-1AM, Su 6AM-midnight and runs every 6-15 minutes. Fares are $2.25-3.25 depending on distance ($1.50 for children under 18). A ride to Downtown Seattle costs $3.00 and takes about 40 minutes. The train also stops in
Tukwila
,
South Seattle
,
SoDo
, and the
International District
before reaching Downtown, and continues past Downtown to
Capitol Hill
and the
University of Washington
. The train also travels south to Angle Lake Station.
For travel to
Everett
, there are two options that both connect through Link Light Rail. Both are accessed by taking Link Light Rail northbound to International District/Chinatown Station, head upstairs to ground level and walk west towards King Street Station (the brick building across 4th Ave). Then your choices are:
Sounder commuter trains only run on weekdays, going to Everett in the evenings (4PM-7PM), and coming from Everett to Seattle in the mornings (6AM-10AM), although there is one "reverse commute" run on an Amtrak train.
Bus route 510/512 travels northwards to Lynnwood (45 mins) and Everett (60 mins). The fare is $3.75 for adults and $2.75 for children under 18. 510 is the rush hour service, which skips stops in North Seattle, Mountlake Terrace, and Lynnwood. The stop is opposite King Street Station and right next to the large "Union Station" building on the corner of 4th Ave & S Jackson St. The bus comes at least every 15 minutes Monday-Saturday and every 30 minutes on Sundays.
The Sounder train is also a possibility for getting to
Tacoma
, but besides similar limitations in its commuter-oriented schedule, going by bus is 30 minutes faster.
By bus
The easiest way to get from the airport to Lakewood,
Tacoma
,
West Seattle
, and
Bellevue
is from the airport bus stop on the arrivals level at the south end of the Central Terminal (follow signs from Baggage Claim for "ST 560/574"). Both routes stop at Door 02 of the Central Terminal, just outside Baggage Carousel 1.
Route 560 offers all-day direct service to West Seattle and Bellevue from the airport. The fare is $2.75 for adults and $1.50 for children under 18. The bus runs both directions from the same stop, so check the sign above the windshield: for West Seattle it will say "560 Westwood Village" and for Bellevue it will say "560 Bellevue."
Route 574 offers all-day direct service to Lakewood, Tacoma, and Federal Way from the airport. The fare is $3.75 for adults and $2.75 for children under 18. Transfer to Intercity Rt 612 or 620 at Tacoma Dome Station, Lakewood P&R or Lakewood Sounder Station to continue to Lacey and Olympia.
King County Metro
is more useful if your final destination is within the vicinity (up to 10 miles) from the airport. Metro's airport bus stop is on International Blvd, downstairs from the Link Light Rail station.
Route 156 will take you northbound to Tukwila's Southcenter Mall or southbound to Highline College
Route 180 goes westbound to Burien Transit Center, southbound to the towns of Kent and Auburn.
The RapidRide Line A travels to Federal Way to the south along International Blvd/Pacific Hwy (Hwy 99)
You can catch a bus from Downtown Seattle to
Albany
,
Olympia
,
Bellingham
,
Portland
,
Vancouver BC
,
Spokane
or to other points in Central and Eastern Washington.
Greyhound'
s depot is easily accessible from the Stadium Light Rail Station.
BoltBus
offers 2 or 3-hourly bus services to
Bellingham
,
Vancouver BC
, and
Portland
from directly outside the International District/Chinatown Station in Downtown (stop is along 5th Ave next to the International District/Chinatown light rail Station entrance/exit).
Jefferson Transit Rt #7 & Kitsap Transit Rt #390
provide public transportation from
Port Townsend
through
Poulsbo
and
Bainbridge Island
where travelers take the ferry into downtown Seattle. Jefferson Transit do provide a printable schedule and directions on using public transportation from Port Townsend to SeaTac on their
website
. They also have arrangements with Coast Gateway Hotel (see below under 'sleep') to offer discounts, to those who used this option to get to SeaTac and have to stay overnight for an early flight.
By shuttle bus
Most of these shuttle services pick up passengers from the bus terminal at the southern end of the main terminal building at door 00, outside Baggage Carousel 1. However, some shuttles (namely the ShuttleExpress, Speedi Shuttle, Downtown Airporter, hotel shuttles and off-site parking shuttles) pick up from the third floor of the parking garage, across from the central terminal.
There are also shuttles by different companies to the San Juan Islands and Vashon Island.
By taxi or ride-hailing
All taxis and rides can be hailed at the third floor of the parking garage.
The ride-hailing services
Uber
and
Lyft
are by far the cheapest and easiest option; a ride to downtown or Capitol Hill would generally cost $20 plus an airport surcharge of $5. Go down to level 3 of the parking lot to the pickup area, then request a ride using the app.
The taxi situation is a bit of a mess. Only one company has the honor to park its taxis at the airport, although it's technically a "for-hire", not a taxi (their cars have no meters; you agree on a price up front). Despite having many regulations, taxis at Sea-Tac will try to overcharge. Be sure to confirm the fixed rate otherwise they'll use their meter which will end up costing more.
phone: +1 206 242-6200

Blue and yellow cabs. Sister company Eastside for Hire has red cabs.
Other taxis and "for-hires" can drop you off, but to leave the airport you have to arrange a pick-up rather than flagging one down.
phone: +1 206 622-6500

phone: +1 206 522-8800

phone: +1 206 242-6200

Black cars. Their pricing model is to randomly use their meter, charge a flat rate and/or charge surge pricing which means they will charge anywhere from $44 to $100. If you're not comfortable settling on a price beforehand or arguing when they try to overcharge you later, wait for a fixed-rate taxi. If it's the middle of the night, you may not get a choice as E-cab has significantly more taxis.
Limos and towncars can be competitively priced with taxis, making them good value for a bit of extra space and comfort.
phone: +1 425 453-2769

This service will take you to any city in Western Washington, including Seattle, Bellevue, Kirkland, Redmond and Mercer Island.

STILA

phone: +1 206 243-1811

Towncars, SUVs, and limos. Use the touchscreen monitors on the Baggage Claim level near the escalators and press "Ground Transportation", or find their stands on the third floor of the parking garage.
By car
It takes roughly 30 minutes to drive to Downtown Seattle, Tacoma, and Bellevue in normal traffic; however, it can take well over an hour during busy commute periods.
Parking is provided in a single building that can accommodate 13,000 cars, the largest of its kind under one roof in the world. All spots are eligible for short-term or long-term parking. Level 4 has the easiest access to the terminal, as all the skybridges are on that level, but levies different fares compared to floors 2-3 and 5-8. The level 4 parking rates are $4 per hour, $35 daily. Other floors are $3 per hour, $28 daily, $130 for 7 days. Discounts may apply for all charges if you use a parking card.
By rental car
The rental car facility is located off-site; a free shuttle service operates 24 hours a day between the central terminal and the rental car facility. Stops for this shuttle are located at the far ends of the central terminal, outside Baggage Carousels 1 and 16. All of the major companies are at the car rental facility, where you can compare prices and pick up your car. The car rental facility is also the same place to return your car, directly accessible from SR 518.
Renting from the airport will incur an 11% "airport tax" surcharge. You can avoid this fee by renting from a downtown or other non-airport location, which may save a bit of money on the rental, but those savings would be offset somewhat by the expense and hassle of getting yourself and your luggage to the rental location.
Access towards the airport
The airport is easily accessible from both
I-5
and
I-405
for travel from Seattle, Tacoma, and Bellevue. If travelling via I-5 from Seattle or Tacoma, take exit 154B for SR 518 westbound. Coming from I-405, just go straight ahead. From there on, the way to the airport is clearly marked.
Alternatively, if I-5 from Seattle is crowded, as has been always the case during the rush hour, you can take the Alaskan Way Viaduct (SR 99), then bear right onto SR 509. Exit to SW 148th Street and turn left for SR 518, then follow signs to the airport.
By bicycle
In a city as bike-friendly as Seattle, it's no surprise that there are facilities for biking to the airport and flying with your bike, whether you rode there or brought your bike on public transit. A
bike assembly station
near baggage claims 9 and 10 has tools and air pumps. Short term bike racks are available, and there is long-term storage near baggage claims 12 and 13.
Get around
You can walk between concourses if you are within the Central Terminal. If you are going to the North Satellite or South, you must take the train, but you can still go back and forth. The so-called Satellite Transit System has 3 lines: a loop line between Concourse A, B, and South Satellite; another loop line between Concourses C, D, and North Satellite; and from Concourse A to Concourse D.

Wait
Seattle-Tacoma International Airport presents live music every day at some point in the terminal. Seattle's famous music scene attracts local Northwest artists to perform frequently at the busiest hour of flights for entertainment (mostly 10AM-1PM). Even the airport announcements are conducted by local famous artists, such as Quincy Jones, Macklemore and Sir Mix-A-Lot.
There are over 100 permanent and rolling art masterpieces created by 85 local artists throughout the airport, most at the ticketing centers and then scattered throughout the whole area. Some of them may be unnoticeable enough to be seen though, such as at the supporting columns, on walls towards the restroom, on the ceiling, even at the supporting wall of the runway. Most of the main attractions though, is along the walk from the Center Terminal towards Concourse A.
For the kids, there is a dedicated playing area for them between the Central terminal and Concourse A. There is also a big and satisfactory mother's room inside.
Lounges
Alaska Airlines LoungeRegardless of your class of travel with Alaska Airlines, you can enter if you enroll in its membership program or purchase a one-day pass for use at the airline's lounges nationwide.
The largest and perhaps the best lounge at the airport.
Delta Sky ClubA premium lounge with showers, food, and a bar for Delta Air Lines passengers holding premium tickets or who are SkyClub Elite members.
United ClubAvailable to Star Alliance Gold and United customers with a premium ticket.
phone: +1 206 246-1908

address: Mezzanine Area, pre security above Southwest Airline counter

U.S. military and their families can use this big lounge just for them. Provides fun facility for children, bunk beds, showers, free snack bar, comprehensive travel information and assistance, and a lounge area that includes a big-screen TV, XBox games, Internet access, and library.
British Airways Club Lounge / First Lounge
Eat and drink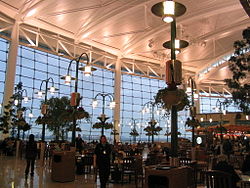 Through the
Eat, Shop & More
theme, the airport tries to enhance the dining and shopping experience. Most of the good restaurants are clustered in or near the Central Terminal, while the concourses have limited and generally mediocre offerings; only the standouts are listed here. However, due to construction several favorite restaurants have closed, and choices for quality food are even more limited.
The world famous coffee chain originating from Seattle,
Starbucks
, has a coffee shop at all areas but Concourse D and South Satellite, where their sister chain
Seattle's Best Coffee
takes a turn.
Pre-Security and Baggage Claim
There are only a couple of restaurants available outside of security.
Alki BakeryBaked goods, salads, sandwiches, coffee.
Diva EspressoDeli sandwiches and salads, and micro-roasted coffee.
Vintage Washington Wine BarSmall bites
Starbucks
Central Terminal
Anthony'sA mockup of what you would expect from its base at Seattle harbor, less the ocean view. Premium fish and seafood products from the Pacific Northwest. Try the Puget Sound oysters on the half shell, Alaskan King Salmon, and its signature dish, Wild Mountain Blackberry Cobbler. Accompany with a glass of Washington wine, fine china and silverware.

Dilettante Chocolates & Mocha CaféTreat yourself to a mocha, hot chocolate, and other confections, or buy a gift box to take home.
StarbucksThe Seattle-based coffee chain has small kiosks throughout the airport. All but one are open only from 4AM to 11PM; the location next to Vino Volo are open 24 hours.

Vino VoloA wine house, a wide range of wine to taste and shipped home by the bottle (they must not be opened yet if you bring it onboard your flight). The limited food menu is very good, but is essentially just appetizers which are mostly too small to make a meal of.
A Gates
FloretCharming restaurant serving vegetarian and vegan food in a space with plenty of natural light and views. Breakfast all day.

Seattle TaproomFor its namesake, selection of beers from microbreweries in Seattle and handcrafted ales. Spicy chicken wings, chili cheese fries, beer braised bratwurst and honey lime chicken are worth to try for here, among burgers and sandwiches.
B Gates
Casa del AgaveMexican specialty such as enchiladas and quesadillas. Try its Ultimate Margarita.

Rel'Lish Burger LoungeBurgers, salads, breakfast, and drinks from local chef Kathy Casey.

Fast food: McDonald's, Quiznos (toasted sandwiches), Sbarro (pizza, pasta)
C Gates
Beecher's Handmade CheeseSeattle's very own brand of cheese, crafted at the iconic Pike Place Market. Try its "World's Best" mac and cheese, award-winning artisan cheeses, breakfast, sandwiches, and espresso.

Dish D'LishGrab-and-go salads and bowls from local chef Kathy Casey. Gluten-free and healthy options.

Waji'sOperated by Uwajimaya, Seattle's largest (and best) Asian supermarket. Not only Japanese cuisines, especially sushi, but also throughout Asia. Wraps, salads, entrees, and alcohol can be bought here.

Wolfgang Puck Gourmet ExpressIf you wish to have a sneak taste on what a gourmet restaurant has to offer, head over to this restaurant. Wolfgang's signature Chinois salad, classics, gourmet pizzas, and sandwich.
D Gates
Options at D gates are paltry. Eat at the Central Terminal or other gates instead.
Great American Bagel Bakery12 gourmet bagels, scones, muffins, pastries, soups and salads. Try the famous Tomozo, a jumbo steamed baked bagel dipped in a zesty pizza sauce covered with mozzarella cheese.
North Satellite
Bigfoot Food & SpiritsEat like a bigfoot! Its favorites are omelets piled high with veggies, meat and fresh cheese, served with fresh potato bakers. Rob's Beast Feast comes with the works including ribs, smoked sausage, BBQ chicken, baked beans, potato salad, corn, and a fresh corn muffin. Local beers and wines.

Great American Bagel Bakery12 gourmet bagels, scones, muffins, pastries, soups and salads. Try the famous Tomozo, a jumbo steamed baked bagel dipped in a zesty pizza sauce covered with mozzarella cheese.

Seattle Seahawks 12 ClubThe local American football team maintains its presence in the airport by a restaurant. Pretty much crowded only when the Seahawks play. Simple choices though such as sandwiches, nachos, quesadillas, and complete breakfast menu.
South Satellite
South Satellite has few restaurants, and even fewer that are worth a visit. If you have time, search out food in the Central Terminal or gates before heading to the Satellites.
Dungeness Bay Seafood HouseAll things of the luxury Dungeness crab and seafood.

KoboAsian entrees, Japanese udon and sushi, wrap sandwiches. Breakfast menu of overpriced and underseasoned rice and egg bowls or biscuits and gravy.
Buy
Currency Exchange (Travelex) have numerous locations at the ticketing Level (one on the south esplanade and one on the north) and Baggage Claim, on Concourse A and in the South Satellite.
For shopping options, more varieties can be found at the Central Terminal or Concourse C.
Hudson News

address: all areas of the airport

The dominating bookshop at the airport. Not only books, but travelers' needs, snacks, and bottled soft drinks.

Dufry Duty Free

address: Central Terminal, North and South satellites

The only duty-free shops at the airport. Everyone can shop here, but domestic travelers may not carry cigarettes or tobacco.

Emilie Sloan

address: Concourse C

This local brand is famous for its signature product: rainproof bags. Basically bags of all shapes, sizes, and colors, all with that special feature.

Fireworks

address: Central Terminal, Satellite N

Arts and crafts.

Made in Washington

address: Central Terminal, Satellite N

For last-minute gifts from Seattle and the state of Washington. Prices are the same as its shops outside the airport.

InMotion Entertainment

address: Concourse C

The only gadget center in the airport. Test the headphones, rent a movie, or look at cutting edge technology.

Planewear

address: Concourse C

Clothes and fashion, but with a touch of airplane, such as Pan-Am vintage motifs, bags, passport cover, or pen.
Connect
There is a reliable Wi-Fi service throughout the airport and the service is free for all devices. It can also be used as a guide for the gate your flight departs at and guide to your destination city, as well as nearby concessions depending on where you are. Alternatively, you can also rent an Internet-enabled phones for 35 cents a minute (minimum $5) at spots around the airport.
Device charger outlets can be found under the seat on all concourses, but they are spotty. If you are lucky enough to depart from gate B4, there are 25 outlets under the seats. If you find none, there are dedicated charging booths at some point within the airport except the satellite terminals.
If you are using the
Digiboo
internet service, you can pay to download a movie or TV show at its booths scattered throughout the airport. Just swipe your credit card, then you can download with a USB or WiFi.
Mail services are offered at Baggage Storage (USPS, FedEx, and UPS), plus copying/fax and notary. There are also "Send-It-Home" kiosks near every security checkpoint: in case you accidentally packed a small prohibited item (like a pocketknife), you can buy a bubble envelope and mail it to yourself. U.S. $12, Canada $18, international $25. You can also purchase stamps from any ATM in the airport, and drop your letter or postcard in one of the U.S. mailboxes found throughout the airport.
Cope
A meditation room and chapel can be found within the ticketing area at the Mezzanine Level.
There is only one shop for baggage storage, provided by Smarte Carte, but its facility is complete. It is also one of the only two airports in the U.S. that offers frozen storage. You can also rent a car seat, stroller, and wheelchair here; and buy locks, cases, pet kennels, and rifle cases. Vehicle battery jumper service.
There is a free children's play area (Near gate A1). For nursing mothers, there are several nursing stations, with at least one near each concourse.

Sleep
By and large, the airport is safe enough to sleep in, but you may want to avoid that for comfort reasons. While there is no hotel within the airport property, there are plenty of hotels and motels lined up along International Blvd (Hwy 99) with some located across the street and next to the airport grounds along the same side of the street, within walking distance of the Link Light Rail station. Most of these hotels are cheap by Seattle standards. Therefore, to save money, many visitors to Seattle had opted to stay in this area and commute by car, bus or train (Link Light Rail) into Seattle to do their sightseeing, eating, bar hopping, shopping, etc. during the day and come back here to sleep at night:
Nearby
The Southcenter Mall at Tukwila is just about two miles away, You can take the King County Metro bus there.
The bus can also take you to Federal Way if you are craving for a Korean delight.
Go to Burien by the same bus service or White Center for a little bit of all of the above.