Seattle
Seattle
,
Washington
sits at one of the most beautiful spots in the
United States
. Occupying a narrow isthmus between the Puget Sound and Lake Washington, it is the biggest city in the
Pacific Northwest
, with four million people calling the area home. Seen from above, carpets of evergreen trees, pristine blue waters, and snowy white mountains surround the downtown's metallic skyscrapers, earning the city its nickname
The Emerald City
.
On the ground, you will find a vibrant and cosmopolitan city. Next to the progressive downtown and the freewheeling feel of Capitol Hill, you can find a laid-back atmosphere in the districts to the north and ethnically diverse neighborhoods to the south. The many restaurants, coffee shops and microbreweries are worth indulging in after a day spent strolling through the city's many parks and beaches or admiring the arts and architecture. And just outside the hectic city are snow-covered mountains, evergreen forests, and stunning coastline to explore. Even for the bold and the adventurous, it's hard to get enough of Seattle.
Districts
Most visitors to Seattle tend not to venture beyond Downtown, the International District, and the Seattle Center. That's a shame, since neighborhoods like Capitol Hill, West Seattle, and those north of the ship canal are where much of the fun actually is!
Seattleites usually divide the town by districts roughly divided as listed below. Although there are formally 30 neighborhoods and their boundaries are not always clear, there's usually a proud feature that represents each neighborhood.:
Downtown and surrounding neighborhoods
North of the Lake Washington Ship Canal
South of Downtown and I-90
While in Seattle you will likely hear reference to the "
Eastside
", which refers to the region east of Lake Washington comprising the suburbs of
Bellevue
,
Kirkland
, and
Redmond
.
Understand
History
Like the rest of the United States, the Seattle area used to be home to Indian settlements. The first humans are believed to have entered the region nearly 4,000 years ago. Englishman George Vancouver mapped the area in the 1790s, but the first white settlers didn't arrive until 1851. Luther Collins led a party of settlers to the mouth of the Duwamish River (in what is today southern Seattle), followed shortly by a party led by the more notable Arthur A. Denny of Chicago, who settled at Alki Point in West Seattle. Confrontations between the original settlers initially flared, only to die out as the groups settled together on the Elliott Bay. The area was then named Seattle by David Maynard, in honor of
Chief Si'ahl
of the Duwamish & Suquamish tribes, and later officially established as a city in 1869.
By the 1880s, development of a modern city came to life with the erection of buildings, a streetcar system, and a lumber mill at the end of a timber skid row (what is now Yesler Way), only to be destroyed by fire in 1889. The city came alive again in 1903 with the Klondike Gold Rush, when Seattle served as the departure city for miners bound for Alaska and the Yukon. During this boom time, hills were flattened for development and the Lake Washington Ship Canal was created.
The city's economy slowed down again during the Great Depression and World War II, but experienced a renewed fervor with the establishment of the aircraft company Boeing and the occurrence of the 1962 World's Fair, which opened the gates for modernization of the city. Heavy dependence on Boeing took an economic toll on the city during the 1970s oil crisis, but Microsoft's move from
Albuquerque
to the Seattle area further promoted the economic vitality of Seattle. Soon, Amazon, Nintendo of America, T-Mobile, Starbucks, and numerous biotech companies also established their headquarters here, bringing an influx of population growth and money into the area. Today, the Seattle metropolitan area's wealth and its four million inhabitants (more than half of the population of Washington State) make it the economic powerhouse of the Pacific Northwest and a city of huge importance for the entire United States.
Culture
Seattle is historically a very diverse city and multiculturalism is seen as a virtue. Whites make up about 70% of the population, while more than a tenth of Seattlelites are of Asian descent. English is spoken virtually everywhere in the city but there are ethnic areas in South Seattle where Vietnamese and Tagalog are also commonly spoken, as well as Chinese and Japanese in the International District. The ZIP code
98118
in South Seattle designates one of the most ethnically diverse areas in the entire United States!
Being a
very
politically left-wing part of the country, Seattle has one of the most sprawling LGBT communities in the US, second only to
San Francisco
. The Capitol Hill area, east of downtown, is the place for LGBT-friendly business and bars, as well as a resource center. A large PrideFest takes place annually at the Seattle Center, along with preceding events such as a Pride Parade.
Locals have long talked of the
Seattle Freeze
, referring to the cold politeness of residents. The theory is that while they are very polite and warm on first interaction, they are actually reserved, and interactions rarely lead to real acts of friendship (an invitation to dinner, personal conversations, etc.). The origin is obscure, but it is mostly assumed to be from Scandinavian immigrants that brought their home country's customs here, including this equivalent to introversion. Expect to have to make all the "first moves" to meet people here.
Residents' shyness also extends to anger and annoyance. Locals often make fun of themselves for their passive aggressive culture, where even in the most upsetting circumstances they will retain their polite nature.
Climate
A common stereotype of Seattle is that the sky is always grey, rainy, and depressing. But it may surprise you that rain is virtually absent in late spring through early fall, making Seattle an excellent place to spend summer. It's warm and comfortable, with little to moderate humidity and temperatures averaging in the upper 70s (about 25°C), though sometimes rising to the 80s and even 90s (above 30°C). Furthermore, because of Seattle's high latitude, the sky is bright from around 4:30AM to 10PM during the summer months, giving you ample daylight for outdoor activities.
During all other seasons, the sky above Seattle is often murky, grim, rainy and breezy, with occasional days of sun. It can be dry but cold, or mild but rainy. Even in the case of dry weather, the morning typically starts with fog that usually vanishes by midday. Despite its location as the northernmost big city in the U.S., winters in Seattle are not as harsh as those east of the Cascades. Marine air from the Puget Sound and the Pacific Ocean moderate Seattle's climate, so that most precipitation falls as rain and little as snow. However, on occasion a snowstorm will hit, though it's a fairly rare event. The area consists of complex topographical features; thus it can be raining in the city itself but sunny five miles north or snowing in heaps fifteen miles inland to the Cascade foothills, often puzzling weather forecasters.
Despite the
Rain City reputation
, the main challenge of Seattle's weather is more the overcast skies than the rain, and in fact Seattle has less annual rainfall than most cities east of the Rocky Mountains. Seattle's rain usually comes in a drizzle that lingers for days, which only occasionally strengthens to a full-blown torrent that rarely lasts long.
Literature
E.L. James' phenomenally popular erotic novel Fifty Shades of Grey, as well as its sequels (Fifty Shades Darker and Fifty Shades Freed), are set in the Seattle area.
The Twilight saga is set in the Forks area of the Olympic Peninsula, but the third installment, Eclipse, is set primarily in a Seattle plagued by murderous vampires.
The Art of Racing in the Rain, by Garth Stein, is a New York Times bestseller about a race car driver told from the perspective of his dog, Enzo.
Film and television
As might be expected, nearly all
movies and TV shows
set in Seattle feature at least an establishing shot of the Space Needle.
Many people will still remember the sitcom Frasier, which ran for 11 seasons until 2004. The show followed the life of the Crane family: Frasier Crane, a radio psychiatrist, his brother Niles, his father Martin, and his assistant, Daphne Moon. Although most of the show was actually filmed in studios in Los Angeles, the 100th episode was shot for real on the streets of Seattle, the monorail, and the Seattle Center.
The medical drama Grey's Anatomy is set in Seattle to distinguish it from its counterpart, Chicago's ER. Fisher Plaza, home to the ABC-affiliated KOMO radio and television station and right across the street from the Space Needle, serves as the exterior of the fictional Grey-Sloan Memorial Hospital.
It Happened at the World's Fair (Norman Taurog, 1963). Elvis Presley stars as Mike, a cropduster pilot who hitchhikes with his friend Danny (Gary Lockwood) into Seattle during the 1962 World's Fair, where he meets his love interest, played by Joan O'Brien.
The Parallax View (Alan J. Pakula, 1974). Released at the height of the political paranoia of the 70s, this film follows an investigative reporter (played by Warren Beatty) who discovers a secretive corporation that recruits political assassins. There's a lot of excellent Seattle imagery in this film, and the movie is well-remembered for its opening assassination scene that takes place atop the Space Needle.
Singles (Cameron Crowe, 1992). A romantic comedy about two young couples experiencing rocky love while living in a Seattle apartment block. The film was particularly noted for its grunge soundtrack, coming on the heels of Seattle's grunge music boom. The central coffee shop in the film is at the now-closed OK Hotel in Pioneer Square, and the apartment used in the movie is at the northwest corner of E. Thomas St & 19th Ave E.
Sleepless In Seattle (Nora Ephron, 1993). Tom Hanks plays Sam Baldwin, a widower father searching for comfort in Seattle after the loss of his wife. After his young child calls a radio station for help, a woman (Meg Ryan) develops an attraction to Sam. Sam Baldwin's houseboat is set on Lake Union, which is worth a visit for fans of the movie.
Music
Although Seattle may be more well-known for
grunge
, it has had a long, diverse and tolerant music history from early on, including a politically radical American folk scene in the 1920s to a thriving post-war jazz scene that boomed in many clubs throughout the area.
Grunge was heavily influenced by the counterculture music scene that dominated Seattle from the mid-1970s through the 1980s, with such noted acts as a gay glam theater group called Ze Whiz Kids and bands like The Telepaths, The Beakers, and Red Dress. Seattle also has another musical claim to fame in native son
Jimi Hendrix
, although he found his success in England; nevertheless, this hasn't stopped Seattle from erecting a statue of him in Capitol Hill and devoting an entire section to Hendrix at the Museum of Pop Culture in the Seattle Center.
Grunge didn't really emerge until the 1980s and was a combination of punk and metal promoted by such notable Seattle-based groups like Nirvana, Pearl Jam, and Soundgarden. The genre emerged and slowly grew through the mid-1980s before exploding to international fame in 1991 with the release of Nirvana's breakthrough album
Nevermind
, but its prominence came to an end after singer Kurt Cobain's shocking suicide in 1994.
Local favorite radio station
KEXP
is a great source for alternative and experimental music and has helped launch the careers of not only grunge bands like Nirvana but local
hip hop
favorites such as Macklemore & Ryan Lewis and the Blue Scholars as well as many other nationally known
alternative bands
such as Sunny Day Real Estate, Modest Mouse, The Postal Service, Death Cab for Cutie, Band of Horses, The Head and the Heart and Fleet Foxes.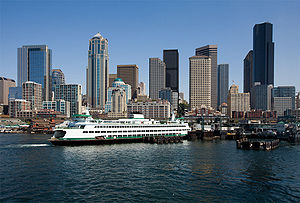 Tourist information
The
Seattle Convention and Visitors Bureau
operates two visitors centers. Both offer maps, brochures, event details, tour bookings, and restaurant reservations:
Get in
By plane
Seattle-Tacoma International Airport
(
SEA
), nicknamed "Sea-Tac", is located in the city's southern suburbs 14mi/22.5 km south of downtown Seattle. It's a major domestic hub for Alaska, Northwest and West Coast destinations, and also handles many international trans-Pacific routes, as well as some flights to major European airports and Dubai. In addition, the airport is well-connected to virtually every part of the US, with multiple daily flights to many major US cities, as well as to Alaska and Hawaii. Alaska Airlines uses this airport as its primary hub and is by far the biggest carrier here, with Delta catching up with an international hub here and an increasing number of domestic destinations.
The reliable Central Link light rail (see § Get around) connects the University of Washington, Capitol Hill, the downtown area, and South Seattle to Sea-Tac. Bus route 560 provides direct service from Sea-Tac to West Seattle.

Alternate airports
(PAE), also known as Snohomish County Airport, about 30 miles north of Seattle in Everett, will serve limited commercial flights from February 2019 from Alaska Airlines and United Airlines. A new terminal is being built with a rather cozy design and nice looking chairs and sofas, but with plans for only two gates and operation to start at full capacity, don't expect much in the way of relaxation or amenities here. Everett Transit provides service to a transit hub at Everett Mall, where buses to the region can be found.
The much-smaller Bellingham International Airport (BLI), located about 90 minutes (94mi/150km) north of Seattle in Bellingham, can be used as a cheaper alternative to fly into Seattle, despite the scarcity of flights. Low-cost carrier Allegiant Air flies to its West Coast hubs year-round from Bellingham (and not from Sea-Tac), in addition to seasonal flights by Alaska Airlines. The Bellair Airporter shuttle offers scheduled services from Bellingham International Airport to the Washington State Convention Center in downtown Seattle and to Sea-Tac.
Portland International Airport (PDX), about 3 hr (160mi/256km) south of Seattle in Portland, is a major airport, but smaller than Sea-Tac, and is another alternative to fly into Seattle, especially with low-cost carriers Spirit Airlines and Volaris (flights from Mexico). There are no direct shuttle services from Portland International Airport to Seattle, but there are Greyhound, Bolt Bus and Amtrak services from downtown Portland to downtown Seattle.

Private aircraft and seaplane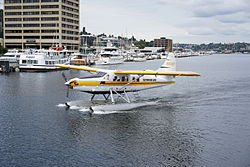 Private aircraft can use (BFI), universally known as Boeing Field. It's also south of the city, but much closer to town than Sea-Tac airport.
Seaplane service is available between Seattle and various island destinations throughout Washington state and British Columbia. Kenmore Air operates year-round scheduled floatplane services from their terminal on Lake Union to the San Juan Islands and Victoria, and summer flights from their base at Kenmore on Lake Washington's north end to Nanaimo, Campbell River and many other destinations in northern British Columbia. Wheeled plane service is also offered from Boeing Field to Friday Harbor and Eastsound airports. A ground shuttle service is available from the Lake Union and Boeing Field terminals to Sea-Tac.
Air charter companies such as Monarch Air Group and Mercury Jets fly a variety of private charter aircraft and jets, from charter luxury Gulfstreams down to economical piston twins for small groups and individuals.

By train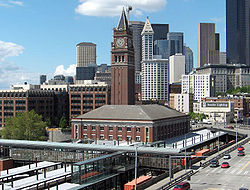 Amtrak provides service from the , located south of downtown near CenturyLink Field. The Amtrak Cascades runs four trains daily between Seattle and Portland (two of which continue to Eugene, Oregon) and two a day to Vancouver, British Columbia. Additional service from Portland to Eugene and from Seattle to Vancouver is offered on the Amtrak Thruway Motorcoach. These trains are more reliable schedule-wise than the long distance trains and offer certain amenities not available on regular Amtrak trains, such as more space for bikes, more laptop outlets, a "Bistro Car" which serves local foods and wine, and the occasional movie.
Seattle is also served by two long-distance sleeper trains, the Coast Starlight which runs daily between Seattle and Los Angeles via Portland and Emeryville (San Francisco), and the Empire Builder which also runs daily between Seattle and Chicago via Spokane, Glacier National Park, Minneapolis, and Milwaukee.
From the Puget Sound area, Sounder commuter trains might be an option, if you can work with their commuter-oriented schedules. They also run special services such as for sports events. Sounder trains run to Seattle on weekday mornings, and from Seattle back to the suburbs in the evenings, although there are a limited number of reverse-commute runs. Trains connect north to Everett, Mukilteo, and Edmonds, and south to Lakewood, Tacoma, Puyallup, Sumner, Auburn, Kent, and Tukwila.

By car

Interstate 5 (I-5) is the major north-south roadway entering the City Center and the most direct way to drive to or from Vancouver and Portland. This roadway is notably congested (even during non-commuting hours), see other options in the sections "by Bus" and "by Train" above. Interstate 405 (I-405) runs parallel to I-5, bypassing the City Center on the opposite side of Lake Washington.
Interstate 90 (I-90) is the only long-distance route to access Seattle from the east, and is the easiest way to reach Spokane and Eastern Washington. During the Winter months, drivers must be mindful of the weather conditions over Snoqualmie Pass, located 52 miles east of the city, when the roadway can close unexpectedly due to weather conditions.

By bus
Except for Greyhound Lines, there is no designated long-distance bus terminal in Seattle, so all bus services have their own stops scattered around the city. A number of them do have stops at the Greyhound Terminal (503 S Royal Brougham Way), in front of the King Street Station at 303 S King St and/or at Door 00 (south end at lower level of the terminal) at the Sea-Tac airport. See below:
phone: +1-866-235-5247

address: (bus stops) Washington State Convention Center, Convention Place (prior reservations only)

Goes up to Stanwood, Burlington/Mt Vernon, Bellingham & Blaine on one route, a separate route to Anacortes in the San Juan Islands, and from Sea-Tac to Cle Elum, Ellensburg & Yakima on another route.

address: (bus stop) 5th Ave S and Dearborn St

Service from Eugene, Albany, Portland, Tacoma, Everett_(Washington), Bellingham and Vancouver, BC.

Cantrail/Amtrak Cascades Thruway

phone: +1 604 294-5541

address: (bus stop) King Street Station

Operates Seattle to Vancouver, BC

address: (Depot) 503 S Royal Brougham Way, SoDo

Greyhound travels primarily on I-5 (Seattle-Vancouver & Seattle-Portland on two separate routes. Some southbound buses continue to Los Angeles contiguously), 90/82 (Seattle-Ellensburg-Yakima-Pasco-Stanfield, OR) & 90 (Seattle-Spokane). Passengers transfer to other buses in Portland, Pasco, Spokane, Ellensburg, and/or Stanfield to get to other cities & towns in the U.S. and in Vancouver, BC to get to other cities in Canada.

address: (bus stops) Greyhound bus depot & King Street Amtrak station

Shuttle service to Spokane (via Everett, Stevens Pass, Leavenworth, and Wenatchee) or Tacoma.

Travel Washington Dungeness Line

address: (bus stops) Greyhound bus depot (see above), King Street Station, selected hospitals (by reservation only), SeaTac Airport

Connects Seattle to Port Townsend, Sequim and Port Angeles. The bus goes across the Puget Sound on the Edmonds-Kingston ferry. They also pick-up and drop off at the major hospitals, west of downtown with an advance 24 Hr reservation (Arnold Medical Pavilion, Harborview, Poly-Clinic, VA, Swedish and/or Virginia Mason).

address: (bus stops) downtown: outside the Best Western at 200 Taylor Ave N; Pier 66 & 91, SeaTac Airport: At the main terminal near south end of baggage claim, outside door 00, bays 11-16

Runs between Seattle and Vancouver, BC.

address: (bus stops) Southcenter, NW corner; Novilhos Brazilian Steak House, 12405 SE 38th Street, Bellevue

Every Friday, the Weekend Express takes you from Pullman (where Washington State University is at) and Moscow to Seattle, and the other way round every Sunday. A special service is also deployed during the holiday season. Journeys take more than 6 hours.
By public transit
Sound TransitSound Transit operates all-day express bus service between Downtown and the cities of Tacoma, Lakewood, Bellevue, Everett, and many other outlying communities.

Community Transit buses are commuter routes traveling between Snohomish County (north of the city) and Downtown or the University District during peak hours only.
By ferry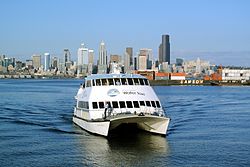 Ferries are the primary mode for commuters living on the opposite sides of the Puget Sound from Tacoma/S Vashon Island (in the south) through Seattle/Kitsap Peninsula to Anacortes/San Juan Islands (in the north), since the sheer distance and the shipping traffic on the Sound make building a bridge difficult. For tourists, it's also a fantastic way to see some very picturesque views of the city and the surrounding country; be sure to bring a camera!
King County Water TaxiKing County Water Taxi provides ferry service from Pier 50 of Seattle's waterfront weekdays only during rush hour (5:30-8AM and 4:30-7PM) to Vashon Island, and all-day service (schedule is seasonally dependent) to West Seattle.

phone: +1 206 448-5000

address: 2701 Alaskan Way Pier 69

High speed catamaran passenger ferries which connect Seattle to Victoria, British Columbia and the San Juan Islands. If you are heading to San Juan Islands, you can also join a whale-watching tour.

phone: +1 206 464-6400

All ferries carry vehicles, bicycles, and passengers.
By cruise ship
Seattle is the main departure city for cruise ships heading towards Alaska or western Canada's fjords. Cruise ships to Seattle may be docked at one of two terminals in the Port of Seattle.
Bell Street Pier Cruise Terminal at Pier 66

address: 2225 Alaskan Way S Pier 66, near the middle of Seattle's downtown waterfront

Serves as home port for Norwegian Cruise Line and Celebrity Cruises. Has bus, taxi and shuttle connections for transfer of passengers and luggage. For travelers with connecting flights, Seattle-Tacoma International Airport is less than 15 mi (24 km) away.

Smith Cove Cruise Terminal at Pier 91

address: 2001 W Garfield St, at the north end of Seattle's downtown waterfront

Serves as home port to Holland America Line, Royal Caribbean and Princess Cruises. Other cruise lines may also use this terminal if the vessel is too large to use the Pier 66 terminal.
By private boat
Seattle has a variety of large marinas offering year-round guest moorage. The two marinas located on the shores of Elliott Bay, Elliott Bay Marina, and Bell Harbor Marina, are the closest to Downtown. Shilshole Bay Marina is located in the northern suburbs and is further away from most of the visitor attractions. There are numerous freshwater marinas on Lake Union, Portage Bay, and the Lake Washington Ship Canal, but these require passage through the Hiram M. Chittenden Locks. Visitors may also consider moorage in the neighboring cities of Edmonds, Everett, Des Moines, Kirkland, and Kingston.

phone: +1 800 426-7817

address: 2203 Alaskan Way

Bell Harbor Marina, located at the base of Bell Street in Downtown's Belltown neighborhood, is the closest marina to Downtown and is a comfortable walk to Pike Place Market, Westlake Center, the Seattle Aquarium, and other waterfront attractions. Reciprocal moorage is available year-round, and in the summer months, reservations are recommended.

phone: +1 206 285-4817

address: 2601 West Marina Place

Elliott Bay Marina is a private marina located on the north shore of Elliott Bay in the Magnolia neighborhood. This marina has expansive guest moorage and many premium services. A 10-minute walk from all-day bus service to Downtown Seattle.

phone: +1 800 426-7817

address: 7001 Seaview Ave. N.W

Shilshole Bay Marina is a gigantic marina located in the Ballard neighborhood. It is a 20-30 minute drive to Downtown and is not served directly by public transportation.
Get around
Seattle's public transportation system, while no rival for Chicago or New York City, is one of the top 10 in the United States and is by far the most convenient and simple way to get around the city. While public transportation is also good in suburbs such as Bothell and Everett, if you plan on visiting those areas you may wish to use a car. Driving a car in Seattle is possible, but the frequent and awful traffic congestion can leave you frustrated. Parking in Downtown and many of the adjacent neighborhoods (such as Capitol Hill) is all but impossible. Seattle is also one of the most bicycle-friendly cities in the country. Car services such as ZipCar, Car2Go, Lyft, and Uber are also convenient and safe transportation options.
Orientation
Helpful mnemonics to navigate Seattle
*
ST
reets run ea
ST
and we
ST
aveNueS run North and South
EveN numbered addresses are on the East and North side of the road (which is likely called a street or avenue)
Use the mnemonic "Jesus Christ Made Seattle Under Protest" for downtown street names, from Yesler Way to Westlake Park. The streets are named as six first-letter pairs of these words (Jefferson & James, Cherry & Columbia, Marion & Madison, Spring & Seneca, University & Union, Pike & Pine))
Seattle's street designations are generally easy to remember once you understand them. Most of the city is laid out in a grid, with north-south roads called
Avenues
and east-west roads being
Streets
. There are occasional irregularities:
Ways
are long roads that don't always conform to the grid,
Drives
are long, circuitous routes, and there's the occasional very short
Place
or
Court
.
Seattle has a somewhat convoluted address system that can be confusing to the uninitiated. Outside the downtown area, the city is divided into 7 compass directional sectors (N, NE, NW, W, E, S, SW; no SE section), with the name of the sector applied to every road that passes through that sector. Streets are written with the sector
before
the name (e.g. NE 45th Street or NE 45th) while avenues are written with the sector
after
the name (e.g. 45th Avenue NE or 45th NE). Roads within the downtown area (as well as some avenues east of Downtown and some streets north of Downtown) have no directional designation. Take this into consideration when looking for directions to a specific address.
When locals give you directions, they may refer to an intersection (especially in the case of a bus stop). The first road mentioned is the street it is at, followed by the crossing street adjacent to the stop, but sometimes they neglect to specify whether it's an "avenue" or a "street," so inquire to be sure and you'll avoid the risk of winding up in the wrong part of the city!
On foot
Walking is highly encouraged for short trips, especially if your destination is within Downtown or Capitol Hill. While the streets and drivers are generally friendly for pedestrians, do keep your street smarts and avoid walking alone in the southern part of Downtown, International District, or the SoDo neighborhood at night. For more information about street safety, look at the "Stay Safe" section.
Seattle pedestrians are noted for their unusual
refusal to jaywalk
. Unlike many other large American cities (particularly those on the East Coast), in Seattle, you'll see groups of pedestrians patiently wait for the light to change before stepping off the curb, even when there isn't a car in sight. The reasons for it are unclear, though it's often suggested that the local police are particularly strict about enforcing the jaywalking law.
The block layout in the downtown area is pretty compact; a walk from Denny Way to Yesler Way should take roughly half an hour. Walking from the Waterfront towards I-5 in Downtown (particularly between Seneca St and Yesler Way) is steep and will leave you gasping for breath at every intersection! Outside the downtown area, especially Capitol Hill or the northern and western parts of the city, there are many hills (albeit less hilly and steep than San Francisco). In fact, walking is a great form of exercise in Seattle, with abundant jogging tracks in the parks and longer trails like the
Burke Gilman Trail
, which runs along the northern side of the ship canal and the western rim of Lake Washington.
By public transit
ORCA Card
The
ORCA card
is a contactless fare card that enables you to transfer seamlessly between Seattle and the Puget Sound's various transit agencies, similar to
Hong Kong
's Octopus or
London
's Oyster. The card is $5, and you must put in a minimum of $5 to start using it. You can add money or monthly passes to the card.
Day passes
are also available for $8 and can be used for all bus and train services.
You can purchase, add value to, or add a pass to an ORCA card at vending machines in many transit centers, inside all Link Light Rail and Sounder stations, at Metro's customer service centers, over the phone, and at many QFC & Safeway supermarkets. Youth and Senior ORCA cards can only be issued by mail or at Metro's main customer service center next to King Street Station in the International District and require proof of age (click
here
for details). You can also acquire these cards in the mezzanine of Westlake Station — however, this customer service center is open only on the first and last 4 business days of the month.
To pay the correct fare when riding Link Light Rail or Sounder trains,
tap when you enter and exit the station
. On all other public transit — buses, streetcars, Washington State Ferries, and the Water Taxi — just tap when you enter. For 2 hours after your first tap, you can use as many public transportation services as you like while only paying once for the highest fare (not applicable on Washington State Ferries).
Electronic pass
Another alternative to buying transportation tickets is through the
Transit GO
app. You may buy them using a debit or credit card at anytime and activate it only when you are about to use any public transportation system within the city, except for the Washington State Ferries. The catch however is that you cannot transfer your fare between transportation agencies; a separate ticket must be purchased.
By bus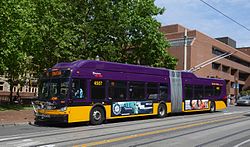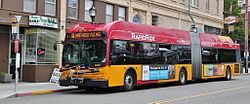 King County Metro
(commonly referred to as
Metro
) is the primary public transportation agency in King County and Seattle. The transportation system is easy to navigate, and most visitor attractions are served by frequent bus routes. Metro's buses are clean and comfortable and are driven by friendly and skilled operators. Most buses, especially on routes in the Center City, are brand-new and air-conditioned — perfect on one of Seattle's hot summer days. The agency provides two types of bus services:
Local Service constitutes the majority of bus routes and are operated by green, blue, or purple buses. These buses are identified by route numbers between 1 and 399.
RapidRide is an express Bus Rapid Transit service with modern, 3-door, red and yellow buses. RapidRide buses are an efficient way to get to many outlying neighborhoods and are identified by route letters.
Buses within Seattle generally operate from 5AM to Midnight and run at least every 30 minutes, with frequent service and RapidRide buses arriving every 5-15 minutes at rush hour. If you are planning on traveling before 6AM or after 9PM be sure to make use of the excellent
Trip Planner
to make sure you can get to your destination.
Almost all frequent service buses traveling through Downtown have stops along 3rd Ave, with virtually every Downtown bus having a stop near the intersection of 3rd & Pine/Pike. Other routes have southbound stops along 2nd Ave and northbound along 4th and 5th Ave.
The adult bus
fare
is $2.75 at all times and on all routes. The youth (ages 6-18) and senior (ages 65 or older) fare is $1.50 and $1.00, respectively. Up to four children under age 6 can ride free with a paying adult. If you pay by cash (exact change only), you'll get a paper transfer good for within a 2-hour period to ride other King County Metro buses. An ORCA card allows you to transfer to other transit agencies within the same period of time for free. Note that you'll only need to tap in when you enter the bus, although in RapidRide, you can tap on the reader before getting on the bus and may board from the center and rear doors.
To figure out how to get to your destination use the excellent
Trip Planner
which gives you point-to-point directions between points within King County. For real-time arrival times, you can download the
One Bus Away
app to your smartphone.
When traveling to destinations outside the downtown core, make sure to ask the drivers about the green and white "EXPRESS" signs in their windows or the "VIA EXPRESS" on the road display if they are going to your destination. Some of these express routes are intended for regular commuters traveling between residential neighborhoods and Downtown and make few or no stops between, but may be useful to some visitors.
When in doubt, ask the bus driver or a security guard before boarding. Most employees are knowledgeable about the transportation system (or at least the route the route they are driving) and will be able to help you. Additionally, all buses are fully accessible for wheelchairs and walkers.
By rail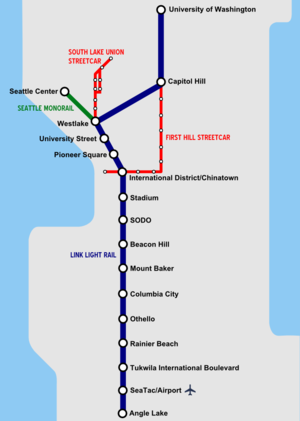 Link Light Rail operates between the University of Washington and Angle Lake Station, stopping in Capitol Hill, Downtown, SoDo, South Seattle, the suburb of Tukwila, and Sea-Tac Airport along the way. Fares are $2.25—$3.25 depending on how far you travel; purchase your ticket at a machine before you board and keep it with you for the whole trip as it may be randomly checked by personnel inside the train. If you use an ORCA card, you must tap at both your origin and your destination station.
The Seattle Streetcar has two lines: The South Lake Union line between Downtown and South Lake Union and the First Hill line between Pioneer Square, the International District and Capitol Hill along Broadway. The former line gained the rather unfortunate moniker "SLUT" (South Lake Union Trolley), and you might hear it referred to as such. The streetcar runs up to every 10 minutes and costs $2.25 per adult, $1.50 per child, and $1 per senior, regardless of distance. You must purchase a ticket or tap your ORCA card at one of the streetcar stops before boarding. Note that these streetcars stop only when requested by pressing the yellow stop request strip.
The Seattle Center Monorail, a legacy of the 1962 World's Fair, takes you non-stop between Westlake Center (5th Avenue & Pine Street) and the Seattle Center in just 2 minutes, and primarily serves tourists heading from Downtown to the Space Needle. One-way tickets are $2.25 per adult, $1 children ages 5-12/seniors. You can only pay by cash; ORCA card is not valid.
If you need any help ask a transit operator, security guard, fare enforcement official, or a local. Seattleites are always eager to help and may offer help, even if they see you looking confusingly at a tourist map!
By water taxi
The Water Taxi travels between Pier 50 (at the foot of Yesler Way) and Seacrest Park in West Seattle. The scenic ride takes 15 minutes and costs $4.75 (one way, exact change only), or $4 with an ORCA Card. Boats depart every half-hour on weekdays and every hour on weekends during the summer months, with reduced service during the winter.
Washington State Ferries connect to destinations outside of Seattle, and they take ORCA Cards. See § Go next.
By car
Eyes on the road at all times!
Do NOT use, hold, or look at your phone while driving
, even while stopped in a red light! Police across the Washington State are also on the lookout for unsafe driving because of distractions (i.e. eating, drinking, smoking, grooming). The fine for the first offence is $136 plus a mark on your insurance of an equivalent effect to drunk driving (DUI), upon which this law is colloquially called
E-DUI
. The law applies for all gadgets big or small.
If you need to use your phone or GPS for navigation, input your destination
before
driving or have a passenger do it for you. Use a dashboard mount or use only the speaker. Do not place it on your lap as you will still have the tendency to look down or as it will easily fall off. Should there be a need to answer or make phone calls, pull over (do NOT park on freeway shoulders, however) or sync your phone with the car's entertainment system beforehand so that you can do so without your phone. Postpone writing texts or e-mails until you are safely parked. Make your dictation services (i.e. Siri on iPhones or Google on Androids) work without pressing any buttons.
Cars are fairly useless for transportation within the city proper, but are a great asset if travelling to the suburbs such as Bellevue/Redmond or Everett/Tacoma. Note that many roads Downtown are one-way, which might require some extra navigation. On weekends, you can often rent cars at locations throughout the city for well under $20/day. One of the challenges in driving in Seattle includes the hilly terrain, especially in Downtown, Capitol Hill and Queen Anne, where you have to be extra careful in applying your brakes.
Outside Downtown, many establishments provide free parking, but in Downtown parking is scarce due to dedicated bike lane developments, and hotels levy exorbitant fees for overnight parking. Street parking is $1 to $3.00 per hour (debit cards and credit cards other than Discover accepted), while a parking ticket can be in excess of $35 for going overtime in a 2-hour zone. Parking meters dispense paper receipts that come with a
sticker
, which you use instead of putting the receipt on your dashboard. The receipt must be displayed on the
curb-side window
on the
inside of your car
(or else someone could steal it to use on their car!). If that sounds confusing, just look at other nearby cars to see how they did it.
When
parking on a hill
, always
apply the parking brake
and
turn your wheels
so that the car will roll into the sidewalk instead of the street if the brakes give out (i.e., when facing uphill, turn toward the street; when facing downhill, turn toward the curb).
Drivers traveling on I-5 between Downtown and Northgate as well as I-90 between Downtown and Bellevue can make use of the express lanes for a generally quick and smooth ride to downtown in the morning, or to the suburbs in the afternoon and evening. Seattle traffic congestion consistently ranks among the worst in the U.S., even though Seattle is only the 20th largest city. This is mainly due to inland waterways causing choke points around the few available bridges.
By taxi
You can call or hail a taxi from any major street in Seattle or most hotels will call them for you. However, most of Seattle's taxi services are unfriendly and expensive, especially if you are only trying to get around the downtown area. Some taxi drivers will even refuse to take you if your destination is less than 15 blocks away. The fares are regulated by the city government, which consists of:
Flagfall for $2.60
$0.30 for each additional 1/9 mile (a total of $2.70 per mile)
$0.30 for every 36 seconds of waiting time (a total of $0.50 per minute)
$0.50 for each additional passenger above 18 after two.
If you are heading to SeaTac airport from the downtown area, a flat fare of $40 is applied.
The rudeness of some taxi drivers has caused people to avoid taking them and look for
ride-hailing
alternatives (see the following section). But should you be in dire need of a taxi, call one of these companies:
By ride-hailing service
If your destination is miles away and you don't have a car, yet public transportation seems inconvenient for you, you can use ride-hailing services like those provided by
Uber
or
Lyft
. Download their app to your phone to reserve a car, register your card for payment, punch in your location and destination, and a car will be in front of you in no time; only Uber lets you reserve a ride at your choice of time. If you prefer to drive yourself,
Car2go
,
Zipcar
or
Reachnow
(limited to luxurious BMW & Mini) vehicles are abundant, especially in Downtown, Capitol Hill, and University District. Seattleites often prefer this method to taking the reckless and overpriced taxis.
By motorcycle
The rainy weather makes motorcycling difficult but not impossible. Drivers exhibit an alarming obliviousness to motorcycles, and riders should take care to stay well out of a car's blind spot and preferably ahead of, rather than behind, any car. Motorcyclists get preferred boarding on the ferries and there are many parking spots Downtown reserved for motorcycles.
By bicycle
Cycling
is better in Seattle than in most American cities. In fact,
during rush hour it's often faster to bike than to drive!
Bicycle usage has increased significantly since the early 2000s and drivers are a little more accustomed to bicycles in Seattle than in other major cities. Your main drawbacks will be the wet roads, the rain, and the hilly terrain, so you might want to pack some raingear. Many major roads in Seattle have properly maintained bicycle lanes, and you are allowed to ride bicycles on all Seattle roads except the Interstates (but including the I-90 and WA-520 bridges over Lake Washington, which do have bike paths). King County, including Seattle,
requires helmets by law
, although it is unevenly enforced. (Police have shifted to focus on education, only issuing the $81 ticket to fewer than 50 people a year since 2015.)
Public transit is very friendly towards bikes. King County Metro buses have bike racks on the front of the bus; tell the driver you want to mount or dismount your bike. Light rail and streetcars have bike racks towards the center of every car, or you can hold your bike upright if those are full. Ferries welcome bicycles with priority loading and unloading; there is a $1 bicycle surcharge above the passenger fare, but it's waived if you pay with an ORCA card.
The city maintains a
bike map
with suggested biking routes for visiting major attractions.
Bicycle transportation in the greater part of Seattle is facilitated further by the
Burke-Gilman Trail
. This is a paved walking/jogging/cycling trail that winds its way from the north end of Lake Washington, down around the University of Washington, then west along the canal towards Ballard. The trail is on an old railroad right-of-way, so it maintains a very consistent elevation and is excellent for commuting or a casual day's touring. The
Elliott Bay Trail
overlooks Puget Sound and starts at the north end of Downtown in Myrtle Edwards Park, continuing north along the shore of Elliott Bay. It is much more scenic than the Burke trail, with gorgeous views of the Olympics and Mt. Rainier, and more quiet since it doesn't intersect with any roads.
Seattle is leading the nation in developing
dockless bike share
programs. Instead of designated stations, bicycles are left wherever the last user stopped, parked at bike racks or large street corners. You use the companies' apps on your smartphone to locate and unlock bikes; when you're done, lock the parking brake and park the bike nearby wherever you happen to be. Unfortunately,
none of them rent helmets
, which makes them better suited to residents than visitors. They're also not ideal if you're traveling with several people, since you'd have to find a bike for each person.
JumpRed bikes, run by parent company Uber.

LimeBikeLime green bikes. Electric pedal-assist bikes available, good for going up hills.
Traditional shops that offer bike rentals, which
do
include helmets with every rental:
address: 928 Alaskan Way

You can rent bicycles for an hourly rate or a daily rate (which translates to 5 hours of rent) depending on type of bicycle. The website also has a list of self-guided tours.
Pedal AnywhereYou can rent a bike for up to 30 days, and the bike will be delivered to your doorstep! Reservations must be done online.
See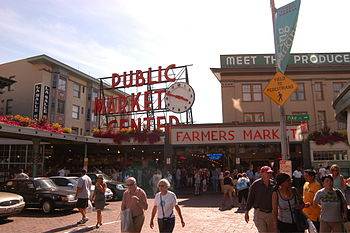 Seattle has a lot to see, be it prominent sights or attractions tucked away in quiet neighborhoods. For more information, look at each district's individual articles.
Seattle CityPASSA discount pass that includes admission to five attractions for half the normal fee combined. You are entitled to up to two visits (within 24 hours) to the Space Needle, a visit to the Seattle Aquarium, an Argosy Cruises Harbor Tour, a choice between a visit to the Museum of Pop Culture or the Woodland Park Zoo, and a choice between the Pacific Science Center or the Museum of Flight. You are also entitled to $5 off admission to the Chihuly Garden & Glass adjacent to the Space Needle, reduced fares for special cruises and exhibitions at Woodland Park Zoo, the Pacific Science Center and the Museum of Flight. A CityPASS is valid for 9 consecutive days starting with the use of your first ticket.
Landmarks
The first thing that pops into most people's minds when they think of Seattle is the
Space Needle
, located north of Downtown in the
Seattle Center
. Although it's not the tallest building in Seattle, it still has a wonderful 360-degree view of both the city and the surrounding landscape. It is best to visit at sunset, when the mountains and sky will be lit up in beautiful colors. For a cheaper and less crowded option, head to the observatory at the
Columbia Center
building, which is higher than the Space Needle! For a better view of the waterfront and the downtown area, go aboard the
Seattle Great Wheel
.
Downtown
, the
Pike Place Market
is Seattle's largest tourist area. Home to the famous fish market, the original Starbucks Coffee shop, produce stands, and a dedicated lane each for florists and foods. Don't forget to visit
Post Alley
, just a block away from Pike Place as you walk away from the shore, as there are some excellent food and souvenir places tucked away.
Museums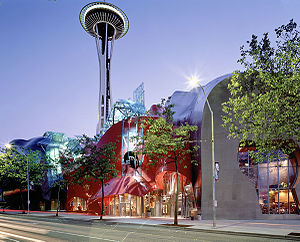 Seattle has a number of top-notch museums.
Downtown
is home to the renowned
Seattle Art Museum
(SAM), which displays an good assortment of art from around the world. In the
Central District
is the
Seattle Asian Art Museum
, an off-shoot of the Seattle Art Museum which focuses on Chinese and Japanese Art, but includes works from as far away as India. Additionally,
The Wing Luke Museum of the Asian Pacific American Experience
in the
International District
is the only Asian Pacific American museum in the nation. Nearby is the
Frye Art Museum
, a small private collection featuring 232 paintings by Munich-based artists. Not a museum, but open to browsing by the public, is the
Seattle Metaphysical Library
in Ballard, which specializes in material not found in normal libraries.
Surrounding the Space Needle on the grounds of the
Seattle Center
are several more big museums, including the
Pacific Science Center
, an interactive science museum with an IMAX theater and plenty of science displays, the
Museum of Pop Culture
, a museum celebrating popular film, television, music, and other media, with exhibits on Seattle's vibrant music scene, and the
Chihuly Garden & Glass
, which takes glass art to the next level. Nearby South Lake Union is home to both the
Museum of History and Industry
and the
Center for Wooden Boats
.
On the waterfront in Downtown is the popular
Seattle Aquarium
. The
University District
holds the
Henry Art Gallery
, one of the biggest contemporary art galleries in Washington, and the
Burke Museum
, a combination natural history/archaeology museum. Further out in
Georgetown
is the
Museum of Flight
, with a large collection of aircraft ranging from wood and fabric crates to the sleek Concorde. Also south of the city in
SoDo
is the
Living Computers: Museum + Labs
which houses a large collection of functioning vintage computers available for public use in the museum and through the internet.
Architecture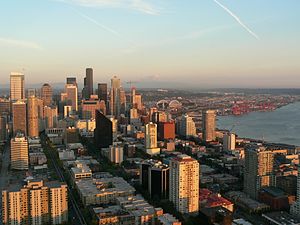 Most of the architectural attractions in Seattle are located in the
downtown area
, easily traversed on foot. Among the highlights are the
Central Library
, a unique contemporary building with an enormous glass-fronted atrium; the
Columbia Center
, the tallest building in the Pacific Northwest and which offers excellent views from its observation deck; and the
Seattle City Hall
with its roof garden. On the south side of Downtown, near
Pioneer Square
, is the
Smith Tower
, an Art Deco building which is Seattle's oldest skyscraper and has an observation deck. North of Downtown in the
Seattle Center
, the
Museum of Pop Culture
, designed to resemble Jimi Hendrix's smashed guitar, is done in a manner only Frank Gehry could conceive; nearby is the new
Bill & Melinda Gates Foundation Campus
, with its 12-acre garden.
Of course, the most popular view in Seattle remains the one from the revolving top of the
Space Needle
at the
Seattle Center
. And given the retro-futurism look of the Space Needle, a fitting way to get there is via the
Monorail
, which connects the Seattle Center to Downtown. Another excellent view is from the
Seattle Great Wheel
at Pier 57, a ferris wheel that offers superb views of the skyline and the waterfront.
Parks and outdoors
Seattle is peppered with parks, from small urban squares to large forested areas, many with breathtaking views of Seattle and the Puget Sound. Seattle's original park system was designed by the Olmsted brothers in Seattle's early days, and park planners across the country still celebrate Seattle's park system as one of the best designed and best preserved in the United States. While many other American cities have only one or two Olmsted-designed parks, Seattle has an extensive multi-park plan linked by boulevards, and this legacy makes Seattle one of the most livable cities in the country.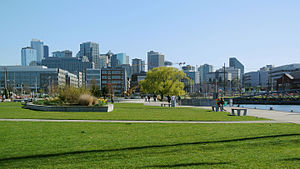 The
Seattle Center
is actually a park itself, with attractions besides the Space Needle and the center's numerous museums. The Kobe Bell and the mural beside it and the International Fountain are often overlooked but should not be missed. Up on Queen Anne Hill is
Kerry Park
, where you'll be spellbound by the most photographed view of Seattle. To the west is
Discovery Park
, the city's largest park with trails less traveled traversing hills and offering a view of the unspoiled landscape, wildlife, and a lighthouse.
Overlooking Lake Union in
Fremont
is
Gasworks Park
. Once the site of a coal gasification plant, the plant has been replaced by lush green hills surrounding one small section of rusting—yet surprisingly picturesque—machinery from the coal plant. The park is filled with spectators for the 4th of July fireworks and is also a great place for boaters to access Lake Union. For a day at the beach, head over to
Golden Gardens Park
or the less crowded
Carkeek Park
for a view of Puget Sound and the Olympic Mountains; West Seattle's fully sandy
Alki Beach
offers a great view of Downtown Seattle. Joggers can spend their time at
Green Lake Park
or
Magnuson Park
for a serene view of water by the running tracks.
A place to see trees from around the world is at the
Washington Park Arboretum
in the Central District. The Arboretum contains a
Japanese Garden
(closed in winter) that plays host to a traditional Japanese festival. For a more laid back and Zen atmosphere, the
Kubota Garden
at Rainier Beach in south Seattle has streams and waterfalls, ponds, rock outcroppings, and an exceptionally rich and mature collection of plants. If you are into animals, head to the
Woodland Park Zoo
to see animals from around the world held in pleasant, naturalistic exhibits.
Do
Tours
Water tours and cruises
address: 1101 Alaskan Way, Pier 55

Boat tour company with special dinner and sightseeing cruises. The most common tour is the hour-long Harbor Cruise on Elliott Bay, which offers excellent views of the Space Needle, Downtown skyline, freight harbor, and usually some sea lions, with a barrage of informative commentary about local history or interesting ships or cargo passing through that day. The Locks Cruise is a 2-hour one-way trip (in alternating directions) through the locks separating Elliot Bay and Lake Union, with an optional bus ride if you prefer a round trip. Seasonal cruises include Tillicum Village on Blake Island, and Lake Washington sightseeing. Most cruises offer a decent full-service bar with large drinks and some snacks.

phone: +1 206 223 2060

address: 2441 N Northlake Way

Luxury dining cruises touring Lake Union and Lake Washington. Regular cruises include 2-hour weekend brunch and Sunday supper buffets, and a 2½-hour four-course dinner (business casual attire).
There are a number of smaller operations offering private charter cruises, for more niche interests like old steamer ships, sailboats, or just a more personal experience with a friendly captain-and-bartender. These are best searched for online.
To just experience a scenic boat ride, the
ferries
are a cheaper alternative. The 35-minute scenic trip to
Bainbridge Island's quaint village
is a must-do for all visitors. If you bring a local with you, they can probably provide some commentary, too. See
§ Ferries
under
Go next
.
Water sports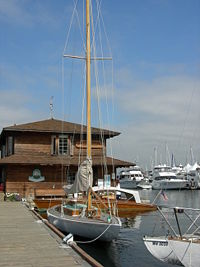 Seattle is surrounded by Lake Washington and Puget Sound, in addition to a number of bodies of water such as Lake Union or Green Lake in the city proper, so activities from kayaking to swimming are commonly practiced especially in the summer. Primary locations include Lake Union and Lake Washington where there are often some recreational boat traffic.
If you have no rowing experience, classes are offered at
Lake Union Crew
. You can also rent a sailboat or join a free Sunday cruising at
Center For Wooden Boats
, or a kayak at
Northwest Outdoor Center
.
Events
Most of Seattle's festivals take place in the summer, the only long stretch of time when Seattle has days of sunny weather.
address: International District

Numerous stalls and performances, and don't forget to partake in all the cheap food!

Seattle International Film Festival

address: McCaw Hall, Moore Theatre

One of the largest film festivals in North America, showing movies from around the world. Watch indie films at screens around the city and vote for your favorite; the winner of each respective category receives the Golden Space Needle trophy.

address: Seattle Center

A more low-key and local version of Bumbershoot, mainly family-friendly.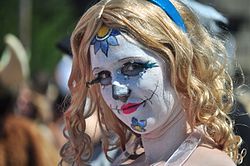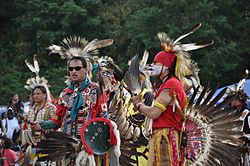 Also check out the calendar of the
address: Seattle Center
Celebrate the world with festivals from about 25 countries represented, one country nearly every 2 weeks.
Sports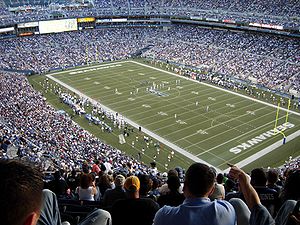 In terms of professional sports teams, Of the four biggest U.S. professional leagues, two have teams in Seattle, and the fast-growing Major League Soccer also has a Seattle team. The
NHL
will add a Seattle team in 2021.
Even prior to success of the local
National Football League
franchise, the
Seattle Seahawks
, CenturyLink Field has long been packed to the gills by the "12th man" (the name for loud, devout Seahawks fans) watching their home game in late summer through early winter. Soccer fans can enjoy the
Seattle Sounders FC
games May through September, also held in CenturyLink Field. T-Mobile Park next door (recently renamed from Safeco Field) is home to the
Major League Baseball
Seattle Mariners
.
Meanwhile, Seattle has one of the strongest followings for women's teams in sports. The
Seattle Storm
play basketball in the WNBA. While their normal home has been KeyArena at Seattle Center, that venue will be closed for all of 2019 and part of 2020 while it's being renovated for the new NHL team. Accordingly, the Storm will play most of their 2019 home games (and possibly 2020, depending on the completion date for the "new" KeyArena) at Alaska Airlines Arena (Hec Edmundson Pavilion behind the corporate naming rights), the main indoor sports facility for the Washington Huskies (University of Washington). Some home games will be played in the
North Sound
suburb of
Everett
at Angel of the Winds Arena. The city was home to a team in the current top level of US women's soccer, the National Women's Soccer League, from the league's start in 2013 through 2018, but that team, now known as Reign FC, has moved to
Tacoma
. In minor league men's sports, the
Seattle Thunderbirds
junior hockey team (players age 16 to 20) plays in Kent.
College teams also have a proud presence in town. The aforementioned
Washington Huskies
play basketball and football at their own venues on campus. In October or November, the rivalry between U-Dub (short name for the campus) and Wazzu (Washington State University, nicknamed "Cougars") is flaring, with the Apple Cup football match played at Husky Stadium every odd-numbered year. Seattle University has the
Seattle Redhawks
, another NCAA Division I team, but with a much lower profile than U-Dub (especially since the Redhawks don't have a football team).
Entertainment
5th Avenue Theatre

address: 5th Avenue

Seen as a "testing ground" for many musicals on their way to Broadway.

Benaroya Hall

address: 3rd Avenue

Home to the Seattle Symphony and concerts by classical orchestras. There are two auditoriums: Taper (seats 2,500) and Nordstrom (seats 500).
The Seattle Opera, the Pacific Northwest Ballet, and other performances are held at the McCaw Hall at Seattle Center.
Other halls such as Paramount Theatre at 9th Avenue and Pine Street and Moore Theatre at 2nd Avenue house many performing arts and sometimes Broadway performances.
Big concerts by world famous artists usually take place at KeyArena at Seattle Center, though as noted previously that venue will be closed for all of 2019 and into 2020 to prepare it for the city's new NHL team.
Learn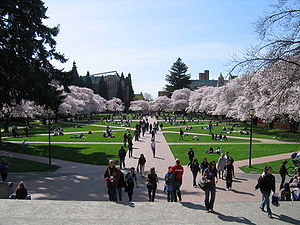 Given the huge influx of people to Seattle, educational institutions have been constantly adding programs to the point that they now cover virtually every occupation. These are some of the institutions:
University of Washington maintains its main campus in the city's University District. It's the biggest employer in Seattle proper, and is famous for its competitive computer science, business, and engineering programs. Even if you're not studying here, the campus is worth a visit to admire its neo-Gothic architecture or the pink cherry blossom trees at the Quad in early spring.
Seattle University is a private Jesuit (Catholic) university at Capitol Hill and the second-largest university in the area. SU is famous for its community service and non-profit sponsored projects.
Seattle Pacific University on Queen Anne Hill is Free Methodist affiliated and offers liberal arts programs, as well as science and professional certifications.
The Art Institute of Seattle in Downtown offers fashion and media design, arts, and culinary programs.
City University of Seattle has a notable presence for its management and graduate programs.
Bastyr University in Kenmore, just outside Seattle, is well known for its healthcare & natural therapy programs. It is found by Dr. John Bastyr, a longtime local expert in naturopathic, homeopathic, and chiropractic.
Community colleges often offer some fun short-term courses.
North Seattle College
has the most diverse selection, with a focus on machinery, ventilation, and even wristwatch making. Other colleges within the same system are
Seattle Central College
and
South Seattle College
. If you want to get out of the crowded city, you can also choose
Green River
to the south, as well as
Shoreline
and
Edmonds
to the north.
Work
Seattle is a well-known center for business, with the headquarters of tech companies Amazon and Microsoft, coffee chain Starbucks, retail and grocery stores such as Nordstrom, REI and Costco in the city and its surrounding area. While aircraft manufacturer Boeing now has its overall headquarters in Chicago, it maintains its divisional headquarters for its commercial aircraft and financing operations in the Seattle area, also home to two of its largest factories. As well as many startup companies, many of which are tech-based startups pushed out of Silicon Valley due to the exorbitant costs of operating there. Recruitment to startups is generally easy, and while you can't expect similar wages or work environment to the large companies, many do offer compensations such as free haircut, lunch, apartment rent with one or more working partners, or carpool service. Demand for tech jobs, especially programmers, is constantly rising.
Health is another growing sector of the economy. Seattle is one of the fittest cities in the nation and nutritionists, doctors, and nurses are in need to take care of the growing population. Biotech companies are also on the rise. Comparatively, the hospitality business has been growing at a glacial pace compared to the tech moguls.
One good reason to work in Seattle, or the rest of Washington state for that matter, is that there is no state income tax.

Buy
If you want it, you can most likely get it in Seattle. The city has many small, locally owned business in addition to the more typical large shopping malls. A sales tax of 10.1% applies for all purchases except most groceries, newspapers, and prescription drugs.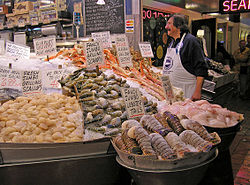 The Pike Place Market is an attraction in and of itself, and is well-known for its seafood and produce stands. At the main entrance to the market is Pike Place Fish, famous for its handlers who throw fish to each other, but there are plenty of other seafood stands as well. In the main market complex are several levels of restaurants and shops selling antiques, arts and crafts, and souvenirs, and as the weather gets warmer, artisans sell their wares in the upper open-air level as well. Although it is flush with tourists, especially in the summer months, area residents and Downtown workers regularly shop at the market as well, which minimizes the "tourist trap" feel.
The Westlake retail corridors on Pike, Pine, and Union Street between 3rd and 5th Avenues are also a great place to shop. The Westlake Center and the Pacific Place malls have pricey fashion stores, with the sidewalk arcades dominated by big fashion chains.
Belltown, a northern neighborhood of the downtown area, has a plethora of designer art galleries, fashion, and accessory workshops.
The Pioneer Square area is the cheaper counterpart to Belltown, with more eclectic accessories.
Other districts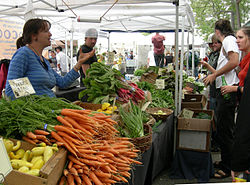 Ballard: Most shopping options here are on Ballard Avenue NW between 20th & 22nd Avenue NW. If big brands don't interest you, head here for stylish urban and hip fashion.
Capitol Hill: Most shops here are in the western part of the neighborhood near I-5 (E Pike & Pine Street, Broadway and Melrose Ave), where the streets are filled with mid-range fashion options and a little bit of everything, befitting the hippest district of Seattle. Here you'll also find Seattle's biggest bookstore, The Elliott Bay Book Company.
Fremont: Mainly vintage fashion wear and not as eccentric as its neighbor, Ballard. It is also a center for antiques and accessories. The shopping district is centered around Fremont Place N and N 35th Street.
International District: Groceries, herbal medicines, and plenty of Asian-style wares. You can also buy handy Japanese kitchenware and other items at the widely-known Uwajimaya or by the back door of the dollar shop Daiso.
North Seattle: Thrift stores scattered throughout the area, bulk grocery shopping at Aurora Avenue N, and fashion shops at Northgate Mall.
Queen Anne Hill: Mostly houses, but there is a small commercial area at the top of the hill (Queen Anne Ave N between W Galer St & W McGraw St). Usually this is a place to indulge in a body treatment.
South Lake Union: A long retail strip is located on Broadway which connects to Capitol Hill. On the south shore of the lake you'll find a wide selection. Outdoor gear chain REI houses its flagship store on Broadway.
University District: Clothing and thrift stores catering towards the local student population are located along University Way. Upscale options are available at the open-air University Village Mall at 25th Ave NE. On campus is the University Bookstore.
West Seattle: Head to California Ave SW for more laid back and contemporary clothing options.
Eat
Typical of a big city, Seattle has a diverse range of fare representative of cuisines from around the world. Local chains and hole-in-the-wall restaurants dominate the city's dining atmosphere, and hearty, inexpensive meals can be found all over the city. Note that many Seattle restaurants, particularly the hole-in-the-wall establishments, only accept cash.
Local specialties
Seattle's proximity to Alaska and the waters of the Pacific Ocean make it an excellent place to enjoy
seafood
. Look for
salmon
during the late summer months as options are abundant and the prices are among the cheapest on the West Coast, especially the red (sockeye) salmon.
Shellfish
are a prized resource of the Puget Sound, where the cool, clean waters provide an optimal habitat. Clams, mussels and oysters can be found easily, but other specialties like
geoducks
(pronounced GOO-ey-ducks) are sometimes available for the more adventurous. The
Dungeness crab
, named for a nearby town on the Sound, is a popular seafood prized for its sweet, tender flesh and high ratio of meat. The Dungeness is a commercially important crab in Washington's waters but other crab species are also common. The
Alaskan king crab
, caught from the deep cold waters of the Pacific Ocean near Alaska, has a more frequent presence here than the rest of the lower 48.
Donut
shops and bakeries are virtually everywhere, with some offering warm in-house brewed coffee, making them an excellent delight in the cold weather or as a snack.
The mild climate also supports many types of fresh
produce
. Farmers' markets are a normal occurrence on the weekends, especially in residential areas, and they usually have better quality produce than what you can get at supermarkets. They're an excellent opportunity to taste local delicacies and experience the local culture.
Apples
, which are exported from Washington and shipped all over the world, are in season around September or October.
Rainier cherries
are in season June through early August.
Seattle also boasts a wide variety of
Asian cuisine
, from East Asia to the South. The city has an underrated trend of its omnipresent
teriyaki
restaurants; most are family-run and hole-in-the-wall, which contributes to its cheap price but filling portion. Ramen, sushi, and Chinese restaurants are also abundant and scattered throughout the area.
Eating options by district
Downtown
and
Pioneer Square
hold many cafés and high end restaurants.
Belltown
to home to most options for downtown dining, with restaurants in every price range and some of the city's best-reviewed restaurants.
Pike Place Market'
s stands offer plenty of samples, with plenty of popular options also available in Post Alley. The
Waterfront
, naturally, has a selection of seafood restaurants. Budget options around downtown can especially be found at
Westlake Park
or
South Lake Union
, where food carts cater to workers wanting a quick and easy lunch.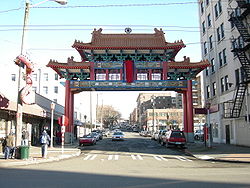 Outside of the Downtown area,
Capitol Hill
has plenty of hip cafés and bars, with many among the best-reviewed in the city and visited by local celebrities, as well as many Ethiopian and Thai eateries. The
International District
is known for its dim-sum, communal Chinese and Japanese offerings, as well as Vietnamese restaurants on the east side of the neighborhood.
South Seattle
also has a diversity of ethnic restaurants, while
West Seattle
holds more elegant mid-range to high-end choices, mostly European, seafood, and steak and many with a full bar.
North of Downtown,
Queen Anne Hill
seems to offer a little bit of everything near the Seattle Center. North of the canal,
Ballard
has mostly European fare with some Mexican, Mediterranean, and Asian options.
Fremont
has an increasing number of American and world cuisines in small establishments, some of which are so popular they generate long lines. The
University District
has a myriad of budget and international restaurants, while
North Seattle
has some scattered family-run Asian restaurants.
Drink
Few, if any, American cities can challenge Seattleites' love of
coffee
. This is perhaps best signified by the Seattle-based international chain
Starbucks
, but locals aren't satisfied by recognized chains alone, as evidenced by the hundreds of good locally owned coffeehouses. The best places to look for coffee are in
Capitol Hill
or
Queen Anne Hill
, where they take matters of coffee
very
seriously.
Microbreweries
are a Northwest specialty, and Seattle has many to offer for beer enthusiasts. The larger brewers, like Redhook and Pyramid, distribute their products regionally or nationally, while other brews can only be found in local stores or bars (some notable brewers don't bottle their product). Elysian, with three pubs in various neighborhoods, and the Pike Brewing Company, located in Pike Place Market, are other popular local brewers. Many microbreweries have set up shop in
South Seattle
and Washington State is one of the largest growers of hops in the world making this key beer making ingredient readily available.
In Washington,
bars
have a full liquor license, while
taverns
are restricted to beer, wine and cider. Many Seattle bars have a world-class beer selection featuring local Northwest style micros, many of them crafted in Seattle. Beer aficionados should check out Uber Tavern, Brouwer's Cafe, or the Stumbling Monk, or visit the Beer Junction in West Seattle, which is primarily a bottle shop with a staggering selection but which also has a bar and regular tastings. This is just the tip of the iceberg, though! There are also plenty of drinking options to be found in the Belltown portion of downtown (south of Denny Way), Fremont, Ballard, the University District, and Capitol Hill. The good news is Washington state is one of the last states that allows all alcoholic drinks to be sold openly at supermarkets, so liquor is readily and cheaply available even if you don't want to go to a bar.
Wine
is another Northwest specialty, and there are a number of wineries just thirty miles from Seattle proper in
Woodinville
. Many more can be found a 2-3 hour drive away on the other side of the Cascades in Washington Wine Country. You can find local vintages in grocery stores, wine shops, restaurants, and wine bars such as Bottlehouse and Purple.
Like any other city with a large Asian population,
bubble tea
or
boba milk tea
shops exist, and are popular among young people. Bubble tea is basically milk tea with various flavors and tapioca balls. Many of these shops also offer Asian snacks and delicacies. If you are thirsty and hungry, and budget is your main concern, this can be a good option. Most of these can be found in the
University District
as well as a few in the International District.
Sleep
For such a large city, there is a surprising lack of accommodation options available, thus rooms in Seattle are more on the expensive side. Most sleeping options are in Downtown and consist mostly of mid-range or high-end hotels. Other options, especially budget hotels and hostels can be found near the Seattle Center,
the University District
, the
International District
, and in
North Seattle
. There are also bed and breakfast options in
Fremont
,
Ballard
, and
Capitol Hill
. Steer clear of the motels along Aurora Avenue N, as there are many sketchy places where you stay at your own risk.
Alternatives to Seattle accommodations are a train ride away south in Tukwila & SeaTac, especially the areas surrounding the airport but also down in an area by SouthCenter Mall in Tukwila, as there are plenty more hotels to choose from with a wide range of rates. You can also find more options for hotels across the I-90 bridge to
Bellevue
or other towns on the other side of Lake Washington, such as
Kirkland
,
Issaquah
, or
Renton
.
Connect
By phone
The area code for the City of Seattle is
206
. Surrounding areas use other area codes, including
425
which encompasses the eastern and northern suburbs including Bellevue, Redmond, Lynnwood, and Everett,
253
for all areas south of Kent such as Tacoma, Federal Way, and Fife, and
360
for everywhere else west of the Cascades. All of Washington east of the Cascades uses the
509
area code.
Pay phones can be found mostly in train stations, but these usually go unused and most of them are on the verge of being taken down. As in much of the rest of the country, you will pretty much need a cellphone to make calls while you are on the go. Cellphone reception is excellent throughout most of the city.
By Internet
Free Wi-Fi can be found at all Seattle public libraries. As part of a pilot project, the City of Seattle provides free Wi-Fi access in Columbia City, the University District area, four downtown Seattle parks (Occidental, Freeway, Westlake and Victor Steinbrueck), and the City Hall lobby area. The Seattle Center also provides
free wireless internet
. RapidRide and Sound Transit commuter buses also offer free Wi-Fi.
There are various internet cafes in the Seattle area, especially in the University District and the Downtown neighborhoods. Additionally, many coffee shops offer free and paid wireless access (all Starbucks locations offer free Wi-Fi). 4G LTE coverage is well covered by most, if not all, major telecom companies, but reception gets poorer the closer you get to the mountains.
Stay safe
Statistically, the number of crimes in Seattle is similar to what you would expect in any major city in the United States. By and large, as long as you use some common sense, you are unlikely to be the target of any crime. Auto break-ins and theft are a problem in the city, so never your leave valuables visible in a car and always lock your car doors. Be wary of the rising trend of smartphone theft.
Downtown Seattle has a sizable population of homeless people (many neighborhoods have forced their homeless into Seattle's downtown core), and while many beg for change and some seem unstable, only a few are actually dangerous. It is worthwhile to be careful after dark in some areas around the downtown core. Some places to watch your back near major tourist areas include under the viaduct along the Waterfront, Belltown, between Pine and Pike Streets in Downtown, and around Pioneer Square, where you'll want to beware of drug dealers and beggars. Areas you'll want to avoid at night (at least without company) include along Aurora Avenue and Lake City Way in the north of the city, SoDo, and the International District.
On Friday and Saturday nights, it is wise to take caution while at Capitol Hill. The many bars in the area can also contain drunk and unruly people, which in very rare cases can lead up to assault or shooting. But as long as you are not looking for trouble, you will be safe.
Drivers in Seattle are typically nice but indecisive, but as long as you're careful as a pedestrian, you don't run a high risk of getting hit. Cyclists should be extra wary of traffic and opening doors of parked cars, especially Downtown.
Marijuana
Washington state has legalized the consumption of marijuana for recreational use. By law, only persons aged 21 and over can purchase marijuana, and then only from licensed retailers. Purchasers are limited to one ounce of usable marijuana (the harvested flowers or "bud"), 16 ounces of marijuana-infused edibles in solid form, 72 ounces in liquid form, or 7 grams of marijuana concentrates.
Under no circumstances should you consume marijuana in public or while driving, nor should you transport it out of the state or give it to anybody else for consumption. The DUI limit is .08, but even a smaller number can still lead to an arrest. Any other
regulations
not stated here should be treated the same as with alcohol. Smoking is not allowed in any public places, and must be done at least 25 feet away from doors, windows, or ventilation shafts.
Weather
During fall through early spring, when the weather is said to be sunny, the morning often starts with fog before the afternoon sunshine clears it. Be careful if you're driving, as visibility can be near zero in the early morning, depending on the location. Watch out for black ice as well if the temperature is below freezing. Occasionally, this condition will persist for days and air quality will deteriorate as emissions will get trapped over the city; in these cases, an Air Stagnation Advisory and Burn Ban will be issued, and those with breathing problems should take precautions in such an event.
In case of rain, take the normal precautions while driving to avoid skidding; drive 10-15 mph slower than the speed limit and avoid driving through large puddles. If you are heading to the mountains in the winter, take the typical
winter driving
precautions, like putting chains on your tires or changing to traction tires. If it does snow in Seattle, it is not recommended to drive, as the city is typically unprepared for such an event and motor vehicles become a moving hazard stuck, skidding, or rolling down the city's hills.
LGBT
While Seattle's LGBTQ community is well-integrated throughout the entire city, Capitol Hill is the heart of Seattle's gay cultural scene and is a historical hub of gay and gay-friendly businesses, bars, restaurants and clubs. Its eclectic nightlife and central location make Capital Hill the ideal place for an exciting night out. But more family-friendly gay activities can be found in other areas as Seattle has the second-largest percentage of gay, lesbian or bisexual residents among large cities in the U.S.
Stay healthy
As long as there are no extreme weather events, Seattle is a perfectly lovely place. Many parks have jogging tracks and fitness centers are abundant, making Seattle one of the fittest cities in the nation.
Temperatures can get extreme during the summer, and there is always at least one annual instance where temperatures hover above , although the low humidity makes the heat less oppressive. Drink plenty of liquid to keep yourself hydrated and don't leave anybody inside a car.
During the long stretch of mild and dry days in winter, smog often covers the skies of Puget Sound, as there is no way for the pollutants and moisture to clear out of the area. If an Air Stagnation Advisory or Burn Ban is issued, take precautions if you have breathing problems. On these days, you might want to consider heading to the mountains, where you're more likely to experience sunshine and slightly warmer temperatures.
During a hike in between thick lines of trees at the parks, be careful to check for ticks. If a bulls' eye rash develops at the tick bite site, immediately seek medical help and treatment with antibiotics. Despite its location close to mountains, wild animals such as bears or beavers are very unlikely to stray at the city.
Smoking is not allowed in any public places, and must be done at least 25 feet away from doors, windows, or ventilation shafts.
Tap water is safe to drink and is among the best quality in the United States, from undisturbed and uncontaminated water sources fed by snow melt in the Cascade mountains.

Cope
Dress
Fashion in Seattle covers a wide range, from chic and stylish to flannel, grunge, and anti-fashion. In fact, it's hard to think of a style that wouldn't be acceptable somewhere in the city. Overall, though, dress is decidedly
casual
. In 2013, Seattle was ranked the most "dressed-down" city in the nation, preferring comfort over fashion. It's almost impossible to be underdressed in Seattle; even the Seattle Opera and Seattle Symphony encourage you to wear shorts and sandals if you're so inclined.
Dressing in
layers
is a good idea, due to unpredictable weather and differences in temperature from indoors to outdoors. Practical accessories like
boots
and
scarves
are also common, depending on the season.
When it rains, Seattleites frequently
don't use umbrellas
, since the drizzle is constant and is sometimes accompanied with wind. Rather, the locals are more likely to wear a hooded jacket or a lightweight rain jacket, and packing one is recommended.
When the sun is out, many locals will eagerly break out shorts and sandals, even if the temperature is only in the 60s ().
Newspaper
There are also several ethnic newspapers including
Northwest Asian Weekly
, and numerous neighborhood newspapers including the
North Seattle Journal
and the
West Seattle Blog
. The University of Washington also publishes
The Daily of the University of Washington
.
Radio
Seattle is in the top 20 of the largest media market in the US, thus virtually every genre you can think of has its own radio station:
Television
Seattle is the 13th largest television market in the US, with all big five English (ABC, NBC, CBS, CW, FOX), four Spanish (Univision, Telemundo, Azteca, MundoFOX), and independent networks represented. All big five except CW, and Univision have local news, weather, and sports alongside syndicated & network primetime TV shows. You can also stream on their website when they broadcast local news.
KOMO= Channel 4 (ABC)
KING = Channel 5 (NBC)
KIRO = Channel 7 (CBS)
KCTS = Channel 9 (PBS)
KSTW = Channel 11 (The CW). Does not broadcast local news.
KCPQ = Channel 13 (FOX). Here is where you watch the Seahawks (Sunday games) and the Sounders playing on TV.
KTBW = Channel 20 (TBN & other Christian networks)
KWPX = Channel 33 (ion on sub-channel 1, Telemundo on sub-channel 7)
KFFV = Channel 44 (Azteca on sub-channel 2, AAT (local Chinese channel) on sub-channel 4, WeatherNation on sub-channel 5)
KUNS = Channel 50 (Univision on sub-channel 1, MundoFOX on sub-channel 2). Only Univision has local news.
You can also get Canadian television, but over the air coverage is very poor, so a cable subscription may be necessary.
Hospitals
Seattle has a large number of primary- and secondary-care medical centers, including the only level 1 trauma center serving Alaska, Washington, Idaho and Montana. Additionally, Children's Hospital and Regional Medical Center is the pediatric referral center for those same states. An area roughly located between I-5 and Broadway is dubbed as
Pill Hill
for having three of Seattle's largest medical centers within the small complex: Harborview, Virginia Mason, and Swedish.
UW Medicine The UW Medicine system is operated by the University of Washington. It includes Harborview Medical Center, UW Medical Center, UW Medicine Neighborhood Clinics, Eastside Specialty Center, Hall Health (Student Health Services) and Sports Medicine Clinic.
phone: +1 206 744-3000

address: 325 Ninth Ave

Managed by the University of Washington Medicine system, it is Seattle's Level 1 trauma center, and the hospital where most critically injured patients are either airlifted or ambulanced. 24-hour Emergency Room, Centers of Emphasis for neurosciences, trauma, burns, reconstruction and rehabilitation, mentally ill and medically vulnerable, and AIDS/STD treatment. Also has a center for sexual assault rehabilitation.

phone: +1 206 598-3300

address: 1959 NE Pacific St

The second hospital component to the UW Medicine system, this hospital is one of the biggest and best teaching hospitals in the country. 24-hour Emergency Room.

phone: +1 206 987-2000

address: 4800 Sand Point Way NE

Children's Hospital is a private hospital specializing in pediatrics. It is also home to UW's School of Pediatrics. 24-hour pediatric emergency room.
Swedish Medical Center Swedish Medical Center is a large nonprofit health care provider. It has three main hospital locations and is also affiliated with many other suburban hospitals and clinics. Among the things Swedish is known for are its Cancer, Bariatrics and Heart Institutes. Swedish Hospital will treat all patients who need care, regardless of their ability to pay.
Swedish Medical Center First Hill

phone: +1 206 386-6000

address: 747 Broadway

Certified Primary Stroke Care center, 24-hour ER, 24-hour Pediatric ER. This is the Main Swedish Medical Center campus and is the largest hospital in Seattle.
Swedish Medical Center Cherry Hill

phone: +1 206 320-2000

address: 500 17th Ave.

Certified Primary Stroke Care center, 24-hour ER.
Swedish Medical Center Ballard

phone: +1 206 782-2700

address: 5300 Tallman Ave NW

24-Hour ER.
address: 1100 Ninth Avenue

One of the best hospitals in the state and the nation for cancer, heart diseases, gastro, and orthopedic surgery. It is also known for having a high satisfactory in patient care.
In the event of a medical emergency anywhere in the U.S., dial 9-1-1 for free from any phone, including payphones at no cost.
Consulates
Most consulates are honorary which means they offer limited services to travelers and their nationals living in the area and usually available by appointment only. They are typically located in downtown but can be elsewhere too. The nearest cities for additional foreign consulates for the west coast, are in
Los Angeles
and
San Francisco
:
phone: +1 425 395-4382

address: World Trade Center Seattle, 2200 Alaskan Way, Suite #410

phone: +1 206 771-9114

address: The World Trade Center Seattle, 2200 Alaskan Way, Suite 450

Cambodia (Honorary)

phone: +1 206 217-0830

address: 1818 Westlake Avenue N., Suite 315

phone: +1 206 443-1777

address: Century Square @ 1501 4th Ave, Suite 600

Visa applications and related inquiries (such as Canadian permanent residency documents and criminal inadmissibility to Canada, if required) must be submitted and approved through their Visa Offices in either Los Angeles, New York or in your home country before proceeding to the Canadian border. Passport issuance, renewals and applications are made by mail (to Canada) only.

phone: +1 206 971-7950

address: Broderick Building, 615 2nd Ave, Suite 50

phone: +1 206 256-6184

address: World Trade Center Seattle, 2200 Alaskan Way, Suite #490

phone: +1 206 230-0888

address: 6204 E Mercer Way, Mercer Island

address: 5819 St. Andrews Dr., Mukilteo, WA

phone: +1 206 230-5138

address: 7853 SE 27th St, Suite 180, Mercer Island

phone: +1 206 693-3600

address: 18000 International Blvd Suite #1005, SeaTac 98188-

They also visit their nationals living in Oregon and other parts of Washington state in their "consulado movil" (mobile consulate) program to provide consular services and answer questions.

phone: +1 206 420-0947

address: 1107 SW Grady Way Suite #100, Renton 98057

phone: +1 206 682-9107

address: Two Union Square @ 601 Union St, Suite 500

Their services also extend to other parts of Washington state, northern Idaho and Montana.

Luxembourg (Honorary)

phone: +1 206 956-9137

address: 812 Warren Ave N

phone: +1 206 448-3526

address: 807 E Roy St

They visit the Mexican communities in Alaska, northern Idaho and other parts of Washington state in their "consulados sobre de ruidas" (consulate on wheels) program to provide consular services and answer questions.

phone: +1 206 321-8085

Honorary consuls promote economic and trade relations between the Netherlands and the US, especially within their geographical region. Honorary consuls do not handle, or answer questions relating to, visa or passport applications

phone: +1 206 527-1896

address: PO Box 51059, Seattle WA 98115

phone: +1 206 284-2323

address: 2200 Alaskan Way, Seattle, WA 98121

phone: +1 206 714-9037

address: 3717 NE 157th St

phone: +1 202 939-8907, +1 202 939-8907

address: One Union Square @ 600 University St., Suite 2510

Due to tensions between U.S. and Russian relations they have also closed the consulates in Seattle and San Francisco.

phone: +1 206 441-1011

address: Sixth & Lenora Building @ 2033 6th Ave # 1125

phone: +1 425 952-6299

address: 5350 Carillon Point, Kirkland, WA 98033

phone: +1 206 228-8110

address: 6920 94th Ave SE, Mercer Island 98040-5442

This representation supports Swiss citizens who find themselves in need because of illness, an accident or theft while travelling. It also informs the responsible Swiss representation. This representation does not issue visas or (Swiss) passports.

phone: +1 206 441-4586

address: One Union Square @ 600 University St., Suite 2020
Go next
Ferries
Washington State Ferries
connect to the other side of the Puget Sound, crossing waters that are too deep, too wide, and too busy for bridges. The Bainbridge and Bremerton ferries depart from Colman Dock on Pier 52, an easy walk from downtown. Fares vary; on the Bainbridge Island ferry, passengers pay $8.35 for the westbound trip; the return to Seattle is free. Vehicle & driver $11.80-18.70, motorcycle & driver $6.45-8.00.
Driving
Just getting out and driving around the area with no destination in mind can be a great experience, as the Seattle area, like most of the Pacific Northwest, is very scenic. If you'd like more specific destinations, try some of these:
Within the metropolitan area
Day trips
Cascade Mountains
Skiing/snowboarding
An equivalent to Denver but far fewer in number, Seattle is the gateway to winter resorts on the Cascade mountains. Drive for one hour to the resorts to enjoy everything from leisure snowball fights to downhill skis, a perfect escape if you are bored with Seattle's rain. Winter sports season is generally November–May, depending on how much snow there is. Generally, the highest ski resorts will open for the winter season longer.