Sebring
Sebring
is a city in the
Florida Heartland
.
Understand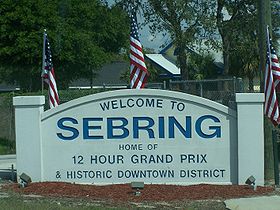 History
Nearby Highlands Hammock State Park is another popular attraction.
Climate
Sebring's climate is a humid subtropical climate, with hot, humid summers and cool, dry winters. Unlike most places with a similar climate classification, Sebring's rainfall is clearly seasonal, with approximately 57 percent of the total rainfall occurring in the June–September summer period.
Get in
By car
U.S. Hwy 27 is the city's main road. Sebring is also home to a small regional airport.
By plane
phone: +1 863 655-6444

address: 128 Authority Lane

General aviation
By train
AMTRAK offers daily train service on the Silver Star and Silver Meteor routes.
See
Highlands Little Theater

Highlands Hammock State ParkIs one of Florida's oldest state parks that opened in 1931. There is a three-mile scenic loop road with nine hiking trails and a boardwalk that runs through a swamp. There are two campgrounds in the park, both a primitive as a family ground.

Lake IstokpogaA scenic lake located on US 98 southwest of Sebring. The access road can be found close to the bridge of Arbuckle Creek, and has a boat ramp and a wooden fishing pier that keeps fishers safe from the numerous alligators that live in this large and shallow lake. Large parts of the lake are covered by water plants. Airboat rides are offered nearby by Airboat Wildlife Adventures.

The Circle, or downtown Sebring. Unlike most towns in America, Sebring has no main street but is built around a circle instead, that is part of "Scenic Highway" SR. 17. The center of town is a quiet place with small shops. Through the years, most businesses have moved to US 27 leaving downtown shops struggling for customers.
Do
Sebring International RacewayA road course auto racing facility which hosts the 12 Hours of Sebring, a sports car racing series sanctioned by the American Le Mans Series (ALMS). Sebring Raceway is one of the oldest continuously-operating race tracks in the United States, with its first race held in 1950.

Golf
Eat
Sebring has a large number of restaurants, in large part because in the winter many retirees from the northern states and Canada reside in the area.
Watering Hole

address: 6813 US Hwy 27 South

address: 4040 US Hwy 27 South

Home style American food served in a nice retro look diner. Unfortunately no longer open for dinner; breakfast and lunch only.

Hibachi Buffet

phone: +1 863 658-0977

address: 2870 US Hwy 27 North

All-you-can-eat Chinese, Sushi bar and Mongolian Grill.

Thai House

phone: +1 863 386-1004

address: 3750 US Highway 27 N., Suite 4D

Small dining area, but has excellent Thai cuisine.

Mi Rancho Mexican Restaurant

phone: +1 863 471-6711

address: 3750 US Highway 27 N, Suite 3C

Started as a Chilean restaurant.

phone: +1 863 385-9326

address: 4731 Lakeview Dr.

High-quality Mexican food.

Twin Oaks Antiques & Tea Room

phone: +1 863 386-1955

address: 246 N. Commerce Ave.

Antique shop that serves food, coffee and tea.

Chicanes Restaurant & Bar

phone: +1 863 314-0348

address: 3100 Golfview Rd.

Serves liquor and meals.

phone: +1 863 386-1924

address: 110 Sebring Square

Chinese, Japanese, sushi.

phone: +1 863 382-1191

address: 5223 Sun N' Lake Blvd.

This restaurant was demolished and rebuilt to be bigger and more modern. Many special events, including weddings and wedding receptions, are conducted here.

Dee's Place

phone: +1 863 471-2228

address: 138 N. Ridgewood Dr.

phone: +863 385-8085

address: 2912 US 27 N, Sebring, FL 33870

This authentic Cuban bakery offers meals, pastries, cakes, soft drinks, smoothies and shakes. There is seating for about fifty and many orders are to go. This bakery offers catering and various linen rentals (table clothes, napkins, coverings, etc.). Havana Days won the News-Sun Readers' Choice Award in 2015 for best Cuban cuisine restaurant in the county.

Caddyshack Bar & Grill

phone: +1-863-471-0505

address: 3122 Golfview Rd.

Serves large variety of food of very good quality.

La Hacienda

phone: +1-863-382-2555

address: 825 N. Ridgewood Dr.

Mexican style food. Beer and wine available.
Drink
phone: +1 863 471-6001

address: 4120 US Highway 27 North

Also serves good food.
Sleep