Sedona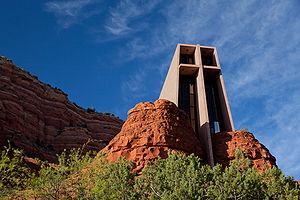 Sedona
is a town in
Arizona
,
United States of America
, 120 miles north of
Phoenix
. Known for its beauty and serene setting amidst the beautiful Red Rocks, the town is famous for its vibrant arts community with nearly 100 art galleries and events including the Sedona International Film Festival, Sedona Arts Festival and the Sedona Jazz Festival. It offers excellent outdoor adventures, including mountain biking, hiking and off-roading. Sedona is surprisingly sprawling, with Oak Creek to the south, West Sedona and Uptown Sedona each providing great views, hikes, dining and arts.
Understand
Sedona Chamber of Commerce Visitor Center

address: 331 Forest Rd

In addition to providing the usual visitor information, there is also a National Forest Service ranger on hand to answer questions about regional hikes. Red Rock Passes are sold here.
Climate
Get in
By plane
Sedona AirportToo small for scheduled jet traffic, but is popular for as a private aviation destination.
The nearest major airport is in
Phoenix
Sky Harbor or Phoenix Mesa Airport.
By car
Sedona is located approximately 90 minutes north of
Phoenix
,
Arizona
. From Phoenix, take I-17 north to SR260 Cottonwood/Payson. Go north toward Cottonwood. At the intersection of SR260 and SR89A, travel north on 89A to Sedona.
From
Flagstaff
, Sedona is also reachable from I-17, but by far the most spectacular route is down Oak Creek Canyon via Hwy 89A. Drive carefully, as the switchbacks and falling red rocks can be treacherous, but the views are well worth it.
An alternate route is I-17 to SR179 through the Village of Oak Creek. SR179 is designated as an All America Road by the Federal Highway Administration (FHWA). This road winds through stunning red rock terrain.
Get around
Walking in Sedona allows for great views but a bike or car is necessary to access trail heads and most destinations. The city is divided between 3 distinct areas, all fairly spread out and realistically requiring a vehicle. Limited public transit exists.
By guided tour
A number of companies provide guided tours (by bus, trolley or Jeep) of Sedona that include transportation from the surrounding areas. Some companies will provide bus travel from nearby towns while others begin in Sedona. Some will provide just a brief tour with small stops, while others may take you on a hike, and arrange all your meals.
See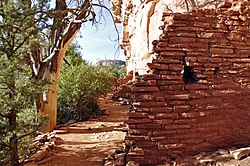 Sedona is home to a bustling downtown and vibrant arts community, but the real attraction is the surreal, red rock landscape, visible from anywhere in town. There are however several notable historic sights.
Do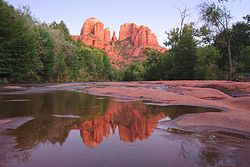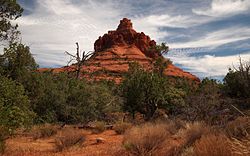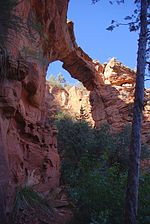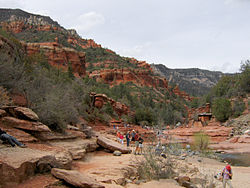 Hiking and mountain biking
Canyons, creeks, mountains, forests, spiritual vortices, hikes and mountain biking trails surround the area. A
Red Rock Pass
($5/day, $15/wk, $20/yr, sold at multiple locations and online) is required to park at trail heads. The
U.S. Forest Service
has guides and maps to the local trails.
Mountain bikes can be rented from
Over the Edge Sedona Bike Shop
(1695 Hwy 89A, tel. 928-282-1106), and from
Absolute Bikes
(6101 Hwy 179, tel. 928-284-1242).
Other notable trails include
Soldier Pass Trail
and
Courthouse Butte Loop Trail
. For a more laid back stroll, park near the end of Verde Valley School Road and walk the rest of the way to
Oak Creek Crossing
. Or take an hour's walk from near the school by the junction of the Upper Red Rock Loop Road and the Highway 89 (there is a parking lot there). The trail leads up to one of the finest panoramic views you will ever see.
Other outdoor activities
Scenic drives
This is a gorgeous area and driving around gives you great views of the rocks. Jeep rentals for serious off-road driving are popular. If you have four wheel drive, Schnebley Hill Road at sunset provides excellent views.
Desert Canyon Loop Scenic DriveThis scenic loop begins east of Interstate 17 where State Route 179 from Sedona crosses I17 to become FR618 just north of Camp Verde, Arizona. This scenic drive is a high desert landscape in the vicinity of Montezuma's Well National Monument and Montezuma's Castle National Park.

Oak Creek Canyon Scenic DriveFollow 89A through Sedona and Oak Creek Canyon. Beautiful views of dramatic canyon walls through the pine Forest. Oak Creek runs year-round and can be viewed from many points along the route. Hike West Fork of Oak Creek, for an moderate, well-marked 2.5mi hike, with 6 Creek crossings. Pay to park.

Red Rocks and Sycamore Canyon Loop Scenic DriveThis drive takes you into the heart of the magnificent Sedona Red Rocks Country. The route traces the base of dramatic cliffs and offers the option of four scenic side trips that lead to some of the most exciting features in Red Rock Country.

Red Rock Scenic BywayBeautiful views start on Arizona's First All-American Road, also known as the gateway to Red Rock Country. Exit I-17 and head north. The road ends in Sedona at a traffic circle. On this National Scenic Byway (south of the Village of Oak Creek on SR 179), you'll find the Coconino National Forest Visitor Center; stop there and get free maps and lots of red rock country information.

Boynton CanyonA pretty drive up Half-High Rd and left at Enchantment Resort. Nice hike up Boynton Canyon, or 1 mile past resort, at Doe Mountain.
Spas and wellness
Sedona is famous as the home of five New Age vortices, areas where the earth's magnetism is said to have special properties. Vortices are located at Bell Rock, Airport Mesa, Cathedral Rock, Boynton Canyon, and Schnebly Hill. You can take a vortex tour from one of many local guides, or hike to the sites yourself. Look for cairns marking the vortex sites.
phone: +1 928-204-1047

address: 207 N Hwy 89A

An alternative healing and wellness center open seven days a week in the tourist district of uptown Sedona, started by multi-generation acupuncturist and healer, Banya Lim, in 2013. The five-room studio loft specializes in massage to balance chakra energy centers, healings which tap the surrounding natural resources (red rock vortexes), readings which intuit past lives and current energy blocks, and trainings about energy principles, used by its Licensed Massage Therapists. Sister store Sedona Story, below it provides sustained, extended support for the enterprise.

A Spa for You Sedona Day Spa & Massage

phone: +1 928-282-3895

address: 30 Kayenta Court #1

Offers individually created signature massage, body treatments and Japanese facial massage to re-kindle, nurture and balance your natural healing rhythms. By reservation only.

phone: +1 928 282-8171

address: 65 Deer Trail Drive

A New Age spiritual center, new thought church, and energy vortex featuring sacred services, workshops, a labyrinth, psychics, concerts, spiritual gatherings, and a metaphysical bookstore and gift shop. Inspiring and unique Sunday Services at 9:30am and 12:00 noon welcoming all who find their way to the beautifully landscaped grounds and sanctuary.
Buy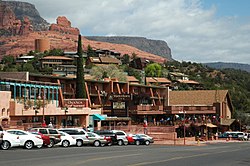 Sedona has many shops specializing in local Native American arts and crafts, international galleries and New Age shops (aura readings, healing crystals, vortex information) in addition to the usual tourist fare. A few stores sell shirts dyed in genuine Sedona red rock.
Tlaquepaque Arts and Crafts Village

phone: +1 928-282-4838

address: 336 Highway 179

Full of restaurants and artsy shops. If you must take a break from enjoying the outdoors, this is the place to do it.

Hozho Plaza

address: 311 N Hwy 89A

Contains international and local art galleries.

phone: +1 928-204-2390

Hillside Sedona

address: Hwy 179

A lot of high-end shops and restaurants, well positioned for strolling around.
Eat
When it comes to dining, Sedona has an exceptional choice of style, atmosphere, decor and flavor developed for tourists from around the world. Many of the restaurants in Sedona are rated among the best restaurants in Arizona, and several have earned national acclaim.
Budget
phone: +1 928-282-4140

address: 1855 W Hwy 89A

Very good food, pizza choices are too numerous to mention. Take out available.

phone: +1 928-204-2223

address: 101 N Hwy 89A

Wildflower raised the bar for affordable dining in Sedona. Good food at affordable prices. Great views of the red rocks. Nice comfortable fireplace on a winters' day, with daily newspapers and free wi-fi. Very central location.

phone: +1 928-496-0266

address: 2050 Yavapai Dr

The best gourmet beef and vegetarian hot dogs.
Mid-range
Splurge
Grocery stores
phone: +1 928-282-0118

address: 2300 W Hwy 89A

Has a full-service hot and cold deli, as well as an onsite pharmacy.

Bashas'

phone: +1 928-282-5351

address: 160 Coffee Pot Dr
Drink
phone: +1 928-282-3300

address: 336 Hwy 179 D201

Noted for nut-brown ale, hefeweizen and Pilsner-style lagers. If you can't decide what to order, try the Seven Dwarfs sampler, served in miniature 5-oz. beer steins.

phone: +1 928-284-2250

address: 40 W Cortez Dr #7

Very local feel.
Sleep
Budget
Mid-range
Splurge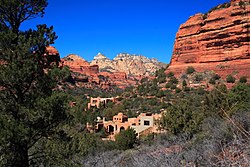 Camping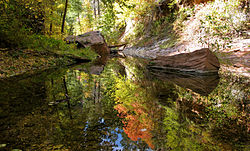 Connect
phone: +1 928-282-7714

address: 3250 White Bear Rd

Has public computers with internet access, and free wi-fi is available throughout the building. Visitors and non-card holders must check in at the Reference Desk to request a guest pass.
Sedona Public Library in Oak Creek

phone: +1 928-284-1603

address: 7000 Hwy 179, Oak Creek

Has public computers with internet access, and free wi-fi is available throughout the building. Visitors and non-card holders must check in at the Reference Desk to request a guest pass.
Go next