Seekonk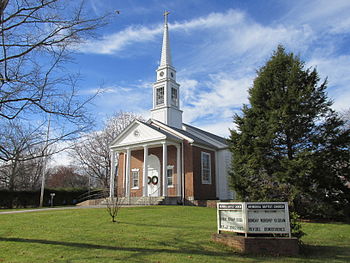 Seekonk
is a town in the
SouthCoast
region of
Massachusetts
which borders
East Providence
and
Pawtucket
,
Rhode Island
to the west,
Attleboro
to the north,
Rehoboth
to the east, and
Swansea (Massachusetts)
and
Barrington (Rhode Island)
to the south. Though much of the town primarily serves as a residential suburb of nearby cities (
Providence
,
Boston
,
Taunton
,
Fall River
), its relative wealth of shopping locales and destinations like the Seekonk Speedway combine with an all-around dose of Swamp Yankee charm to make Seekonk an interesting place to visit, or perhaps work. In any case, you'll probably drive through it at some point if you frequently travel around Southern
New England
(especially Massachusetts and Rhode Island), so knowing where to stop could come in handy.
Get in
By car
A car is somewhat necessary for getting in and around Seekonk. The town can be accessed through one interstate, I-195, as well as Route 6 (Fall River Avenue), Route 44 (Taunton Avenue), Route 152 and Route 114A. Seekonk has its own exit on I-195 (Massachusetts Exit 1, Route 114A), which provides easy access to Route 6 to the south and Route 44 to the north. Route 152, while not connected to any other state route in town, is a major route running between East Providence and Attleboro.
By bike
The adventurous Providence biker can cross a bridge and journey through East Providence, which has notorious potholes in places but generally good sidewalks. Many cyclists can be seen in Seekonk on fair weather days.
By public transport
There is little public transportation from Providence, although one can get very close to the Seekonk Reservoir in North Seekonk by taking the RIPTA bus (
Route 35
) to Rumford. The Greater
Attleboro
Taunton
Regional Transit Authority
also has a few stops in Seekonk on the 16 and 19 routes.
By plane
T.F. Green in
Warwick
and Logan in
Boston
are the nearest airports.
See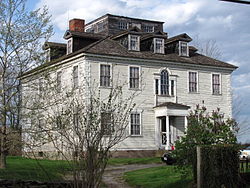 Seekonk traces its name to a Wampanoag (Native American) word for Canada geese ("Seaconcke"), which can frequently be seen migrating over Seekonk or living, for a time, in the Seekonk Reservoir (the original pond/lake was another possible meaning for the word Seekonk) or other locations. Indeed, many species of migratory birds can be seen in an area which has preserved many wetlands and natural resources while also developing a sprawl of suburban infrastructure, best epitomized in the endless stores of Route 6. In early winter, large mobs of birds have been known to inhabit the power lines on Route 6 as well as they prepare for the long journey south. More about the area-at-large's birding can be found from
Mass Audubon
.
Do
phone: +1 508 336-9959

address: 1710 Fall River Avenue

The Speedway, family owned and operated since 1946 (making it the oldest in the USA), is perhaps the town's most widely known destination. Advertised as "The Action Track of the East" and "Southern New England's premier NASCAR track", its season of Friday and Saturday night races (with some other scattered events on weeknights) runs from April to September. The crowds can get large and rowdy for big races (not to mention the July 4 fireworks!)

Showcase Cinemas Seekonk Route 6

address: 100 Commerce Way

Chain movie theater tucked away in the huge Route 6 strip, discounts on Tuesdays.
Family Entertainment, self-explanatory.
Seekonk Grand Prix, 1098 Fall River Ave, . An arcade and very solid go-karts make this popular with the adolescents.
FantasyLand, 1300 Fall River Avenue, +1 508 336-6262, . More on the young side.
Monster Mini Golf, 140 Taunton Avenue, +1 508 336-8004. It aims to scare you as you play mini-golf.
Seekonk Driving Range, 1977 Fall River Avenue, +1 508 336-8074 Also, batting cages.
address: 320 Fall River Avenue

Although there are many private country clubs in the area, Firefly provides a cheap, somewhat playable course for the amateur.
Tranquil Waters Spa, Café & Salon

address: 1479 Fall River Ave

When it's voted Best in Rhode Island even though it's not in Rhode Island, that's usually a good sign.
phone: +1 508 761-8230

address: 301 Brown Avenue

Somewhat off the beaten path, this 200-acre habitat offers lots of hiking trails, opportunities for seeing birds and other wildlife, and camp sessions for kids.
Fish. Many folks go fishing in the Seekonk Reservoir on Route 152 when the weather is right.
Farms. There are still a few farms in Seekonk. Belwing Turkey Farm on Route 44 provides many families with turkeys on Thanksgiving. Four Town Farm provides many local restaurants with produce, in addition to offering tours and picking sessions. Osamequin Farm offers blueberry picking in the summer.
Seacunke Sanctuary

address: Off Reservoir & River Streets

The Seacunke Sanctuary, also known as the Charles V. Mararian Farm, is owned by the town of Seekonk and was formerly a working farm owned by Armenian immigrant Charles V. Mararian (1872-1971) and passed to his children until they sold it in 1975. This is a nature preserve of 27 acres. Seacunke Sanctuary is located along the eastern bank of Central Reservoir. and abuts a tiny portion of East Providence, Rhode Island.
Buy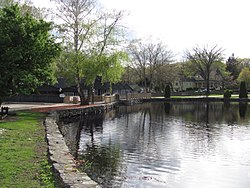 Route 6
. Wikipedia calls it a "business route." Some might call it a mile-long mall. Tons of big-name and smaller-name shopping destinations, restaurants, and other businesses dot the Seekonk section of this national road, which, after running parallel to I-195 here, continues all the way out to
Provincetown
and
California
.
Chains. Wal-Mart, Target, Sam's Club, Best Buy, Kohl's... the list goes on and on. More here .
Antiques
. Lots of antiques stores to be found.
address: 600 Taunton Avenue

New England wide, Seekonk based.

address: 380 Fall River Avenue

Claims to be "the most exciting antique center in Southern New England."
Health food
address: 138 Central Avenue

address: 1460 Fall River Ave

# 6.
Eat
Country Kitchen, 469 Taunton Avenue, +1 508 336-9807. To get a taste of old Seekonk, have breakfast at this humble red house across from the Y on Route 44. Filled with sports memorabilia and old-school kitsch, this family-run joint serves basic, filling diner fare with a lot of heart (and coffee milk!). And to be honest, you won't find many "diners" around here that do poached eggs or crab omelets. Open (6AM on weekdays, 8PM on weekends) for breakfast and lunch, as well as Friday night fish & chips. Locally famous for their sky-high Thanksgiving pies.

Eats

address: 1395 Fall River Avenue

Another old school diner open for breakfast and lunch. It's all decent, but the N.Y. System hot dogs are a highlight for many.

Micheletti's

address: 1053 Newman Avenue

One more worthwhile diner, this time in North Seekonk. Known for their homemade ice cream.

phone: +1 508 336-8460

address: 390 Fall River Avenue

Emphasis on steaks, seafood, and salad bar in a reconstruction of an old, picturesque mill.

address: 540 Central Avenue

Chains! Panera, Starbucks, Ninety Nine, Outback Steakhouse, Old Country Buffet, Taco Bell, Subway, T.G.I. Friday's, Five Guys, Bucca di Beppo, and countless others all have locations on Route 6 (Fall River Ave) and other places in Seekonk. Google 'em if you're that desperate.
Drink
phone: +1 508 336-1149

address: 965 Fall River Ave

Second location of an East Greenwich, RI trendsetter. Very colorful drinks, frequent live music, and a raw bar. The food here is also quite good, but the drinks are the real attraction.

address: 393 Taunton Avenue

Another East Greenwich second location priding itself on its bar scene. Sensing a trend?

address: 350 Fall River Avenue

Sports bar.
Sleep
Jacob Hill Inn, 120 Jacob Street, +1 508 336-9165. A luxurious, historic bed and breakfast which recently received a national recognition as one of the three best inns in America.

Johnson & Wales Inn

phone: +1 508 336-8700

address: 213 Taunton Avenue

address: 821 Fall River Av

Ramada Seekonk, Providence Area

phone: +1 508 336-7300

address: 940 Fall River Ave

Shangri-La Motel

address: 1495 Fall River Av