Segamat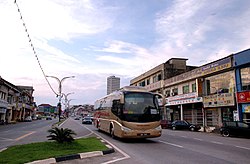 Segamat
is a town located in Segamat District,
Johor
,
Malaysia
.
Get in
By road
Segamat is easily accessible via a network of roads. From the Expressway
E2
, exit the expressway via either
Exit 227
Simpang Ampat (from north) or
Exit 242
Yong Peng
Selatan (from south) before proceeding via Federal Route
1
.
For those from east coastal states such as
Terengganu
,
Pahang
and
Kelantan
, you can use the Federal Route
12
. Segamat is also accessible for those from southwestern towns and cities such as
Muar
,
Batu Pahat
and
Melaka
via Federal Route
23
.
By bus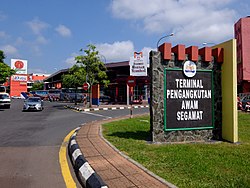 Yow Hoe Bus
North West Johore Bus
KKKL Express Malaysia
Transnasional Express tel: JB 07-224 5182 or 223 7204
Cepat Express tel: JB 07-224 7453, Segamat 07-9315260
Damai Express
Handal Indah tel: JB 07-224 2244 or 227 8514
S & S International Express tel: JB 07-222 6246
Hasry Express tel: JB 07-223 5355 or 221 5339
Causeway Link Express tel: JB 07-224 2244 or 227 8514
SE Express
By train
See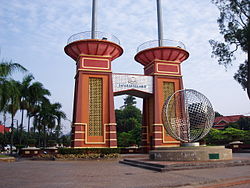 Taman Bunga Batu Hampar: At the centre of Segamat town, it is also known as "Rock Garden" by the local population. The residential palace for the royal family of Johor and the official residence of the Segamat district officer are placed here.
Kampong Sri Dagang or Sri Dagang Village

Segamat Square

address: Jalan Omar, Kampung Gubah, 85000 Segamat, Johor, Malaysia

Public square. The celebration of Johor state-level Malaysia's national day is held here if Segamat is selected to host the event that year.

TLG Createkan Park

address: Bandar Putra 85000

Park.
Do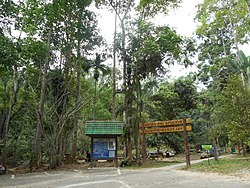 Jungle trekking at Bantang River Recreational Forest

phone: +60133467968

address: Segamat Airstrip, Jalan Sawi, Taman Tan Leng Ann, 85000

Sky diving.
Buy
Upwell Shopping Center
Giant Hypermarket
Billion Supermarket
Nirwara Supermarket (Kg Abdullah/Taman Yayasan)

1 Segamat

address: Jalan Station, Kampung Chabong, 85000 Segamat, Johor, Malaysia

Shopping mall.

Econsave Segamat

phone: +60379317622

address: No. 25-39, Jalan Syed Abdul Kadir, 85000

Supermarket.

KiP Mart SegamatSupermarket.
Eat
Segamat durian (seasonal), found on roadside fruit stalls
Budget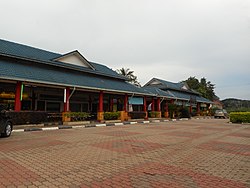 Mi Hun Ge ( Soup/ Dry flour), 19, Jalan Nagasari 1
Chinese Roti Canai, Kampung Tengah. Location: 2°31'53.70"N ; 102°49'36.93"E
Cheong Yik Kee Wantan Mee, 12 Jalan Salim, Kg. Abdullah
Warung Kg Jawa, Jalan Medoi (Soto Mee/Nasi, Tempe)
Warung Usop Ketong, Jalan Muar (Mee Rebus)
Kopitiam Zao Chen, 75, Jln Nagasari 14, Segamat Baru (Variety Breakfast & Tea Time)
Ho Peng, beside Holland Village (shop) business hour 3AM-10:30AM
Holland Village, behind Bank Mualamat (before giant hypermart from north)
Happyland Right hand side from the second bridge
Newturn Hidden, but ask any local, they will know. Famous stall is Ah Lan's budget noodle soup.
Greenland Mostly operated and frequened by older people - there are a variety of food choices
Hailam Kia despite the dirty looking exterior, they make the best tea and ying yang (coffee + tea) in town. Great roti toast + butter and kaya. Try the half boiled eggs - they are heavenly. Located near UpWell Shopping center (the row of shops on the right hand side of main door of the shopping place), the coffee shop is next door to a book store
Lap Cheong from Lap Chong Auntie Yummilicious home made lap cheong with very little fat. Unfortunately, one needs to be lucky as she make rounds in coffee shops during the day (sometimes nights)as she does not own a shop. She drives a van.
Paya Pulai Mamak Burger opposite a row of shops in Taman Pelangi.
Mamak stall beside Merrybrown fastfood famous for maggie goreng, mee goreng, etc.
Cau Zhou Bah Kut Teh second bridge segamat corner drive straight, its on your left (corner shop)
Kuantan Highway mamak stall before traffic light of taman yayasan (right hand side frm JB), corner stall near a mall like restaurant. Famous for roti planta gula.

Greenland Tea House

address: 3A Jalan Samsu, Kampung Abdullah, 85000

Hawker center.

Hock Key Restaurant

address: 21, Jalan Putra 1/2, Bandar Putra, 85000

Hawker center.
Mid-range
Restoran Haliza, Jalan Aji (Tosei, Capati, Murtabak, Nasi Beriani-Kambing, ayam, daging)
Restoran Seri Manis, Jalan Buloh Kasap (Satay, Otak-otak, Seafood, dll)
Restoran Asalihin, Jalan Sia Her Yam (Semua masakan)
No signature restaurant, near upwell supermart (along Li Chi Primary School Rd), famous dishes such as nestum sotong (squid), lemon honey chicken. Business hour 7PM-11PM. Book in advance will guarantee a table.
Xin Waan Fish Head Restaurant, Chinese restaurant located at Jalan Nagasari 14, Bandar Segamat Baru (opposite of Masjid, near Chinese Guan Ti Temple and Indian temple). Famous dishes Fish Head Steamboat. Booking available.
Splurge
Kim's Famous Lor Mee, chicken rice, mee hoon ker and marmite roasted lemon chicken (by request only, reservation through phone, sms, email, msn, facebook, Hi5, Friendster, or walk-in appointment)
Drink
Kedai Kopi Teng Li - Coffee shop with home-made kaya. It's located at Segamat Baru.
Nan Yang Coffee Shop - Don't miss the local coffee and toasted bread filled with butter and kaya (coconut-egg jam) if you visit to this Chinese cafe located at the center of Segamat old town. But the lady boss was unfriendly
Old Taste Kopitiam- The best Ipoh white coffee in town.

Nam Kwang Open Air Coffee shop

address: Jalan mentol , Segamat.

A more than 60-year-old coffee shop which is famous by its cool and all-time favorite drinks. Located at old town of Segamat. Laksa in the morning and you can find local rojak and Chinese nasi lemak at night time.

Kampung Cafe

phone: +60 79310463

address: 313A, Jalan Aziz Kampung Abdullah
Sleep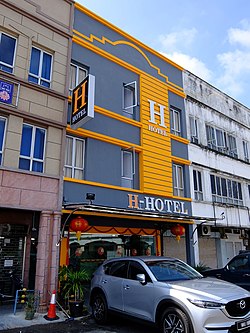 Budget
phone: +60 7-9333112

address: No. 1 & 2, Jalan Susur Utama 2/1,Taman Utama

phone: +60 7-9063282

address: 24,25,26, Jalan PKY 1, Pusat Komersial Yayasan

Mandarin Inn

phone: +60 7-9317966

address: 99-101, Jalan Genuang

Facilities: hairdressing/beauty salon, laundry, mailing/courier service, 24 hrs room service, 24 hrs security.

Segamat Hotel

phone: +60 7-931 2919

address: 14-18, Jalan Salim

Silver Inn Hotel

phone: +60 7-931 2211

address: 11, Jalan Ros

phone: + 07-943 6633

address: Jalan Genuang Perdan

H Hotel

phone: +6079436868

address: No. 21, Jalan putra 1/2, Bandar IOI, 85000 Segamat, Johor, Malaysia

Budget hotel.
Mid-range
phone: +60 7 932-8881

address: No. 3975 & 3976, Susur 1, Jalan Syed Abdul Kadi

Air-conditioned, fully carpeted rooms with attached bathroom. Flat screen LCD TV. 24 hours reception, telephone and message service. Free internet service, coffee, tea, parking. Room service. Laundry Service 24/7. CCTV security surveillance

phone: +60 79312128

address: 128, jalan Genuang

Pine Classic Inn

phone: +60 7-9323009

address: 30 & 30A, Jalan Genuang

Location: 2°30'18.04"N ; 102°49'5.27"E

Villa Hotel

phone: +60 7-9328188

address: 26, Jalan Ros

Location: 2°30'13.60"N ; 102°49'15.84"E

VIP Hotel

phone: +60 7-9312101

address: Wisma Chew Ann Ting, Batu 1, Jalan Buloh Kasap

Location: 2°31'26.16"N ; 102°48'20.02"E
Go next
Gunung Ledang - Located about 30 km from Muar town, Gunung Ledang (formerly Mt Ophir) is well known for the Legend of Gunung Ledang story of the mystique Puteri Gunung Ledang, entwined with its mysterious tales of supernatural encounters among the locals besides its beautiful natural attraction. Standing at 1,267m, Gunung Ledang is Johor's highest mountain and it can be accessed both from Johor (Sagil) and Melaka (Asahan). There are nice camping sites by the side of waterfall at the mountain foot and those who are adventurous can take up the challenges to climb to the peak of the mountain. The journey to the top will take approximately five hours through the dense but scenery virgin jungle. There are 2 options of access to the mountain top and mountain foot lodgings available by 2 different managements namely; Gunung Ledang Resort and Taman Hutan Lagenda-Taman Negara Gunung Ledang . Gunung Ledang can be reached by buses that run between Tangkak and Segamat by getting off at Sagil. Its best to arrive at Gunung Ledang during daylight hours, stay overnight and start the hike early next morning.