Segovia
Segovia
is a town in
Spain
, known for its Roman
Aqueduct
recognized by
UNESCO World Heritage Site
.
Get in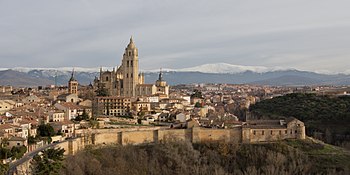 Buses between Segovia and Madrid (Moncloa bus station) run once or twice an hour, taking one hour, fare €10. Buses also run to Avila (one hour) and Salamanca (3 hr 30). The bus operator is La Sepulvedana. Segovia bus station is on Paseo de Ezequiel Gonzalez, 300 m south of the Aqueduct.
Segovia has two railway stations, both to the south of the city. High-speed AVE trains use the new station Segovia-Guiomar, 5 km away. These take 30 mins to Madrid Chamartin and 40 mins to Valladolid, fare €15 one-way. They run every hour or so, more often for commuters mornings into Madrid and evenings coming out. The AVE station has frequent buses to the centre (€2): Bus 11 to Plaza Artilleria beneath the Aqueduct, and Bus 12 to the main bus station, both every 20 mins.
Segovia's old station is only 1 km from the centre, but nowadays has only two trains per day. These are regional trains taking two hours from Madrid Atocha, via Chamartin and Cercedilla, fare €9 one-way. Bus 8 runs past the railway station to town centre.
The nearest airport is Madrid Barajas, 100 km south - change at Chamartin between Metro and mainline trains.
Get around

The walled Old Town is easily accessible on foot. Most of it is pedestrianised, and no traffic passes beneath the Aqueduct, which thus divides the city. At the foot of the Aqueduct east side in Plaza Artilleria is an underground parking lot (€2 / hr). Bus 9 starts from here to make a circuit of Old Town, daily every 30 mins from 11:00 to 19:30, fare €1. West side in Plaza del Azoguejo is a Tourist Information Centre, with another in Plaza Mayor.

See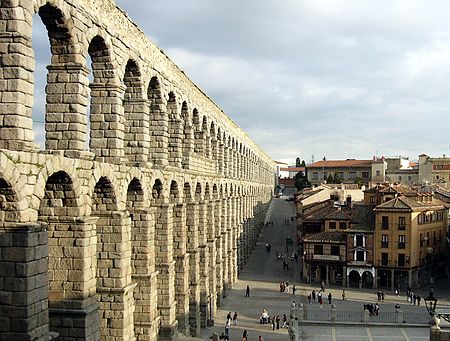 This Aqueduct was built to supply water to the Roman fort and settlement here, probably around 100 AD. Originally it gathered water from Rio Frio, in the mountains 17 km south, flowing to the south edge of town to be stored and filtered. From there it turns and makes its spectacular leap across the valley, 28.5 m above Plazas Artilleria & del Azoguejo, to enter the Old Town. You can't walk on the structure, the best vantage point is at the head of the stairway into Old Town at Postigo del Consuelo. It's often floodlit at night.

The easiest way into the walled Old Town from Plaza del Azoguejo is to walk up Calle Cervantes. Halfway up, note Casa de los Picos ("The House of the Points"), a 15th C mansion with a facade studded with granite pyramids.

The Cathedral was built in Gothic style between 1525 and 1768, but with font, choir and cloister recycled from the destroyed previous cathedral. Open Nov-Mar 09:00-17:30, Apr-Oct 09:00-18:30. Entry €3 including cloister and museum, €7 to also climb the tower.

Museo de Segovia

phone: +34 921 460 613-15

address: Calle Socorro 11

Contains artefacts, models, and art related to the history, culture & lifestyle of the city and the surrounding region.

AlcázarBuilt around the 11th century, with the current facade added by Phillip II. The interior is decorated in a variety of styles including Romanesque, Gothic, Mudejar, and Renaissance. It's variously hosted the royal court of the Trastamara Dynasty, Isabella the Catholic, the wedding of Phillip II, and the Spanish Artillery Academy. The full entry ticket includes Palace, Artillery Museum and Tower of Juan II. Scenes from Orson Welles film Chimes at Midnight were filmed here.

It is an 18th century palace in the small town of San Ildefonso, 13 km east of the city. Formerly the royal summer residence since the reign of Philip V, the palace is in a restrained baroque style surrounded by 1500 acres of gardens in 18th C French manner. A bus may run here from Segovia, but you probably need your own transport. It's open Tues-Sun from 10:00; to 18:00 Oct-Mar, to 20:00 April-Sept. There's a Parador next to the palace.
Do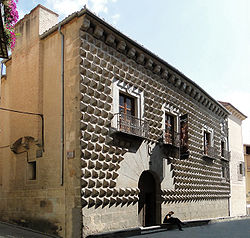 Ski:
Two small resorts in the hills nearby are Puerto de Navacerrada and Valdesqui.
Buy
You can buy nice pottery, typical not only of Segovia but of Castile as a whole. Take a look at the botijos, for storing fresh water.

Eat
Segovia cuisine is typical of Castille. Favourites are slow-roast suckling pig (
cochinillo
), roast lamb, veal & beef, sausages, fish (notably
verdel
, smoked mackerel),
judiones
bean stew, and salads. For afters, typical deserts are
ponche segoviano
and
natillas
.
Budget & quick eats:
Cafeteria Orly

phone: +34 921 46 13 18

address: Bajada del Carmen, 2

Bar & coffee shop.

Confiteria El Alcazar

address: 13 Plaza Mayor

Sweet sweet sweets, surly service.
Lots and lots of Tapas places.
Mid-range & splurge:
phone: +34 921 425 911

address: Plaza Azoguejo 5

Renowned meson under the Aqueduct.
phone: +34 921 461 111

address: Cronista Lecea, 11

An excellent meson, booking essential.

El Sitio

phone: +34 921 46 09 96

address: Calle de la Infanta Isabel, 9

Great tapas bar downstairs and a restaurant upstairs.
address: Calle Cervantes 12

Rich selection of traditional Castilian fare.
Out of town:
The Parador restaurant is excellent, see "Sleep" entry.

phone: +34 921 12 03 29

address: C/ Sacramento 22, Zamarramala

Views of Segovia and great food & drink.

address: Highway N603, km 80, Ortigosa Del Monte

An excellent (but pricey) meson in the plains of Castille.

Restaurante Marcial

address: Ctra. Nac. 110, Km. 227. Villacastin

This is near the junction of N110 between Segovia and Avila, and A6 from Madrid towards Leon. Very good meals.
Drink
Try the red wine and the "Ribera del Duero" in particular. There are also good white wines which are perfect with a good fish dish. If you have to drive, the bottled water is also excellent. Moreover, for people who like them, strong liquors are offered at the end of a good meal, after the almost mandatory coffee.
Segovia city also has the DYC whisky distillery. The 8-year-old whisky has a good reputation among the local population.
Near the Plaza del Azoguejo you will find a number of nice bars.

Sleep
Go next
Old cities of Castile and Leon are Valladolid, Burgos, and Leon itself.
El Escorial is easily reached off the road south to Madrid.
Reaching Barcelona, the Med coast, or Andalusia will involve travelling via Madrid.