Seinäjoki
Seinäjoki
is a city in
Southern Ostrobothnia
. Seinäjoki is the biggest city and the center of the Region of South Ostrobothnia, in western Finland. It is in the junction of five railways, at the intersection of several main roads.
Get in
By train
The easiest way to come to Seinäjoki is by
train
. If you take the fastest Pendolino trains the trip takes roughly three hours from
Helsinki
or
Oulu
and just over one hour from
Tampere
.
By bus
Matkahuolto
and
Onnibus
offer connections from
Helsinki
,
Tampere
,
Vaasa
,
Jyväskylä
,
Kuopio
,
Mikkeli
,
Lappeenranta
and
Joensuu
.
By plane
Seinäjoki airport is nowadays used only for some charter flights. The nearest airport with regular flights is in Vaasa
VAA
.
There are daily regular flights to Vaasa airport from Helsinki (Finnair) and Stockholm, Sweden (SAS). An on-demand airport shuttle bus of Pahkakankaan Liikenne operates between Vaasa airport and Seinäjoki railway station. The shuttle bus can be pre-ordered at latest two days before arrival or departure (phone , also SMS and e-mail orders are accepted, e-mail . The ride from Vaasa airport to Seinäjoki railway station costs €19 per traveller.

By car
Roads come in from all directions, as Seinäjoki is one of Western Finland's most important road junctions. Seinäjoki is about one hour's drive from Vaasa, and two and a half hours from both Tampere and Jyväskylä.

Get around
By foot
Seinäjoki is small enough that most of the things to see are easily reached by foot. When you exit the station, you will be facing the center of town.
By bus
Komia Liikenne
offers local bus connections on weekdays and Saturdays but on Sundays there is no traffic.
Pahkakankaan Liikenne
operates on-demand minibus in Seinäjoki city and nearby region on weekdays 8-17.
It is possible to use
Matkahuolto
long-distance buses for travel within Seinäjoki. On Sundays long-distance buses are the only form of public transport available for local travel inside Seinäjoki. To go west you can use buses to Teuva, Kauhajoki and Närpiö, and to go east, buses to Karstula, Vimpeli and Kuortane.
By taxi
By bike
Other
See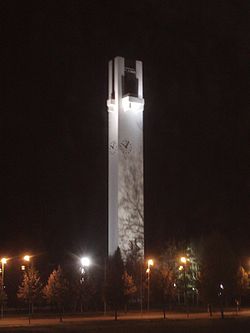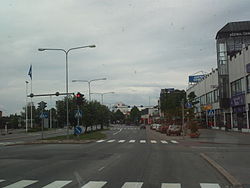 phone: +358 6 416 2734

address: Kauppakatu 17

This center is the administrative and cultural center of Seinäjoki. The center was designed by Alvar Aalto, a renowned Finnish architect and designer of the 20th century and one of the most important architects in the world. His work includes outstanding architecture, furniture, textiles and glassware. The Aalto Centre is composed of six buildings which were mainly completed between 1960 and 1968. The first building created was the church, Lakeuden Risti ("Cross on the Plain") and the last one, the theatre, in 1987.
Lakeuden Risti Church (1957-1960) and Parish Centre (1965-1966)

phone: +358 6 4184 111

address: Koulukatu 24

There was a competition for the design of Seinäjoki church which took place in 1951. There was no agreement because Aalto's design did not follow some patterns required. Finally the construction took place until 1957-1960. The adjacent congregational center was constructed during 1965-1966. The church seats 1200 people, the gallery another 124 and the small chapel 50 people. Everything, even in the interior, was designed by Alvar Aalto. It is absolutely a fascinating and impressive to see how perfect the measurements and details in the inside are. As part of the church there is a cross bell tower, which is 65 m, Seinäjoki's highest building, which is possible to visit as well. There is an elevator and 36 more steps to get to the top of the tower; if you ask one of the church wardens you can ride the elevator to the top of the church tower for 1 €.

City Hall (1961-1962)

phone: +358 6 416 2111

address: Kirkkokatu 6

The competition for the City Hall design took place during 1958-1959. It was finally constructed during 1961-1962. The Council´s meeting chamber is also used for concerts. The façade of the City Hall is clad with special blue porcelain rods. The whole interior of the building is characterized with Aalto's singular style and design.

City Library - Regional Library (1964-1965)

phone: +358 6 4162 326

address: Koulukatu 21

The City Library - Regional Library, the architectural pearl of the Aalto Centre, was constructed in 1964-1965. The open book shaped building is a very unique design.

State Office Building (1966-1968)

address: Alvar Aallonkatu 12

This building constructed during 1966-1968 holds many city and state offices in Seinäjoki. Its most significant feature in the interior is the court room.

City Theatre (1986-1987)

phone: +358 6 416 2600

address: Alvar Aallonkatu 12

Alvar Aalto presented his plans for the theatre building as early as 1969, but its construction was not carried out until 1986-1987 under Elissa Aalto´s supervision. The theatre seats 429 people and the small stage 120. In the lobby there are famous wooden reliefs and Aalto's biggest glass designs exhibition.
KyrkösjärviOne of the few artificial lakes in Finland.
Törnävä ChurchThe old, idyllic church of Seinäjoki.
Törnävä mansion areaOld mansion built in 1806. Features a beautiful old garden.
Do
Buy
Musiikki Järvenpää

address: Alvar Aallon katu 1

Music store with guitars, drums, other instruments and accessories.
Eat
Drink
address: Kauppatori 3

Rock bar and nightclub.

address: Koulukatu 22

Located downtown, has a fairly decent beer selection.

Minibaari

address: Torikatu 9

Located opposite to the church, sells locally brewed beer "Mallaskoski" on tap.

Bar 15

address: Kauppakatu 15

Features cheap beer and heavy music.
Sleep
Budget
phone: +358 6 414 1771

address: Kalevankatu 29

phone: +358 600 18018

address: Kalevankatu 2

from 45€

phone: +358 6 421 7700

address: Kaarretie 4

from 65€
Mid-range
phone: +358 6 4215200

address: Ruukintie 4

phone: +358 20 741 8181

address: Törnäväntie 27

phone: +358 6 418 6111

address: Kauppakatu 10
Splurge
phone: +358 10 764 7000

address: Kauppatori 1-3

Very nice hotel in a central location. Fine sauna and meeting facilities.

phone: +358 10 764 8000

address: Torikatu 2

Another Sokos Hotel.
Go next

From Seinäjoki there are easy train connections to the rest of Finland.