Seishun 18 Ticket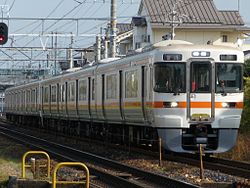 The
Seishun 18 Ticket
(青春18きっぷ
Seishun jūhachi kippu
) is a discount rail ticket offered by
Japan
's JR network. When available (three times a year), it is easily the cheapest way to get around Japan, costing only ¥11,850 for five days of unlimited travel.
JR argues that "in general, the Japan Rail Pass offers a much better deal to almost all foreign travelers." However, the two are hardly comparable for a number of reasons. The Japan Rail Pass, which offers unlimited travel on almost all JR trains for a 7, 14, or 21-day period, caters to tourists who are planning to visit various points in Japan, and who want to save as much time as possible along the way. It costs much more than the Seishun 18 Ticket, but allows holders to use express and
Shinkansen
trains that can be many times as fast.
The Seishun 18 Ticket, on the other hand, caters to budget conscious travelers who are willing to sacrifice speed for the ability to get just about anywhere in the country for under ¥5,000. In fact, its name literally means "Youth 18," and its main target audience is college students. However, anyone can purchase the ticket, regardless of age, student status, or nationality.
If you're planning on traveling in
Hokkaido
or Eastern Japan (
Tohoku
,
Kanto
and the eastern Koshin'etsu side of
Chubu
), also consider the very similar
Hokkaido and Higashi-Nihon Pass
(covered below), which fills in a few gaps in the JR network but adds some extra restrictions.
Using the ticket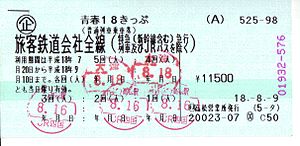 The ticket is actually five one-day passes condensed onto a single piece of ticket stock. When using the ticket for the first time, the passenger presents it at the manned ticket gate, and the employee on hand stamps the ticket, making it valid on every non-express JR train until midnight. After midnight, the ticket becomes invalid unless it is stamped again. The ticket has spaces for five stamps, after which it is invalid.
More than one person can travel on the same ticket: each of the five spaces on the ticket allows one person to ride for one day. For instance, if two passengers were using the ticket, the ticket would be stamped twice; at the end of the day, both passengers could use the ticket for another day and have one stamp space left over, or one of the passengers could use the ticket for three days. Likewise, a group of five could travel for one day on a single ticket: the cost would be only
¥2370 per person
, which, for example, is more than 70% off of a regular one-way fare between Tokyo and Osaka.
The ticket cannot be used on super express, limited express, express or sleeper trains, including any train on the Shinkansen network.
This is the main catch to the ticket, and the main reason why many travellers may prefer to use the Japan Rail Pass. When using the Seishun 18 Ticket, you are restricted to local (普通
futsū
), rapid (快速
kaisoku
) and super/special rapid (新快速
shin-kaisoku
) trains, which are designed for regional trips, not cross-country travel. Traveling from
Tokyo
to
Kyoto
, for instance, takes as little as two and a half hours on the Shinkansen, but takes nine hours on rapid trains. The upshot to this is that you can stop in various towns along the way: taking a full day to travel from Tokyo to Kyoto, you would have enough time to visit
Odawara
,
Nagoya
, and other cities along the Tokaido Line. Using overnight trains can also help dull the effect, and possibly save on lodging expenses (see below).
There are a few exceptions to the above rule, which allow passengers to travel across two areas that have no local rail service:
Shinkansen trains have now replaced regular trains through the Seikan Tunnel to and from Hokkaido, but Seishun 18 Ticket holders cannot use the shinkansen. Thankfully, JR sells an option ticket as an add-on to the Seishun 18 Ticket for ¥2300. This special ticket will allow trips in any available standard class seat on Hokkaido Shinkansen trains between Okutsugaru-Imabetsu (the last bullet train stop in Honshu) and Kikonai (the first such stop on Hokkaido). It will also cover travel on the private Isaribi Line between Kikonai and Goryokaku, where the rest of the local JR network can be accessed. You must be in possession of a valid Seishun 18 Ticket to purchase and use the option ticket.
Travel is permitted in non-reserved seating on Sekisho Line limited express trains between Shintoku (新得) and Shin-Yubari (新夕張), part of the route between Sapporo and Obihiro in Hokkaido.
Travel is permitted on local and rapid trains of the Aoimori Railway in northern Tohoku. Ticket holders can only travel to and from Hachinohe, Noheji and Aomori with no intermediate stops. If you enter or exit the Aoimori Railway at another station, you will have to pay the applicable Aoimori Railway fares. The Ominato Line, which runs from Noheji, is operated by JR and can be used for Seishun 18 journeys. Note that the line from Morioka to Hachinohe, which is operated by IGR/Aoimori, is not covered and requires a regular ticket (¥2960).
Travel is permitted on local and rapid trains of the Ainokaze Toyama Railway between Toyama and Takaoka without getting off, since two JR lines - the Johana and Himi lines - start in Takaoka.
Travel is permitted on local and rapid trains of the IR Ishikawa Railway between Kanazawa and Tsubata without getting off, since the JR Nanao line starts in Tsubata.
Some other express trains in remote areas may also be ridden for the price of a seat reservation. Typically, this is around 250 yen, and would be noted in the timetable books. Ordinary car seat reservations with the Seishun 18 Ticket on local, rapid or special rapid services
can be made
, if the required surcharges are paid (an example is the
Marine Liner
rapid service between
Okayama
and
Takamatsu
. If you choose to sit in the reserved area, it will cost an additional ¥510 each way. Note however, that the Marine Liner has many non-reserved cars, so unless it's crowded and you are desperate for a seat, there is no real need to pay any fees.)
The JR ferry between
Hiroshima
and
Miyajima
is covered by the ticket, but JR buses are not.
Availability
Seishun 18 tickets are effective during Japan's three major school holiday periods, which are generally as follows:
| Effective period | Tickets go on sale |
| --- | --- |
| Spring break (Mar. 1 - Apr. 10) | Feb. 20 - Mar. 31 |
| Summer break (July 20 - Sept. 10) | July 1 - Aug. 31 |
| Winter break (Dec. 10 - Jan. 10) | Dec. 1 - Dec. 31 |
The tickets can be purchased from a JR ticket window (みどりの窓口
midori no madoguchi
). They can also be purchased from discount ticket shops at a small discount (300 to 500 yen).
See also
Other passes
below for a few Seishun 18-like tickets with different sale times.
Usage
Most Japanese people using a Seishun 18 ticket consult a national railway timetable to determine which trains to take and which connections to make. For tourists who can't read Japanese, the best alternative is the
Hyperdia
website, which provides electronic railway, airline, and bus schedules for the entire country in both English and Japanese. (Be sure to uncheck the boxes for Shinkansen, Limited Express, Express, and Liner trains and Private Railway lines before running your search, or else your itinerary will probably include trains that you can't take with the Seishun 18 ticket.) www.jorudan.co.jp has the capacity to limit the search to seishun 18 kippu tickets, but only in Japanese. Google translate works well to translate it.
Daytime use
Tokaido Line
The Tokaido Line is undoubtedly the easiest line to travel with a Seishun 18 ticket, and probably one of the most convenient for tourists because it forms the shortest link between Tokyo and the
Kansai
region. Trains run every 15 minutes or so during the day, making it easy to take breaks en route without running over schedule. It takes about nine hours to get from Tokyo to Kyoto, not including rest or meal stops; this requires about 4-6 transfers along the way depending on when you travel. These transfers will most likely occur in cities such as
Atami
,
Shizuoka
,
Hamamatsu
,
Toyohashi
,
Ogaki
, and
Maibara
. From Maibara, you can go north to the Hokuriku Region or continue west. There are trains that run all the way from Maibara to
Himeji
and Banshu-Ako (
Ako
) on the Sanyo Line. Tokyo to
Nagoya
takes about 6 1/2 hours without stops.
Chuo Main Line
The Chuo Main Line is a Y-shaped line through the Japan Alps, connecting Tokyo and
Nagoya
via
Shiojiri
. Although the Chuo Main Line can be used for travel between Tokyo and Nagoya, the Tokaido Main Line is faster. The corridor between
Kofu
and
Nakatsugawa
are very rural, so train connections are infrequent. Because of this, the Chuo Main Line is only recommended over the Tokaido Main Line for those who plan to stop at locations along the way or those wishing to travel travel further north to
Matsumoto
and
Nagano
which can be reached by transferring to the Shinonoi Line at Shiojiri. Travel from Tokyo to Nagano takes approximately 6 hours.
Tohoku Line
The Tohoku Line follows the Pacific coast north from Tokyo to
Sendai
and
Aomori
is about 7 hours from Tokyo to Sendai, and another 9 hours from there to Aomori. Outside of the Tokyo and Sendai metropolitan areas, services are relatively infrequent, running on an hourly or bihourly basis.
Sanyo Main Line
The Sanyo Main Line is the westward extension of the Tokaido Main Line, connecting the Kansai region to
Hiroshima
,
Okayama
and
Kitakyushu
. It is not quite as convenient as the Tokaido Line, but generally runs at least every half hour (with frequent service around Kobe, Hiroshima and Fukuoka). Shin-Kaisoku Trains can travel from Maibara (on the Tokaido Main Line) all the way to
Himeji
before a transfer is necessary. Osaka to Hiroshima is about 6 hours; Hiroshima to Fukuoka is another 6 hours.
Shikoku
Those wishing to visit
Shikoku
must transfer at
Okayama
to the Marine Liner. The Liner is covered by the pass, as long as you remain in the non-reserved section. The Yosan Line, Yodo Line, and Dosan Line travel in a circle from
Kagawa
to
Ehime
(Yosan),
Ehime
to
Kochi
(Yodo), and
Kochi
through western
Tokushima
and back to
Kagawa
(Dosan). The Uchiko Line in Ehime is the only additional line along the route and provides access to the historic town of
Uchiko
. Most Seishun travelers use this as their "Golden Route" around Shikoku to visit the most famous locations, such as
Takamatsu
,
Matsuyama
,
Uwajima
,
Kochi
, and the
Iya Valley
as a single Shikoku Seishun 18 trip.
Additionally, the Tokushima Line connects Awa-Ikeda Station (
Miyoshi
) to
Tokushima
, the Kotoku Line connects Takamatsu to Tokushima, and the Mugi Line gives access to southern Tokushima Prefecture from Tokushima City. The Kuroshio Railway lines in
Kochi Prefecture
are private railways not covered by the pass.
Hokuriku Line
Since the opening of the Hokuriku Shinkansen in March 2015, the Hokuriku Main Line has been greatly shortened. It now extends from
Maibara
to
Kanazawa
. The rest of the former line (from Kanazawa to
Naoetsu
) is now run by private railways. This has disconnected some JR lines from any connections with a JR station. Deals were reached with the private railways to allow passengers to use the private railways without charges
only
if they get off at stations where a JR transfer can be made (Tsubata Station for the JR Nanao Line,
Takaoka
Station for the Himi Line and Johanna Line, and
Toyama
Station for the Takayama Line). If you get off at any station that does not have a JR connection, you will be charged.
Travelling to Hokkaido
To travel to Hokkaido, you must purchase a ¥2300 option ticket described earlier in this article which will grant you access to the shinkansen for the segment through the Seikan Tunnel.
Be warned that the train schedules in northern Japan, particularly in Hokkaido, are very limited. You'll want to use a timetable like Hyperdia to plan your itinerary. If traveling between Aomori and Sapporo, you can expect the trip to take two days.
Here are some of the basic routes to use from Sapporo down to Hakodate, Aomori and Niigata:
From Sapporo to Hakodate, take the Chitose Line to Tomakomai (1.5 hours), then the Muroran Line to Oshamambe via Higashimuroran (just over 3 hours), then the Hakodate Line to Hakodate (about 4 hours).
From Hakodate to Kikonai, take the private South Hokkaido Railway Isaribi Line, covered by the option ticket (1 hour).
From Kikonai to Okutsugaru-Imabetsu, which is only served by the Shinkansen, the option ticket permits you to take any available standard class seat on the Hayabusa or Hayate Shinkansen service (40 minutes).
From Okutsugaru-Imabetsu, walk a short distance to the nearby Tsugaru-Futamata station and take the JR Tsugaru Line to Aomori (1.5-2 hours; change of trains may be necessary)
From Aomori to Akita, take the Ou Line via Hirosaki, Odate, and Higashinoshiro (1 hour to Hirosaki, 2.5 hours to Akita). You may have an extended layover at Hirosaki depending on your schedule.
Overnight trains
Because of the great amount of time required to travel on rapid service trains, many Seishun 18 holders utilize JR's handful of overnight rapid trains. These are not proper sleeper trains: you will get something comparable to an economy class airplane seat (although with a bit more legroom), without the benefit of jet engine noise to muffle the conversations around you.
Moonlight Nagara
The
Moonlight Nagara
operates during periods when the Seishun 18 season is in effect, and around major holidays. It runs between Tokyo,
Shinagawa
and
Ogaki
, a city in
Gifu Prefecture
between Nagoya and Kyoto. Westbound, the train departs Tokyo at 23:10 (11:10 PM) and arrives at Ogaki at 5:51 the next day. The eastbound departure leaves Ogaki at 22:49 (10:49 PM) and gets to Tokyo at 5:05 the next day.
If traveling west from Tokyo, it is possible to reach
Kyoto
as early as 7:30 and
Osaka
as early as 8:00, but connections between trains at both
Ogaki
and
Maibara
are pretty tight. It is possible to continue all the way to
Kyushu
by the end of the day, although more relaxed travelers may prefer to stop at other major cities such as Kyoto, Osaka,
Okayama
, or
Hiroshima
.
Note that all seats on the
Moonlight Nagara
are reserved. You will have to purchase a reserved ticket for ¥520 in advance, even with a Seishun 18 Ticket.
Moonlight Echigo
The
Moonlight Echigo
was a seasonal service between Tokyo (
Shinjuku
) and
Niigata
, near the northern coast of Japan. Although it has not officially been discontinued, the
Moonlight Echigo
has not operated since 2014.
Other passes
Other rail passes modeled on the Seishun 18 are available, offering unlimited travel of local trains, but usually in a much smaller area. Three of them, however, are noteworthy for long-distance travel.
Hokkaido and East Japan Pass
The
Hokkaido and East Japan Pass
(北海道&東日本パス
Hokkaido & Higashi-Nihon Pasu
) is a regional version of the Seishun 18 Ticket, priced quite a bit cheaper at ¥10,850 (children ¥5,420) for seven consecutive days. The pass allows travel on all JR East and JR Hokkaido local and rapid commuter services, plus the IGR Iwate/Aoimori Railways between
Morioka
and
Aomori
and the Hokuetsu Express between
Echigo-Yuzawa
and
Naoetsu
. This ticket also permits trips on Hokkaido Shinkansen trains between Aomori and
Hakodate
, but standing room only in ordinary cars.
Note that the pass covers
consecutive days
and can only be used by one person as opposed to the Seishun 18, which can be used on any five days and can be shared between more travelers. The validity period of the Hokkaido and East Japan Pass also differs slightly.
Aki no Norihōdai Pasu
The
Aki no Norihōdai Pasu
(秋の乗り放題パス), the "Autumn All-You-Can-Ride Pass", can be used in precisely the same way on precisely the same lines as the Seishun 18. However, it's available only once a year for
a two-week period in early October
(exact dates vary yearly), and tickets go on sale in mid-September. The cost is ¥7,710 for three days, making it slightly cheaper per day than the Seishun 18, but unlike the Seishun 18, a half-priced version for kids is available. The main catch is that
it must be used on consecutive days and cannot be split up between people
.
The ticket is sold every year to commemorate Railroad Day (鉄道の日
Tetsudō-no-hi
), which is celebrated on October 14.
Tetsudō-no-hi Kinen Nishi-Nihon Ichinichi Norihōdai Kippu
The
Tetsudō-no-hi Kinen Nishi-Nihon Ichinichi Norihōdai Kippu
(鉄道の日記念・西日本一日乗り放題きっぷ), a mouthful that translates as "Railway Day Memorial - West Japan One Day All-You-Can-Ride Pass", allows unlimited travel for one day on the JR West network only: roughly speaking, this means the entire western half of Honshu including Kyoto, Osaka and Hiroshima. The cost is ¥3000 (Children ¥1500), and like the
Aki no Norihōdai Pasu
it's only available for a two-week period in October, but you can buy as many as you like during those two weeks.