Sekigahara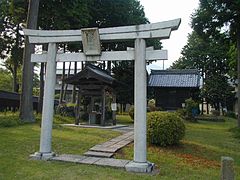 Sekigahara
() is a rural town at the western edge of
Gifu prefecture
in the
Chubu
region of
Japan
.
Understand
Sekigahara was the site of the epic
Battle of Sekigahara
(関ヶ原合戦
Sekigahara gassen
) between Tokugawa Ieyasu and Ishida Mitsunari, representing Toyotomi Hideyoshi's son and designated successor Toyotomi Hideyori. Ieyasu's victory on September 15, 1600 heralded the beginning of the Edo Era, with the feudal Tokugawa shogunate unifying all Japan in its iron grip and Japan's capital shifted to what is now known as
Tokyo
. Consequently, the town is filled with ruins, memorials and shrines to the dead, even down to place names like Kurochigawa (黒血川, "Black Blood River"), where the Tokugawa armies washed the cut-off heads of those fallen in battle.
Today's Sekigahara is a rural town with a population of less than 9000.
Literature
James Clavell's
Shogun
() is a fictionalized account of Tokugawa Ieyasu's rise to fame (thinly disguised as "Toranaga"), culminating the Battle of Sekigahara and the gruesome — but historically accurate — death of Ishida ("Ishido"), who is captured as he runs away from the field of battle and is executed by having his head slowly cut off by a wooden saw.
The classic samurai novel
Musashi
by Eiji Yoshikawa (), about the real exploits of the eponymous famous swordsman, starts with him fighting on the losing side at the Battle of Sekigahara in 1600.
Get in
By train
The JR Tokaido Main Line passes through Sekigahara on its way from
Osaka
to
Nagoya
.
The closest Shinkansen train station is in
Maibara
. One of two hourly
Hikari
services from Tokyo stop here, and you can transfer to the Tokaido Line local for the run to Sekigahara (3 hours, ¥12070, no charge with Japan Rail Pass).
Get around

While Sekigahara's museums and a few sites can be visited on foot from the station, getting out to the main battlefield will require your own wheels. Bicycles can be rented near the station.

See
Fireflies
Fireflies (蛍
hotaru
) can be spotted throughout the Japanese countryside in summer. Small insects less than a centimeter long, with light organs located near their rear, they are generally unafraid of humans and can easily be 'captured', after which they will obligingly walk about on your hand for a while before flying off. Both the male and female firefly glow, but the male has two light organs and is consequently clearly brighter, while the female has only one. According to folk tradition, fireflies represent the souls of the dead, but are generally viewed in a positive light as they are thought to have the power to ward off evil.
Battle of Sekigahara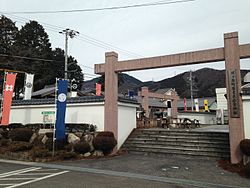 While a site of major significance to the Japanese that draws a steady stream of history buffs and school groups, foreign visitors are rare and information in English is generally minimal. A solid grasp of Japanese and/or a local guide will come in handy here.
Folk History Museum (歴史民俗資料館 Rekishi minzoku shiryōkan). Despite the rather misleading name, this museum concentrates mostly on the famous battle, charting the course of events with informative maps and interactive exhibits. Little information in English though. Admission ¥310, 5 minutes on foot from the train station.
Field Camp Ground (床几場 Shōgijō). Just across the road from the museum, this is the spot where Tokugawa Ieyasu held a council meeting after the end of the battle and was presented with the decapitated heads of the enemy's leaders. A small shrine marks the spot.
Memorial posts (陣跡 kosen) have been set up at most major battle sites, but are only in Japanese.
Other
One of Sekigahara's few non-martial attractions is the profusion of
fireflies
in the area.
Lake Mishima (Mishima-ike). Home to a particularly famous firefly spot housing hundreds if not thousands on a good day. A Firefly Festival is held here in the early summer.
Buy

Fans of shogi (Japanese chess), can buy chessboards set up like the Sekigahara battlefield from souvenir shops around town (¥800).

Go next