Selangor
Selangor
is a state in the
west coast
of
Malaysia
.
Cities and towns
Cities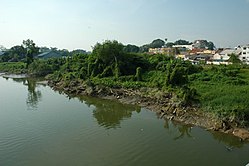 — Malaysia's first planned city as well as the main industrial and commercial hub of the state
— state capital known for its giant blue mosque
— an affluent major suburban city between Petaling Jaya and Shah Alam (also home to Subang Airport).
Towns
— once the capital and still the royal seat, now best known for bak kut teh or pork rib soup and other delicacies.
— a town famous for satay
— the usual connection point for Fraser's Hill, a quiet hill resort on the border of Selangor and Pahang
— a small town that is famous for its FireFlies sightings at their natural habitat and seafood restaurants as well.
— port with ferry connections to and from Sumatra and to the small surrounding islands at Klang (eg: Pulau Ketam, Pulau Besar)
— a major town next to Subang Jaya and Bandar Sunway
— a charming small but bustling town
— home of Kuala Lumpur's international airports and Formula 1 race circuit
—
Other destinations
Understand
Selangor is the wealthiest, most urbanized and, with 4.1 million people, the most populous of Malaysia's states. It is centred around the urban sprawl of the Klang Valley, surrounding but not including the capital
Kuala Lumpur
and the federal administrative capital
Putrajaya
.
Talk

Malay is the national language of Malaysia, but the use of English is widespread. Most locals are bilingual in Malay and English, and many understand other languages such as Tamil, Mandarin and Cantonese thanks to Selangor's racial diversity.

Get in
The new Terminal Bersepadu Selatan, (TBS-BTS) or Integrated Bus Terminal at Bandar Tasik Selatan serves all southbound buses, taking over from Pudu Raya in Kuala Lumpur. The terminal is located next to the Express Rail Link (ERL) KLIA Transit Station, the Stesen Komuter KTM Bandar Tasik Selatan and the Bandar Tasik Selatan LRT Station (Star LRT). There are also Rapid city buses and a taxi rank. The cheapest way to get into the city is to use the Komuter train.

Stay safe

Selangor is a reasonably safe state. However, several cases of snatch thefts have been reported in urban areas, some including deaths, so be careful with your belongings. Make sure to put handbags away from open car windows and where motorbikes can easily snatch your handbags on roadsides, and try to have at least one companion to accompany you around, even if you are a man, as criminal cases have been on increase of late.

Go next