Seligman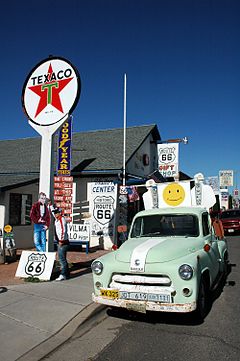 Seligman
is a town in the state of
Arizona
. The city is located on the old
Route 66
and is home to the greatest concentration of Route 66 kitsch in Arizona if not the country, which makes it a frequent pit stop for travelers passing through on their way to more exotic destinations.
Get in
Get around
Seligman's a one-street town if there ever was one. The names Chino Street, Main Street, and Historic Route 66 are used interchangeably.

See
Delgadillos Historic Route 66 Visitor Center

phone: +1 928 422-3352

address: 217 East Route 66

Formerly Angel's Barbershop, this gift shop has Route 66 memorabilia spilling out all sides and the owner, Angel Delgadillo, was instrumental in preserving this last stretch of the Route. The shop also has information on a 20-minute walking tour of Seligman.
Buy
phone: +1 928-422-4790

address: 22325 West Historic Route 66

This store is housed in an old gas station and sports lots of antiques. A unique store with a good selection of Route 66 stuff including apparel, hats, patches, car stuff, license plates, signs, jackets and more.

phone: +1 928-853-0051

address: 22405 Historic Route 66

Souvenir shop and museum in the oldest commercial building in Seligman. Built in 1904, this store has many of the original vintage artefacts including an original soda fountain from the 1930s. Freshly brewed gourmet coffee, espresso, cappuccinos, lattés, iced coffees, old-fashioned malts and milk shakes. Free travel information and handouts available.
Eat
A&W Restaurant

phone: +1 928 422-3624

address: 527 W Chino Ave

Copper Cart Restaurant

phone: +1 928 422-4886

address: 22385 W Old Hwy 66

Serves Mexican food.

Delgadillos Snow Cap

phone: +1 928 422-3291

address: 301 E Chino Ave

Run by John Delgadillo, the son of Angel's brother Juan.

Ok Saloon & Route 66 Roadkill

phone: +1 928 422-3554

address: 502 W Highway 66

Route 66 themed restaurant.

Westside Lilo's Cafe

phone: +1 928 422-5456

address: 415 W Chino Ave
Drink
Black Cat Bar

phone: +1 928 422-3451

address: 114 W Chino Ave
Sleep
Seligman has a slew of more or less identical motels, many with period signage advertising snazzy features like "a phone in every room". Rooms from $30.
Aztec Motel & Giftshop

phone: +1 928 422-3055

address: 312 E. Highway 66

pets welcome

Canyon Lodge

phone: +1 928 422-3255

address: 114 E Chino St

Deluxe Inn

phone: +1 928 422-3244

address: 203 E Chino Ave

Historic Route 66 Motel

phone: +1 928 422-320

address: 500 W Chino Highway 66

Romney Motel

phone: +1 928 422-4673

address: 122 W Chino Ave

phone: +1 928 422-3470

address: 639 E Highway 66

Supai Motel

phone: +1 928 422-4153

address: 134 W Chino Ave
Go next