Selkirk
Selkirk
is a small market town in the
Scottish Borders
. Its main trade of textiles has gone, and it's now morphing into a commuter town for Edinburgh, linked by the re-opened railway through nearby Galashiels. The main reason to visit is to explore the hills of Ettrick Forest.
The
Selkirk Grace
("Some hae meat - " etc) originated in Galloway, and only acquired its name when the poet Robert Burns recited it before a dinner there given by the Earl of Selkirk.
Get in
First Borders Bus X95
runs hourly, daily from
Edinburgh
along A7 via Galashiels to Selkirk, taking 1 hour 40 mins. It's quicker to take the train from Edinburgh to Galashiels then change to the X95, which runs every 30 mins between Galashiels, Selkirk and Hawick. This bus continues south along A7 via Hawick to
Carlisle
, another 1 hr 40: hourly M-Sat but only every 3 hours Sunday.
Get around

You need a car if you want to explore the hills.

See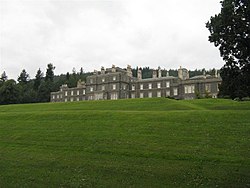 address: Halliwell's Close, Market Place TD7 4BL

Small museum of local history.
The ruined Auld Kirk in town centre dates to 1748. Nothing remains of Selkirk Abbey, whose monks decamped to Kelso in the 12th C.
stands outside the house where Park (1771-1806) was an apprentice surgeon, before studying medicine and natural history at Edinburgh. In 1796 he was the first European to reach the River Niger, which flows east, away from the Atlantic - to where? Into the Nile or Congo? In 1805 he began a second expedition to follow its course, but this was beset by bad weather, fatal infections, and hostilities with local rulers. He sought to avoid contact while rafting downriver but shot indiscriminately at all who approached. Below Yauri his raft became stuck on a rock in the narrows of Bussa Rapids, with locals raining spears and arrows from the banks. Park and his men tried to swim for it but were drowned. Not until 1830 did others sail down to the coast, to find that swamps in what is now Nigeria were concealing the outflow of a mighty river.
Also in town centre note the Courtroom where Sir Walter Scott dispensed justice, and the plaque to the Hungarian statesman Lajos Kossuth, who toured Scotland in 1856.
Alexander Selkirk (1676-1721) the model for
Robinson Crusoe
has no connection with Selkirk town. He was born in Fife and followed a piratical career much more colourful than Defoe's tedious castaway hero.
address: Selkirk TD7 5ET

House built from 1708 with large collection of artworks by old masters and country estate with gardens. The House can only be seen by guided tour June weekends, August and a few other dates. The grounds (£5.50) are open F-Su April-June & Sept, daily in August.
Do
Watch Rugby Union at Selkirk RFC, who play in Scottish National League Division One, the second tier of Scottish rugby. Their home ground is by the riverside, south edge of town. The Selkirk Sevens tournament is played here, with the next on 9 May 2020.
Hike in the surrounding hills and lonely forests of Ettrick. Walk Highlands suggest over a dozen trails, including the Southern Upland Way.
Selkirk Common Riding is the ancient custom of "beating the bounds". It's traditionally held in mid-June: the next is expected to be 8-12 June 2020 but tbc.
Buy
Co-op Food is open daily 07:00-22:00.
Eat
In town centre are Taste of Spice, Happy Gathering, The Fleece and Ozkan's Grill. Tony's Tower does fish & chips takeaways.
A local speciality is Selkirk Bannock, a round bread made with a lot of raisins.
Drink
The town pub is O'Malley's Sports Bar; or try the hotels.
Sleep
Glen Hotel on Yarrow Terrace and County Hotel on High St are mid-price options in town centre.

phone: +44 1750 720747

address: Linglie Rd TD7 4LS

Immaculate upscale hotel, gets rave reviews for comfort and service.
Connect
Decent mobile signal in town, patchy out in the wilds of Ettrick Forest.

Go next