Semporna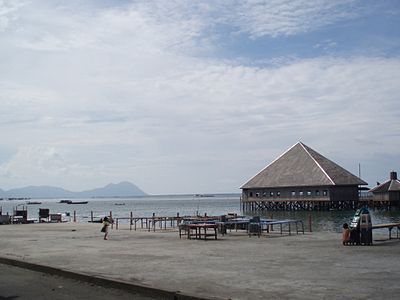 Semporna
is a city on east coast of
Sabah
. It has a population of around 135,000. While there is not much to see and do in Semporna itself, it is frequently used as a gateway for diving and snorkeling trips to the nearby islands of
Sipadan
,
Mabul
,
Kapalai
,
Mataking
,
Maiga
and others.
Get in
By plane
Most travellers take a flight to
Tawau
from either
Kuala Lumpur
(
KUL
) or Kota Kinabalu (BKI), then travel overland by taxi (RM 95 for Tawau airport to Semporna trip). It's also possible to arrange a shuttle service with tour/diving operators operating in Semporna.

By bus
From Kota Kinabalu: Direct from Inanam station to Semporna (or Tawau), 8-10 hrs, 75 MYR one-way. Departs 7:30AM & 7:30PM. To get to Inanam station you can take the public bus from the long distance bus station in KK city on Jalan Padang (Bus #3 to "Terminal" or "Inanam", purple bus stop, 20 min, 1.50 MYR) to the Inanam bus station, or a taxi (~20 MYR). Call 088-384701 or 088-384702 to book tickets for the Dyana Bus to Semporna. Note that in high season (Jun-Aug) these buses fill up fast so book at least a day in advance.
From Sandakan: there are two direct buses to Semporna run by Dyana Bus at 7:30AM and 2PM (5-6 hrs, 40 MYR). If you miss the direct bus, you can also try taking a bus to Lahad Datu (at least 1PM, 18RM), and from there take a minibus to Semporna (leaves when it's full, 24RM).
From Sepilok: Take a taxi to Sandakan and take a bus from there, or hail down the bus at Sepilok junction (works if there are seats available on the bus). A taxi can be booked through your accommodation in Sepilok for ~30 MYR pp (shared) and takes 1 hour.
From Kinabatangan River: Let your tour agent drop you off at a bus station (or a bus stand) on the main road to Semporna. There your tour guide might also help you find a bus to Semporna: either the one heading straight to Semporna (a bus passing by that left from Sandakan early in the morning) or, when you missed that bus or when it is full, a minibus to Lahad Datu. From Lahad Datu you can catch another minibus to Semporna. Costs for the minibusses are about RM 20,- to Lahad Datu and RM 29,- from Lahad Datu to Semporna.

Get around
Because of its small size, Semporna town is easily explored on foot. However, there are also commercial passengers' vans and "kereta sapu (prebet)" for getting around. Usually the fare is RM1 to RM3 to where ever within the city, but the "prebet" will charge tourists with higher prices (about RM5 - RM10), make sure you make a deal with the driver before take a ride.
One may also attempt to get around the town and to surrounding villages/beach resorts using private taxis (commonly referred to as "prebet" or "kereta sapu"). These taxis are usually not color-coded, and the drivers usually drive around the town honking their taxis to attract passengers or converge around points of interest such as the supermarkets. This mode of transportation is favored by the less economically-able locals and the taxis usually charge between RM1 to RM3 to go anywhere and may charge more for tourists. Since these taxis are not licensed for commercial purposes (hence lacking business insurance), travelers are advised to avoid using these taxis at all cost. One will also notice that this kind of taxi usually wait until they have sufficient number of passengers (4 to 6 people) before heading to the passengers' destination.
Commercial passengers' vans are also available for travels to nearby villages and to
Tawau
. These vans are usually color-coded in yellow and can transport 8 to 12 passengers. These vans are usually available near the KFC fast food outlet and around supermarkets. Charges vary and one should establish an agreed price with the driver before boarding these vans. These vans also travel to
Tawau
daily and is usually available as early as 5:30AM.
See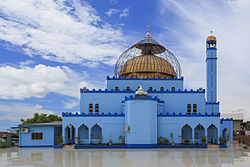 The Bajau ethnic houses on stilts by the jetty and around the town's mosque.
Do
Diving/Snorkeling
The nearby island of
Sipadan
offers some of the world's best scuba diving opportunities with large pelagics including sharks, rays and sea turtles. Many visitors to Semporna join a scuba diving trip to
Sipadan
. As of October 2011, a 3-dive day at
Sipadan
is 560-600MYR including equipment rental and marine park fee. Snorkelers to
Sipadan
pay about 440-580MYR all fees included. The boat ride from Semporna to Sipadan takes about 45 minutes.
Other nearby islands include
Mabul
and
Kapalai
, which are also popular destinations for both scuba divers and snorkelers. Day trips to both of these, as well as other islands nearby, are available from most of the half dozen or so dive operators in Semporna.
Dive operators:
phone: +60 128150909

phone: +60 89785372

Biggest dive operation in Semporna, very friendly and professional, internationally experienced dive masters.

phone: +60 198430550

phone: +60 89919148, +60 89784788

Only operator with fully functional online booking system to secure a diving permit for Sipadan. Very Professional and Great Service.

phone: +60 88 251 667

Great experience and good service.

Big John Scuba

phone: +60 12-838-5285, +60 89-785399 (Office)

PADI courses. Malay, English, Chinese & German spoken.

Borneo Global Sipadan Backpackers & Dive Centre

phone: +60 89 785088

address: Ground Floor, Bangunan SeaFest, Jalan Causeway

A dive center.
Festivals
Unlike the Land Bajaus and Kadazan usually found in northern Sabah coastal areas, the Sea Bajaus which dominate Semporna celebrate
Regatta Lepa-Lepa
annually during the entire month of April. Being the focal point of Semporna's identity, the festival is of extreme importance to the locals and the State Government, in which the State's Head of State is always invited to grace the event. Regatta Lepa-Lepa is similar to dragon boat race in which different villages around Semporna will commission their own boats and decorate their boats for parade near the jetties. The culmination of this event is the
Ratu Lepa pageant event
.
Buy
Moon stones and pearls are sold, often on the jetty by the Dragon Inn hotel. Bargain hard to get a good price. Moon stone pendants (without necklace) should go for about RM 4-5.

Eat
Budget
It's easy to find stalls selling local delicacies, like the following:
Nasi kuning (yellow rice), sold in the morning by the street — traditional breakfast for sabahan. It consist of rice, fish cook with chilli and vegetables.
Mee soup (bakso), sold by indonesian immigrant. RM1 for each bowl. Good if you are in tight budget.
Pisang goreng (fried banana), 10-20 cents each, sold by the street (same street with bakso and grilled chicken).
Ayam panggang (roasted chicken), can be found near to mee soup stall. both sold only during night.
Putu (local traditional carb) 50 cents for a portion.
Grilled tuna fish (RM2-RM3 per fish).
Latok (fresh seaweed) 50 cents for a portion.
Mid-range
Chinese restaurants
can be found easily in every block.
Seaside Seafood RestaurantEasily found because it is situated among the dive shop.

Ocean Treasure Live Seafood Restaurant

phone: +60 16 323 9009

This restaurant offers a wide varieties of live seafood and other Chinese cuisine at a fairly reasonable price. Being one of the only live seafood restaurant to offer a superb seaview just right outside its premise, this restaurant promises an unforgettable al fresco dining experience for everyone.

Arthur's BarNot on the cheap side, but well worth it. Fresh grilled seafood, choose from the stall in front of the bar and they'll bring it inside. As well as fish, squid and king prawns, they have rice, fried potatoes and garlic bread, the last being specially recommended.
Drink

The restaurant at the beginning of the causeway serves big mugs of fresh fruit juices (mango, honeydew, lychee and others) for RM 5.

Sleep
Budget
Scuba Junkie Backpackers. Across from the Scuba Junkie dive shop. Diver discount: 20 MYR/night for dorm bed. 40 MYR for non-divers.
Dragon Inn. 20 MYR/night for a dorm bed. Between 18 and 22 beds/dorm. Nice setting over the water and near the dive shops, but beds aren't particularly clean (as in bugs & blood stains). No security boxes/lockers, but staff can keep your travel documents in the hotel's safe.
Damai Traveller Lodge. Opposite the mosque and with the back to the main market this is a good budget option. Basic rooms with ensuite bathroom at a very competitive price. 50 MYR/night (plus 3 local tax) for a double room (25 MYR/night/person).
Borneo Global Sipadan Backpacker. Slightly hard to find down the road to the pier (and the Dragon Inn stilt houses) then right towards SeaFest. +60 89-785 088, borneotourstravel.com

Billabong Scuba OfficeLimited space, 15 MYR for dorm bed in a 3 beds aircon room with no windows. Rundown shared toilet outside the room.
Mid-range
Seafront
Holiday Dive InnA nice clean hotel. The hotel is attached to the PADI 5-star IDC dive centre Sipadan Scuba.

Hotel SeafestA 3-star hotel.

Sipadan Inn

phone: +60 89 782766, +60 89 781766

address: Block D, Lot No. 19-24, Semporna Seafront Township

Clean and comfortable new hotel (as of July 2007). There are two computers with internet access in the lobby for free use by guests.
City center
Lee's ResthouseA decent quality hotel. A/C, TV, hot shower. No security boxes.

Singamata Reef Lodge Adventures

phone: +60 198430550

address: Seafest Complex , Castem Rd
Go next