Senja
Senja
is the second largest island in
Norway
. The island is situated in Northern Norway, between the City of
Tromsø
and the town of
Harstad
.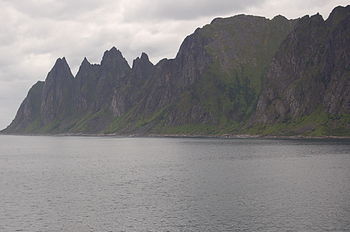 Regions
The island is divided into four municipalities. The eastern, central and northern parts belong to
Lenvik
, which also encompasses large tracts of the mainland. On the western side, facing the Atlantic, you find the municipalities of
Berg
and
Torsken
, and
Tranøy
municipality is situated along the southern coast of the island.
Towns and villages
The town of Finnsnes is on the mainland. From here the Gisund bridge leads over to Senja. The hamlet on the Senja side is called Silsand. Gibostad is a picturesque village further north along the straights of Gisundet, and Vangsvik is south along the same waterway.
The more picturesque villages, though, are found on the western side. Husøy (House island) is flat island surrounded by dramatic mountains. Mefjordvær has a pictureque lighthouse and some old buildings, again with fabulous landscapes around. Gryllefjord is the biggest village on the west side, with a more modern feel. Torsken is an ancient centre with an 18th c. church.

Other destinations
Ånderdalen National Park is a relatively small national park on the southern side of Senja. However, the variations are huge.

Talk
Senja has its own particular accent of Northern Norwegian, that is particularly pronounced on the west coast. Texas-style rounded r's and high intensity are characteristic traits. Until recently, Sami dialects reminiscent of the one in Northern
Sweden
were spoken in inland hamlets, but Sami is today a dying language on the island.
Get in
Finnsnes is easy to reach by plane (
Bardufoss
airport) from Oslo. Several catamarans depart for Harstad and Tromsø daily. There is also a catamaran connection nine times a week to Lysnes (Northern Senja) with onward bus connections from Tromsø. From Skrolsvik on the southern tip of Senja, there is a catamaran connection to Harstad.
In summer, convenient car ferries go from Brensholmen near Tromsø to Botnhamn in northern Senja. From Gryllefjord there is a car ferry to
Andenes
at the northern tip of
Vesterålen
.
Get around
Basically, there are good bus connections from Finnsnes out to most of the western villages. However, getting between the villages on the western side are difficult by public transportation. Good planning is essential.
If you have your own car, there are reasonably good roads all over the island. Be aware of the tunnels between Senjahopen and Skaland on the west coast. Curiously enough, they don't seem to appear on maps, but provide a fantastically scenic and convenient road on the west side.

See
Basically, the reason to go to Senja is to see the
rugged coastline on the Western side
. Largely overseen by most tourists, tourist brochures and tour operators, this is one of the most dramatic parts of Norway, and easily competes with the neighbouring
Lofoten
. Be warned that the road on the Western coast is both very narrow and windy, and can be challenging for larger vehicles. Make sure to stop at some of the villages and beauty spots, like Husøy, Mefjordvær, Bøvær and Torsken. The inside of Senja is comparatively less dramatic, with forests, lakes and rounded mountains. The Ånderdalen National Park is a relatively small national park, but with varied coastal and inland scenery, including a pine forest.
Sights in the traditional sense play second fiddle on Senja, but the following attractions add spice to a Senja visit:
Senjatrollet in Berg is a theme park with Norwegian fairy tales and a solid dose of northern humour. A must for families, and you can scare your kids to bed with trolls for a long time afterwards.
Torsken Church in Torsken (near Gryllefjord) is an 18th c. wooden church.
Kaperdalen Sami Museum in Kaperdalen (midway between Finnsnes and Sifjord on the west coast) is a restored Sami farm built of turf huts.
Tranøy Church on the small island of Tranøy off the south coast of Senja is another 18th c. wooden church.
Itineraries
Whatever you do, drive along the rugged west side. Drive to Botnhamn, either from Finnsnes or by ferry from Brensholmen near Tromsø. Then continue along the west coast, making detours to Husøy, Mefjordvær and Bøvær, down to Gryllefjord and Torsken. Then either cross back to Finnsnes or take the ferry across to Andenes.
Eat
Fresh fish is all the rage, cod in the winter, coalfish in the summer. Try out
skreimølja
in the wintertime, fish, roe and liver cooked together. In summer, there is
seimølja
, same thing, but with coalfish (saithe).
Feskekake
, fish burgers, are slightly less rustic.
Skarvesteinen Kafé at Husøy offers a bit of everything, with a fantastic view towards Øyfjord. Try their Kvæfjordkake, a dream of a rum cream and merengue cake.
Drink
Moonshine? A few local pubs are found in the villages.

Stay safe
Senja is the kind of place where one forgets to lock the door. The major threat to the visitor is the visitor himself. Raging storms, rocky terrain and low population density call for caution when venturing into the elements. That said, there are plenty of beauty spots that can be reached even by inexperienced nature lovers. It's all about informing oneself before heading out.
A number of low key deep sea fishing resorts is found along the west coast. If you're out fishing, make sure to take weather forecasts and safety instructions seriously.

Go next