Senneterre
Senneterre
(population 2950, as of 2011) is a small forestry town in
Quebec
's
Abitibi-Témiscamingue
region.
Understand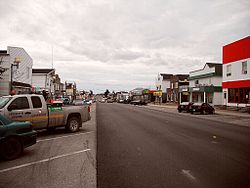 Established on the Bell River in 1919, Senneterre is 60 km (37 mi) northeast of
Val-d'Or
. It is the third-largest incorporated municipality in Québec (by area), covering 14,887 km², which means that it is larger than Montenegro. Most of that space is covered by forest. There are cycling and snowmobile trails; hunting and fishing outfitters use the town as a point of departure.
The town centre is at the intersection of the Canadian National Railway and Quebec Route 113. This town centre is mainly surrounded by Parent Lake and Tiblemont Lake.
The economy of this city is mainly based on wood exploitation.
phone: +1 819-737-2694

address: 549, Avenue 10e
History
While the site first served as a trading post, colonization began in 1904 when the first permanent settlers arrived. It was first identified as Rivière-Nottaway, then Rivière-Bell. Over the next 10 years, there were only a few residents who were joined by people fleeing conscription. Between 1911 and 1913 when the National Transcontinental Railway was being constructed, the area was surveyed and the geographic township of Senneterre was formed, named in honour of a captain of the Languedoc Regiment that fought in the Battle of Sainte-Foy.
The completion of the railway accelerated the development of the place. In 1914, the Parish of Saint-Paul-de-Senneterre was founded. It developed into a center for forestry, commerce and tourism.
In 1948, it shortened its name to Senneterre. In 1953, CFS Senneterre opened, home to the No. 34 Aircraft Control & Warning Squadron and part of the Pinetree Line chain of radar stations. After the closure of CFS Val-d'Or in 1976, the base also served as the search and rescue centre for north-western Quebec. In 1988, CFS Senneterre was closed.
Get in
Quebec Route 113 leads from
Chibougamau
through Senneterre to Route 117 just east of Val-d'Or.
Via Rail
runs a train from
Montréal
to Senneterre. Senneterre station is the final stop on the Montreal–Seneterre route. The train leaves Montreal Central Station toward Senneterre every Monday, Wednesday and Friday, and returns to Montreal on Tuesday, Thursday and Sunday
See
Senneterre's history by rail

phone: +1 819 737-2296 (ext 233)

Five trips per summer from May to September. The trip runs from Senneterre Station to Press Station, where passengers will be invited to attend a 1913 reconstruction of the railway junction. The excursion will continue to the Lac Faillon Outfitter for a brunch. Reserve by phone or by email.
Do
phone: +1 819-737-2296

address: 73, rue des Érables

Indoor municipal pool and theatre/cultural centre (salle de spectacles).

phone: +1 819-737-8949

address: 160 chemin du 9e Rang

Club de ski de fond Senneterre

phone: +1 819-355-9298

Cross-country ski centre (six trails range from beginner to expert), showshoe trail, heated chalet, forests and splendid mountaintop view. Equipment rentals.

phone: +1 819-737-2694

Kayak on the Bell River; rentals ($18-25/hr) require credit card and identification.

Plage du Lac ParentBeach.

Festival ForestierAnnual, late June. Lumberjack competition.

Grandmaison Falls walking trailThe trail winds for nearly 1 km along the Bell River while giving magnificent views of the fast Grandmaison Falls, named in honor of the Grandmaison family. These were the first owners of the land leading to the rapid in 1923. The trail offers picnic tables, toilets, and benches. Interpretation posters of the flora will be of interest to the lovers of the nature.
Buy
There are shops along the main street, Avenue 10e.

Eat
phone: +1 819-737-2389

address: 282, 4ième rue ouest

Varied menu including pizza, pasta, crepes, chicken, poutine....

phone: +1 819 737-3066

address: 630, 10e Avenue

Poutine, smoked meat.

l'Arrêt 113

phone: +1 819-737-8868

address: 110, route 113 S

Snack bar on main highway.
Drink
phone: +1 819-737-2940

address: 682 10e avenue

Bar with disk jockey.

phone: +1 819-737-2980

address: 231, 3ème rue ouest

Bowling alley, café, bar, live entertainment venue.
Sleep
phone: +1 819-737-2331

address: 550 10ième avenue

Smoke-free, refrigerator, microwave, flatscreen TV, kids' play area.

phone: +1 819-737-2225

address: 591 6e Ave Ouest

12 rooms, refrigerators, TV, telephone.

phone: +1 819-737-2327

address: 840, 7e Ave

Wi-fi, fridge, microwave, some rooms have A/C. Established 1955, renovated 1998.
Camp
phone: +1 819-736-3636

address: Obaska (48° 12.898' N, 77° 20.997' W)

Outfitter, fishing/hunting, snowmobiling.

phone: +1 819-737-4226

address: 90 rue Martin
Go next