Sept-Îles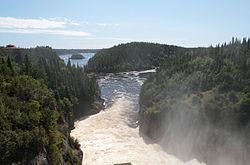 Sept-Îles
(French for "Seven Islands") is a city in the
North Shore
of
Quebec
,
Canada
. It is the northernmost town in Quebec with any significant population. It is among the northernmost locales with a paved connection to the rest of Quebec's road network. The population is 25,686 according to the 2011 census, with an added population of around 3,000 First Nations (Aboriginal) people living in the Uashat mak Mani-Utenam Indian Reserve located in the city.
The only settlements on the road network that are farther north are
Fermont
,
Radisson
and
Chisasibi
, the latter two in the extreme western portion of the province at the north end of the James Bay Road. The remaining settlements at higher latitudes in the province are mostly isolated Cree, Innu, or Inuit villages, with access limited to seasonal gravel roads.
Understand

Sept-Îles is by no means a big, cultural or historical city; it is, however, quite a paradise for nature lovers. Surrounding areas include a lot of forests, many sandy beaches, lakes and world-renowned rivers (notably for salmon fishing).

Get in
By car
To get to Sept-Îles, one of the only options is to come by car. It is about 638 km from Quebec City, and 926 km from Montreal. The trip should take you 7-8 hours and 10-11 hours, respectively. The nearest town is Baie-Comeau, 232 km to the south-west (pop. 25,000), but there are some villages along the way.
The main road through the region is Route 138, which follows the north shore from Montréal through Tadoussac and Sept-Îles to Kegashka, a tiny village just beyond Natashquan. Beyond this point, there is no road at all for 450km (the few villages are served by outport ferry from Sept-Îles). Route 138 briefly reappears at Vieux-Fort and crosses from
Blanc-Sablon
into
Labrador
.
By plane
Sept-Îles AirportDomestic planes leave from Quebec and Montreal, but they are very expensive (usually around $800; a return Montreal-Paris flight costs around the same).
By boat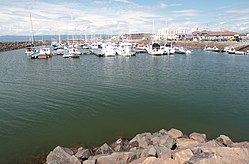 Relais Nordik
operates a coastal ferry from
Rimouski
, Sept-Îles and
Havre-Saint-Pierre
to
Anticosti
island and the various coastal villages to the east which are not served by roads, bringing supplies. Space for vehicles and passengers on the M/V Bella Desgagnés must be reserved far in advance, especially in high season. The ship runs weekly, originating in Rimouski on Monday and returning from Blanc-Sablon on Friday with a one- or two-hour stop in each village eastward to unload cargo.
By bus
Intercar. One bus a day leaves Montreal at around 6:00 am and reaches Sept-Îles at around 8:00 pm. You can also board the bus at Québec City and at many other towns and villages along Route 138.
By train
A train runs north on the Quebec North Shore & Labrador (QNS&L) line from Sept-Îles through Emeril,
Labrador
to
Schefferville
, an otherwise-inaccessible mining community in northern Québec. This line is owned by three First Nations (Aboriginal) groups. "Tshiuetin" means "north wind" in the Naskapi language. This line does not connect to the rest of the North American rail system.
phone: +1 418 962-5530

10-12 hrs of spectacular scenery. Departing Sept-Îles: Mon & Thu at 8h00. Departing Schefferville: Tue & Fri at 8h00. Sandwiches and microwaved meals are available in a dining car. Server may not speak English or French, so brush up on your Naskapi. The northbound train stops at Emerile Jct at about 15h00 and southbound at about 12h00 (Quebec time). Labrador City is a 45-minute drive north on Highway 500 from Emeril Jct, so you should have transportation arranged to meet you
By thumb
Hitchhiking from Montreal to Quebec City is very easy; many people commute daily between those two cities.
Between Quebec City and Sept-Îles, there is only one main road (Route 138) going north-east along the shore of the St-Lawrence river. As such, hitchhiking is pretty straightforward. People travelling on this road are likely to accomplish long distances because towns and cities are few and far between. However, just going from Quebec City to Sept-Îles in your own car takes around 8 hours; add the waiting time, and getting to Sept-Îles is likely to take you 2 days of hitchhiking.
Wild camping is pretty easy during the summer months, but winter in Quebec is quite harsh and camping in winter is impossible without specialized gear (waiting for a ride at -30°C is also dangerous). Nevertheless, if you leave very early from Quebec City (or east of there), it is possible to arrive in Sept-Îles in one day.
Get around

Car is the best way to get around the city. For places within the city, walking is quite easy, but if you want to go to the beach, or any place remotely outside the city, you will definitely need a car.
At the tourist office, you can rent bicycles for $10/day. Helmets and bicycle locks are included.
There are also taxis. If you go out in the evening, a taxi is your only option if you don't want to walk.

See
address: 290 boulevard des Montagnais

In the permanent exhibit, the Musée Shaputuan illustrates the traditional life cycle of the Innu through the four seasons. The Shaputuan was founded to preserve and transmit Innu culture in the community through presentations of permanent and temporary exhibitions and the organization of cultural events. In this place of gathering, meeting and sharing, the visitor will be able to experience the past and present Innu culture.

address: Boulevard des Montagnais

A fur trading post first constructed in 1661 to trade seasonally with the Innu; rebuilt in 1967. The guides on site will make you relive the time when the region relied on fur trading as an important economic activity.

Musée Régional de la Côte-Nord

address: 500 boul. Laure

Museum with a permanent exhibition about the North Shore's history. The museum is also host to different temporary exhibits, both cultural and artistic. Very interesting, worth a visit.
Base Moisie / Rivier Moisie, a beautiful little settlement (formerly a Royal Canadian Air Force base) that is on the edge of the junction of the Moisie river and the St Lawrence River. The view of the junction between the two rivers is truly amazing. The settlement itself does not have much but a little "dépanneur" (Convenience store) a minute walking distance down Chemin des Forges.
Do
Aluminerie Alouette guided toursAluminerie Alouette is an aluminium factory, very important for Sept-Îles's economic life. From mid-June to the end of August, free guided tours are offered from Tuesday to Saturday, twice daily at 8:15 AM and 1:15 PM. You need to make reservations in advance. Pretty interesting, if only to have the chance to see inside a huge industrial complex. And it's free! Only caveat is that it's quite far outside the city center. You will need to get a ride from someone, hire a taxi (although this is not the best idea, because it will be expensive and you will need one to go back too), or you can also bike there. It's 32 km outside of town, so if you are able to do that kind of distance then by all means go ahead! The local tourist office can also arrange reservations.

IOC Rio Tinto guided toursIOC is a iron transformation plant. Iron ore is mined in northern Quebec, then sent by train to Sept-Îles where it is transformed and sent all over the world. The visit is done from inside a car; the guide drives you around the huge compound and explains how everything works (which is very impressive) but you don't get to leave the car. You need to go through the tourist office to arrange reservations.
Buy
Innu Apakuai

address: 1005, boul. Laure (Galeries Montagnaises Mall)

Little shop in the middle of a mall that sells mostly artisan crafts made by native Innus.
Eat
In Sept-Îles, it is possible to eat very fresh seafood, and it is what many people are looking for when coming here. Truly, all restaurants offer fresh and tasty seafood; it is all a matter of what you are looking for (price and atmosphere).
Chez Omer

address: 372 av. Brochu

Locally-renowned restaurant, famous for its fresh seafood. Budget backpackers, stay away from this place, as the food is quite expensive. It has the reputation of being the best seafood restaurant in town, however the quality has apparently declined in recent years.

Casse-Crôute du pêcheurCool little fast-food place, located right on Sept-Îles's port. Offers standard fare (poutine, hamburgers, etc.) but also offers crab club sandwiches, and the like. There are picnic tables to eat outside, but they have a very unique interior eating space that is made like a huge lobster trap!

Pub St-marcCozy pub that serves mainly seafood. Average meal is $20 without tax or tip. Fairly sizeable beer list (around 15 Québec beers on tap) and wine list. Pitchers are $22.
Drink
Sept-Îles being on the smaller side, there aren't that many places to drink or party. However, it is still possible to have fun.
Edgar Café Bar

address: 490 Arnaud

Café/bar with a terrace near the sea, Edgar is pretty popular with young adults. The prices are average for a bar, maybe a bit on the expensive side. Serves fancy beer, nicely decorated. Good place to chill in the evening.
Sleep
Budget
address: 555, rue Cartier

The only youth hostel in town, therefore the cheapest accommodation too. The hotel is pretty great: good for meeting other travellers, very lively atmosphere. Kitchen, TV room, laundry, courtyard.

Wild campingIf that's your thing, and you have some mobility, you can go to any of the beaches, forests, etc., that surround the city, and pitch your tent there.
Mid-range
address: 666, boul. Laure

Sixty standard rooms and 58 business-class rooms and suites. Business centre and meeting rooms, fitness centre, high-speed Internet, restaurant (the Resto-Bar de l'O) serving regional cuisine. Various packages bundle tours of the National Park of the Mingan Islands or the Faunic Reserve of Port Cartier.

phone: +1 418 960-5600

address: 1009 Boulevard Laure

close to all the key area attractions: Museum Shaputuan, Regional Museum of the North Shore, Les Galeries Montagnaises mall, Place de Ville, Conrad-Parent and Guy Carbonneau sports arenas. The city's main shopping centre is within walking distance.
Connect
There is no GSM mobile coverage in Sept-Îles. Bell/Telus users will get 3G (UMTS) coverage within the city itself, but no signal anywhere else.

Go next