Serengeti National Park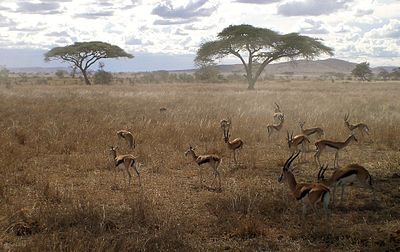 Serengeti National Park
is a large conservation area in the north of
Tanzania
. The park flows over into neighboring
Kenya
where it's known as the
Masai Mara
.
Understand
The park is but one of several conservation areas within the Serengeti region of
East Africa
, though a vital one. As well as conserving fauna, flora and iconic landscapes, Serengeti National Park has emerged as a major tourist destination. People from all over come here to engage in safari. The name Serengeti comes from the Maasai language, meaning 'endless plains' while the word safari is the Swahili word for 'journey'.
Serengeti National Park is most famous for its animal migration. Nearly one million wildebeest and 200,000 zebras move from the northern hills to the south every October and November during the short rains. They then move toward the west and north from April to June when the long rains progress. The instinct to migrate is strong. Hence, no drought, gorge, or river infested with crocodiles can prove to be a deterrent.
History
For a long period of time, the Serengeti was uninhabited which allowed the animals to roam freely until the Maasai started to migrate to the area around a hundred years ago. The earliest known professional hunters appeared in 1913. Soon the area became a game reserve and eventually, a national park was established in 1951.
Two
World Heritage Sites
and two Biosphere Reserves have been established within the 30,000 km² region. Its unique ecosystem has inspired writers from Ernest Hemingway to Peter Mattheissen, filmakers like Hugo von Lawick and Alan Root as well as numerous photographers and scientists.
The Serengeti ecosystem is one of the oldest on earth. The essential features of climate, vegetation and fauna have barely changed in the past million years. Early man himself made an appearance in Olduvai Gorge about two million years ago. Some patterns of life, death, adaptation and migration are as old as the hills themselves.
It is the migration for which Serengeti is most famous. Over a million wildebeest and 200,000 zebras journey south from the northern hills to the southern plains for the short rains every October and November, and then turn west and north after the long rains in April, May and June.
Over 300,000 tourists visit the park every year.
Landscape
Wildlife
Watching wildlife and the Great Migration in the Serengeti is tremendous! Nowhere on earth is there a sight that can rival the spectacle of 1.5 million hoofed animals on the march. Serengeti has the highest concentration of large mammals in the world and is famous for its 2,500 lions, the highest concentration found anywhere. Unlike in Kenya (with the exception of the
Ngorongoro Crater
), you rarely see other tourists or vehicles on a game drive in the Serengeti National Park.
Wild animals can be dangerous and you should not wander off on your own while on safari, especially at night. However most animals are frightened by humans and will flee rather than attack unless cornered or provoked. Keep a sensible distance and treat the animals with respect.
Birding
Early and late daylight hours are usually the best times to observe the more than 500 species of birds which have been identified in the Serengeti. Some of them migrate from Eurasia are are present in the Northern Hemisphere winter months from October to April.
Climate
The Serengeti falls into the classic bimodal rain pattern of East Africa. The short rains are concentrated in November/December, the long and heavier rains in March - May. Mean monthly maximum temperatures are relatively uniform throughout the year being constant 27-28° C (or 75-80° F) at Seronera. At Ngorongoro Crater the nights can be very chilly due to altitude.
Any time other than during the long rains in April and May is a perfect time to be on Safari in Northern Tanzania. Game viewing and the number of other tourists varies widely according to the seasonal concentrations of wildlife. Most Safari operators will adjust their itineraries accordingly.
Get in
By plane
The nearest international airport to the Serengeti is Kilimanjaro Airport (
JRO
) near Arusha. International airlines flying into JRO from outside Africa include KLM, Qatar, Turkish, with Ethopian and Kenyan also offering services connecting via their home ports.
Don't expect regular ground transport service to be available at Kilimanjaro airport. Almost everyone arriving will have arranged their transport. Taxis are available into Arusha for around US$50.
Internal flights by small aircraft from Arusha to the Seronera Airstrip in the heart of Serengeti or to Kirawira Airstrip in the Western Corridor cost US$165 per person one way. The cost of charter flights varies widely. Limit your baggage to 10-15 kg (20-30 pounds) per person. It is advisable to carry your luggage in soft bags rather than hard sided suitcases.
If you are travelling from Maasai Mara, then it is possible to fly via Migori and Tarime directly to Seronera with Sararlink and Coastal, avoiding the need to transfer via Nairobi. This is a coordinated transfer, and costs around US$600.

By car

The main access road into the Serengeti from Arusha passes the gate of Lake Manyara National Park, mounts the Rift Valley Escarpment, goes on through communal farming lands to the Ngorongoro Crater Conservation Area, drops down onto the plains past Olduvai Gorge to the east, and enters the Serengeti through Naabi Hill Gate. The distance is 325 km and the drive takes around eight hours. At Seronera and Lobo, garage facilities are available to refuel cars. Breakdown facilities, however, are virtually non-existent.

Fees and permits

Park fees can be very expensive in Tanzania. If you book your trip through a travel agent they are generally included in the overall trip cost.
In Serengeti National Park and Ngorongoro Conservation area the park fee is US$71 per person per day, for camping US$48 per person per night and US$30 per vehicle per day.
There is a number of definite "don'ts" in the Serengeti. These include approaching too close and disturbing animals, making an unacceptable noise, picking flowers or destroying vegetation, discarding litter, exceeding 50 km/h speed limit, bringing pets or firearms into the Park, and going off the roads within 16 km of Seronera.

See
Lake Lagarja and Lake Masak, South Serengeti
From December to May, depending on the rains, the large herds are concentrated on the low lying grass steppe between Olduvai, Gol, Naabi and Lagarja. A base on Lake Masak or Lake Lagarja is then ideal because one can travel from there in all directions.
Day excursions take one into areas that are little known so that you can enjoy in peace an animal paradise: for example Hidden Valley, the Soito Ngum Kopjes or the Kakesio Plains. You will enjoy the freedom of travelling cross country in order to be able to find the best places and thus have the chance to see rarer animals such as honey-badgers, wild cats, porcupines. In the right season, Southern Serengeti is not to be surpassed.
Moru Kopjes and Seronera, Central Serengeti
Here the savanna animals are joined by species that have adapted to living in the rocky cliffs. From here, or whilst in transit, you visit Seronera in the centre of the park searching for rare leopards and cheetahs. You can also enjoy the ever changing landscape with gallery forests, kopjes and water holes.
Lobo, North Serengeti
The North Serengeti is very different from the grassy plains in the South. As there is always water present the big herds retreat there in the dry season. In addition there are many species that live here permanently and you will also fairly regularly see elephants. A world for itself are the Bologonja Springs on the border to Kenya.
The 'Corridor', West Serengeti
This is a special area which is seldom offered on safari tours. Long distances, poor communications (few vehicles are equipped with a radio) and the frequently difficult road conditions still keep away most visitors from this part of the Serengeti which stretches almost as far as Lake Victoria. An important aspect of the Serengeti is therefore lost to them. This area is very different from the other main zones of the park. In the dry season large stretches of the route westward can be practically empty of animals. The last quarter of the route is however ideally suited to be the home for thousands of animals the whole year round. Gnus and zebras who are resident here do not join their migratory relatives who pass through every year on their way northwards.
Big herds of giraffes, buffalo, eland, topis, kongonis, impalas, waterbuck and Thompson's gazelles live here together with them. All the big cats and hyenas are present in a good number as well.
The end of May through August is the time to view the annual migration of zebra and wildebeest in Western Serengeti. This is also the rut season for wildebeest and the plains are noisy with male wildebeest defending their temporary territories.
A special attraction, that has become quite famous, is the crocodile population of the Grumeti River. This is particularly large at Kirawira, where the river does not dry up. The time spent at this life-giving water source can be among the most inter-esting. Here there are not only crocodiles and hippos to observe but also a large number of varieties of birds. Those tourists with a lot of time (or luck) will be able to discover the Black and White Colobus monkey in the crowns of the trees.
On the wooded savannahs of the Ndabaka plains there is always something to see. You will always feel at peace at the calm pools and mysterious "korongos".
During your excursions in this least visited part of Serengeti, you can stay at the most luxurious and exclusive camp near Kirawira, the "Kirawira Serena Camp", at Conservation Corporation's "Grumeti River Camp" (also very exclusive!) or at the cheaper, but good and charming new Speke Bay Lodge right on the shore of Lake Victoria (4 km outside the park, an hour's drive from Kirawira). Mbalageti Serengeti
Mbalageti Serengeti
is also in the Western corridor and offers an unparalleled view over the vast plains due to its stellar location.
Do

Take photographs! A good zoom and a large memory card make the results so good you'll be looking at the photos months and months later. (Save them on high quality image and you can do amazing things with your photo program when you get home!)

Buy

Shopping in the Serengeti naturally is extremely limited due to the absence of human settlements. In Arusha, however, and other major towns you will find curio markets where you can buy all sorts of carvings, masks, Maasai spears, textiles, drums, tinga-tinga paintings, batik work, silk shawls, locally made jewelry, coffee, etc. The Arusha Heritage Centre offers a large variety of souvenirs and crafts. Also, The Sayari Camp had arrangements with locals to supply a little "gift shop" and the money goes right back into local programs.

Tipping

Tipping at restaurants (at your discretion) is 10%. It's common to tip US$5 for each traveler per day at lodge based safaris; US$10 per day for your driver guide and US$5 each per day for the camp staff when camping on mobile safaris.

Eat

Eat fresh roasted cashews, drink watermelon juice, try the tiny sweet bananas or even the red bananas.
Most visitors are surprised by the quality and the variety of the food available on safari. No matter whether you are staying in a lodge, a tented camp or a mobile safari camp, you will be served freshly prepared food according to international tastes and standards.
Bottled water can be purchased at all the lodges and camps and is provided by all safari operators. Non-alcoholic drinks are often included in the all inclusive rates. It is wise to stick with bottled drinks.

Drink

Coffee and mbungo juice are common non-alcoholic drinks found in the park. If you want something stronger, you can try tusker lager and Amarula, a cream liqueur made from the marula plant.

Sleep
If you go on an organised safari with a tour operator you will mostly sleep in mobile camps. Here facilities are more limited. The tents usually have simple beds with lining and duvets, camping toilets and showers depending on the safari operator.
Many lodges and tented camps operate their own generators or solar lighting systems providing intermittent electricity.
Safari lodges
The term and the concept of the safari lodge are of Tanzanian origin. Here you will find buildings of exciting design, specially build to fit in with the wild landscape of the parks, yet with all the amenities of a luxury hotel, such as swimming pools and fine food. As you eat, drink, laze by the pool or sit on your private veranda, you will be able to observe game, often at only a few yards distance.
Luxury tented camps
There are a few luxury tented camps in the Serengeti offering an absolutely unique safari experience. The tents usually offer fully equipped en suite bathrooms, private verandas and elegant furniture. At night you can listen to the wild sounds of the Serengeti cuddled up in a warm and comfortable bed!
Camping
A much cheaper alternative is to stay on one of the Serengeti's nine campsites. If you wish to stay at them you must obtain permission from TANAPA or the nearest park warden.
Stay healthy
Health care is limited in the region, but if you have a problem seek help with your lodge. For more serious emergencies, you may end up in
Nairobi
, or being evacuated to your home country.