Serra Negra
Serra Negra
is a city in
Campinas Region
of
São Paulo state
. Serra Negra is a popular regional tourism destination for its mineral springs, rural tourism and shopping (clothes, handcrafts and furniture).
Understand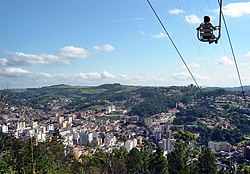 Founded in 1828, Serra Negra dedicated its early days to coffee farming, like other towns of the Paulista Water Circuit. Nowadays the city is heavily dedicated to tourism, providing one of the best tourist infrastructures in the region, with a lively city center and a good number of hotels both in the urban and rural areas of the municipality.
See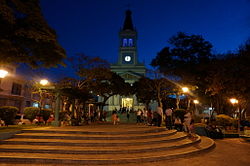 Praça João Pessoa

address: Center

The main touristic square of Serra Negra, containing a water fountain, tourist services, and giving access to the cable car and the city tour.

Igreja Matriz Nossa Senhora do Rosário

address: Praça Lourenço Franco de Oliveira - Centro

Serra Negra's central church, in Roman style, constructed in 1841, although many characteristics were added later in 1916.

Praça Barão do Rio BrancoScenic public square containing the city's public forum.

Pico da FonsecaThe top of the 1080 m high peak can be accessed either by car or cable car. It contains a 18-meter high Redeemer Christ statue and a panoramic view of the city.

Alto da Serra1310 m high panoramic view of the Mantiqueira mountain range.

Parque das Fontes

address: Av. Deputado Romeu de Campos Vergal - Centro

Public park containing three mineral springs and some walking trails.

Parque Fonte Santo Agostinho

address: R. Eliseu Francisco de Godoy - Centro

Public park containing the Sto. Agostinho and Sta. Luzia mineral springs.

Parque Fonte São Luiz

address: Rua Sete

Public park containing the São Luiz and Albino Brunhara mineral springs, plus other recreational facilities.
Do
Cable Car

address: Praça João Pessoa - Centro

The cable car gives access to the Pico da Fonseca, where it is possible to have a panoramic view of the city.

Trenzinhos Tia Linda e Maria Fumaça

address: Praça João Pessoa - Centro

City tour using train-like vehicles. Two routes are offered.

Balneário Municipal

phone: +55 19 3892-6541

address: R. Nossa Senhora do Rosário

Public bath with mineral water immersion, sauna and massages.

Conjunto Aquático Municipal

address: Rua Antonio Jorge José - Centro

Public swimming pool that can be used for a small fee.

phone: +55 19 3892-0303

address: Rodovia Amparo-Serra Negra km 148

Private park offering animal seeing and various family-oriented activities.
Buy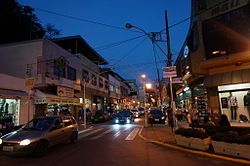 Serra Negra is a regional shopping destination, with the shops concentrated at Rua Cel. Pedro Penteado, Rua Sete de Setembro and around. Popular products are wool and linen clothes, leather clothes and accessories, handcrafts and handmade furniture.
Drink
phone: +55 19 3892-3481

address: Travessa Tenente Mário Dallari, 20 - Centro

Brazilian-style pub with Brahma chopp.

phone: +55 19 3892-7782

address: Avenida Laudo Natel, N 200

Popular chopp in town. Serves also snack and a good variety of pizza.
Go next
Monte Alegre do Sul - Small town founded by Italian immigrants, with a charming historic center and renowned cachaça brewers