Severobaikalsk
Severobaikalsk
(
Russian
: Северобайка́льск
see-veer-uh-bigh-KAL'SK
) is small town in located on the shores of Lake Baikal
Buryatia
,
Russia
.
Understand
The town was founded in 1974 and has a population of around 26,000. It is a big railway hub of
Baikal-Amur Mainline
and has no big industries. The streets have 5-floor apartment houses with unusual outlines as if they were made of cells. You won't see buildings with balconies for the seismic safety precautions. The center of the city is Leningradsky Prospekt that goes from the railway station to the Central square.
Get in
By train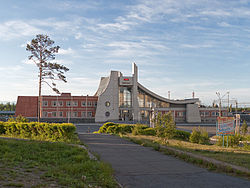 The city is a major stop on the
Baikal-Amur Mainline
. It is a 4.5 day journey from Moscow, with the train making stops in large cities such as
Novosibirsk
,
Krasnoyarsk
and
Bratsk
.
By plane
The nearest airport is in
Nizhneangarsk
25km away from the city. You can fly to
Irkutsk
(1 hour 15 min) and
Ulan Ude
(1 hour 20 min).
By boat
During the summer, there is a hydrofoil service from
Irkutsk
—an 11-hour journey. Three times a week.
See
Museum of the BAM builders at 2, Mira st.
Art gallery at 40, Druzhby st.
Get a local bus south to the picturesque fishing village of Baikalskoe, & hike up the headland, for breathtaking views of Lake Baikal. It's possible to follow the track around the clifftops, & loop around via a camping ground in a bay, back into Baikalskoe.
Do
Hire a cutter and go to the hot springs for soaking.

Buy
You can visit an exhibition in Dom Kultury and choose a souvenir. There are also paintings and photographs of local artists.
Eat

Try traditional dishes at бузии house.

Sleep
Dom u Baikala

phone: +7 301-30 2-39-50

address: 3 Neptunsky proezd

One and two-floor wooden houses with single an double rooms with toilet, douche and TV inside. Price for a single stay is , double is . You can also play billiard or order week excursions, which include yachting, rafting, visiting a waterfall and a sandy beach.

phone: +7 30130 2-39-80

address: 2Б Poligrafistov st.

Business and standard room includes TV, minibar, a safe, refrigerator and wi-fi, toilet and a douche for one rooom or two.

phone: +7 30130 2-22-31, +7 30130 2-11-34

The hotel includes three cottages, one in the city, two in the forest, with double rooms for , , accordingly. Additional services: Russian sauna, massage, breakfast, transfer to airport, tours to hot springs and fishing.
Go next