Seward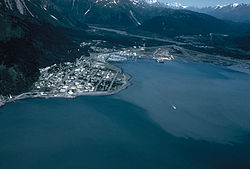 Seward
("SOO-word") is a small port city (population ~2,700) located at the head of Resurrection Bay on the
Kenai Peninsula
in
Southcentral Alaska
. Seward was named in honor of William H. Seward, President Abraham Lincoln's Secretary of State, who was responsible for negotiating the purchase of Alaska from Russia in 1867.
Understand
Founded in 1903 as the ocean terminus of what is now the Alaska Railroad, Seward prides itself, not only on its natural beauty, but as Alaska's only deep-water, ice-free port with rail, highway and air transportation to Alaska's interior and major urban population centers.
For local events and news see
SewardCityNews.com
, Seward's citizen journalism website.
Climate
Get in
By car
Seward is located 127 road miles south of
Anchorage
. The
Seward Highway
is a very scenic 2.5-hour drive from Anchorage to Seward, but can be slow in peak summer.
In 2017 the Alaska Department of Transportation announced a 4-year 2-phase
Milepost 75-90 Rehabilitation Project
to make major safety improvements to a busy crash-prone section of the Seward Highway from Girdwood to beyond the Portage curve toward Turnagain Pass. In July 2015 a tour bus crash at Milepost 79 (
Portage Glacier Road
and
Alaska Wildlife Conservation Center
) killed one man and critically injured several others, causing a 10-hour traffic jam. During the summer months, up to 15,000 vehicles use this 15-mile stretch of Seward Highway daily. Although the project is not yet fully funded, construction on Seward Highway is scheduled to begin 2018.
By train
The Alaska Railroad
offers daily rail passage between Anchorage and Seward in the summer, May 13 to Sept 14. The trip between Anchorage and Seward the Coastal Classic -- is arguably its most scenic section, and you can take the train one-way. The train parallels the Seward Highway along the Turnagain Arm, but also heads up into the mountains away from the road, pass glaciers and alpine meadows you won't be able to see by car. Adventure Class (with shared access to older vista dome railcar) Round Trip/One Way fare: $119/$75 adults, $59/$38 children (2-11); GoldStar Service (New Dome Railcar) Round Trip/One Way fare: $219/$130 adults, $110/$65 children.
Passengers are required by TSA to check-in at the ticket window (hour before at Anchorage, 30-45 minutes before at Seward) and show a government issued photo ID (for those age 18 and older) to receive boarding passes. If you have luggage (2 pieces max), it must be checked through to your destination. At depots, boarding for trains occurs 20-30 minutes prior to the scheduled departure.
Southbound
6:45AM - Depart Anchorage Depot - 411 West 1st Avenue
11:05AM - Arrive Seward Depot - 410 Port Avenue (short walk to small boat harbor; about 1/2 mile to cruise ship dock)
Northbound
6PM - Depart Seward Depot
10:15PM - Arrive Anchorage Depot
By bus
The Park Connection
, 1-800-208-0200, offers twice daily bus service between Anchorage and Seward in the summer, mid-May to mid-September. Check in 15 minutes prior; luggage 2 pieces max. In general, the trip by bus is faster than by train, but slower than by car.
Southbound AM
7AM - Depart Anchorage - Egan Center: $55
9:45AM - Arrive Seward Small Boat Harbor
Southbound PM
3PM - Departs Anchorage Museum: $65
5:45PM - Arrive Seward Small Boat Harbor
Northbound AM
10:30AM - Depart Seward Small Boat Harbor: $65
1:30PM - Arrive Anchorage Museum
Northbound PM
6:30PM - Depart Seward Small Boat Harbor: $55
9:30PM - Arrive Anchorage Museum
By ship
The
Dale R. Lindsey Alaska Railroad Seward Intermodal Terminal
("cruise-ship dock" to locals), 913 Port Ave, is where cruise ships moor. Ships tie up directly to the dock, and no tenders are used to transport guests between the ship and shore. The Alaska Railroad uses this facility for freight.
From May to September, about 50 ships arrive and depart Seward's port as part of the popular 7-14 day Alaska cruises, round-the-world itineraries, and special charter cruises.
Get around
Seward is a great place to walk around. For those needing a ride, here are some options.
Summer Shuttle Bus, +1 907-224-4020, is operated daily by the city of Seward during the summer months when the cruise ships are in town. The shuttle makes a half hour loop starting at the cruise ship dock to the Alaska SeaLife Center and back. $5 pp, good for entire day.
Tidewater Taxi +1 907-727-1929. Water taxi servicing Resurrection Bay, Kayakers Cove, Alaska State Park Cabins and elsewhere.
Hertz of Seward, 907-224-4378. Rentals for a day or longer with one-way drop off in Anchorage available.
Seward Bike Shop, 411 Port Ave., 907-224-2448, sewardbikeshop.com. Rents bikes by the hour or day. There is a bike path along the water from the harbor to the front of town.
PJ'S Taxis, 907-224-5555.
See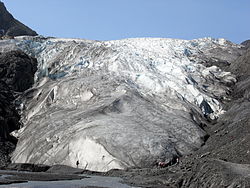 phone: +1 907 224-6300

address: 301 Railway Ave

Aquarium and research facility featuring marine life of the Gulf of Alaska. The Sealife Center is Alaska's only public aquarium and ocean wildlife rescue center. Exhibits feature puffins, octopus, sea lions and other sealife.

Exit GlacierExit Glacier is the only part of Kenai Fjords National Park accessible by road. Here you can stroll the trails, walk very close to an active glacier or take a ranger-led walk. It is a place where you can witness up close how glaciers re-shape a landscape and learn how plant life reclaims the barren rocky land exposed by a glacier's retreat.
Do
Sewards highlights are the neighboring
Kenai Fjords National Park
, sport fishing (for salmon, halibut, ling cod and salmon shark), glacier and wildlife day cruises, kayaking, sailing, hiking and mountain biking, quaint and quirky townsfolk, 4th of July celebrations and the Silver Salmon Derby.
4th of July Mount Marathon RaceThree miles up and down, complete with cliffs, waterfalls, and loose sharp rocks, a great Alaskan event

Seavey's Ididaride

address: Exit Glacier Rd

Here you can see one of the family's 3 dog yards. Go for a ride on a buggy with a team of dogs, play with puppies, and get up close and personal with Mitch's gear and sled. You get a tour guide through the property and learn about the grueling ididarod race.
Kayaking
Boat Tours
phone: +1-907-224-8068

A wide range of tours from the Captain's Choice (9 hour) for $194 to the Fox Island Dinner Cruise (3 hours) for only $64. The National Park Tour (6 hour) catamaran tour for $144 is the most popular. The Northwestern Fjord Tour Explores 150 miles or marine wildlife, sea birds and tidewater glaciers for $174. (9 hours) Meals are provided on all tours. Chicken wraps on the boats, and Fox Island tours include an all-you-can-eat salmon and prime rib buffet. Spend the night on Fox Island or go for a kayaking adventure. Specials are sometimes available online.

phone: +1-907-224-8030

Full & Half Day Cruises into Resurrection Bay and the Kenai Fjords National Park for wildlife, whale watching & glacier viewing. All cruises are hosted by uniformed rangers and feature a junior ranger program for kids. Large tour boats with reserved table seating inside heated cabins. Enjoy our freshly prepared all-you-can-eat salmon and prime rib meal. Free full-color National Park guide for each adult. Daily departures from early May through September.
Fishing
phone: +1 907 224-3674

address: 1301 4th Ave

Provides rod, reel, and tackle, along with their local techniques that will improve your chances of catching dinner.

Rainbow ChartersProvides necessary gear and will instruct you on how to catch your dinner! Watch your fish get fileted on the way back in to dock, then head over to J Dock to have them shipped home.
Biking
phone: +1 907-DO-A-RIDE

Specializing in guided backcountry mountain bike trips and road tours. Also offering winter "fat bike" or "snow bike" tours on Exit Glacier Road as well as fat bike rentals. Experience the wilderness of Chugach National Forest, Exit Glacier, and Alaska's best mt. bike trails. Suitable for all skill levels, includes transport from Seward, bike rental, helmet, snacks and hydration.
Buy
Brown & Hawkins Mercantile

phone: +1 907-224-3011

The local North Face, Mountain Hardware, Padagonia, Carhart outdoor wear store. Located on 4th St. in historic downtown Seward, Alaska

Resurrect Art Coffee House Gallery

phone: +1 907-224-7161

address: 320 3rd Ave

Historic Landmark. Local original art and gifts. Friendly baristas, excellent coffee. Live Jazz Tuesdays all summer.

phone: +1 907-224-6088

address: 416 4th Ave

Original Hand-painted Silks.

phone: +1 907-224-4589

address: 1304 4th Ave

Good all weather gear for Alaskan travel.

phone: +1 907-224-3011

Alaskan Confectioners Makers of Alaska's Finest Handmade Candies, Fudge, Chocolates, Berry Bark and Candy. Don't forget the gelato! Made on the premises fresh daily.

The Fish House/True Value Hardware

phone: +1 907-224-3674

Across from the small boat harbor. The place to go for local charter and fishing info, gear, tackle, etc. One giant building is split between the fish house and the hardware store. If it can be had in Seward, most likely you'll find it here.
Eat
There are a ton of great places to eat in this little town; from hearty breakfast joints to fine dinner dining.
phone: +1 907-224-2204

address: Mile 1/4 Exit Glacier Rd

Great low key place with good food and pitchers of beer.

The Railway Cantina

phone: +1 907-224-8226

address: 1401 4th Ave

Excellent tacos and burritos.

Christo's Palace

phone: +1 907-224-5255

address: 133 4th Ave

Across the street from the Alaska Sealife Center. The widest selection of quality food in town. Great pizza, pasta, Mexican, seafood and full bar.

phone: +1 907-224-3092

address: 229 4th Ave

Great food and Delivery Pizza.

Peking Restaurant

phone: +1 907-224-5444

address: 338 4th Ave

Great food and Local owners.

Chinooks Waterfront Restaurant

phone: +1 907-224-2207

address: 1404 4th Ave

Great place for lunch, dinner or drinks. Beer, wine and full bar.

Ray's Waterfront

phone: +1 907-224-5606

address: 1316 4th Ave

Very Good food, especially the seafood. Good view. Most entrees are $20 - $30

phone: +1 907-224-7116

After a day of exploring, unwind at the Resurrection Roadhouse which features great dining and Seward's largest selection of brews on tap.

Lombardo's

phone: +1 907-224-4433

address: 308 N. Harbor St

Calzones, Gyros, Baklava, and more.

Alaskan AnniesGreat atmosphere - unique Alaskan decor. Food is excellent. Just up the street from the Sealife Center.

Sea Bean CafeYou can get a great cup of coffee, or a protein smoothie. Has sweets, sandwiches, soups. Gluten free options.
Drink
Sea Bean Cafe

phone: +1 907-224-6623

address: 225 4th Ave

Cozy little cafe with new Macs and free Wi-Fi. Locally owned and oporated.

Yukon Bar

phone: +1 907-224-3063

4th & Washington Classic place. Look for the dollars pined to the ceiling by all the other visitors. In the summer catch a show by local hero Hobo Jim.

The Pit Bar

phone: +1 907-224-3006

address: Mile 3.5 Seward Hwy

A wild place, even for locals, this place is just on the other side of the city limits and stays open until five in the morning. Go after two to see a kind of carnival.

The Ale House

address: 215 4th Ave

A small place that has a great selection of specialty beers on tap and by the bottle.
Sleep
Camping
phone: +1 907 224-4055

address: Ballaine Blvd

Right on the water, this is your best bet for paid camping spot. Use the self-registration stations at campground entrances.

Exit Glacier RoadThere are many small off shoot roads where one can park a van or camper.

Across the BayTake Nash road around to the other side of the Fjord. Good camping spots north and south of the ship yard.

Miller's Landing

phone: +1 907-224-5739

address: Lowell Point

Tent camping sites, full service RV sites (including beachfront), showers, laundry, general store, free wi-fi. They also run a water taxi, fishing charters, and kayak guiding and rental services. Extremely "rustic" place with very friendly staff, all Seward locals!
Hotels
address: 08 Adams St

Step into history and experience the only remaining multiple story building to survive the 1964 earthquake in Seward. View of Alice Mountain.

phone: +1 907-224-8001

address: 221 5th Ave

Wonderful boutique hotel in Historic Downtown Seward. One of a kind 'wilderness' lobby and historic photo display. Also features "Gene's Place," Hotel Seward's Victorian inspired lounge with light fare cuisine.

phone: +1 907-224-2700

address: 200 5th Ave

phone: +1 907-224-7116

address: Mile 0.5 Exit Glacier Rd

phone: +1 907-224-5271

address: Beachfront Rd

This place on Lowell Point Road.

Exit Glacier Salmon Bake Cabins

phone: +1 907-224-2204

address: Mile.4 Exit Galcier Rd

Sauerdough Lodging

address: 225 4th Ave

Locally owned and operated. Cozy apartments, kitchen and baths.
Hostels
phone: +1 907 224-7072

address: 432 3rd Ave

A small and extremely friendly hostel.
Vacation rentals
Go next
Seward is a great gateway to
Kenai Fjords National Park
. If you want to spend a bit more money to really get out there, consider staying at some of the wilderness camps in Resurrection Bay.
Seward is also one end of the
Iditarod Trail
, running for a thousand miles to
Nome
, mostly through wilderness via small settlements.
Wilderness Lodges
Sometimes you want to go someplace just a little more remote than a small town....if you do, consider staying at these wilderness lodges. You will need to take a water taxi or float plane to reach these, but they are truly stunning.
Kenai Fjords Glacier LodgeAll-inclusive lodge with activities such as beachcombing, kayaking, and hiking.

Kenai Fjords Wilderness LodgeHiking, kayaking, relaxing.

phone: +1 907-224-8662

This is more of a do-it-yourself lodge with private cabins available as well. You bring your own food and beverages, as well as a sleeping bag. You have use of their kayaks to explore the Thumb Cove area.
Towns
Moose Pass, the first rural town on the Iditarod Trail, if going west
Valdez, the next town on the Alaska Marine Highway, if going east