Shanghai/Pudong
Pudong
(浦东 Pǔ​dōng​) is a district of
Shanghai
on the eastern side of the Huang Pu river, an ultra-modern business hub full of high-rise buildings including several of the world's tallest.
Understand
The term "Pudong" is somewhat ambiguous:
In common usage "Pudong" means the area this article covers, the highly developed central area.
Officials and media often use it for the much larger administrative district Pudong New Area. This includes the large suburban area Nanhui to the south, which has a separate article here.
Taken literally, it just means East of the Huang Pu. West of the river is Puxi.
As part of Deng Xiao Ping's "Reform and Opening Up" program starting in the late 1970s, China introduced a program of
Special Economic Zones
to encourage development and foreign investment. The program has been quite successful and all those zones have seen rapid development.
Pudong New Area
may be the most successful of the lot; in particular, the pace of development in the downtown Pudong area which this article covers has been absolutely phenomenal.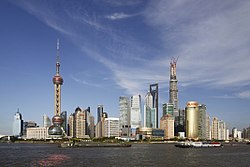 Until about 1990 Pudong was mostly farmland and low-rise residential or factory areas. An urban planning site has
"Pudong Miracle"
photos showing the same view in 1990 and 2010; the contrast is incredible. They also have an interesting critique of the urban design.
The most highly developed area of Pudong is
Lujiazui
, a peninsula sticking out into the Huang Pu directly across from
Downtown Shanghai
, the older center of town on the Puxi (west) side. The banner photo at the top of the page is within Luziajui; the photo on the right is a view of Lujiazui from
the Bund
, a riverside boulevard in Puxi. This is a view that has been photographed a great deal in recent years.
Century Avenue
is the main drag of Lujiazui and extends inland beyond there, ending at Century Park. In total it is about 5 km (3 miles) long. Most of Pudong's tourist attractions are on or near that street, either in Lujiazui or a short way inland. The first four stops east of the river on Metro line are on the street, while the fifth, Century Park, is on the other side of the park.
Get in
There is no bridge for pedestrians to cross, so if coming from the west side of the Huangpu River, your options are metro, taxi, ferry, sightseeing tunnel or bus. The cheapest way is to take the ferry from the
Bund
, near Yan'an Donglu, at the price of ¥2. Using the metro is only a bit more.
By metro
Many lines of the
Shanghai metro
serve Pudong. Four of them meet at Century Avenue Station:
LineThe most important east-west line of the city; it runs right through downtown Pudong, under Century Avenue, and connects the area to Puxi on the west and out to Pudong Airport to the east.

LineRuns on a circular route around central Shanghai, mostly in Puxi but it also goes into Pudong.

LineA line running northeast-southwest, entirely in Pudong.
Lines , , , and also go to both Puxi and Pudong.
By sightseeing tunnel
A much more expensive way of crossing the river is the
Bund Sightseeing Tunnel
(north of the Peace Hotel), basically an overpriced 647 m underground travellator featuring several minutes of blinking lights at ¥45 a pop. (This "ride" lacks creativity or exhilaration, but toddlers who like to move at slow speeds and witness a few harmless props
might
enjoy it.)
By car
Yan'an Tunnel is the main road in and out of the district for cars. Expect a long line of cars throughout rush hours (also 5PM-9PM on weekends) where you can get stuck up to 30 min. If you need to cross by taxi at these hours, try to talk your driver into using Renmin Lu Tunnel further south.
By plane
Coming in
from Pudong Airport
, the choices are taxi at around ¥150, Metro Line 2 which runs until 9PM, or a magnetic levitation train. The Maglev is extremely fast (top speed 430 kmh or 270 mph, but some trains only run at 300km/h or 187mph) and connects to Longyang Rd Station on Metro Line 2. Travel time is around 8 Minutes. It finishes running at about 9.30PM. Maglev tickets cost ¥50 single (¥40 with flight ticket for the same day), or ¥80 return.
Get around

By foot
Many tourists will just take Metro Line to Lujiazui Station and walk from there.
There is an elevated walkway that runs over the roads from the station to the Pearl Tower and the World Financial Centre via the Super Brand Mall and the IFC Mall. Some attractions can also be reached via tunnels from the station.
By metro
Metro Line 2
Line is the main east-west line through Shanghai. On the Puxi side it runs under
Nanjing Road
through downtown and out to Hongqiao Airport and Hongqiao Railway station near its western end. In Pudong it runs through downtown under Century Avenue, and extends to
Pudong Airport
at its eastern end.
Lujiazui StationLiujiazui is the first station east of the river. It is within walking distance of many of Pudong's tourist attractions including all the really large (400 m or more) buildings.

Dongchang Road Station

This is a major interchange; Lines 2, 4 and 9 all come here from various parts of Puxi, and Line 6 which runs north-south through Pudong comes here as well.

Science and Technology Museum StationIn addition to the large and rather good museum, this station has a lot of tourist-oriented shopping and is the stop you use if you need to visit the Entry and Exit Bureau for a work permit or visa extension.

Century Park Station

This is the in-town terminal for the ultra-fast (over 400 km/h, 250 mph) magnetic levitation train to Pudong Airport.

Zhangjiang Hi-Tech ParkThis is a development zone with many research institutions and high-tech companies. The zone is about 25 km 2 (just under 10 mi 2 ) and has its own tram system.

Guanglan Road StationLine 2 has two parts and this station is the transfer point between them. The section west of here (toward downtown) has longer trains running more often than the section to the east (toward Pudong Airport). The transfer is easy unless you have massive luggage; just walk across the platform and perhaps along it a bit.
Metro Line 4
Line is another important one for Puxi-Pudong connections. It is a circular line which encompasses most of central Shanghai. Most of it is in Puxi, but it also comes into Pudong. Century Avenue Station, mentioned above, is the main connecting point, but there are other stations in Pudong.
Pudong Avenue

Pudian RoadAlthough Line 6 also has a Pudian Road Station, the two are on different parts of the road and transfer is not possible.

Interchange with Line 6.

TangqiaoThe west exit leads into the Shanghai Sheraton.
Other metro lines
Lines , , , , and also cross the river and provide Puxi/Pudong connections.
Lines and are both entirely on the Pudong side of the river and both run roughly north-south. Line runs near the river, from the northern edge of Pudong through the center then southwest. Line runs south from Longyang Road Station into
Nanhui
, all the way to the southeast corner of Shanghai.
Northern terminus of Line 6, near the Free Trade Zone and the harbor. Line will connect here in 2020.

Southern terminus of Line 6.

Lines 11 and 16 both provide routes south into Nanhui

Located near the Shanghai Expo site.
Line has only one station in Pudong as of September 2017, and that has no connections to other lines. However a planned extension will go further into Pudong and make connections.
The ultra-fast (over 400 km/h, 250 mph) magnetic levitation train (the
maglev
) is also entirely on the Pudong side of the river; it runs from
Pudong Airport
to Longyan Road Station.
See
Many of the sights of Pudong are the large buildings of Lujiazui, all built since 1990. As of mid-2017 the area has three buildings on Wikipedia's list of the world's 50 tallest, including two in the top ten. Counting the Pearl Tower — which does not make that list because it does not have floors all the way up — there are four buildings over 400 m, a quarter mile high.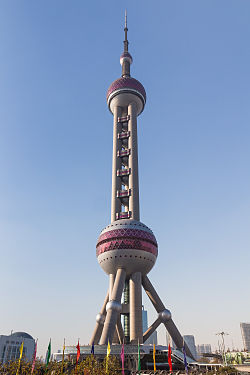 address: Century Ave, Lujiazui

Featuring 11 garish pink balls, the tower has become an internationally recognized symbol of the new Shanghai. Entry to the tower and all its attractions is ¥100; there are extra fees depending on how high you want to go up to a total of ¥220 for admission to the highest observation deck at 350 m (1,155 ft). You can literally step into Shanghai's skies on the glass floor of the outdoor viewing platform of the 2nd ball at 259 m (855 ft). Walk on a transparent path high above Pudong and the Huangpu River, probably one of the most thrilling adventures of the city, and also an unexpected one: your elevator will arrive one floor above the glass floor, a rather conventional observation platform - descend one floor to get to the thrill. On the way down you will have to descend past all the other observation decks and attractions. Space City at 90 m (297 ft) can be missed.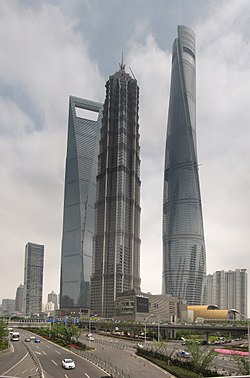 address: Century Ave, Lujiazui

This building has 88 floors (plus five in the spire) and reaches 420.5 metres (1,380 feet). The tower houses the Grand Hyatt Shanghai and features a 31-story atrium that starts in the jazz lounge on the 57th story and rises up like a space station. An Italian restaurant Cucina, on the 55th floor offers spectacular views of the Bund and the rest of old Shanghai. For about the same cost as going up in the Pearl Tower, you can enjoy a gourmet pizza lunch and savor virtually the same view. Enter via the Grand Hyatt main entrance, take elevator to lobby on 54, then next elevator to Cucina, (closed September 2019). There is also a restaurant on the 88th floor, which is the top floor and China's second highest visitor platform. Alternatively, head for one of the Grand Hyatt's many bars (see Drink).

Shanghai TowerAt 632 metres (2,073 ft) high and 128 stories it is China's tallest building and the second tallest in the world as of mid-2018. The Observation Deck is at 552m on the 118th and 119th floors. The elevator goes straight up and accelerates to 18m/s max. View to all directions possible. There is a small cafe, free Wifi available.

Shanghai World Financial Center

phone: +86 21-68777878

address: 100 Century Ave

Opened in 2008 and is Shanghai's second tallest building at 492 m. There are three viewing levels on floors 94, 97 and 100. The observation level allows you to look down on the tall neighboring Jinmao and Oriental Pearl Towers. However, a better view of the river and the Bund can be obtained from the lower sphere of the Oriental Pearl than from the SWFC. An alternative to the observation decks is to go to one of the hotel bars or restaurants on or near the 98th floor.
The area also has other attractions.
address: 1388 Lujiazui Ring Rd

This is an entertaining and up to standards exhibition over two floors, including a system of glass tunnels that lets you get up close and personal with sharks.

Century ParkThis is Shanghai's biggest park. Unfortunately, there is a lot of concrete and paved roads, and many areas have vegetation that is still under development or poorly cared for. Still a good and relaxing get-away. Bike rental available (expensive, from ¥40 per hour).

Shanghai Science and Technology MuseumFocuses on Western Science. Entertaining and educational for children. The buiding itself is quite impressive

Shanghai International Finance CenterHas two towers around 250 m and an 85 m building between them. Includes the large IFC Mall shopping complex and the Ritz-Carlton Hotel. There is a pedestrian tunnel to Lujiazui Station.

phone: +86 400 921 9021

address: 205 Shangnan Rd

The former China Pavillion for Expo 2010 now is a museum of Chinese modern art. Permanent exhibitions focus on some of the best-known Chinese painters' works, the history of Chinese modern and contemporary art, and the culture of Shanghai. Visits start at the top and you work your way down through the galleries, whose quality decreases a bit the lower you go in the building. On the top floor is the special exhibition of the digital version of Along the River During the Qingming Festival (aka Qingming Shanghe Tu), a famous ancient Chinese painting, featuring a 110-meter long 3D animated interactive remake of the original painting. Multilingual audio guides and english-speaking volunteer tour guides are available.

Shanghai Expo Park

address: In two parts, the larger in Pudong and the smaller in Puxi

Shanghai hosted the 2010 World Expo, recording the greatest number of visitors in the event's history. Since then, the Chinese Pavilion has remained in operation and there are various other sights.

New York University ShanghaiA joint venture between the American school and East China Normal University. Most courses are taught in English. As of 2016 it had 1200 students, all undergraduate.

phone: +86 21 68778787

address: No. 210 Lane 2255, Luoshan Road (罗山路2255弄210号)

The Pudong branch of the private art museum established by the wealthy collectors Liu Yiqian and his wife Wang Wei. The museum also has branches in Xuhui District and the western city of Chongqing. Groups of 26 people or more are required to make a reservation at least 2 days before their visit.

address: Longyang Road 2100

The Shanghai Maglev Museum is located at the first floor of Maglev Longyang Road station, 1250 square meters, which covers most of the history and technology of the maglev train. The museum is composed of "Birth of Maglev", "Maglev Shanghai Line", "Maglev Technology", "Maglev Superiorities" and "Prospects for Maglev" sections.
Do
International Convention CenterA large center, with 200,000 m 2 (over 2 million ft 2 ) of floor space, plus outdoor areas.

Shanghai Free-Trade ZoneAn area with reduced requirements for foreign businesses wanting access to the mainland China market. For the visitor in the future, this will likely mean more foreign financial services, travel agencies, education companies, medical facilities and entertainment options.

Oriental Art CenterThis is mainly a center for the performing arts with three theaters of various sizes. There is also an exhibition area.
Buy
New Xiang Yang Market

address: Metro line Science and Tech Stn

Also known as AP Plaza, it is located at the Shanghai Science and Technology station on line 2. When you get out of the Metro just look around and you will see different entry points. It is a pretty big underground market and has many areas such as Area A, Area B, etc. They have the usual stuff including fakes of all brands of clothing, watches and handbags. See also Shanghai#Clothing.

IFC MallA very new mall full of luxury brands and high end restaurants, with a CitySuper supermarket in the basement offering a wide variety of expensive western and Japanese food products. There are also IFC malls in Hong Kong and Seoul; this one is run by the same Hong Kong company and is quite similar to the others, with many of the same shops as well.

Super Brand MallA very large mall full of stores and restaurants, including UNIQLO, Toys 'R' Us, and Dintaifung (鼎太丰). The top floor has an IMAX cinema.

Decathlon (Huamu Store)

phone: +86 21-50453888

address: 393 Yinxiao Road

French outdoor equipment retailer. Offers cheap, high quality outdoor clothing, backpacks, sports equipment, gym equipment and bicycles in Western sizes. Metro: lines & Longyang Lu station. Another less convenient location at Jinqiao (no metro).
Eat
CantonFor authentic dim sum and many other Cantonese specialties.

Danieli's

phone: +86 21-50504567

address: St. Regis, 889 Dongfang Lu

A fine Italian restaurant, this place offers fresh, seasonal home made dishes. The five course set menu is excellent value, while the wines can be pricey. Staff are perfectly groomed and attentive to customers.

The Grill

phone: +86 21-50491234

address: Grand Hyatt, 88 Shiji Dadao

Feast on a fresh, tasty seafood platter or dig in to tender American style steak at this restaurant, which features panoramic views from the 56th floor.

Jatujak

address: Xinmei Union Towers, S Pudong Rd

Authentic Thai restaurant serving mouth watering dishes in a fantastic atmosphere.

phone: +86 21 68779198

address: 100 Century Ave

Claims to be authentic Canadian food but fails to use cheese curds on poutine. Serves breakfast, steak dinner, large wine selection. A bit pricey for what you get.

Coco IchibanyaInternational Japanese chain serving Japanese style curry rice with a vast array of ingredient choices.

Baker & SpiceWestern style bakery and cafe, with good quality (albeit pricey) sandwiches and other food.
Drink
Cloud 9

phone: +86 21-50491234 ext 8787

The highest you can legally get in Shanghai, with excellent nighttime views of Shanghai (particularly if you get a seat facing Puxi). But the views come at a steep price for non-guests, who are charged ¥110 + 15% minimum per head — about the price of a drink and half a cigar. (A cheaper alternative is simply to go to the lobby (54F) and enjoy the view there. Or you can go to the lobby cafe where soda is ¥45. The power to the buildings in Puxi is turned off at 11PM, which is an optimal time to be present.)

Big BambooA bar.
Sleep
Hotels in Pudong cater mostly to the business traveller. For a wider range of choices or to be closer to the main tourist sights, look in
Puxi
instead.
Budget
Eastern Stars Garden Scenery Hotel

phone: +86-21-3393-5366

address: 上海浦东川沙新镇华洲路16号

10-minute car ride to Pudong airport. nothing within walking distance except a KTV next door and a massage service on the 4th floor.
Mid-range
Blue Horizon International Hotel Shanghai

phone: +86-21 5061 9999

address: No. 2991, Gaoke Road(w), Pudong New Area

Blue Horizon International Hotel Shanghai provides business superior room, business deluxe room, business suite, executive deluxe room, executive double suite and executive suite with broadband internet access, TV with satellite channels and refrigerator. Its facilities and services include restaurant, high-speed internet access, 24-hour room service, laundry and dry cleaning.

phone: +86 21 3860-2288

address: Lane 450 Hongfeng Road, Jinqiao Export Processing Zone, Pudong

The residence, in the heart of Biyun International Community, offers apartments ranging from studio to three-bedrooms duplex apartments, with broadband internet, home entertainment system with cable TV and a kitchen.

phone: +86-21-5070 8666

address: No.1388, Jinqiao Road

Offers well-furnished accommodations all equipped with air-conditioning, TV with cable channels, Internet connection, refrigerator, mini-bar, coffee/tea maker, and many more. In keeping up with their quest for excellence, they only present you top-rated selections and efficient services such as business center, meeting facilities, executive lounge, airport shuttle, spa, concierge, and laundry/dry cleaning service.

phone: +86-21-60753388

address: No.1609,Luoshan Road

Offers elegantly designed accommodation rooms that is equipped with air-conditioning, TV with cable channels, Internet access, and more. They offer a wide range of facilities and services such as spa, restaurant, executive lounge, and a business center.
Historic 1934 Hotel Shanghai Mansions or Broadway Mansions just over the bridge from the north-end of the Bund, have reasonable rates and great views from the river-view rooms.

address: 535 Pudong Ave

462 rooms fitted with LCD TV, cable, en-suite bath, IDD/DDD telephone, mini-bar, and high-speed Internet. Some of their must try's include Yu Ting Restaurant, which serves Cantonese and other local dishes, The Eton Café, which specializes in Asian, Japanese, and Western dishes, and Chicago Steakhouse that offers Australian steaks and fine wines.

Shanghai Jinqiao Phoenix Apartment Hotel

address: No. 18 Huangyang Rd

This four star hotel has 150 air-conditioned rooms furnished with telephone, cable/ satellite TV, and free high-speed Internet.

phone: +86 21 5190 8888

address: 1433 Minsheng Rd

Good quality rooms.
Splurge
Cope
Entry and Exit Bureau
The main Shanghai office of the Entry and Exit Bureau is located in Pudong.
Shanghai Entry and Exit Bureau

phone: +86-21-63577925

address: 1500 Mingsheng Rd, Pudong District

This office will process work permits and visa extensions.
Nearest metro station is
Science and Technology Museum
on Line . Leave via exit 3 and you will be facing east as you come off the escalator; continue east along the sidewalk. It is two fairly long blocks, about a 5 minute walk. At a big intersection after the Pudong Expo building you will see the bureau (
a sort of oval shaped building
) to the right. The office faces on the other street, Ming Sheng Rd; cut diagonally through the parking area to reach the entrance.
Take the escalator up to the third floor for the area that serves foreigners. (First floor issues Chinese passports, second is for
Hong Kong
,
Macau
or
Taiwan
residents.)
Take a number
from the ticket machine. There are different series of numbers for different services; an English-speaking staff member is at the machine to ensure you get the right one.
Everyone will need a photo to put on the visa form and a photocopy of the main page of the passport; for an extension, you also need a photocopy of the current visa. Photocopies can be obtained on the third floor (back left hand corner of the room, as seen by someone facing the service counters) and photos on the ground floor (under the escalators).
Be prepared for a bit of a wait; this is a large office and quite efficient but there were over 200,000 foreigners in Shanghai as of the 2010 census. If each of them renews their visa once a year, that works out to over 750 people per working day. Expect to wait for anything from 30 minutes to three hours to submit an application and anything from three days to two weeks for them to process it. For the shortest wait, arrive around 8:30 AM, queue until 8:45 when the doors open, get a number and hope to be served shortly after the counters open at 9:00.
When you submit an application, they will give you a form with date and cost for pickup of your passport with the new visa. Pickup is on the ground floor, off to the right as you enter the building. You need to queue twice, first (with the form in hand) to pay and then (receipt in hand) to get your passport.
This office (third floor) also issues a form which many consulates require if you apply to replace a
lost or stolen passport
; you need a police report for the loss or theft to get that form. Once you have the new passport you need to return here to get a new visa. The process as a whole is remarkably tedious and annoying.
Go next
The obvious place to go is the rest of
Shanghai
, especially
downtown Puxi
which is right across the river and has most of the city's tourist sites and facilities. Shanghai also includes several quite scenic
water towns
.
Nanhui
is just south of central Pudong, and has some beaches popular as a weekend getaway for Shanghai residents. It also has the Shanghai Disney Resort.
For possibilities outside Shanghai Municipality, see the
Shanghai article
,.