Shanxi
Shanxi
(山西) is a province in
Northern Central Region
of
China
.
Cities
— the capital city of Shanxi Province.
— home of the Yungang Grottoes (UNESCO World Heritage Site).
— site of Pingyao Ancient City (UNESCO World Heritage Site). Nearby are Shuanglin Temple, Zhenguo Temple, and many Shanxi merchant family compounds.
— location of Yongle Palace and Guan Di Temple.
Other destinations
Understand
Shanxi Province, whose name means
land west of Taihang Mountain
, lies in the middle reaches of the Yellow River and on the eastern edge of the Loess Plateau. The Yellow, Haihe, and Fenhe Rivers flow through Shanxi, whose splendid landscape is graced by the celebrated Taihang and Liliang Ranges and Hengshan and Wutai Mountains. Most parts of the province are more than 1000 meters above sea level.
Shanxi's long history is traced back to the days when it was a major cradle of Chinese civilization. In remote antiquity, southern Shanxi was the domain of three legendary kings, Yao (capital: Pingyuan or present day Linfen), Shen (capital: Puban or present day Yongji) and Yu (capital: Anyi or present day Xiaxian County).
A rich cultural heritage mixes with natural wonders to form Shanxi's bustling tourist scene. Datong, Wutai Mountain, Taiyuan, Pingyao, Linfen, and Yuncheng are locations full of historic and cultural significance. Several sites in Shanxi are
UNESCO World Heritage Site
s.
Get in
Flights to Datong Yungang Airport (DAT

) from Beijing

Train to Datong from Beijing: convenient tourist train departs around 3PM from Beijing Western Station and arrives at Datong at 8:30PM.
Get around
The main sites in Shanxi are clustered around the main provincial highway, an impressive modern tollway which runs from Datong in the north to Yuncheng in the south. This highway passes through or near such major tourist centers as Taiyuan (the capital city), Pingyao, and Linfen. Thus the key tourist sights in Shanxi are easily visited by car. (The main exception being Wutai Shan, which can be reached by car but which is not so close to this main highway.) Unfortunately it is not that easy to rent a car and/or driver in Shanxi, particularly if one is not a Chinese speaker. This is best arranged through a travel agency.
Shanxi also has a major rail line which runs parallel to this highway and which stops at the key cities. It is a good way to get from city to city, although one does need to check the schedules carefully as some cities are served infrequently.
The main airports are in Taiyuan and in Datong.
There are many local and long distance bus lines in Shanxi. In general the buses get to destinations more quickly than the train.
Taxis are freely available for local trips or for daily hire.

See
Landmarks and buildings
Portions of the
Great Wall of China
can be seen in the province, including
The Outer Wall of Shanxi
at Li'erkou to Deshengbu, Juqiangbu to Laoniuwan, and along the Yellow River, near
Datong
, as well as
The Inner Wall of Shanxi
at Yanmenguan, Guangwu Old City, Ningwu Pass and Niangziguan.
Grottoes of interest can be found at
Yungang Grottoes
in
Datong
and at
Tianlongshan Grottoes
near
Taiyuan
.
Pingyao Ancient City
in
Pingyao
is an attraction in itself. Premier sights here are the two temples,
Shuanglin Temple
and
Zhenguo Temple
.
The province is dotted with other temples, including
Jinci Temple
on the outskirts of
Taiyuan
,
Twin Pagodas Temple
in
Taiyuan
,
Guangsheng Temple
(including Flying Rainbow Pagoda) near
Linfen
,
Yao Temple
near
Linfen
and
Guan Di Temple
in Xiezhou near
Yuncheng
.
Other historical sights of interest include
Nine Dragon Screen
in
Datong
,
Hanging Monastery
near
Datong
,
Yingxian Wooden Pagoda
near
Datong
and
Yongle Palace
in Ruicheng County near
Yuncheng
.
Parks and nature
Two nature areas should not be missed,
Hengshan Mountain
in
Datong
and
Hukou Waterfall
in Jixian County near
Linfen
.
Museums
For an overview of the history of the province, see
Shanxi Museum
in
Taiyuan
. Other museums of interest includes two
Folklore Museum
, one at Dingcun village in Xiangfen near
Linfen
, and the other at Qiaojiabao in
Taiyuan
.
Eat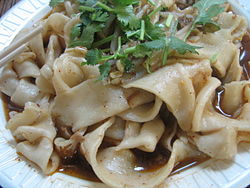 Shanxi has its own cuisine which is rather different than the more commonly experienced Cantonese, Beijing, Shanghai or Sichuan cuisines. Shanxi cuisine is particularly noted for its noodles, which come in many shapes and sizes and come accompanied with many different types of sauce. One is noteworthy for its name:
biangbiang noodles
(
biángbiángmiàn
), very wide, thick noodles in a sauce and topped with lots of hot chili peppers, have a name that can't even be written on a computer! The character for
biáng
— which refers to the sound made when stretching the noodles by pulling them and slapping them on the table — is arguably the most complex Chinese characters that's in frequent use, and hasn't been added to standard computer character sets yet.
Go next
Shanxi sits between Beijing and Xi'an, home of the famous Terracotta Warriors. For those who have time, it makes sense to travel from Beijing to northern Shanxi to southern Shanxi to Xi'an (in Shaanxi Province)or from Xi'an to Beijing via Shanxi in the other direction.