Sharjah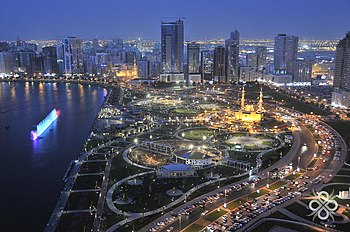 Sharjah
(Arabic: الشارقة) is the third largest city in the
United Arab Emirates
and the capital of
Sharjah emirate
. Sharjah is known for its Arabic and Islamic architecture as well as its libraries, Islamic museums, and cultural centers. The city is known as the cultural and literature hub of the United Arab Emirates. The city is rooted in its Arabic and Islamic heritage with many Ummayyad and Abbasid-styled buildings and offers a glimpse of Arabic and Islamic environment in an otherwise largely westernized country. It is a major hub for family friendly environment and activities and has a more conservative atmosphere. The city has many green parks, apartment complexes, and a large community of Arabs from all the Arab world making the city an effective cultural meeting point for many different communities of Arabs.
In contrast to
Abu Dhabi
and
Dubai
, Sharjah offers visitors a vastly larger view into Arabic and Islamic art, literature, and architecture. Its a usual destination for visitors who are looking for a cultural and a more local experience of Arabia and Islamic atmosphere compared to Abu Dhabi and Dubai.
"Smile you're in Sharjah!"
A common slogan used around the city to describe the family friendly atmosphere of the city. The word Sharq (short form of Mashriq) means east in Arabic. Sharjah is east of Abu Dhabi and Dubai, thus its name. Its classical Arabic form is "Al Shareqah".
Understand
Sharjah is very closely connected to
Dubai
through the Dubai-Sharjah-Ajman metropolitan area, with commuter traffic creating rush hour traffic jams. Many people live in Sharjah but work in Dubai, hence traffic from Sharjah to Dubai and Dubai to Sharjah is largely expected in rush hours.
The emirate is considerably larger than Dubai, with coastline on both west and east coasts of the peninsula, and with exclaves of Kalba, Khor Fakkan, and Dibba Al Hisn. The road to the east coast goes through rugged Al Hajar mountains. Public buildings in the Emirate are all in Umayyad and Abbasid architecture, and were all designed by the present Shaikh (a qualified architect). Therefore the city offers a nice visual change and a more cultural atmosphere from the usual fare of skyscrapers in other Emirates.
The
Sharjah Commerce and Tourism website
has sections on business, heritage, leisure, education, and coast.
Talk
As in the rest of the UAE, Arabic is the official language, although most residents speak other languages - particularly Hindi, Urdu and Tagalog. English is widely spoken in shops, souqs, and hotels.

Get in
For visa requirements to visit Sharjah, see the
United Arab Emirates
page.
By plane
Sharjah International AirportIt is the home of the low-cost carrier Air Arabia which has connections with various Middle East and Indian Subcontinent cities.
;Getting to/from the airport:
There is a shuttle bus connecting the airport with Sharjah centre (Rolla) running every 30 min (5 dirham).
Public bus route 111 (10 dirham) runs hourly from the airport via Al Qusais Bus station to the Metro's Rashidiya station in Dubai.
Dubai International Airport (
DXB
), in the neighbouring emirate of Dubai, has many more international connections and will be the more popular gateway to Sharjah.
;Getting to/from the airport:
To go to Dubai International Airport by taxi will set you back at around 100 dirham.
You can travel by public bus to or from Dubai International Airport by using Dubai's local bus service and the inter-Emirate bus service.

By bus

Bus travel to Dubai is possible via an inter-emirate bus service run by the Government of Dubai Road and Transport Authority. Most buses arrive at , next to the Sharjah Fish market and the Sharjah Fruit and Vegetable market, nearby to the Central Souk. A bus from Sharjah to Dubai can take about 1 hr and costs 5 dirham. Timetables can be found at the RTA website.

By taxi
Taxis are widely available. Taxis can travel from other emirates such as from Dubai to Sharjah or from Ajman to Sharjah and vice versa without any restrictions. Traveling from farther emirates such as Abu Dhabi or Ras Al Khaimah is also an option, but taxi fares may be costly. Ride-share applications such as Uber and Careem are also an option and can be used to travel across emirates. You may also call the government sponsored Sharjah taxi service to request a taxis to come right to your location.

Get around
Public buses are by Sharjah Transport, There are seven local and three express routes. Dubai's RTA also offers express commuter bus service. Licensed taxi companies are Sharjah, Emirates, Citi, Union, and Advantage. Taxi plates are reflective green, which helps to spot them at night. Flag fall is 3.50 dirham, then 1 dirham every 650 m, and the minimum fare is 11.50 dirham. There is a surcharge of 20 dirham to go into Dubai.

See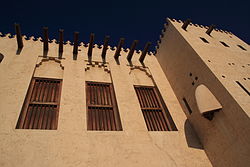 Heritage Area - Good overview available here including a few restoration of old houses. The Heritage is situated near the Corniche between Burj Avenue & Al-Maraija Road. Many historic buildings have been reconstructed with traditional materials. The most interesting sites are Al Hisn Fort, Literature Square with House of Poetry, Sharjah Museum of Islamic Civilization, Sharjah Heritage Museum and Souq al-Arsa. Most sites in the Heritage Area have opening times set aside solely for women. Visitors of both genders should make certain of these on arrival in the city.
Al Hisn Fort

phone: +971 6 5685500

address: Al-Hosn Avenue

The Sharjah Fort Museum dominates the Heritage District. The fort itself has been lovingly restored by the present Sheikh and the museum provides something of a glimpse at social history of the Emirate. Many exhibit signs, however, are solely in Arabic, with those in English often being rife with errors.

Sharjah Museum of Islamic Civilization

phone: +971 6 5655455

Sharjah Museum of Islamic Civilization is a fascinating place for any visitors with an interest in the faith, as there are handwritten Qur'ans, letters from the Prophet Muhammad to other leaders and various artifacts from Mecca. Also a comprehensive display of Arab handicrafts.

Bait al-Naboodah

phone: +971 6 5685500

address: Heritage Area

Souq al-Arsah

address: Heritage Area

Another souq worth a visit. It is considered to be the oldest souq in the country. Stop at the traditional coffehouse for a mint tea and a plate of dates.

phone: +971 6 5694561

A small museum with magnificent calligraphic works of art by Persian, Arabic and Turkish artists with a workshop where students are trained in the art of calligraphy

phone: +971 6 5680006

A small museum about the history and habits of the emirate
Art Area - Includes Sharjah's Art Museum which covers regional and international art exhibits, with the oriental collection being its highlights. The Arts Area is situated opposite the Heritage Area on the other side of Burj Avenue.
phone: +971 6 5688222

The Sharjah Art Museum shows contemporary art by local and foreign artists. It is also the home of the Sharjah International Art Biennale, a bi-yearly exhibition of international contemporary art and performance.
phone: +971 6 5665466

address: Sheikh Rashid bin Saqr alQassimi Rd

The museum explore the changing environments experienced by the region's inhabitants from the Stone Age to the present day through displays of artefacts, coins, jewellery, pottery and ancient weapons. Investigate a dig in progress, explore models of burials, houses and tombs and see the first forms of writing in this area.
Other museums also covers marine, natural history, aviation, and other valuable aspects http://www.sharjahmuseums.ae/.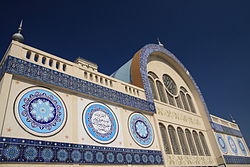 Blue Souq (Souq Al Markazi or Central Souq). An interesting, if slightly chaotic, shopping centre hosting around 600 shops in two wings. The ground floor shops tend to stock gold and expensive designer clothes, with the upper level containing shops stocking carpets and curios from as far afield as Afghanistan and Tibet. Haggling over prices in the upper-level shops will frequently attract massive discounts. A great place to buy gifts and traditional goods. Considered superior to Dubai for carpets by Western expatriates.

Sharjah Desert ParkIt has three components spread over 1 km²: the Natural History Museum, Arabian Wildlife Centre and the Children's Farm. The museum provides people of all ages with an opportunity to learn about the flora and fauna of the Arabian Desert and has five main exhibition halls: A Journey through Sharjah, Man and the Environment, A Journey through Time, The Living Desert and The Living Sea. The Arabian Wildlife Centre showcases the rich diversity of fauna in the Arabian Peninsula as well as teaching about species which have become, and are becoming, extinct. It contains more than 100 species of animals, and is divided into a reptile and insect house, aviary, nocturnal houses, viewing area and a section for large predators and monkeys. The children's farm gives children a chance to come into close contact with farm animals, such as donkeys, goats, sheep and chickens.

Fish Market

address: Corniche Road

King Faisal Mosque

address: Al-Ittahid Square

This magnificent mosque was a gift of the Saudi Arabian King Faisal. It was opened in 1987 and has space for 15,000 people. There are separate prayer rooms for men and women and the mosque has an Islamic library with more than 7,000 books. Admission for Muslims only.

Al-Qasba Waterfront and Eye of the Emirates

phone: +971 6 5560777

address: Al-Taiwoon Road, Al-Khan Lagoon

Here you can enjoy culture, entertainment and leisure attractions representing the very best from the Arab world and beyond.

Al-Mahattah-Museum

phone: +971 6 5733079

address: Estiqlal Square

Al Mahatta was the first airport in the Gulf region. It opened in 1932 as a staging post for commercial flights from Britain to India. There is an interesting film about the daily life at the airport and Sharjah town in the 1930s and four original propeller planes stand in the hangar.

phone: +971 6 528 5288

address: Al Meena Street,Al Khan Area,Near Sharjah Maritime Museum

The Sharjah Aquarium first opened its doors on June 16, 2008. It features deep-sea creatures. Sharjah Maritime Museum gives you a close-up look at the local fishes and lets you learn about Sharjah's historic coasts and ports.
Do
Jetskiing is very famous around summer time in the Khalid Lagoon.
F1 Boat Races happen around the human-made island in the Buhaira Corniche sometime around December.
Qanat al Qasba has a beautiful mosque right by the canal.
From Al Qasba there is a ferry that gives a boat tour around Sharjah.
Several different yearly festivals take place, and each one is a wonderful cultural experience. There are many fun activities at these festivals including camel rides, henna, delicious Arabian foods and dishes.
In celebration of the date season, which runs from mid-May to mid-August, the Date Festival is held at the Fruit and Vegetable Market from May 15 to August 15.
Buy
Souq al-ArsaSouq al-Arsa is considered the most atmospheric souq in the United Arab Emirates: authentic antiques, handicrafts, carpets and souvenirs for a much better price than in Dubai.

Central Souq (Blue Souq, New Souq)The Central Souq is one of the best souqs in the United Arab Republic, specialising in carpets from Iran, Afghanistan and Turkey, pashminas from Kashmir and silver jewellery from Oman and Yemen. In the Gold Center (corner of Sheikh Humaid bin Sar al-Qassimi Road and Al Wahda Roas) there are plenty of stores selling gold jewellery.

Khlas Malaki Dates

phone: +971 6 5738383

address: Corniche Road

Sweet dates, packed into small boxes, a nice souvenir.

phone: +971 6 5742574

address: Immigration Road

Luxury shopping center with more than 140 international shops and the Lebanese Beyrouth Restaurant.

phone: +971 6 532 7700

Luxury shopping center with a high class, multi-screen cinema.

phone: +971 6-531-6611

address: P.O. Box: 510051

Sahara Centre offers an enormous selection and variety of stores including fashion, sports, toys, cosmetics, jewellery, books, home furnishings and electronics among others. Some of the mall's key anchor stores include Debenhams, Marina Exotic Home Interiors, Toys 'R' Us, Home Centre and Spinneys as well as entertainment such as Novo Cinemas and Adventureland.
Eat
The ubiquitous
shawarma
is sold all over Sharjah and makes a very cheap and hearty meal.
Khuboos made of wheat also a cheap food available at very cheap
Mushmaool Arabic Grill Restaurant

phone: +971 6 5754244

address: Al Miraj Building 1, beside Megamall Entrance 3, Abu Shagara

Mushmaool is good food and amazing service. Provides the best grill in town and an outstanding dining experience. Committed to provide quality food and a healthy dining experience as close to as what you get at home.

Seashells

phone: +971 6 5283501

address: Ahmed bin Dar-eish Square, Al-Chan Road

Fish restaurant serving fried or grilled shrimps, tuna fish and hammour or a seafood platter at reasonable prices.

Lasani

phone: +971 6 573-0075

address: Sameer Al Mahmood Building, King Faisal Road, Al Majaz 1, Al Majaz

Pakistani barbecue and oriental food. One of the best Pakistani food in Sharjah.

Syed Al Biryani

phone: +971 6 5506699

address: Shop#2, Ezza Tower, Al Nad Qassmia, opp Crystal Plaza Hotel

House of great taste. One of the best restaurants in Sharjah.
Drink
Sharjah is a "dry emirate" which means sale or possession of alcohol within Sharjah is
almost
entirely forbidden. There are three exceptions:
Sharjah Wanderers ClubMembers and their guests only. Founded in 1977 as a sports club for rugby and diving, it has a pool, tennis courts and lighted rugby fields. There is a British bar which sells spirits, wine, bitter, lager and stout and which serves traditional British food.

Alcohol is available at the duty-free and business class lounges of Sharjah International Airport.
If you have a personal alcohol license, you may bring in alcohol from other emirates and consume it at home.
Also, it is legal to transport alcohol
through
Sharjah if your final destination permits it (such as from
Dubai
to
Fujairah
). Some police may not be familiar with this rule though.
Sleep
phone: +971 6 5599900

180 rooms, lobby lounge open 24 hr, Al Dana Dining Restaurant, health and fitness centre, sauna, shuttle service to access the beach (distance: 2 km)

phone: +971 6 5285000

address: Al Mina Rd

Al Reem Suites, Sharjah

phone: +971 6 5647700

address: Alqulayyah Sharjah

A well-furnished serviced apartment hotel. Rooms available at reasonable rates (monthly and daily basis). Room service available. Airport drop and pick up services, city tours and shopping centre drops are available upon request. Spacious and well arranged rooms.
Budget
Mid-range
phone: +971 6 598 5000

address: Wahda Rd, Abu Shagara District

A nice hotel offering luxury mattresses, wide screen TV, 24-hr room service, vending machines on every floor, at very affordable rates located close to city's industrial, historic and shopping areas. Free cabled internet in rooms and free Wi-Fi in the lobby. A restaurant, a 24-hr coffee shop, sauna and separate gym for gents and ladies are also located inside the hotel building.

phone: +971 6 5722575

address: #66496 Al Qasimeyah - Immigration Rd

In the heart of Sharjah. This three-star property takes pride in its contemporary amenities and friendly services. For leisure breaks, Gold Souk, Mega Mall Sharjah, and Heritage Center are just a few minutes away.

City Hotel

phone: +971 6 561 5600

Inexpensive and in the centre of town between Rolla Square and Municipality Roundabout and 10-15 minutes walk from the bus/taxi station. Rooms contain a fridge.

Sharjah Youth HostelNot a particularly appealing hostel; the furniture is run-down, the bathrooms are shady, the location is suburban and the clientele is mostly South Asian guest workers, rather than the typical hostel crowd. But it's by far the cheapest place to stay in town. There is no web-based reservation system. Send them an email and wait for the confirmation or call after sending the mail to confirm.

The Suites Hotel ApartmentsIt's in central Sharjah near the Majarah Souqe and close to the shopping areas. The Apartments are 15 minutes away from Sharjah airport and 30 minutes from Dubai International Airport and are available from around USD50 per night, a good option for groups or families.

Millennium Hotel SharjahOne of the most luxurious hotels in the UAE and provides top class service and rooms. The hotel is usually full booked so it is always better to book before arrival.

Al Mulla Hotel Suites

phone: +971 6 5745333

address: Buhaira Cornich, Opposite Marbelle Resort & Holiday Inn

Costs about USD85 for a huge one-bedroom suite that comes with kitchen and living room - can fit about 4 people.

phone: +971 6 5620000

address: 10 Al Ghuwair St, Rolla Square

It's in front of Rolla Square, opposite the main shopping centres, and surrounded by government departments and close to the Corniche. Shuttle service to the beaches and shopping malls.

phone: +971 6 5657777

address: Ahmed Bin Dareish Square, Corniche Rd

phone: +971 6 5285557

address: Sheikh Sultan al-Awal Rd, Al Chan Beach
Splurge
phone: +971 6 573 6666

phone: +971 6 565 7777

address: Corniche St

Standing along the white-sand beaches of the Arabian Gulf, this five-star Radisson Blu Resort is close to Sharjah's historic features. Complimentary shuttle service to shopping areas in Sharjah and Dubai.
Stay safe
Generally speaking, Sharjah is a safe place. Women are usually stared at in certain parts of the city, so bring a male relative or friend to be safe.
Medical services
Al Zahra Private Hospital, Al-Zahra Sq., Al Ghuair, phone 5619999,5613311
Bristol Medical Centre, Juma Al Majid Building, Al Nahda, Phone: +971-65266615
Zulekha Hospital, Al Zahra Street, Sharjah, United Arab Emirates. Ph: 600 524442
University Hospital Sharjah, University City - University Street, Sharjah, United Arab Emirates. Ph: +971 6 505 8555
Go next
The smallest emirate, Ajman, is Sharjah's northern neighbor