Shenzhen/Center
Shenzhen
's
city center
, consisting of the two districts of
Futian
and
Luohu
, has everything you'd expect from a thriving international city—skyscrapers, shopping, museums, performances—but is also surprisingly green, with huge, lovely parks and mountains. This is the main area that most visitors to Shenzhen experience, with its humongous electronics markets, fashionable residents, and border crossings to
Hong Kong
.
Get in

The Shenzhen metro system is centered in this area, so getting here from other parts of Shenzhen should not be a problem. The main border crossings from Hong Kong – Futian and Luohu – also lead to this area, as you would expect from their names.
From Shenzhen airport, take metro Line 11, which may lead you directly to where you want to go; if not, you can transfer at Chegongmiao or Futian.

By train
and .

See
Museums and galleries
Art and design
History and culture
Science and technology
Religious structures
Other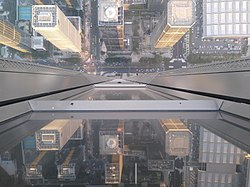 Do
Theatres and concert halls
Shadu Song and Dance Hall
phone: +86 755 82841888 (Ticket hotline 9.00-20.00)

address: 2016 Fuzhong 1st Road, Futian (福田区福中一路2016号)

See Shenzhen Library above. The Concert Hall hosts international standard artists in a stunning glass-wrapped setting.
Shenzhen Cantonese Opera Troupe
phone: +86 0755 25405183
address: 2025 Huangbei Road, Luohu District 罗湖区黄贝路2025号
Parks and mountains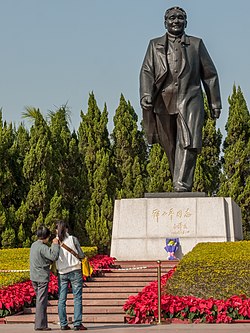 Lianhua Mountain Park

address: Hongli Road West, Futian Central

This is Shenzhen's main and most central park, just north of central Futian district. The gardens are extremely beautiful and meticulously cared for. But to really enjoy the park, you need to be there with Shenzhen's middle classes early in the morning or on Sundays when large family groups gather to have fun. At the top of the 100-meter hill, which you can reach with a 20-minute, not too challenging walk, is a large bronze statue of Deng Xiaoping striding out over the city. Large aerobics groups operate to loud music, people fly kites and play badminton, a man walks down the path inscribing Tang Dynasty poetry in ever evaporating water with an enormous brush. Further down the mountain, ballroom dancers do the tango, a group of belly dancers wiggle, and large men lay into each other with bamboo staves and swords. A famous and totally spontaneous group of singers of revolutionary opera sings by the lotus lake every Sunday morning, a must-see if you are even remotely in the vicinity. They are just past the laughter therapy group and the marriage market.

Shenzhen Garden and Flower Exposition Center

address: Zhuzilinxi, Futian District (at the intersection of Shennan Avenue and Qiaocheng East Road) (深圳市福田区竹子林西 (深南大道与侨城东路交汇处); Fútián​ Qū Zhú​zi​lín Xī (Shēn​nán Ddà​dào Yú​ Qiáo​chéng Dōng​ Lù​ Jiāo​huì Chù​​)​​)

This park started life as the site of an international garden exhibition in 2004. It is an enormous garden with an area of 660,000 m². It ranges from gently undulating to quite steep and contains gardens in many different styles, not only Chinese but from all over the world. Make sure you visit the hot houses and climb the hill past the waterfall to the pagoda on top of the hill. Views back to Hong Kong are spectacular on a clear day. A further 242 steps will take you to the top of the pagoda.

Mangrove Ecological Park

address: main entrance at Furong Road and Xinzhou Road (福荣路 Fúróng Lù, 新洲路 Xīnzhōu Lù), Futian

Hong Kong's Mai Po Marshes are one of the world's great birdwatching paradises as birds migrating from Siberia rest in the fishponds. The same birds also rest in the mangroves on Shenzhen Bay a scant two miles north of Mai Po. In the late 1990s when the Binhai Freeway was being built, there was public outrage at plans to route the road through the bird habitat of the mangroves, subsequently the road was built 200 metres north and China's smallest national park was founded. The bird watching is legendary, but if you are not into birds, the park provides coconut palm shaded walks and views to die for across Shenzhen Bay. The birds are seasonal, so there may be few or no birds at certain times of the year.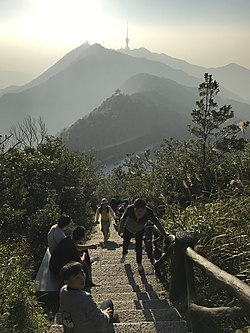 Wutong Mountain National ParkAt just over 900 meters, Wutong Mountain is the second tallest mountain in the Pearl River Delta after Hong Kong's Tai Mo Shan and it is a favorite challenge for hikers. This has been a recognised beauty spot since at least the Ming Dynasty when it was included in the Eight Great Views of Xin'an County and was celebrated in poetry. There are several routes to the top varying significantly in difficulty. The broad road will be a gentle climb. But if you intend to go to the top and back, be prepared for a 6-8 hour walk, including a lot of steep steps. There are two peaks, Lesser Wutong where the Shenzhen TV Company has its impressive transmission tower, and Greater Wutong which is reached via the notoriously difficult Hao Han Slope. On a clear day, the views from the summit over Mirs Bay and the mountains of Hong Kong's New Territories are beautiful. Night views over the city set against the sweep of Shenzhen Bay are also impressive. Wear a hat and sunscreen and bring snacks and water—at least two liters per person, though if you don't bring enough you can buy water and food on the trail.

Bijia Mountain Park

address: 26 Meigang Road, Futian 福田区梅岗路26号

Less popular but quite a bit nicer than nearby Lianhua Mountain Park. It's full of trees, birds, lots of kinds of flowers, quiet rivers and ponds, and people strolling and doing tai chi. The park strikes a balance: attractively manicured without feeling too artificial. The "mountain" (really just a hill) has two peaks, 178m Bi Guan Peak (笔冠峰) and 164m Bi Jun Peak (笔俊峰).
Spas and massage
Oriental Palm Spring International Spa ClubRefurbished with a strong Thai themed interior decor, you almost think you are in a Thailand resort especially on the new first floor. One of the many big spas in the Futian area and well worth a try if you're not into the hanky panky business. OPS is famous for providing excellent service, massages and really good Chinese cuisine. The food is excellent although a little pricey for local standards.

SLF International Spa ClubBranded as Water Cube is brand new, hence in excellent condition, and tastefully designed with an interior resembling a luxury hotel. Although English is barely spoken by anybody, the staff are clearly trained to be first class and they try their best to be helpful — and sell massages, which cost ¥48 for 45 minutes of lounge-chair massage through ¥128–238 for 90 minutes of full-body massage in the usual styles, 10% service charge and tip separate. The spa is visible from the main street outside Lok Ma Chau border crossing and metro stop, and shuttles are available to Luo Wu and Huanggang border crossings. Gym, fruit, full drink menu including iced lemon tea and coffee, gym, and videogames complimentary; internet, karaoke and VIP room rental, billiards, table tennis, and of course food all charged separately.

Queen SpaThis spa is showing its age like an old resort hotel in Las Vegas, although it remains a popular tourist destination in part because it has the notable advantage of having English-speaking staff on duty and identified with clearly visible tags year-round. The entry fee of ¥98 is waived after ¥168 of spa services paid, not including the 10% service charge and tips of ¥10-30 per 45 minutes. Foot/head/leg massage is ¥56/45 min and Chinese massage ¥168/90 min. Perks include a swimming pool, a gym, videogames, and free ice-cream and juice and fruit. Free WiFi and five-minute Internet terminals are available in the shared area. The spa has a range of VIP services available such as private Royal Club rooms with a semi-private second swimming pool and Rolls Royce transfers from Luohu (¥30) or the airport.

address: Building 1-4, Kaili Hotel, 2027 Jiabin Road East, Luohu

Beautiful interior, entry fee of ¥138 with 10% service charge. Party room rental for ¥60/hour to ¥120/hour depending on size with karaoke and chess and games included.

Sentosa International SPA ClubShuttle available, offering in March 2009 four hours of Chinese massage for ¥108 and ¥88 for any three types of foot, head, or leg massage.
Golf
phone: +86 755 3308888

address: Shennan Boulevard, Futian District (福田区深南大道)

This is one of China's two oldest golf courses. When it was established in 1985 it was way out in the country but now it is surrounded by skyscrapers, providing a pleasant oasis in the heart of Futian. This is where the locals prefer to play.
Buy
Shopping malls
Luohu Commercial CityOffers a very different experience to shopping in Hong Kong and is therefore worth a visit if only spending a short time in China. Spread over several levels are many small stores, each selling similar products: watches, jewellery, handbags, clothes and DVDs. These products are rarely authentic but they are often very well made and detailed fakes. There are many stallholders pressuring shoppers to part with their money but the atmosphere is one of enjoyable bargaining. This is the place to go for Western sizes in clothing and shoes. This is also the place to go to have massages and nails done dirt cheap as well. But remember, this is not really Shenzhen, it is more like a Chinese interpretation of Tijuana. It is rough, dirty and infested with touts. Take the plunge and go another hundred meters into the city and you will find that your Luohu experience is not representative of the rest of the city.

Dongmen Pedestrian StreetThe place to go for clothes and small-ticket items. This place is better than Luohu Commercial City in terms of price and range of items. Other than several department stores and malls, most are smaller stalls. The price is cheap, even by local standards.

MixC Shopping MallThe largest (and easily the most expensive) shopping mall in Shenzhen. Highlights include the following: Olympic size indoor Ice Skating Rink, Golden Harvest Cinema movie theater, Ole (high end supermarket with many imported items), Spaghetti House and Starbucks. Good option

Coco ParkShopping mega complex. Sports, clothing, fashion, coffee, some restaurants, including "Green Tea" (绿茶), with tasty Hangzhou food and a bilingual menu, and "Norway.Oslo" which has some outdoor seating. When you get bored you can go outside and hit up McCawley's or the Mexican restaurant for dinner, then visit any of a number of bars just across the street from the mall. Coco Park is close to the Shenzhen Convention Exhibition Center.

Central WalkAnother Shopping complex in Shenzhen. Base tenant is Carrefour, but also has usual shops, restaurants and a cinema. Three floors of shops arranged in a circle. Mostly women's clothes. Starbucks and Italian Best Coffee (Illy Coffee) are located here. Subway (Sandwiches) also has opened here.

address: 福田区深南大道车公庙路

A long underground pedestrian alley, lined with more than 500 restaurants and shops, specializing in fashion.

King Glory PlazaA mall, along the lines of MixC. It is fairly high priced. It includes a movie theater as well as the "IN" bar/nightclub (that's the name of it) and "Yellow" bar. Eight floors connected by criss-crossed escalators give you enough stores to stay occupied for a few hours. Lots of restaurants in the sub-ground levels. Connected by a walkway to Rainbow Mall. There's a Pacific Coffee on the ground floor.

Shun Hing SquareOn Shennan Road, across from the MixC. Go to the Da Juyuan (大剧院) metro station. You won't miss it, because Diwang Dasha is among the tallest buildings in Shenzhen. The shopping center is actually very small, with just a few stores on three small levels, but it's in a nice area of town with lots of other attractions, so you might dart in to see what's to be found. Starbucks on the ground floor, McDonald's in the basement level.

address: 1095 Shennan Middle Road, Futian 福田区深南中路1095号

Six-story upscale shopping mall. Includes a bunch of restaurants, and nearby Songling Road (松岭路) also has a bunch of more authentic, distinctive, and reasonably priced cuisine.
Electronics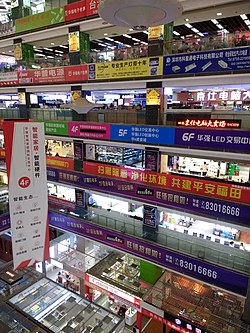 As the home of a dazzling array of electronics manufacturers and related businesses, Shenzhen naturally has huge stores selling a wide variety of electronics, both parts and consumer products.
Huaqiangbei
(华强北, Huáqiángběi) shopping area, centered around the street of the same name (华强北路, Huáqiángběi Lù), is the place for anything electronic. This is the absolute epicentre of the world's electronics industry. Huaqiangbei Street is pedestrian-only for a few blocks between Shennanzhong Street (深南中路, Shēnnánzhōng Lù) and Hongli Street (红荔路, Hónglì Lù). There are several large electronics markets and many smaller stores situated on both sides of the pedestrian street and particularly in the small streets and lanes running parallel. One famously devotes itself to stealth and security. If haggling isn't your thing, you can also get good prices on consumer electronics at Suning. Gome and Sundan stores at the northern end of the street. The pedestrian street is bustling, and there are good small restaurants on the streets nearby. Starbucks is here too. Most of the stores will close at around 5 or 6PM.
The shopping area is easy to reach by subway, with three stations along the pedestrian street: Huaqiang North Station (华强北站), Huaqiang Road Station (华强路站), and Huaxin Station (华新站).
The big electronics markets each consist of several floors full of small stalls specializing in different kinds of electronics or accessories. You can buy anything electronic here, though keep in mind that the markets are aimed at Chinese buyers, which means that, for instance, accessories for brands that aren't popular in China may be hard to find. A few products are labeled bilingually, though most are only in Chinese. Most vendors in the big markets should be able to speak enough English to make a sale, or at least have a calculator to type prices. Below are some of Huaqiangbei's well-known electronics markets, and there are plenty more in the area.
SEG PlazaThis most famous electronics market has ten floors of small stalls selling electronics and accessories. The first two floors are wholesale components and the rest is mainly dedicated to consumer goods. Most customers are expected to buy in bulk when buying small things like wires or cases, but they will sell individual pieces for reasonable prices. It has kind of a maze-like layout, so it's good for wandering around and stumbling upon all kids of interesting gizmos and novelty accessories for sale. You won't get too lost, though—you're never too far from an escalator. Products are partly organized by floor, but the signs explaining the system are only in Chinese.

Huaqiang Electronics WorldAnother huge electronics market. It's split into multiple buildings, some of which are more interesting than others. The northernmost one (深圳二店) is oriented towards consumers, with six floors of various electronics and accessories. Again, the products are organized by floor, but the signs explaining the system are all in Chinese. Head to the fifth and sixth floors for gaudy LED strips, lightbulbs, flashing displays, and lights of all kinds.

Mingtong Electronics MarketFour floors. Watch parts, electronic toys, gadgets, and mobile phone parts, as well as a lot of cosmetics on the third floor and one section of the first floor.

Yuanwang Digital Mall

address: northeast corner of Zhenhua Street (振华路, Zhènhuá Lù) and Huaqiangbei Street (华强北路, Huáqiángběi Lù)

Three floors, mostly consisting of mobile phones and accessories. Behind it is an alley of reasonably priced restaurants.
Specialized stores
Jiahua Foreign Trade Clothing Market

address: Address: 广东省深圳市福田区华强北路2007号 English: No.2007, Huaqiang North Road, Futian District

Series of stalls selling lots of cheap clothing. It's not quite as huge as Luohu Commercial City, but it's worth a look.

phone: +86 755-23992012, +86 755-23992013

address: 2014 Fu Zhong One Road, Futian District (福田区福中一路2014号)

This is a huge bookstore with a great selection of books, music, movies, and multimedia products. It bills itself as the biggest bookshop in the world. There is a small shop which specialises in English books, Eon Books. The DVD and CD section sells more or less legal versions of excellent movies at prices slightly higher than you will pay to street vendors. This often reflects better quality (but not always). Make sure you go on Sunday mornings when story telling competitions are held for children between the ages of 4 and 8. You may not be able to understand a word but they are cute.

phone: +86 755-8207 3030

address: 5033 Shennan East Road, Xinwei Community, Guiyuan Subdistrict 桂园街道新围社区深南东路5033号

The smaller Luohu branch of Book City.

Tea World Terminal MarketA whole warehouse with many stores selling all things related to tea. Wonderful selection of everything from Pu'er-teas to tea-ware. They seem not to be focused on selling to tourists, which is very nice, but they still take time with you if you want to go through the tea ceremonies.
Eat
Food is generally more expensive here than in the suburbs, especially in the central business district.
Eat Streets
Bagua First Road Eat Street

address: Bagua First Rd, Futian 福田区八卦一路

This was Shenzhen's first Eat Street. Food was originally Cantonese brought by homesick Hong Kong factory owners. It's now a smallish Eat Street compared to some of the others. Cantonese food is still good here but you can get food from all over China. Snake is excellent in season (October to January) here.

Chegongmiao Eat Street

address: Terra Industrial Zone, Futian District 福田区泰然工业区

A particularly large eat street, with good Sichuan, Hunan and Taiwanese food. There is also a good if unauthentic Macau style restaurant. Centered around Tairan Fourth Road (泰然四路) up to Tairan Ninth Road (泰然九路).

Dongmen Pedestrian Street

address: Luohu 罗湖区

Shenzhen's favorite comfort shopping district also has lots of cheap and cheerful food, especially snacks. It's the usual suspects: Cantonese, Sichuan, Hunanese, all the major fast food chains, and various others.

Huaqiangbei Eat Street

address: Huaqiang North Rd Futian 福田区华强北路

The food's in the streets and alleys parallel to Huaqiangbei. Hunan and Chaozhou are specialities. There are several shops specialising in Uyghur "naan" bread. An alley behind the main street specialises in Muslim food.

Renmin South Road

address: Luohu

This busy north-south road, in between the Luohu border crossing and Dongmen shopping area, is lined with a fair number of restaurants representing a variety of cuisines (mostly Chinese, of course), and a fair amount of shopping. You can find more on the side streets nearby.

Xinwen Road Eat Street

address: Xinwen Road, Futian 福田区新闻街

A bunch of moderately-priced sit-down restaurants near the press building—lots of Hunan food as usual, and other cuisines as well.
Budget
Mid-range
Happy Together

phone: +86 755 83351123

address: 2038 Shennan Middle Road, Futian 福田街道深南中路2038号

Busy dim sum place. Menu only in Chinese, but it has some pictures.

Modern Toilet Restaurant

address: 2nd Floor Jiefang Lu 1004 Dongmen Buxing

Taiwanese chain's first branch in the mainland. Toilet themed restaurant, featuring toilets as seats and squatter toilet plates. Food is nothing special and costs about ¥25-35/dish, but come after dinner with a friend and bring the camera for the ¥10 chocolate ice cream. The surrounding Laojie commercial district goes from cosmopolitan to near-dystopian in the course of about two hours every evening.
Splurge
Drink
address: FL1016 Street Lvl Eastern Sidewalk Central Walk Mall 福田取中心城大中华大厦对面.

It's in Central Walk, top floor on the right hand walkway (outside the building) directly opposite the Great China Building. Beer, wine and pizza served. Big screen sports coverage.

Base Bar

address: 1019 Shangbu South Road, Futian District (福田区上步南路1019号; Fú​tián​ Qū​ Shàngbù​ Nán​ Lù​​)

A live rock music venue. Great vibe and great interior deco. There are nice three-sided booths along the walls for larger groups. A variety of acts play into the early morning. Friendly waitstaff with Communist Star armbands.

IbizaA European style two-story pub. It is quite popular among foreigners.

KingwayBrewery and beer garden.

Ren Jian Du Hui In Club

phone: +86 755-82391111

address: 深圳市春风路桂都大夏2F-5F

This is a KTV that has a lounge with performances on the 2nd floor, and private rooms on the rest of the floors. You can pay to have male or female hosts sit with you - for a tip. 200+ for the girls and 500+ for the gigolos. You can have them line up for you and you can pick the one you like.

3D Bar

address: Block B, Bar Street, Citic Plaza, 1093 Shennan Rd

Guinness is available on tap. There are also many other international beers available (bottled mainly). The outside tables along the walkway are good for a relaxing pint, the inside tables and the outside tables closest to the front door are if you're looking for a livelier atmosphere, better
Coco Park
Outside the Coco Park shopping complex (mentioned above) is the bar street of Futian, with all kinds of bars packed into the middle of the block. It's expensive but upscale. During bar hours it's notoriously hard to find food beyond a few noodle shops or convenience stores.
Club VivaJust north of Coco Park shopping mall, in the middle of the boardwalk. Usually packed on weekends with many foreigners.
Sleep
Budget
Home InnsBiggest economy hotel chain in China. It features high quality and consistent standard rooms with very reasonable prices. There are several branches in Shenzhen.
Home Inn (Shenzhen Luohu Kou'an)

address: 1064 Yanhe Nan Road, Luohu District (罗湖区沿河南路1064号; Luó​hú​ Qū​ Yánhé​ Nán Lù)​​​

Home Inn (Shenzhen Xinzhou)

address: 315 Shiji Gongyi Pin Jiaoyi Shichang Building, Xinzhou South Road, Futian District (福田区新洲南路世纪工艺品交易市场315楼; Fú​tián Qū​ Xīn​zhōu​ Nán​ Lù​ Shì​jì Gōng​yì Pǐn​ Jiāo​yì​ Shì​chǎng​ Lóu)​​

Home Inn (Shenzhen Zhuzilin)

address: 福田区竹子林益华大厦

Home Inn (Shenzhen Railway Station)

address: 罗湖区滨河大道交和平路渔民村小区内
Shenzhen Guest House3-star hotel with 584 well-kept guestrooms. Business and leisure facilities are also available.
Xi You Hostel

address: 福田区华强北振兴路西113号

Capsule hostel a 10 minute walk to the SEG building, a 4 minute walk northwest from the 华强北 subway stop. Receptionists are more helpful than average and have functional English. Has three public computers, smoking room, free coffee (but bring your own mug), hot water, small kitchen area/fridge, and free laundry. About ¥88 a night for lockable capsules with shared bathroom and a private locker.
Mid-range
address: 3018 Nanhu Rd

A four star hotel with nice facilities, seasoned staff and excellent service.

phone: +86 755 25523338

address: 1052 Aiguo Road, Luohu District (罗湖区爱国路1052号; Luó​hú​ Qū​ àiguó Lù​)

A 4-star hotel featuring cozy, fully furnished guest rooms, multifunction conference room, business center, health club, and restaurant.

Holiday InnVery new and clean hotel, excellent services. Also includes free Wi-Fi internet access. The staff speak English reasonably well.

Lee Garden Inn

address: 2048 Dongmen Zhong Road, Luohu District (罗湖区东门中路2048号; Luó​hú​ Qū​ Dōng​mén​ Zhōng​ Lù​)

3-star hotel with 100 guest rooms for business travelers. Conference facilities and broadband internet are available.

phone: +86 757 88286768

address: 1019 Middle Shennan Road (Shennan Zhong Lu)

Located in the heart of Shenzhen's well-known financial district and on the popular Shennan Zhong Road, the Novotel Watergate Shenzhen (Shenzhen Wande Nuofute Jiudian) is well positioned as an international business hotel.

Oriental Ginza

address: Futian District

Four star hotel with excellent service, English speaking staff, and services for both business and leisure travelers. Also includes free internet access.

phone: +86 755 82252888

address: 春风路3002号

4 star hotel, their cheapest rooms start at ¥300, they also have a pool.

Pavilion Hotel

phone: +86 755 82078888

address: 4002 Huaqiang Road North, Futian District 福田区华强北路4002号
Splurge
Go next