Shenzhen/Nanshan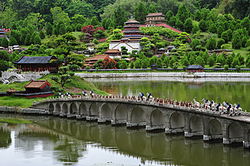 Nanshan
(南山, Nánshān) is a district of
Shenzhen
. It's a happening place—international artist communities, multiple amusement parks, historic sites, and more.
Nanshan district also includes
Shekou
, on metro line 2, the expat neighborhood with everything Western that you might be accustomed to as well as the main ferry terminal.
Get in
Shenzhen's main ferry terminal, , is in this district, providing service from
Hong Kong
,
Macau
, and
Zhuhai
, including direct service from
Hong Kong International Airport
that allows you to skip Hong Kong customs and immmigration.
The district is also well-connected by metro and includes train station.
See
Art museums and galleries
phone: +86 755 26915007, +86 755 26915100

address: Block F2, South Section, OCT-LOFT Creative Culture Park, Enping Street, Nanshan District (南山区恩平街华侨城创意文化园南区F2栋)
The Sea World Culture and Arts Center

phone: +86 755 2667 1187

address: 1187 Wanghai Road, Shekou, Nanshan (南山区蛇口望海路1187号)

Shenzhen's largest design museum, plus cultural mall. Located close to the shopping/entertainment complex of the same name (below).
History
China Merchants History Museum

phone: +86 755 26887006

address: 21 Yanshan Road, Shekou, Nanshan District (南山区蛇口沿山路21号)

The official museum of the China Merchants Group (招商局集团), a major state-owned corporation based in Hong Kong.

phone: +86 755 86700071

address: 2093 Nanshan Avenue, Nanshan District (南山区南山大道2093号)

Tianhou Temple

address: 赤湾六路9号 Chìwān Sixth Road 9

This is one of China's biggest and most splendid temples to Tianhou, the Goddess of Heaven who guards over sailors and fishermen. It was founded in the early fifteenth century by the famous eunuch admiral Zheng He who, during one of his voyages of discovery, was saved from shipwreck here during a typhoon by the intercession of Tianhou, this despite the fact that Zheng He was a Muslim. It has been restored many times during its lifetime, most recently during the 1980s after the ravages of the Cultural Revolution. At one time it was the biggest temple to Tianhou in existence. It is built in the style of the Ming Dynasty (14th to 17th centuries) and is a magnificent example of this style.

Tomb of the Young Song Emperor Zhaobing

address: Chiwan (赤湾​)

Closed for cleanup in late 2018, apparently due to typhoon damage and fallen trees. It's not clear when it will reopen. This is putatively the tomb of the last Emperor of the Southern Song Dynasty (d. 1279). There is little doubt that he died in this general area after fleeing from the Mongols who had taken the dynastic capital Hangzhou. Modern knowledge of the tomb dates back to the latter years of the 19th century when the Zhao (Cantonese Chiu) Clan of Hong Kong (Zhao was the Song Imperial surname) researched the tomb and declared it to be in Chiwan near the great Tianhou Temple. Certainly there are folk tales of the Emperor's demise current in the Chiwan area and very large numbers of people claiming Imperial descent in the district. But the claims remain debatable. The tomb was restored in the early 20th century and subsequently fell into disrepair. It was rediscovered by a military cook during the Cultural Revolution but left alone. The Shenzhen City Government further restored it in the 1980s. It is in the form of a normal Chinese upper class tomb and the focus of much popular devotion.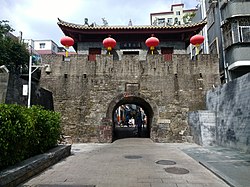 Xin'an (Nantou) Ancient City

address: Nanshan

This is the original county town for the county which used to encompass Hong Kong and Shenzhen. There has been a town on this site since the 4th century. Much of the old town has been demolished and replaced by residential buildings in the "urban village" style, but Xin'an has still maintained the flavour of a Cantonese town throughout the ages with vibrant street life along narrow streets. The Ming Dynasty wall and gate remain magnificently preserved as do the Guan Yu Temple outside the gates, the naval and civil headquarters, a silver shop, an opium den, and a Qing dynasty government building. If you can find it, visit the 18th century "Flower Street" or street of brothels, a narrow alley with an 18th-century official stele denouncing the evils of prostitution. Just outside the town (to the southwest, near the temple) is an archeological museum. The various well-preserved buildings have information about the area's history, but almost all of it is in Chinese, though the museum has a booklet with information in English if you ask.

Chiwan Left Fort

address: Chiwan First Rd, Chiwan, Nanshan (南山区赤湾一路)

Chiwan was one of the prime defensive spots on the Pearl River. The Chiwan Fort was divided into two parts, the Left Fort and the Right Fort. Originally they had twelve gun positions but now only the Left Fort is in any reasonable degree of repair. Perched on Ying Zui Mountain, at over 160 m (500 feet) above the Pearl River, they commanded a full field of fire. Their failure to make any impression on British ships as they entered the Pearl was one of the first great disasters of the Opium War. There is also a statue of Lin Zexu, the Viceroy of the Two Guangs, whose decision to try to destroy the opium trade was one of the causative factors leading to the Opium War.
Other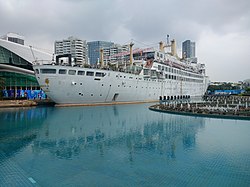 phone: +86 755 26520380

address: 176 Changxing Road, Nanshan District (南山区常兴路176号)

The library's main branch is on Changxing Road. There are also seven smaller branches.

PortofinoShenzhen housing developments are often built around beautiful tropical gardens with luxurious club house amenities and one of the most famous of these is Portofino. It is built around a surprisingly attractive imitation of an Italian Piazzetta along a lake which has cafes, bars and restaurants without outdoor seating. Shenzhen's best Cantonese restaurant chain, Laurel, justly famed for the quality of its dim sum, has a branch with outdoor seating here. Be sure to be early. Sunday morning dim sum queues are long.

Shekou Sea World

address: 1128 Wanghai Road, Shekou 蛇口望海路1128号

A shopping/entertainment complex which has nothing to do with the US marine animal park. In 1984 Shekou was booming and there was a serious shortage of accommodation. To deal with this, the cruise ship "Ming Hua" (commissioned in 1962 in France) was moored alongside the dock and used as a floating hotel. Only nine years before it had been the focus of a political typhoon during the movement which saw Deng Xiaoping sent for the second time into political limbo. No wonder that he was happy to write an inscription in his own handwriting, "Sea World", a facsimile of which now presides in neon over the ship. The land has now been reclaimed for half a mile beyond the ship which now sits in a shallow pool. But the attractive square in front of the ship is surrounded by restaurants and coffee shops designed to evoke foreign lands like Europe, and successfully so, with the result that it's very popular among Shenzhen's expats. A restaurant in the ship named The Ex Ta Sea has pool tables and table football. You can also rent an electronic animal ride or a triple seated bike. In front of the ship there is a little dome, and there are shops all around the edge. You can buy toys, magic tricks, and various goods. Behind the ship, there is a golf course. This is a very happening place where a lot of celebrations are held. Various international restaurants like McDonald's, KFC, Papa Johns, sushi, Dunkin Doughnuts, Mexican, Starbucks. In the center of Sea World is a smooth tiled center where people ride their bikes, skateboards and scooters.

Shekou Maritime Museum

phone: +86 13902968049

address: Level 2, Shekou Building Annexe, Shiyun Road, Shekou Subdistrict, Nanshan District (南山区蛇口街道石云路蛇口大厦附楼二楼)

A small museum with exhibits on marine biology.
Do
Amusement parks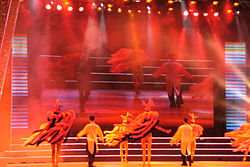 Most of Shenzhen's amusement parks are in Nanshan.
address: 南山区华侨城深南大道

Travel around the world in one day. This 480,000-m² park has a beautiful natural landscapes and wonderful lighting at night. Inside, you can climb the 1:3 scale Eiffel Tower, go inside the Egyptian Pyramids, see the Leaning Tower of Pisa, Taj Mahal, Grand Canyon, Niagara Falls, Mount Fuji, the Buckingham Palace and other famous landmarks. Inside Mount Fuji there's an amusement ride called Fast Fuji, where you snowboard down Mount Fuji and the chairs move with the movie. Inside Mount Rushmore there's also an amusement ride which is similar to Fast Fuji, and its name is Flying Over America, where you see the landmarks of the US on a floating chair. Every night there are spectacular dance shows based on themes of Chinese and world history. Hundreds of dancers perform on the enormous outdoor stage. The performance finishes with a procession and fireworks at 21:00.

Splendid China & Chinese Folk Culture VillageIt combines two different sections. The first part is a miniature park of China. You can find the famous Forbidden City, Terracotta Soldiers, Tibet Potala Palace, Huangshan Mountains, Yunnan's Stone Forest, and of course the Great Wall of China. This miniature park covers 300,000 m², fully forested with beautiful greenery and flowers. The second part consists of dozens of houses, temples, yurts, and so on, each representing one of the 56 ethnic groups in China, such as Miao, Yi, Bai, Mongol and Uyghur. You can find here real people, culture, fashion, customs, religion, language and food. As with all the Shenzhen theme parks, plenty of people go just for the fixed exhibits but main attractions are the shows. Uyghur women twirl to Turkish music, Miaos dance, a miniskirted Ming Dynasty troupe performs electronic versions of Ming music and dance—not to mention the acrobats. There is even a Tibetan rock band. The special effects are also amazing and it involves using laser to create a animated light tunnel. A Mongol horse battle held daily, just follow the smell of horse manure. Altogether the park is huge; between the shows and the exhibits it can easily be an all-day activity.

address: Qiaocheng W Rd OCT 南山区华乔城乔城西路

A classic fun park. It is a lot bigger than Hong Kong Disneyland and many would say a lot better. Divided into theme areas it has the usual fun rides. Try the flume ride but be prepared to get wet. The Playa Maya is an excellent water park built around a Maya architectural theme. There are shows all day and well into the night.

phone: +86 755 26622888

address: Xili Road, Nanshan District (南山区西丽路; Nán​shān​ qū​ Xīlì Lù)

Billed as a safari park where the animals stare at the humans. It is dirty and disorganised, but children may like it.
Theatres and concert halls
phone: +86 755 86371698, +86 755 86371699

address: Baoli Wenhua Square, Houhaibin Road, Nanshan District (南山区后海滨路保利文化广场; Nán​shān​qū​ Hòu​hǎi​bīn​ Lù Bǎo​lì​ Wén​huà​Guǎng​chǎng​​)

This is a more or less middle-brow theatre specialising in musical theatre and often hosting Russian Army theatre troupes. The futuristic silver egg-shaped building alone makes it worth a visit.
Parks and mountains
Nanshan Park

address: 51 Yanshan Road, Nanshan District 南山区沿山路51号

A forested hill with hiking trails. The peak (大南山 Dà Nánshān) is 336 meters high and the trails are mostly stairs, so this is a reasonably challenging hike. Plan about 2–3 hours round trip if you're a strong hiker, or longer if you want to explore more of the trails. The park is quiet, without many hikers, and on a clear day the peak has lovely views of the city, the water, and Hong Kong's New Territories.

Zhongshan Park

phone: +86 755 26612335

address: 3190 Nanshan Avenue, Nanshan District (南山区南山大道3109号)

Shenzhen's oldest park. It was established in 1925 to honour the memory of Sun Yat-sen (Sun Zhongshan).
Golf
address: Shahe East Rd Nanshan (南山区沙河东路)

Another favorite with the locals. It has 27 holes plus a nine hole night course under lights. Gary Player designed the course.

phone: +86 755 26552888

address: Tanglang Village Xili, Nanshan (南山区西丽针塘郎村)

This is a private club owned and managed by the Kuok family of Shangri-La fame. You will need an invitation to play here. It is worth getting it.
Other
Alps Ice and Snow World

phone: +86 755 2660 8000

address: 9037 Shennan Ave, HuaQiaoCheng, Nanshan Qu

Skating, skiing, and snow tubing. The skating rink has irregular shape. The ski slope is quite short and not very steep, but there is a lift to take you up. Snowboarding/skiing equipment and clothing can be rented (expect to leave a deposit). The sledding slope is great for children. It is quite cold inside even in hot weather.
Buy
phone: +86 755-8612 2001

address: 2748 Nanhai Boulevard 南海大道2748号

The Nanshan branch of Book City, Shenzhen's local chain of large bookstores.
Eat
Overseas Chinese Town (OCT) is famous for its numerous dining options, including some of the best Korean restaurants in Shenzhen. All are within easy walking distance from Huaqiaocheng (OCT) Metro Station, behind the InterContinental Shenzhen Hotel.
If you're feeling homesick, there are a lot of international bars and restaurants in Shekou, the main residential zone for Shenzhen's sizable Western expatriate community. They're centered around Sea World metro station.
Eat Streets
The Shekou Sea World area is an "Eat Street" with a variety of foreign restaurants. It's pretty neat for locals, but not so exotic for foreign visitors.
Budget
Mid-range
10 Gong Guan

address: 10 Qiaochen West Road, Nanshan District (侨城西路10号鸿波酒店)

Dim sum restaurant.

Laurel Restaurant

phone: +86 755 26003218

address: 1/F, Portofino Club House,OCT Xiang Shan Street, Nanshan District (南山香山街波托菲诺会所)
Splurge
Drink
C:UNIONA great place to discover Shenzhen's surprisingly vibrant alternative community. A variety of live bands from around China and sometimes abroad perform here every Saturday night, followed by a DJ playing electronic music. Shows start around 20:00. You can also check out the surrounding neighborhood whose restaurants and small art outlets create a hip vibe along the brick pedestrian roads.
Shekou
The expat district, on a peninsula that sticks out in the southwestern region of the city.
Beer Paradise

address: first floor, Haibin Business Center, Sea World 海上世界海滨商业中心1楼

Serves lots and lots and lots of beer.

McCawley's Irish Bar & RestaurantIrish decor bar with rock cover band. Serves a variety of Western dishes at prices around ¥80-100 per main course. Beer from ¥35 per pint and up.

phone: +86 755 26829105

address: Sea World Square, Shekou

Live rock cover band and Thai food.

X-Ta-Sea Sports Bar & Restaurant

phone: +86 755 2686 7649

address: Shekou, Sea World

Features live rock music Tuesday to Saturdays by house band Kaktooz. Amenities include multiple TV screens, table football, darts, pool tables a menu of mostly Western-style food and free Wi-Fi.
Sleep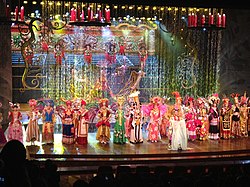 Budget
LOFT International Youth HostelModern place in the YHA China franchise, with keycards, free wi-fi, and a nearby supermarket. The hostel can be a bit difficult to find as from the metro station it's on the far side of a redeveloped commercial estate.
Mid-range
phone: +86 26416666-8355

address: 88 Qianhai South Road, Nanshan District (南山区前海南路88号; Nán​shān​ Qū​ Qián​hǎi​ Nán​ Lù​)

Air-conditioned rooms with cable TV, wet bar, hair dryer, electric kettle, telephone, private toilet and bath, shower, bathrobe, and complete bathroom amenities.

Windsor Hotel

address: 2062 Nanxin Rd, Nanshan District

While a little far out of the way the staff is friendly (although English is limited) and the hotel is quiet and clean. It offers sizable doubles with air conditioning, private bathrooms and free internet (they provide the cable).
Splurge
Go next
Western Shenzhen – mostly industrial, but has more parks and hiking than Nanshan