Sherbrooke
Sherbrooke
is a city of 160,000 people (2016) in the
Eastern Townships
of southern
Quebec
,
Canada
.
Understand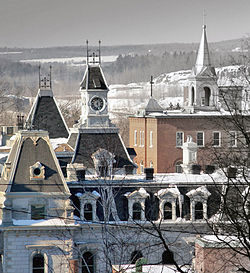 Sherbrooke is the primary economic, political, cultural and institutional centre of Estrie. There are eight institutions educating 40,000 students and employing 11,000 people. The proportion of university students is 10.32 students per 100 inhabitants, the highest concentration of students in Quebec.
Since the 19th century, Sherbrooke has been a manufacturing centre, but this sector has declined significantly. The service sector occupies a prominent place in the economy of the city, as well as a growing knowledge-based economy.
The Sherbrooke region is surrounded by mountains, rivers and lakes. There are several ski hills nearby and various tourist attractions in regional flavour. Mont-Bellevue Park, a large park in the city, is used for downhill skiing.
===History===
The First Nations (Aboriginal) people were the first settlers in the region, between 8,000 and 3,000 years ago. Traces of seasonal camps, characterized by arrowheads, scrapers, and other similar tools have been found. Ceramic objects dating from the Woodland period (3000 to 500 years ago) were also found, indicating that the region continued to be occupied by nomadic people during this period.
Upon the arrival of Samuel de Champlain in Quebec in 1608, this region was under the control of the Mohawks. France created an alliance through its missionaries with the Abenaki in Maine and Vermont. The French were driven to the valley of the St. Lawrence River near Trois-Rivières after a Mohawk victory in the war of 1660. The area around present-day Sherbrooke then became a battlefield between the two peoples who had to travel to the region, both of whom sought to obtain control of the territory. During the Seven Years' War between France and Britain, the Abenaki, still allied with the French, travelled along the rivers of the Eastern Townships, frequently near present-day Sherbrooke, during raids against British forts.
After the American Revolution, British Loyalists came from America to the region, and obtained government grants. The first attempts at colonization occurred in 1792 on the banks of the St. Francis River. This settlement was known as Cowan's Clearance. In 1793, loyalist Gilbert Hyatt, a farmer from Schenectady, New York, established his farm not far from the confluence of the Massawippi River and Coaticook River. Over the next two years, 18 families came to live on the site. The Crown acknowledged Hyatt's ownership of the land in 1801. Hyatt built the first dam on the Magog River, in collaboration with another loyalist named Jonathan Ball. Hyatt then built a gristmill in 1802 on the south bank of the river, effectively founding a small village that became known as "Hyatt's Mills". In 1818, the village was renamed after Governor General Sir John Sherbrooke at the time of his retirement and return to Britain.
Manufacturing activities were established that harnessed the Magog River's hydropower. In 1852 a railway line connected the cities of Montreal and Portland. From 1867 to 1892, the manufacturing system was based on hydraulic power. The founding of several important factories near the Gorges helped to attract more and more Francophone workers, coming mainly from the Beauce and elsewhere in Quebec.
Despite the town's English name and heritage, relatively few traces of the city's English past remain, and the vast majority of the city's residents speak French.
Climate
Sherbrooke has a humid continental climate, with long, cold, and snowy winters, warm summers, and short but crisp springs and autumns. Highs range from −5.8 °C (21.6 °F) in January to 24.6 °C (76.3 °F) in July. Annual snowfall is large, averaging at 287 centimetres (113 in), sometimes falling in May and October. Precipitation is not sparse any time of the year, but is the greatest in summer and fall and at its least from January to April, totalling 1,100 millimetres (43.3 in) annually.
Get in
Limocar offers an intercity bus service from
Montreal
to Sherbrooke for $33. Autobus La Québécoise offers service between Sherbrooke and
Trois-Rivières
and
Quebec City
.
Many travellers to Sherbrooke use a ridesharing service: Kangaride/AmigoExpress and AllôStop offer rides from Montreal for about $10-20 plus a yearly membership fee of $7.50 for Kangaride (free 6 months trial account for students) or $7 for AllôStop. They also have rides to other major cities in Quebec and beyond and both offer free membership to students.
While there are no direct services between Sherbrooke and any
US
destinations, you may be able to find a ride with one of the above-mentioned ridesharing services.
Get around
The
STS
, which is local transportation by bus, offers either a one trip 'jeton' that you have to buy beforehand at an authorized dealer for $3.25 giving you one trip with all transfers necessary or, more economically if you travel a lot, a day pass at $9.25 that either gives the right for one or two adults
with
children (age 12 or less) for a maximum of 6 passenger on one pass or one adult alone. Service for the bus ends at midnight; if you need to get around after that, use a taxi. It is not too expensiveabout $30 for one end to the other of the city--but if you need one at night, chances are that you are in downtown. From there to the farthest hotel, it would cost you $15.
Taxi service

phone: +1 819-562-4717
Also, if you have a cell phone anywhere in Quebec, try *TAXI: it will patch you in the taxi service of your region--the cost is 99¢.
See
Sherbrooke Museum of Fine Arts (Musee des Beaux Arts)

phone: +1 819-821-2115

address: 241 Dufferin

This art gallery is in the historic 19th-century Eastern Townships Bank building downtown. It displays both works of universal value and local flavor, focusing on the works of artists of the Eastern Townships, but also exhibiting other works. A dozen or so exhibitions are circulated through the lower two floors each year, while the third floor houses the museum's permanent collection, featuring works by Frederick Simpson Coburn (1871-1960), from Melbourne in the Eastern Townships. $6, seniors/students $5.
Do
Every summer there is the Fête du Lac festival at Parc Jacques-Cartier which features an international fireworks competition and many local artists.
Outdoors
Sherbrooke has many options for someone who enjoys nature.
Bois BeckettThis forest is considered as being one of only two 'Ancient forests' in an urban area in the whole province. The forest's 8 trails have a total length of 6.1 km.

Marais Réal-D. CarbonneauThis wetland is home to many plants and animals, and makes for a delightful walk in spring, summer or fall.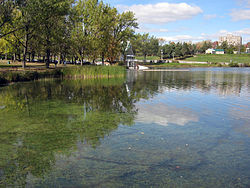 Parc Lucien-Blanchard. Near the University of Sherbrooke, this park has trails for walking and cycling along the Magog river. During the summer there is a beach for free-water swimming and canoes and kayaks may be rented. There is also La Maison de l'Eau, an interpretation center featuring an exposition of various amphibians and fish.
Parc Jacques-Cartier. This is a huge park where people come for different activities. The park is next to the Lac des Nations, and a walkway allows for pedestrians and cyclists to circle the lake. This is a very popular place during the summer.
Buy
Carrefour de l'Estrie3050 boul. de Portland. Shopping center with many stores.

Marché de la Gare. Market where various local products may be purchased. In the summer there are local farmers selling their produce outside. There is also a Savoroso, for refreshing gelatos on a hot day.
Eat
Drink
Micro-breweries
Clubs
address: 2155 rue King Ouest

La Fakulté is a huge student bar. It's only opened on Wednesdays but it's the biggest night in town. Be there early (22:00) unless you want to wait in a lineup.

address: 66 rue Meadow

Club with four rooms, each with a different setting. Hip-hop and techno. Good night on Friday only and some student Thursdays.
Sleep
Go next