Shibata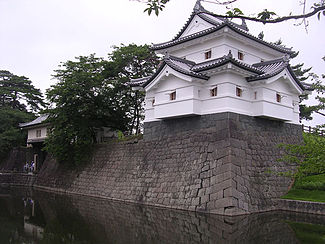 Shibata
() is a city in
Niigata prefecture
.
Understand
Shibata is on the northern Echigo Plain, near
Niigata City
. It flourished as a castle town in the Edo Period and still has a lot of cultural heritage such as Shibata Castle and Ashigarunagaya.
Get in
See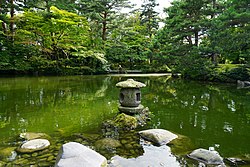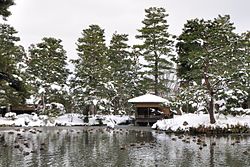 Shibata Castle

phone: +81 254-22-3715

address: 6-4 Otemachi

Construction of Shibata Castle was started in 1598 by the first clan leader, Mizoguchi Hidekatsu, and was completed in 1654. The Omote-mon gate and Sumi yagura turret remain from the old days and are designated as important national properties.

phone: +81 254-22-2659

address: 7-9-32 Diei-cho

Ichishima Residence

address: 1526 Ten-no

Wealthy former landowner's residence. Many antiques, such as vases and paintings, are on display in the rice warehouse.

Sekisen-soFrom 2017 the garden was closed for rennovation. It will reopen when it is finished, but a date has not been set.
Do
Onsen
There are several hot springs in a rural area in Shibata.
Tsukioka Onsen(月岡温泉)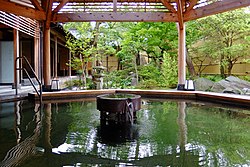 Tsukioka Onsen was discovered in 1916. Today, Tsukioka has become major hot spring area with 20 Japanese style hotels and over 700,000 visitors a year. Some of the hotels open their baths to non-staying guests during daytime.
Tukioka Onsen is about 20 minutes by bus from Toyosaka Station.
Bijin no YuPublic bath.
Hotel Hisagosou
Hotel New Akebono
Toueikan
Others
Shibata Onsen - Ayame No Yu
Golf
There are many golf clubs and courses, in and around this city.
address: 855 Bandai

address: 130-4 Honda

address: 2-160-6 Higashikou - Seiro-machi

address: 2001 Fujitsukahama

Shibatajo Country Club

address: 1023-1 Ura

address: 211 Motogou
Sleep
City Center
Tsukioka Onsen
Budget
Mid-range
Splurge
Connect
Shibata City Sightseeing Information

address: 1-1-5 Suwa-cho
Go next