Shiga
Shiga Prefecture
(滋賀県
Shiga-ken
) is in
Kansai
region of
Japan
. See also
Biwako Visitors Bureau
for tourism information in English.
Understand
Shiga used to be known as the province of
Ōmi
(近江). Shiga is adjacent to
Kyoto
and
Nara
, so there are many historic spots such as temples, shrines, castles and ninja houses. Also Shiga has the largest lake in Japan and is enclosed by mountain ranges, so you can easily enjoy the wonderful natural views.
Cities and towns
— the prefectural capital with many historical sites
— the site of one of Japan's few original castles
— the homeground of Koga ninja clan and Shigaraki ware
— traffic and commercial city
— major train junction and Mt. Ibuki, the highest mountain in Shiga
— the city of old-fashioned landmarks such as the oldest preserved railroad station in Japan
— the hometown of old merchant culture, rural boating, and western buildings by Vories
— an Ōmi beef-producing district near Omihachiman
— a scenic rural city in northwestern Shiga
Other destinations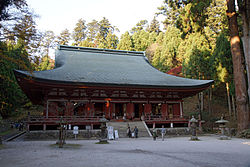 — Japan's largest lake
— an ancient temple complex guarding Kyoto
Get in
By train
The Tokaido Shinkansen line stops at Maibara on its way from Kyoto to Nagoya. Otsu and the southern Lake Biwa area are easily accessed on local trains from Kyoto.
The Special Rapid Service (新快速 Shinkaisoku) trains of JR Tokaido line and Hokuriku line (Its nicknames are "JR Kyoto Line" and "Biwako Line". Connects Osaka, Kyoto, Kusatsu, Maibara, Omi-Shiotsu and Tsuruga) and Kosei Line (Connects Osaka, Kyoto, Katata, Omi-Maiko, Omi-Shiotsu and Tsuruga) is useful for travel between Osaka, Kyoto and Shiga. Special Rapid Service trains runs once every half-hour or so.
In Tokaido Line and Hokuriku Line, Special Rapid Service trains stops at Kyoto, Yamashina, Otsu, Ishiyama, Minami-Kusatsu, Kusatsu, Moriyama, Yasu, Omihachiman, Notogawa, Hikone, Maibara, Sakata, Tamura, Nagahama, Torahime, Kawake, Takatsuki, Kinomoto, Yogo, Omi-Shiotsu, Shin-Hikida and Tsuruga.
In Kosei Line, Special Rapid Service trains stop at Kyoto, Yamashina, Otsukyo, Hieizan-Sakamoto, Katata, Omi-Maiko, Kitakomatsu, Omi-Takashima, Adogawa, Shin-Asahi, Omi-Imazu, Omi-Nakasho, Makino, Nagahara, Omi-Shiotsu, Shin-Hikida and Tsuruga.
The Keihan Keishin Line connects Yamashina in eastern Kyoto City to central Otsu. It joins the Kyoto subway Tozai Line beyond Yamashina.
See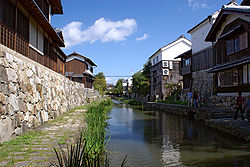 Eat
It may not have the name recognition of Kobe beef, but Omi beef is very famous among Japanese gourmets, and every local town will have an (expensive) speciality restaurant. If you want to try it at a reasonable price, you can buy Omi beef ekiben (box lunches sold at a station) at JR Maibara station.
Funazushi (鮒寿司) is a famous local sushi. Made from anaerobically fermented funa (鮒), a local freshwater carp, the recipe dates back thousands of years and is in fact the original form of sushi. It's famously stinky and an acquired taste even among the Japanese.