Shikinejima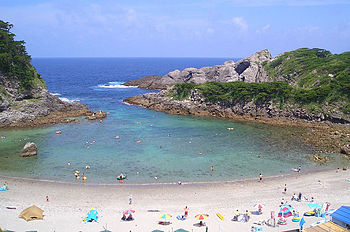 Shikinejima
(式根島) is a small island in the
Izu Islands
, 140km from
Tokyo
.
Get in
By plane
There is no airport on the island itself, but there are flights from Chofu Airfield (
Tokyo
) to neighboring
Niijima
. From Niijima there are 3 boats a day to Shikinejima for about ¥500 single journey.
By boat
Tokai Kisen
operates ferries from
Takeshiba Terminal
(竹芝客船ターミナル) in
Tokyo
, adjacent to Takeshiba station on the Yurikamome line and a 500-meter walk from Hamamatsucho/Daimon station on the Yamanote/O-Edo lines.
Be sure to book in advance: for example, to get the overnight ferry that departs at 10pm (or 11pm in the Summer months), you must book by 5pm. There are two boats, a big slow ferry, and a small fast speed cruiser. Travel time is 2.5 hours on the fast boat and 9-10 hours (overnight) on the slow one. The price of the ferry ranges from around ¥5,000 (free sleeping you must find a place on the ground) to ¥15,000 or more if you wish seats or private cabins. The price is higher in summer.
Taking the overnight ferry can be an interesting way to travel if you don't suffer from sea sickness. Most people choose the cheapest tickets, and sleep on the ground (either outside, or in big cabins, with delimited spaces on the ground). On board there is a basic restaurant and many vending machines selling food, soft and alcoholic drinks. The facilities are basic. You can rent a blanket for ¥200.
After leaving Tokyo Bay and passing under the famous Rainbow Bridge the coast line of the bay becomes hard to see but soon after sunrise it's possible to relax on the deck and watch the ferry approach and dock in two islands, Oshima and Niijima, before reaching Shikinejima. It will go to Miyakejima afterwards, and then return to Tokyo.
If you have booked a room in a "minshuku" (民宿, the budget version of a ryokan) then the staff will be waiting at the port to greet you and drive you to your lodging when you arrive at the port in the morning.
Nobushi PortWhere all ferries can be found.
Get around

The island is 3.9 square kilometers in total. The eastern side of the island is where most of the 600 residents live, but the whole island is easily accessible by walking or bicycle.
Renting a bicycle for a day costs from 800 yen for a simple one to 2000 yen for a electric bicycle. Bringing your own bicycle in a bag is also possible, 1000 yen one-way on the boat.

Do
Hot springs
Matsugashita MiyabiyuThis outdoor hot spring has two pools -- a shallow area with benches for soaking your feet, and a deeper area for your entire body. The water is yellowish, which can stain bathing suits and towels. There's a change room nearby, and bathing suits are required.

Ashitsuki OnsenThis outdoor hot spring has fairly clear water, but water temperature varies with the tide. At times it can be only lukewarm, in which case Matsugashita Miyabiyu is a good alternative. There is a change room nearby, and bathing suits are required.

Jinata OnsenThis outdoor hot spring is located right next to the ocean. Some areas of the hot spring are too hot, but if you move closer to the ocean, you can probably find a pool with reasonable temperature. This onsen is at the bottom of a gorge, and is rather isolated. At night, bring a flash light to see the stairs down the gorge. There is a change room at the top of the stairs, quite far from the onsen.

Shikinejima Onsen Ikoi no Ie

phone: +81 4992-7-0576

The only indoor hot spring on Shikinejima. There are 2 large single-sex baths, showers, vending machines, and an area to relax.
Outdoor
WanderRent a motorbike, a bicycle, or walk and explore the island. A mountain bike costs ¥1,000 per day, but some tops are only accessible walking. Just look around for shops which have bicycles in the front, or ask the owners of your ryokan. You can easily cycle around the entire island in less than a day.

Tomari beachThe beaches are often quiet, as few people are on this island (except during "long" holidays, such as Golden or Silver Week). Tomari Beach is very popular with tourists in the summer months - here the water is clear and snorkeling is possible.

Oura beachAnother beach a bit further, also with toilets.

FishHire rods from local stores, and ask locals for advice on where to perch yourself.

KayakRent a kayak, for instance on Oura Beach, and explore the area.

Kanbiki MountainClimb the 99 meters for a spectacular view on the neighbouring islands. Continue to the West to enjoy the thick forest.
Eat
As the island is so small, there are but a few restaurants, and they close fairly early. Most visitors eat dinner at their guest house.
Restaurant Daishi

address: 東京都新島村式根島282ー2

A restaurant with standard Japanese fare: ramen and rice dishes. Also serves coffee and beer.

Cook at Kamanoshita campsiteThere are BBQ stoves at the Kamanoshita campsite, so why not cook the fish you caught?
Sleep
address: 東京都新島村式根島114−1

A comfortable and clean guesthouse. Each room has a TV, a kotatsu, tea cups and hot water, and futons for sleeping. The common room has maps of the island, free wireless internet, coffee and tea, and a large manga collection. Only Japanese is spoken.

Oura campsiteJust near the beach. Open during July, August and Golden Week. Toilets with running water.

Kamanoshita campsiteNear the beach, not far from the hot springs. No reservation. Closed during July, August, January, February and Golden Week. Toilets, water, BBQ place.
Go next
See also